Please help us share God's truths and hope in Christ. A donation of any amount is greatly needed and appreciated.
It's been reported that in the last election more than 20 million Christians did not vote.¹  Is that the right thing to do?  Is it okay to not cast a vote for president?  And, is there a correlation between voting and praying? 
I'll explain how voting is like praying, but first let's answer some of the many questions about  whether or not to vote.
The Right Thing?
The Bible tells us that if we know to do the right thing  (to do good) and do not do it, then we are sinning (James 4:17).  That is called a sin of omission. So, is not voting a sin of omission?  The answer lies in determining if the right thing is to vote.
Some would say that choosing to NOT vote in this election is the right thing to do.  Their reasoning is that both candidates oppose God's principles and precepts. And even though both candidates claim to be Christian, neither one represents what God teaches. 
Is that a legitimate reason not to vote?  Or is it simply doing what's right in one's own eyes? (We all know how that turned out in the time of the judges of Israel.)
Not Liking the Candidates
Daniel 2:21 and 4:17 tell us that God is the One who raises up kings (that would be Presidents in our time). He puts them in place and He deposes them (He is sovereign).  Therefore, both Donald Trump and Hillary Clinton have been raised up by God (or allowed to rise up)  to run for the office of President of the United States  That removes any justification for not voting based on not having an acceptable (in one's own eyes) candidate. It also removes the objection that neither is God's choice (God's will) for our country's leadership.  God could have raised up others, but these are the two candidates we have.  So to not vote for one of them is to negate that God is sovereign over both the election and the choice of candidates.  Remember, it was God who raised up Nebuchadnezzar to overtake Jerusalem and deport His people to Babylon.
Habakkuk 1:6-7  For indeed I am raising up the Chaldeans [Nebuchadnezzar and the Babylonian army], A bitter and hasty nation which marches through the breadth of the earth, To possess dwelling places that are not theirs.  They are terrible and dreadful; Their judgment and their dignity proceed from themselves. 
I'll bet the people in Jerusalem didn't like the Chaldeans, but that doesn't change the fact that God raised them up according to His plan and for His purposes.
Not Voting
Not only did God raise up our two candidates for President, His pattern for government is also reflected in our form of government.
Our nation's founding fathers were men who believed in God and His Word.  They read the Bible, they prayed, and they patterned our government after God's precepts and principles. There's a very interesting verse in the book of Isaiah that points us to God's pattern of rule.  In this verse, we see a revelation of the pattern that is found in our three-branch form of government.  You'll find this quite interesting.  Read Is the U.S. Government in the Book of Isaiah?  (link is also at end of this article)
Understanding that God "raised up" our form of government, we must look to His Word to determine our personal responsibility as it relates to our God-ordained governing powers and processes. The Bible tells us that we are subject to the governing powers because God has put them in place. The Bible also tells that we are to submit to them.   
Rom 13:1  Let every soul be subject to the governing authorities. For there is no authority except from God, and the authorities that exist are appointed by God.
1 Pet 2:13  Submit yourselves to every ordinance of man for the Lord's sake: whether it be to the king, as supreme.
We live in a country that allows us to participate in electing our leaders.  God tells us that we are to subject ourselves to the governing powers, so that would also include submitting to the electoral process.  I believe that means all Christians should vote.  
How is Voting Like Praying?
God is sovereign over our nation, it's leaders, and our government, including the electoral process.  We know that God is sovereign over all things. Nothing happens that is outside God's will (either His providential or permissive will).  That often raises the question, why should we pray if God is going to do what He plans to do?  And, since we know that God is a good Father and He loves us, why show we pray and ask for things?  
The answer is simple.  God speaks to us through His Word, and, in prayer, we speak to Him. When we take our cares and troubles, our questions and petitions, to God, we are privileged to be able to participate in what He is already doing in our lives.  We pray "Thy will be done," knowing that He is sovereign.  We ask, with expectancy, knowing  that He hears our prayers, listens and responds by working all things for His glory and our good
Yes, God is sovereign.  And yes, God will work all things according to His purpose and plan. That is true in our lives and it is true in our country and our electoral process.  Therefore, when we vote, we should feel honored that we are given the privilege to participate in what God is doing.  
Is Not Voting a Sin?
Remember James wrote that failing to do the right thing is a sin.  So, is voting the right thing? Is not voting a sin? I'll let you make the final decision on that.
I think I've made a pretty good case for voting.  I believe it is our civic duty, as well as our God-given privilege, to cast our vote in the election.  However, with that said, remember that God loves you. He loves you whether or not you vote.  He won't love you more if you vote.  And, He won't love you less if you do not vote.  The real question is, why wouldn't you want to vote?  Why wouldn't you want to participate in what God is doing in raising up our next President?
If you choose not to vote, don't use the excuse, "I didn't vote, because I don't like either candidate."  Maybe just do what Franklin Graham recommended at his Decision America Tours, "Just hold your nose and vote."  (Was he saying that both candidates stink? LOL)  Remember, God raises up kings.  And, He will raise up one of the two candidates to be our next President.  
Daniel 2:21  [God] changes the times and the seasons; He removes kings and raises up kings…
Daniel 4:17  …the Most High rules in the kingdom of men, Gives it to whomever He will, And sets over it the lowest of men.
Ask for Wisdom…then VOTE!
Casting your vote should always be done with the guidance of the Lord.  The Bible tells us to ask for wisdom and it will be given (James 1:5).  Pray before you vote:
Remember to thank God for the freedoms He has given us and the privilege we have to vote for our leaders.

Remember that Jesus is our True King (Read Is the U.S. Government in the Book of Isaiah?).  

Prayerfully and carefully seek God regarding which candidate to vote for.  There are really only two choices (writing in the name of a candidate that God has not raised up for the office of President is to deny God's work in ordaining our next President).

Evaluate the candidates based upon which one is most likely to uphold biblical precepts and principles.  

Understand what both the Republican and Democratic platforms stand for and compare them to what God says in the Bible.
Consider the power the next President will have in appointing Supreme Court Justices and the profound effect the judges have for many decades.

Remember that whichever candidate wins, our next President will be used by God to fulfill His purpose and plan for our nation and its people.

Remember the spiritual freedom you have been given in Christ and then participate in the political freedom we still have.
VOTE on November 8th
<*}}}><
Since July 4, we have been sharing inspiration and prayers  on our "Pause to Pray for our Nation and its People" page.  Every Friday we have posted a short video.  Some are former Presidents who have spoken words of faith and prayer.  Others are current evangelists who testify of Christ and give encouragement from His Word.  Take a minute to watch a few of the videos and be inspired and encouraged to be a witness for Jesus and share His love and His truths with a lost and dying world.
Jesus is the Reason this Ministry Exists
We continue to reach people worldwide with the truths of God's Word and the gospel of the Lord Jesus Christ. Your generosity is both a blessing and encouragement. Our mission is to glorify God by equipping, encouraging, and empowering YOU to understand the Bible and grow in faith. If our online resources have blessed you, please support Reasons for Hope* Jesus. Our ministry outreach has grown significantly and . . .
Please support Reasons for Hope* Jesus with a donation of $5, $10, $20, or more. A donation of any amount is needed and greatly appreciated.
CLICK TO DONATE
to Reasons for Hope*Jesus(a 501c3 Ministry)
Use a Credit Card or PayPal for safe, secure giving.
***A Hidden Message in Psalm 23?***  
Hidden in the six verses of Psalm 23 are 11 names for Jesus.
When you subscribe to our newsletter, we'll send you
The Names of God in Psalm 23 PDF
that reveals all 11 names and Scripture verses of comfort and hope (link will be sent in your confirmation email).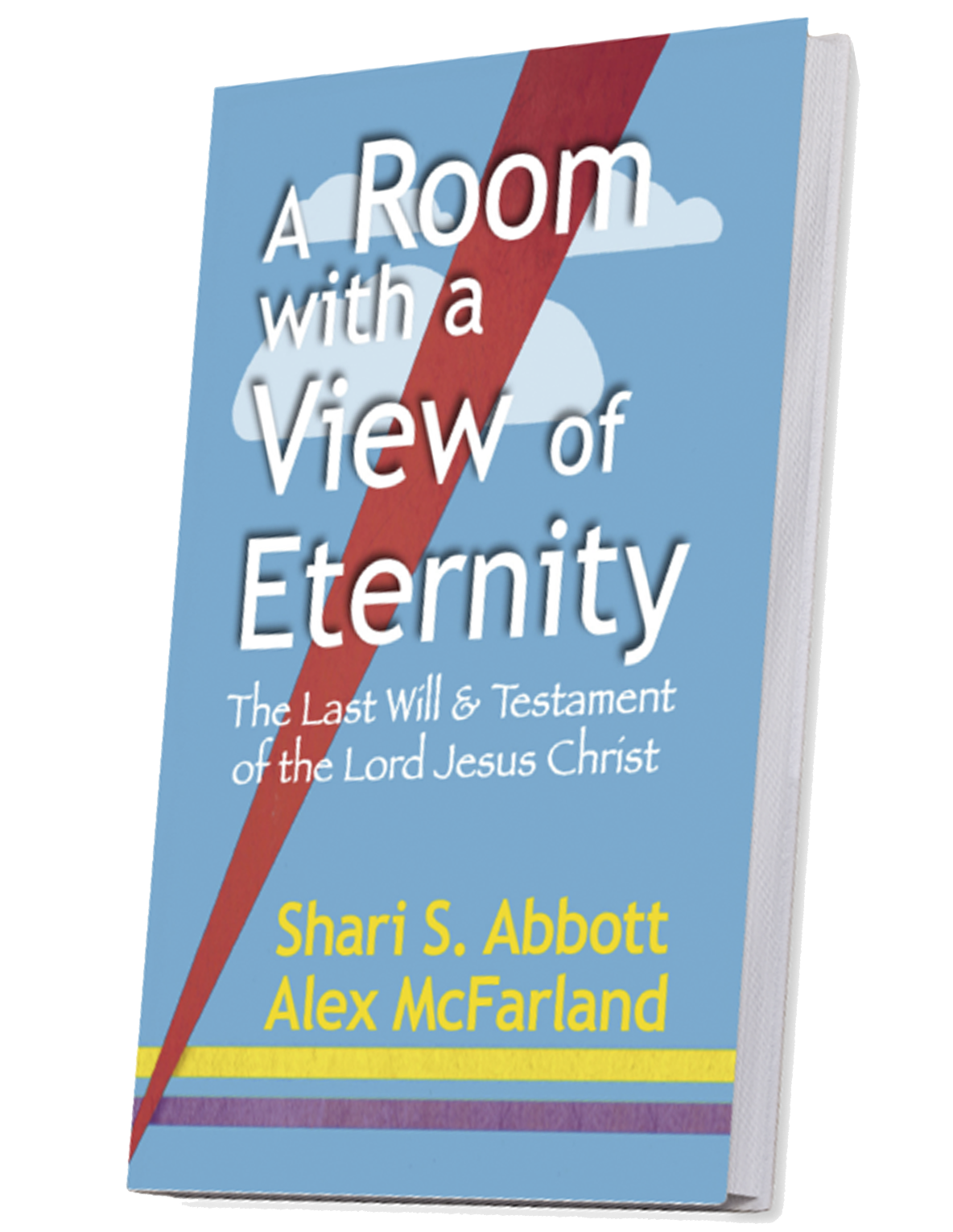 A Room with a View of Eternity—The Last Will & Testament of Jesus Christ   Take a seat at the Master's table. Learn about the riches He gives to all who are His. This book will bless and encourage you, give you hope, and help you live in the joy of your salvation and the riches of Christ that are yours.
¹ Statistic from Franklin Graham at the Decision America Tour