Second Corinthians 5:21 is the key verse about the righteousness of Christ given to repentant sinners when they trust in Jesus.  
2 Cor 5:21  For he hath made him to be sin for us, who knew no sin; that we might be made the righteousness of God in him.
Martin Luther called this "The Great Exchange," and Athanasius (296-373 AD) called it "The Glorious Exchange." There is nothing greater or more glorious than the sacrifice Jesus made for our sins.  Jesus took our sins upon Himself and paid the penalty for them so we could be reconciled to God.  
When sinners come to Jesus in faith, their sins are washed away (Rev 1:5), Jesus' righteousness is imputed to them (2 Cor 5:21), and they are given the Holy Spirit who makes them alive (1 Pet 3:18) and seals them (Eph 4:30).
"Impute" means to credit or ascribe (something) to a person or a cause. In this case, it is the righteousness of Christ that is imputed, or credited, to a forgiven sinner.  To understand the imputation of Christ's righteousness let's start by understanding the imputation of unrighteousness that comes from Adam's sin. 
Imputation of Adam's Sin
Every human being is born with the imputed sin of Adam (Except Christ, of course, who was born sinless. Read: Why Was a Virgin Birth Necessary?)
Imputed sin can be understood in terms of "inherited" unrighteousness.  The sin of Adam has been "imputed"  or "credited" to every person born. We are not sinners because we sin. We are sinners because we are born with a sin nature.
The Bible is clear — no one is righteous, no not one (Rom 3:10).  And in Matt 5:20, Jesus began a discourse that told of a need for perfect righteousness to enter Heaven.  
Mat 5:20  For I say unto you, That except your righteousness shall exceed the righteousness of the scribes and Pharisees, ye shall in no case enter into the kingdom of heaven.
As Jesus continued to speak, He elevated the law beyond the works of men and told that God judges the intent of the heart.  This destroys any hope of our attaining the required righteousness to enter into Heaven.  If that wasn't enough, Jesus concluded with:
Mat 5:48  Be ye therefore perfect, even as your Father which is in heaven is perfect.
Be Perfect? Really?
Yes, perfection is what is needed to enter the Kingdom of Heaven. You're probably thinking, "But, we can never be perfect."  That's true.  Because of the sin nature of Adam, man is destined to sin in thought, word, and deed.   So anyone who claims to be perfect is lying, and therefore, not perfect.
Understanding Jesus' Command to Be Perfect
Some will say we are only to strive for perfection or try to be the best we can be. But that is not what Jesus said. He said, "be perfect." And perfect means perfect. 
Since no one can be perfect, everyone should be desperate to find the only One who is perfect—Jesus.  He is the only One who can forgive sins and give (impute) the righteousness needed to be perfect in God's eyes.
Imputed Righteousness
Imputed righteousness is the basis for justification for Lutherans and those in the Reformed traditions of Christianity.   Theopedia.com, an online encyclopedia of Biblical Christianity, defines "imputed" as used to "designate any action or word or thing as reckoned to a person. Thus in doctrinal language,
the sin of Adam is imputed to all his descendants, i.e., it is reckoned as theirs, and they are dealt with therefore as guilty (Rom 5:12)

the righteousness of Christ is imputed to them that believe in Him, or so attributed to them as to be considered their own (2 Cor 5:21)

our sins are imputed to Christ, i.e., he assumed our 'law-place,' undertook to answer the demands of justice for our sins. In all these cases the nature of imputation is the same (Rom 5:12-19; comp. Philemon 1:18, 19)."
 (https://www.theopedia.com/imputation)
The doctrine of imputed righteousness is often referred to as Double Imputation, or Dual Imputation, because it considers the imputation of our sin to Christ and the imputation of His righteousness to us. This is a doctrine of justification based on Christ's personal righteousness (having lived a sinless human life) and made possible through his propitiatory sacrifice.
1 Cor 1:30  But of him are you in Christ Jesus, who of God is made unto us wisdom, and righteousness, and sanctification, and redemption:
Infused Righteousness

 
Infused righteousness is the basis for the Roman Catholic doctrine of justification as defined by their early church father Thomas Aquinas (1224-1274).  In Summa Theologiae (1265–1274).  Aquinas wrote:
"I answer that, Justification taken passively implies a movement towards justice, as heating implies a movement towards heat. But since justice, by its nature, implies a certain rectitude of order, it may be taken in two ways: first, inasmuch as it implies a right order in man's act, and thus justice is placed amongst the virtues—either as particular justice, which directs a man's acts by regulating them in relation to his fellowman—or as legal justice, which directs a man's acts by regulating them in their relation to the common good of society, as appears from Ethic. v, 1." [emphasis mine]
Aquinas taught:
A necessity for man to achieve a level of righteousness by his works (acts) for justification.

 

The righteousness of Christ is not imputed, or fully accounted, to a repentant sinner who is saved by Jesus.

 

The righteousness of man's acts and the righteousness of Jesus is gradually infused to the believer.  
And the righteousness needed to enter heaven is constantly questioned.

 
This is why Aquinas defined the doctrines of Purgatory and Limbo. (Read: Are Purgatory and Limbo Real Places?). Roman Catholicism teaches that before death, a Catholic must confess sins and be absolved by a priest (the last right) or have the desire to do so, in order to go to Heaven.  If the person dies with sin unconfessed or without desiring to confess their sins, the person will go to purgatory to have them purged by fire.  After that, the sinner is cleansed and righteous enough to enter heaven.  
Catholicism holds to the doctrines of Aquinas on Infused Righteousness, Purgatory, and Limbo and does not teach assurance of Heaven at death.
Imparted Righteousness

 
Methodist theology teaches imputed and imparted righteousness.  
Imputed righteousness is God's gracious gift and is given at the moment of the new birth.

 

However, this righteousness does not fully justify a sinner.

 

Imparted righteousness enables a Christian to strive for holiness and live a godly life. John Wesley (1703-1791, founder of Methodism) defined it as something that God does in us, with our cooperation.

 

So Wesley's doctrine is one of increasing righteousness in the process of Christian growth from new birth to death.

 
Wesley taught that imputed righteousness and imparted righteousness work together to make a Christian holy. He also taught that a faithful believer could attain Christian perfection and fulfill Jesus' call in Matt 5:48 — be perfect as your Father in Heaven is perfect..  We know this is impossible.
Like Catholic teaching, Methodism holds to an "earned" righteousness.  However, unlike Roman Catholics, Methodists do not believe in Purgatory or Limbo.  Methodism teaches that a Christian can lose his salvation after accepting Jesus and go to Hell.  
Which Doctrine is Biblical?
As already stated, Reasons for Hope* Jesus believes the Doctrine of Justification as defined by the Great Reformation.  This verse makes it clear: 
Eph 2:8-9 For by grace are ye saved through faith; and that not of yourselves: it is the gift of God: Not of works, lest any man should boast. 
Imputed righteousness is part of our Justification (our new birth) for it is only by receiving the righteousness of Christ that God can declare us justified, which means positionally perfect in Christ.   When we turn to Christ and receive His righteousness, God declares us justified, which means positionally perfect in Christ.  We understand Justification. . .
To happen in a moment of time. It is not a process.

 

As a work of God. It is not anything we do.

 

As a freely given, freely received gift. It is not anything earned.
Reasons for Hope* Jesus believes the Aquinas and Catholic doctrine of infused righteousness and the Wesley and Methodism doctrine of imparted righteousness are not biblically supported.
Not Saved By Works, But Saved To Works
Ephesians 2:10 tells us that "we are his workmanship, created in Christ Jesus," and that we are created "unto good works" — meaning to do good works.  
Doing good works is a free-will choice once we are positionally justified. But even this is a work of God. We have been given God's Holy Spirit by whom we are being conformed to the image of Jesus (Rom 8:29).  Our free-will choice is to allow His power to work in and through us so we can do good works to honor God and serve our neighbors.  
Jesus has promised His presence in our lives to help us in all things (John 14:26, John 16:13).  Paul has confirmed the Power of His Spirit to grow us (Eph 3:20, Phil 2:13).
Assurance, Security, and Rest
Reasons for Hope* Jesus believes in the assurance of Heaven. We believe in the eternal security of our salvation, which is a gift from God.  Our salvation will never be taken from us, nor can it ever be lost by us.  That's the peace and rest that Jesus promised.
John 14:27  Peace I leave with you, my peace I give unto you: not as the world giveth, give I unto you. Let not your heart be troubled, neither let it be afraid.
Mat 11:28-29  Come unto me, all who labor and are heavy laden, and I will give you rest. Take my yoke upon you, and learn of me; for I am meek and lowly in heart: and you shall find rest unto your souls.
Knowing our life is secure in Christ, and the promise of Heaven is sure, we have the confidence to live surrendered to the Lord's will and empowered not by might, nor by power, but by the Holy Spirit (Zech 4:6).
<*}}}><
Jesus is the Reason this Ministry Exists
We continue to reach people worldwide with the truths of God's Word and the gospel of the Lord Jesus Christ. Your generosity is both a blessing and encouragement. Our mission is to glorify God by equipping, encouraging, and empowering YOU to understand the Bible and grow in faith. If our online resources have blessed you, please support Reasons for Hope* Jesus. Our ministry outreach has grown significantly and . . .
Please support Reasons for Hope* Jesus with a donation of $5, $10, $20, or more. A donation of any amount is needed and greatly appreciated.
CLICK TO DONATE
to Reasons for Hope*Jesus(a 501c3 Ministry)
Use a Credit Card or PayPal for safe, secure giving.
***A Hidden Message in Psalm 23?***  
Hidden in the six verses of Psalm 23 are 11 names for Jesus.
When you subscribe to our newsletter, we'll send you
The Names of God in Psalm 23 PDF
that reveals all 11 names and Scripture verses of comfort and hope (link will be sent in your confirmation email).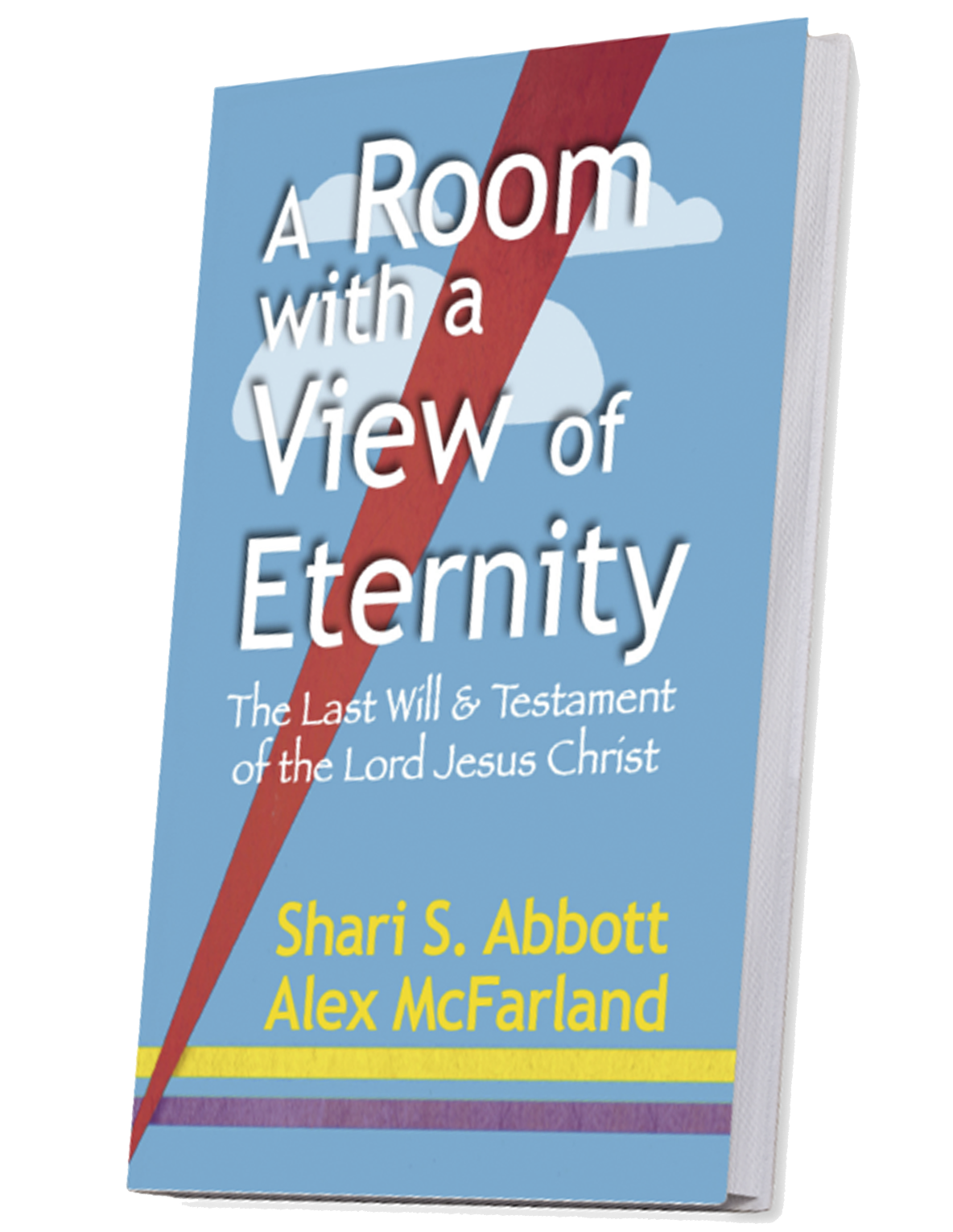 A Room with a View of Eternity—The Last Will & Testament of Jesus Christ   Take a seat at the Master's table. Learn about the riches He gives to all who are His. This book will bless and encourage you, give you hope, and help you live in the joy of your salvation and the riches of Christ that are yours.