Recently, I received an email from Julia, a long-time reader of Reasons for Hope* Jesus resources.  She has been defending God's truth regarding Jesus' incarnation and asked about our reasons to proclaim it to be true.  The virgin birth of Jesus is just as important as Jesus' sacrificial death, so the time preceding Easter is a great time to address this.
Many agnostics and atheists have problems believing a virgin birth could have occurred, and we would agree that a virgin birth isn't humanly possible.  But for God, who created all heavens, the planets, and all living creatures, nothing is impossible. God created the first man, Adam, from the dust of the earth and woman He created from man's rib, so He could certainly create a baby in the womb without the sperm from an earthly father. The problem for unbelieving skeptics is not that they can't believe in a virgin birth.  It's that they don't believe in the one true God. Therefore, begin by challenging such unbelievers to look around.  Look at the mountains, the sea, the sun, the moon– evidence of a Creator.  Take a deep breath of air — the air is unseen but it does exist.  Consider the workings of the human body.  Everything in our world is nothing short of miraculous design so there had to be a Miracle-working Designer.  Sadly, many will still reject the self-evident truth. They don't see their need for a Saviour and they don't want a Lord over their lives so they suppress the truth in unrighteousness.
Proving the Virgin Birth
Back to the question, "how can we prove a virgin birth?" We really can't prove it, so trying to do so is futile.  All we can do is help them understand that a Miracle-working Designer/Creator is able to perform the miracle of a virgin birth.  Regarding the second question, we do have proof.
Was a Virgin Birth Necessary?
The answer is, absolutely and emphatically YES!  The virgin birth is a core Christian doctrine that is absolutely necessary to our faith in Christ and was absolutely necessary for Jesus' work in redeeming mankind.
Questioning the virgin birth became popular in the last decade when a well-known pastor (whose no longer preaching) asked, "What if Jesus had not been born of a virgin? Would it really matter?"  He hypothesized that even if Jesus had been born of an earthly Father, His life, death, burial, and resurrection would point to His being God.  While it's true those things are proofs of Jesus' deity, the incarnation and Jesus' being born of a virgin, is essential Christian doctrine and Christians must be unwavering in their belief and defense of it. So what must we understand?
Jesus Had to be Born Without Sin
The necessity for a virgin birth hangs on the necessity that Jesus had to be born without sin.  Ever since the fall of Adam sin has been present in our world, and every person has been born in sin (Ps 51:5, Ro 3:10) and lives a life of sin.  As God Jesus is eternally sinless. As the Son of Man, born into our world to redeem us, He had to be sinless.  Had He not been, Jesus would not have been the pure and sinless Lamb of God able to pay for the sins of the world.
Life is in the Blood
In Leviticus, God tells us that the life of all living creatures "is in the blood" (Lev 17:11, 14). Therefore, sinful human life is in sinful human blood.  This explains why God required unblemished animals for sacrifice to atone for man's sins.  The "unblemished" represented purity.  But even animals are under the curse, and animal blood could never fully atone for man's sin.  The shedding of animal blood was a "whisper" of the pure and precious blood of Jesus that would be the perfect and complete sacrifice to pay for all the sins of all mankind (past, present, and future). Jesus was born of God, and He was born sinless and lived a sinless life.  He was the unblemished, perfect sacrifice with pure, sinless human blood that was able to atone for the sins of mankind.
Blood Comes from the Father?
It has long been a misconception that a baby's blood comes from the father.  That is not technically true.
A baby's blood is made from the baby's bone marrow and other blood-producing cells in its body. However, the liquid blood matrix (plasma) comes from the genetic makeup of both parent's genetic material.  This explains how Jesus was born fully human.  He had human blood (produced by bone marrow and cells) and His blood had DNA that came from His mother, Mary.  He did not have any DNA from His earthly father Joseph. Whether Jesus had any Divine DNA, we cannot know.  It's only in recent decades, with the ability to test blood for DNA, that we have come to understand genetic material. Jesus' blood was shed on Calvary so there are no samples to test.
Sin Passes From the Father to the Baby
While it might not be technically correct to say that a baby's blood comes from the baby's father, it is correct to say that man's sin is inherited from the father (beginning with the father of all mankind, Adam).  In Romans 5:12 we read that it was by Adam that sin entered the world and death by sin (remember, life is in the blood). The sin of Adam is passed on to (imputed/credited to) every person born.  
Throughout the Bible, we read of patriarchal headship as designed by God and illustrated by God's creating Adam first, then Eve.  This does not diminish woman in any way. However, just as Adam was held responsible for his sin (1 Tim 2:14), it is Adam's sin nature (not Eve's) that has been passed down to every baby ever born.  This is why men, not women, were required to be circumcised to enter into the assembly of Israel.  Circumcision was a bloody ritual and was symbolic of "cutting away of sin." Colossians 2:11 tells that it prefigured a "putting off the body of the sins of the flesh" and that Christ has now done that in a "circumcision made without hands" (circumcision of the heart).
Don't hear me wrong.  This doesn't mean that women are without sin.  Remember, every child ever born has inherited the sin of Adam.  What it means is that the sin nature was passed down from the first man, the first father, Adam.
Jesus' Blood was Human and Divine
We just explained how Jesus' blood was without sin and that because Joseph was not Jesus' biological father, Jesus did not inherit the sin nature from Joseph. This begs the question, from where did Jesus' blood come?  We can't conclusively answer that because the Bible doesn't directly address this.  But we can search the Scriptures and come up with biblical reasoning.  In Acts we are told that Jesus' blood came from His heavenly Father:
Acts 20:28  "Therefore take heed to yourselves and to all the flock, among which the Holy Spirit has made you overseers, to shepherd the church of God which He purchased with His own blood.
The word translated "God" in that verse is "theos." It is typically used for God the Father (exception: it is used of Jesus in John 1:1 reminding us of the trinitarian nature of God).  So, the verse in Acts tells us that Jesus' blood came from GOD THE FATHER, from the eternal Godhead.  Jesus had pure, sinless blood, and He shed that blood to pay for our sins.  
Stand Firm on the Virgin Birth
Unlike the pastor who asked,  "What if Jesus had not been born of a virgin? Would it really matter?" we know that, yes, a virgin birth was vitally important.  It is one "brick" in the foundation "wall" of our faith. Remove one "brick" and the "wall" becomes shaky (this pastor suggested that one "brick" removed would not matter).
A virgin birth produced a fully divine, fully human child with the sinless human blood that paid for man's sins.  Joseph was not Jesus' biological father so at Jesus' birth, there was likely much talk about him being the illegitimate son of Joseph. We know that Jesus was, is, and always will be the legitimate Son of God and the Saviour of mankind.
Jesus is the Reason this Ministry Exists
We continue to reach people worldwide with the truths of God's Word and the gospel of the Lord Jesus Christ. Your generosity is both a blessing and encouragement. Our mission is to glorify God by equipping, encouraging, and empowering YOU to understand the Bible and grow in faith. If our online resources have blessed you, please support Reasons for Hope* Jesus. Our ministry outreach has grown significantly and . . .
Please support Reasons for Hope* Jesus with a donation of $5, $10, $20, or more. A donation of any amount is needed and greatly appreciated.
CLICK TO DONATE
to Reasons for Hope*Jesus(a 501c3 Ministry)
Use a Credit Card or PayPal for safe, secure giving.
***A Hidden Message in Psalm 23?***  
Hidden in the six verses of Psalm 23 are 11 names for Jesus.
When you subscribe to our newsletter, we'll send you
The Names of God in Psalm 23 PDF
that reveals all 11 names and Scripture verses of comfort and hope (link will be sent in your confirmation email).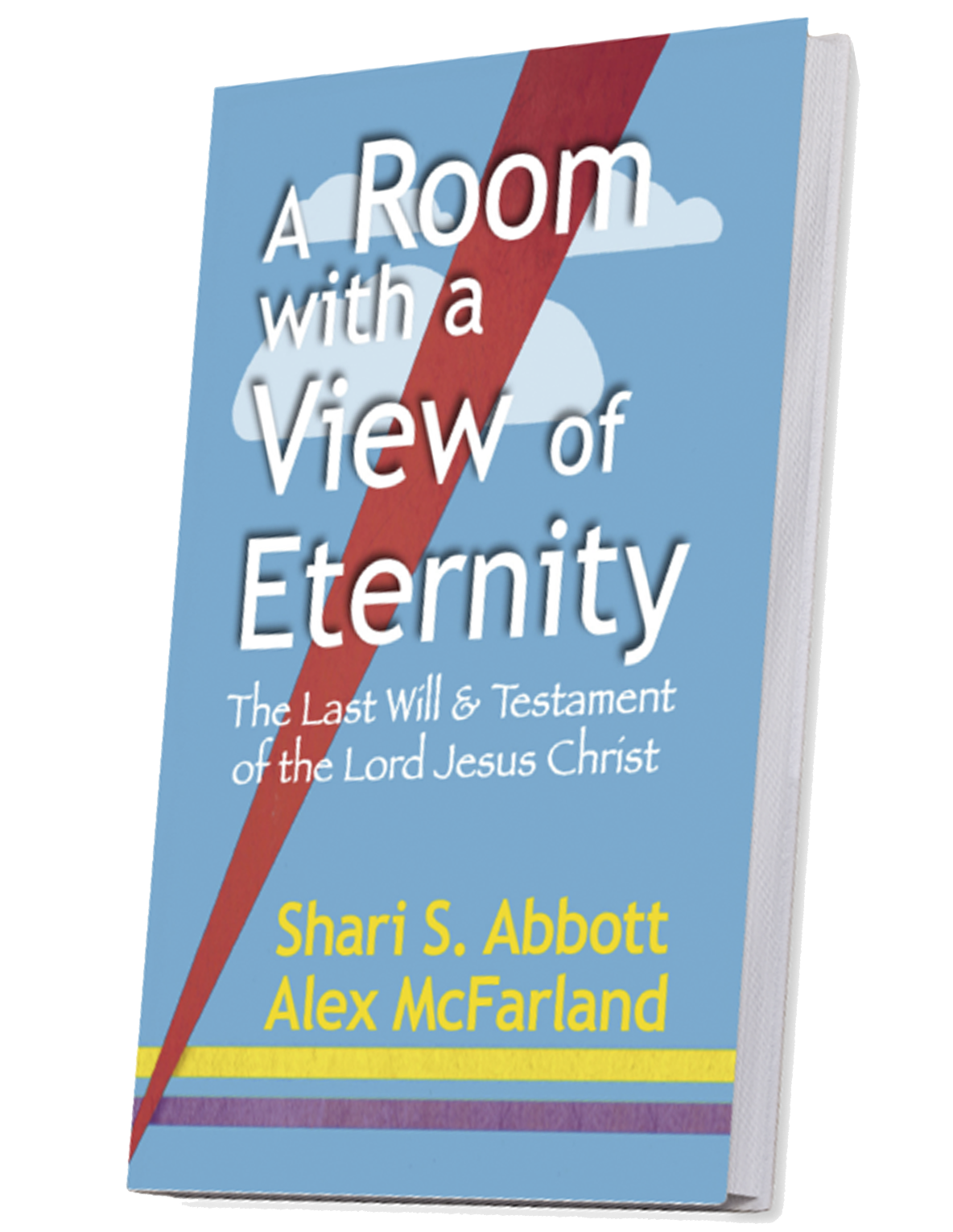 A Room with a View of Eternity—The Last Will & Testament of Jesus Christ   Take a seat at the Master's table. Learn about the riches He gives to all who are His. This book will bless and encourage you, give you hope, and help you live in the joy of your salvation and the riches of Christ that are yours.