Many Christians have read the following verses and feared that salvation can be lost.
Heb 6:4-6  For it is impossible for those who were once enlightened, and have tasted of the heavenly gift, and were made partakers of the Holy Ghost,  And have tasted the good word of God, and the powers of the world to come,  If they shall fall away, to renew them again unto repentance; seeing they crucify to themselves the Son of God afresh, and put him to an open shame.
These verses do not teach that one can "fall away" and be unable to be renewed.  "But, but…" you might be thinking, "it says we cannot be renewed unto repentance and in chapter 10 it tells that 'if we sin willfully…there remains no more sacrifice for sins' and 'a certain fearful looking for of judgment and fiery indignation, which shall devour the adversaries'" (Heb 10:26-28, Read: How Should We Understand the Willful Sin of Hebrews 10:26?).
Taken out of context, those verses do seem to instill a fear that one can lose salvation.  However, in the context of the passage (the chapter and the book), and in light of all the teachings of the whole Bible, we know that is not what those verses mean. 
The Book
The Book of Hebrews is written to…the Hebrews!  These were Christians of Jewish descent who had come to know Jesus as their Lord and Saviour. 
The Chapter
The chapter begins by Paul saying that he is moving on from the "principles of the doctrines of Christ."  By this, he means moving on from the basic, beginner's teachings.  He had just spoken of this in chapter five when he told of moving from "milk" to "meat."
Heb 5:12-14  For when for the time ye ought to be teachers, ye have need that one teach you again which be the first principles of the oracles of God; and are become such as have need of milk, and not of strong meat. For every one that useth milk is unskilful in the word of righteousness: for he is a babe. But strong meat belongeth to them that are of full age, even those who by reason of use have their senses exercised to discern both good and evil.
So Paul was telling them that what he was about to discuss is about after one has been saved.  He was not going to discuss again the "foundation of repentance from dead works, and of faith toward God — the doctrine of baptisms, laying on of hands, the resurrection of the dead, and of eternal judgment" (Heb 6:1-2). Paul was moving on from those doctrines.
Salvation can be lost? Or Salvation is secure?
In Hebrews 6, Paul was writing about a Christian's life after being saved. In light of all Paul's doctrinal teachings about salvation (ie. justification, one's positional standing in Christ), we know that salvation is eternal life and can never be lost.  (Read: The Gift of SalvaTION: Justification & Imputation) These verses are about sanctification, the process that begins at justification, and continues until God takes his child home or Christ returns for them.  (Read: What you need to know about Sanctification & Glorification?).
In light of the Hebrews knowing their positional standing in God, Paul is recalling for them what would happen if they "fall away" under the old, levitical system.  Under the Old Covenant, they would bring a sacrifice to be offered to atone for their sins.  But now under the New Covenant, it is Jesus' blood that has already atoned for every sin — past, present, and future. That atonement took place only one time.  Therefore, Paul says,
Heb 6:4-6  For it is impossible for those who were once enlightened, and have tasted of the heavenly gift, and were made partakers of the Holy Ghost, And have tasted the good word of God, and the powers of the world to come,  [those saved by the blood of Jesus]
vs 6  If they shall fall away [sin…even sin grievously], to renew them again unto repentance; seeing they crucify to themselves the Son of God afresh, and put him to an open shame. [Unlike the Old Covenant sacrificial system, it is impossible to crucify Jesus again.  Jesus fulfilled the animal sacrifices — making the continual offering of Judaic sacrifices futile for forgiveness and done away with.]
Proper Context
Remember that the writer of this letter is writing to the Hebrews (we believe it was Paul, but the author is unnamed).  The writer doesn't call them Jews, which is their cultural and religious identity, but rather he calls them Hebrews, which is their genetic heritage.  Hebrews became known as Judeans or Jews after they returned from Babylon, so this takes their heritage all the way back to Abraham, the first Hebrew (Gen 14:13). 
Since Paul wrote in his letter to the Galatians that there is neither Jew nor Gentile in the Body of Christ (Gal 3:28), Paul addressed these people by what they still are (Hebrews), not what they no longer are (Jews).  Throughout the letter Paul is admonishing the Hebrews to stand in who they are, positionally in Christ, not in their past position which came from law-keeping and sacrifice-practicing,  Jesus kept the law for all; and Jesus was the ultimate, perfect, and final sacrifice for the sins of the world (not just the Jews).  Therefore, Paul began his letter by speaking of the superiority of Jesus over the angels, Moses, Joshua, Aaron, and the Old Covenant.
Jesus is greater than…
Angels.

 

Jesus is God (Heb 1:4-5), and King (Heb 1:8) and angels worship Him (Heb 1:6).
Moses. Moses was chosen by God to serve Him, but Jesus is the Son of God (Heb 3:3–4).
Joshua. Joshua led the people into a temporal, earthly place of rest, but in saving us we enter into the Body of Christ, an unending, heavenly place of rest. (Heb 4:8–9).
Aaron.

 

Aaron continually offered sacrifices for himself and the people of Israel.

 

Jesus sacrificed Himself once, as the complete and final atonement for all sins, because He is sinless and immortal (Heb 7:26–28).
Jesus has a greater ministry than the Old Covenant. The New Covenant is built on a final sacrifice, greater promises, certain hope, and exceeding confidence and hope.

 

The New Covenant is built on Jesus (Heb 7:22; 8:6; 9:12).
Do Not Go Back
Paul's exhortation to the Hebrews was to not fall away, to not fall back on old ways, but rather to focus on the New (Covenant) and to look to Jesus the author and finisher of our faith (Heb 12:2).  The author of Hebrews is arguing for the sufficiency of Christ's redemptive work and His high priestly work. 
Therefore, Paul wrote early in his letter (Heb 2:3), "how shall we escape if we neglect so great a salvation, which at the first began to be spoken by the Lord, and was confirmed to us by those who heard Him."
Do not neglect what you have.  Every Jew who is converted in Christ is a new creation.  So also is every non-Jew who is converted in Christ a new creation. The old is passed away (2 Cor 5:17). So the message is the same for all.  Don't go back to the old beliefs and practices. Don't look back.
You can't be renewed because you don't need to be renewed.  You have already been made new in Christ.  That's final and secure. The passage is not making the case that salvation can be lost. It is actually assuming that salvation cannot be lost.  
Therefore, move forward, pressing on "for the prize of the high calling of God in Christ Jesus" (Phil 3:14).
<*}}}><
Jesus is the Reason this Ministry Exists
We continue to reach people worldwide with the truths of God's Word and the gospel of the Lord Jesus Christ. Your generosity is both a blessing and encouragement. Our mission is to glorify God by equipping, encouraging, and empowering YOU to understand the Bible and grow in faith. If our online resources have blessed you, please support Reasons for Hope* Jesus. Our ministry outreach has grown significantly and . . .
Please support Reasons for Hope* Jesus with a donation of $5, $10, $20, or more. A donation of any amount is needed and greatly appreciated.
CLICK TO DONATE
to Reasons for Hope*Jesus(a 501c3 Ministry)
Use a Credit Card or PayPal for safe, secure giving.
***A Hidden Message in Psalm 23?***  
Hidden in the six verses of Psalm 23 are 11 names for Jesus.
When you subscribe to our newsletter, we'll send you
The Names of God in Psalm 23 PDF
that reveals all 11 names and Scripture verses of comfort and hope (link will be sent in your confirmation email).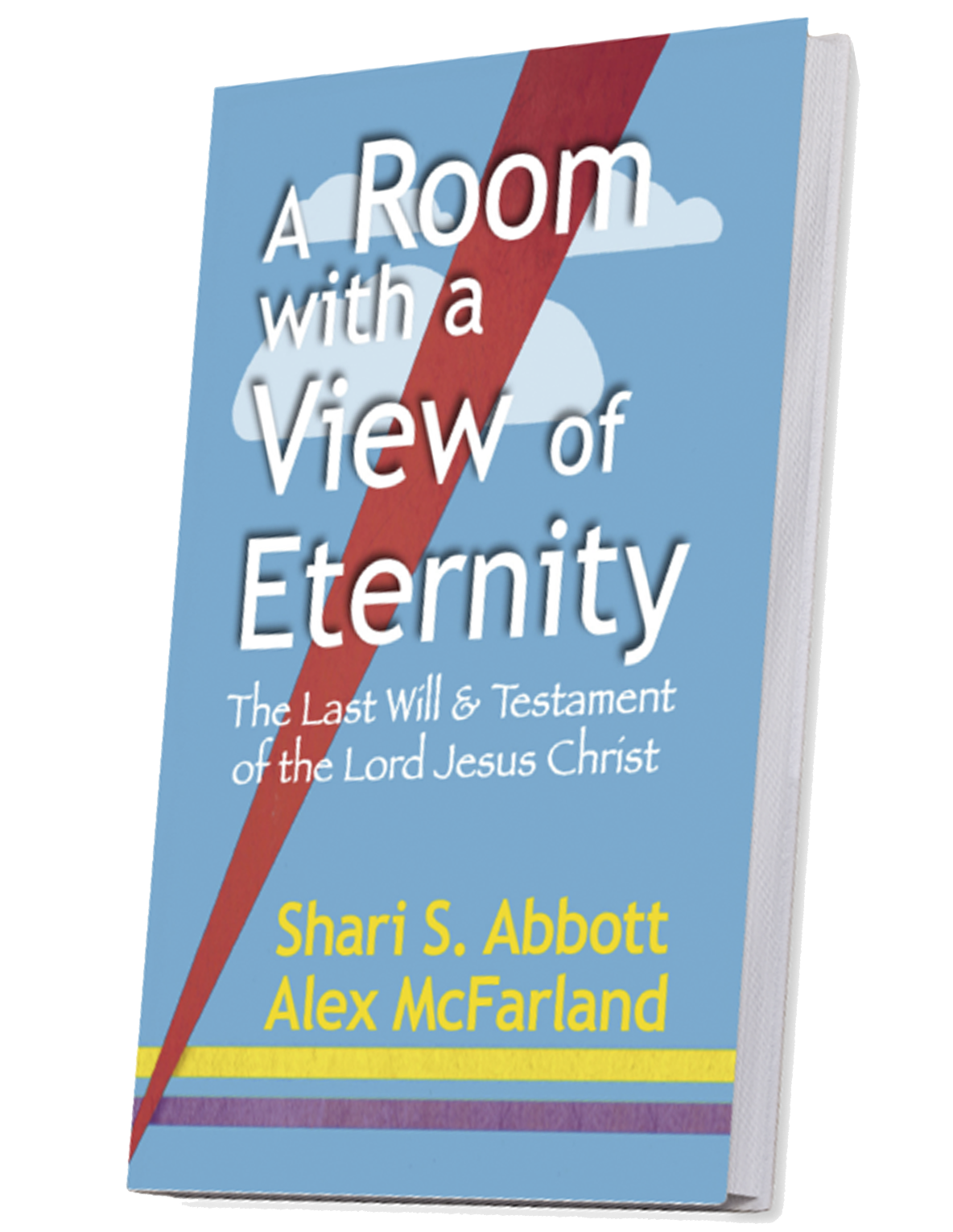 A Room with a View of Eternity—The Last Will & Testament of Jesus Christ   Take a seat at the Master's table. Learn about the riches He gives to all who are His. This book will bless and encourage you, give you hope, and help you live in the joy of your salvation and the riches of Christ that are yours.