In his letter to the church at Ephesus, Paul admonished believers to speak the truth in love (Eph 4:15a).  Before looking at Paul's words in context, let's understand the principle behind Paul's words: We should always be speaking in love.  Peter said that we are to be ready always to give a reason for our hope. And that requires speaking. He also said we are to give the reason with kindness and gentleness—and that's speaking in love. (1 Pet 3:15).  
So also in Proverbs, we are told, "pleasant words are as a honeycomb, sweet to the soul, and health to the bones" (Prov 16:24) and "a soft answer turns away wrath" (Prov 15:1).  It's always important that we speak in love. And that means we should use soft, pleasant, kind, and gentle words.
Paul's Words Misused
It's likely everyone has heard "I'm just speaking the truth in love."  It's often spoken at the end of an accusation, rebuke, or correction as a way to justify the speaker's words. Perhaps the person is speaking kindly, but the person is also claiming his or her words to be true.  The words might be true, but they might not be. Something is either true or false, based on facts or documented claims, independent of whether the words spoken are kind or harsh.
So why would Paul write saying that we are to speak the truth in love?  And what does it really mean?
Paul's Words in Context
Let's read Paul's words, omitting the parenthetical comments of verse 13. Paul began by writing that Christians are given gifts (Eph 4:7) and listed them:
Eph 4:11  And he gave some, apostles; and some, prophets; and some, evangelists; and some, pastors and teachers; 
We are called and gifted to be prophets, evangelists, and/or pastors and teachers of God's words. What does that mean?  Let's look at each gift:
apostles:  Many were still alive at that time. (These would be called disciples in our time. And all Christians are disciples of Jesus.)
prophets:  Prophesying is speaking God's words. We do that when we share biblical truths.
evangelists:  We might not all be evangelists by vocation, but we all are called to evangelize by sharing the gospel.
pastors and teachers: We are to be pastoral by comforting others and we are to be teachers by helping others understand the Bible.
All of these gifts are for others:
Eph 4:12 For the perfecting of the saints, for the work of the ministry, for the edifying of the body of Christl; 
These gifts are also for us: 

 
Eph 4:14 That we henceforth be no more children, tossed to and fro, and carried about with every wind of doctrine, by the sleight of men, and cunning craftiness, whereby they lie in wait to deceive.
And all of these gifts require speaking:
If we are not to be deceived, we must know God's words. And we must know God's words because we are to be apostles, prophets, evangelists, pastors, and teachers. 
Therefore, Paul concludes with an admonition to be "… speaking the truth in love." 
"Speaking the Truth in Love" – A Verse Misused
It's clear that Paul was speaking about ministry work in the Ephesians 4 verses.  He's talking about sharing God's words –evangelizing, comforting, and teaching others about God. This is our commission as disciples and our work as God's ambassadors (2 Cor 5:20). That means we are to know His message, His words. And we are to share His words with all people. Doing such edifies others, blesses us, and fulfills Jesus' commandment to be loving:
John 13:34-35  A new commandment I give unto you, That ye love one another; as I have loved you, that you also love one another.  By this shall all men know that you are my disciples, if you have love one to another.
The truth, in Ephesians 4:15, that Paul was admonishing the Ephesians to speak in love, is THE Truth. It's biblical truth—the only words that are absolutely true. The world's "truths," or an individual's 'truths," will not cause further growth in Christ, which Paul says is the purpose of "speaking THE Truth in love."
Eph 4:15 ..speaking the truth in love, [others] may grow up in all things into Him who is the head; Christ;
Personal Experience
In settling a dispute, giving a rebuke, or offering correction, labeling one's words as "speaking the truth in love" is a misuse of the verse. Unless the person's words are fully supported by biblical teachings and Scripture is quoted, the person is only sharing that which they perceive to be true based on their own understanding.
In 2007, this verse was spoken to me about things that were not true.  Perhaps the person thought they were true, but she provided no evidence to support her claims and no witnesses to verify her words–and she was not using Scripture.  We had different views on a matter, and both of us were only speaking our versions of what we believed to be true.  Her words were kindly and calmly spoken, and so were mine. But her claim was that she was "speaking the truth in love."  I wanted to say that she was only speaking her version of the truth, as was I.  And I wanted to say that the Ephesians 2:14 verse is about speaking The Truth — God's words. But I knew that would be of no benefit, so I chose to say nothing.
Proper use of Ephesians 2:14a
Please do not use Ephesians 2:14a to justify that your wrods are true  "Speaking the truth in love" is about sharing the truths of Scripture.  Let the facts presented facilitate discussion to determine what is true.  It would be best to say,  "My desire is to discuss this with love."   
John 13:35 By this shall all men know that you are my disciples, if you have love one to another.
<*}}}><
Jesus is the Reason this Ministry Exists
Thank you to all who contributed in 2020. Your generosity is a blessing and encouragement to us.  We did not meet expenses in 2020 and still need your help to continue our global outreach in 2021.  Our mission is to glorify God by equipping, encouraging, and empowering YOU to understand the Bible and grow in faith. If our online resources have blessed you, we hope you will support Reasons for Hope* Jesus. Our ministry outreach has grown significantly and. . .
Please support Reasons for Hope* Jesus with a donation of $5, $10, $20, or more. A donation of any amount is needed and greatly appreciated.
CLICK TO DONATE
to Reasons for Hope*Jesus(a 501c3 Ministry)
Use a Credit Card or PayPal for safe, secure giving.
***A Hidden Message in Psalm 23?***  
Hidden in the six verses of Psalm 23 are 11 names for Jesus.
When you subscribe to our newsletter, we'll send you
The Names of God in Psalm 23 PDF
that reveals all 11 names and Scripture verses of comfort and hope (link will be sent in your confirmation email).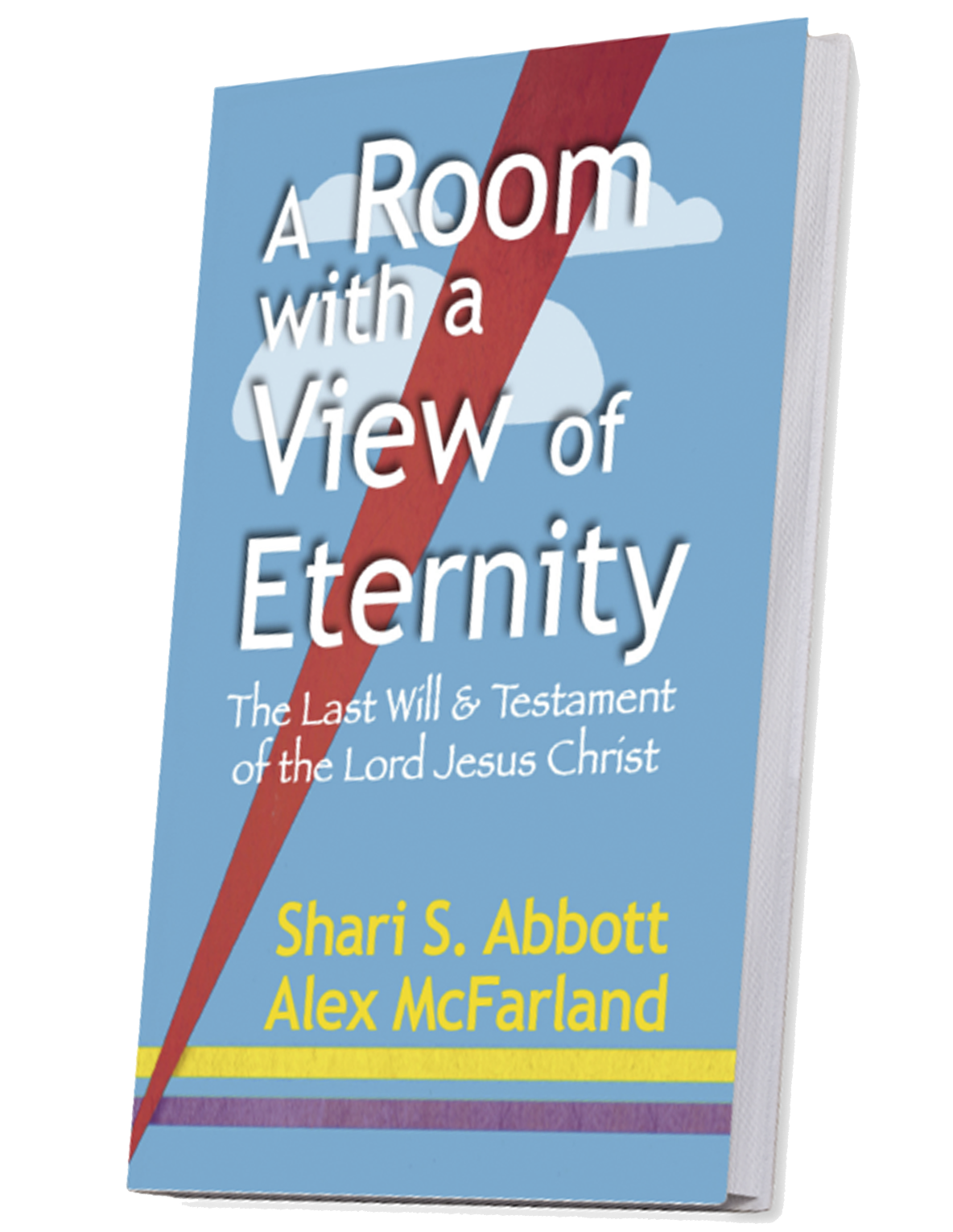 A Room with a View of Eternity—The Last Will & Testament of Jesus Christ
Take a seat at the Master's table. Learn about the riches He gives to all who are His. This book will bless and encourage you, give you hope, and help you live in the joy of your salvation and the riches of Christ that are yours.
Top Ten  in 2019
More Popular Questions & Articles:
If BAPTIZED as an Infant, Do I Need to Be Baptized Again?
How was Jesus Like a Worm? What's the CRIMSON (OR SCARLET) WORM? Psalm 22
Is Satan's Real Name LUCIFER? Or Should We Call Him Satan?
What is the Significance of the Wise Men's THREE GIFTS? And were they kings? 
Was Jesus CRUCIFIED on Wednesday, Thursday, or Friday?
The Names of Jehovah hidden in Psalm 23! This will surprise you!
What Did Jesus Say About HEAVEN (and HELL)?
JESUS WEPT. Why? And…it's not the shortest verse in the Bible!
Is There a Remez (HIDDEN MESSAGE ) in Revelation 7? Why is Dan Missing?
What Does it Mean to Be A CHILD OF GOD?
Why Is PRAYER Important?
Is SUICIDE an Unforgivable Sin?
Something ALL Christians must know:  IVDARR
Our Top Three Videos
Christian Version of Leonard Cohen's HALLELUJAH
Memorial Day BAGPIPES TRIBUTE: Amazing Grace
RISE AND SHINE and Give God the Glory, Glory!

Help us spread the good news and saving grace of the Lord Jesus Christ.

Please tell your friends about ReasonsforHopeJesus.com. If you have a website or blog, please link to ReasonsforHopeJesus.com.   All resources on this site © Reasons for Hope* Jesus --  click for Republication Permissions or contact hope@reasonsforhopeJesus.com