Question
 If the Bible says "it is appointed to man once to die and then the judgment," how do we harmonize Lazarus being raised from the dead and thus having to die twice?  The same question applies for anyone who was recorded in the Bible as having been raised from the dead.
Answer
While it does seem that the resurrection of Lazarus is a contradiction to the verse in Hebrews 9:27, it is not.  The verse in Hebrews speaks of the ultimate end of every man when it says that man will die once.
When Adam sinned in the Garden, God imposed death as the consequence of his sin. The book of Romans confirms that the "wages of sin is death" (Romans 6:23).  Therefore, Adam, and everyone born since Adam, has death as the penalty of sin imposed upon them. 
The death imposed in the Garden was both a spiritual death and a physical death.  In the application of Hebrews 9:27, we must begin by remembering that, since Adam, all are born spiritually dead because of sin. Therefore, Jesus said, "you must be born again" (John 3:7).  Jesus was speaking of spiritual rebirth. And Hebrews 9:27 is speaking of physical death and clearly declares only one physical death.
No Contradiction
If that is the case, how could Lazarus (and others) be raised from the dead, live again, and die a second physical death?  The simple answer is that those who were resurrected and brought back to life were resurrected by a miracle of God. In doing this, God set aside the natural order of what physical life has been since the fall of man.  Resurrection is something only God can do, as the Giver of Life and the Almighty and All Powerful Creator.
We know there were other times in which God set aside the natural order with a miracle of His doing.  There was the long day of Joshua, in which the sun "stood still" (Josh 10:13).  There was also the star that led the wise men to Jesus following His birth (Matthew 2:7-10).  We know our God is omnipotent and can do whatever He wills.  Just as God can re-birth a spiritually dead soul, He can also physically re-birth a dead body.  Because only God can set aside the natural order of that which He has created or ordained, the resurrection of Lazarus does not deny what is said in Hebrews 9:27.  It was a miracle that supersedes that which is common to man (death).
We should also note that the verse in question, "it is appointed for men to die once, but after this the judgment" (Heb 9:27), is a doctrinal truth from the Apostle Paul…AFTER the cross.  This really shouldn't be applied to the resurrections of those before Jesus' first coming.  It is a doctrinal truth for the time in which we live, the church age, the age of the indwelling of the Holy Spirit under the New Covenant.  All who lived (and died) prior to Jesus' death were under the Old Covenant and nothing in God's teaching under the Old Covenant denies the possibility of resurrections of humans who would die again.
Another Question
This question raises another question, why did God do this miracle? 
Reasoning from the Bible suggests it was meant to be a sign for those who witnessed it (under the Old Covenant).  It was to reveal Jesus as their Messiah (Anointed One) sent by God because they knew that only the power of God could raise someone from the dead. 
We are told that the Jews required a sign (1 Corinthians 1:22).  And, from the beginning of Jesus' ministry, He performed signs and wonders as a means to affirm who He is (John 4:48, John 20:30).  Peter confirmed this in his sermon on the day of Pentecost:
Acts 2:22  Ye men of Israel, hear these words; Jesus of Nazareth, a man approved of God among you by miracles and wonders and signs, which God did by him in the midst of you, as ye yourselves also know.
One More Question
This should now raise the question, why doesn't God resurrect people, to live again, during the time in which we live?  It could be a way of revealing His power and might to the lost. 
Some claim that God has resurrected people back to life, but those claims cannot be fully substantiated.  We must remember that we are not referring to resuscitating a body at the time of clinical death.  Instead, we are discussing the resurrection of a body and soul from confirmed death in which the body is certifiably dead by both medical diagnosis and a conclusive passage of time.  Remember, Lazarus had already been dead and in the grave for four days.  After that amount of time decomposition had already set in… for (as is so profoundly stated in the King James Bible) "he stinketh" (John 11:39).
A Biblical Reasoning
While we cannot speak for God and biblically answer why He does not resurrect people in our time, we can reason "why," from what Scripture tells us.  The Hebrews 9:27 verse is clear that after death comes judgment (under the New Covenant).  For anyone who has repented and trusted in Christ's atoning work on the cross and received Him as Lord and Saviour, this will be a wonderful judgment.  The judgment for our justification took place "at the cross," which means it happened when we trusted in Jesus.  We received God's forgiveness of our sins because Jesus paid the penalty for them and washed us "from our sins by His own blood" (Revelation 1:5).  When Jesus saved us He also gave us His righteousness, which made us worthy to enter into Heaven and into God's presence immediately when we die.  So death is a blessing of our inheritance as God's children.  Our judgment at death will proclaim us "worthy" to enter into the presence of the Lord. (2 Cor 5:8) 
This makes it quite understandable why God would not resurrect a believer and restore their earthly, physical life.
It would be taking away the gain of which Paul spoke:
Philippians 1:21  For to me to live is Christ, and to die is gain.
It would be stripping away the reward promised by Jesus:
John 14:2-3  In my Father's house are many mansions: if it were not so, I would have told you. I go to prepare a place for you.  And if I go and prepare a place for you, I will come again, and receive you unto myself; that where I am, there ye may be also.
It would be rescinding the glory that we long to obtain:
2 Thessalonians 2:14  Whereunto he called you by our gospel, to the obtaining of the glory of our Lord Jesus Christ.
2 Corinthians 4:17-18  For our light affliction, which is but for a moment, works for us a far more exceeding and eternal weight of glory;  While we look not at the things which are seen, but at the things which are not seen: for the things which are seen are temporal; but the things which are not seen are eternal.
2 Corinthians 5:1-2  For we know that if our earthly house of this tabernacle were dissolved, we have a building of God, a house not made with hands, eternal in the heavens.  For in this we groan, earnestly desiring to be clothed upon with our house which is from heaven.
Conclusion
The resurrection of Lazarus was not a contradiction of Hebrews 9:27.  It was a revelation of the power of our mighty God, given at that time as a sign for the lost sheep of the house of Israel.  In our time such signs are not needed.  Jesus has been fully revealed by His life, death, burial, and resurrection and in His Word.  
The Jews required a sign, but  "we walk by faith, not by sight" (2 Corinthians 5:7)  None of us can truly imagine the glory that awaits us, but one thing is certain…once we taste of Heaven we will not desire to return to this world.  
For we know that if our earthly house of this tabernacle were dissolved, we have a building of God, a house not made with hands, eternal in the heavens. (2 Corinthians 5:1)
<*}}}><
Jesus is the Reason this Ministry Exists
We continue to reach people worldwide with the truths of God's Word and the gospel of the Lord Jesus Christ. Your generosity is both a blessing and encouragement. Our mission is to glorify God by equipping, encouraging, and empowering YOU to understand the Bible and grow in faith. If our online resources have blessed you, please support Reasons for Hope* Jesus. Our ministry outreach has grown significantly and . . .
Please support Reasons for Hope* Jesus with a donation of $5, $10, $20, or more. A donation of any amount is needed and greatly appreciated.
CLICK TO DONATE
to Reasons for Hope*Jesus(a 501c3 Ministry)
Use a Credit Card or PayPal for safe, secure giving.
***A Hidden Message in Psalm 23?***  
Hidden in the six verses of Psalm 23 are 11 names for Jesus.
When you subscribe to our newsletter, we'll send you
The Names of God in Psalm 23 PDF
that reveals all 11 names and Scripture verses of comfort and hope (link will be sent in your confirmation email).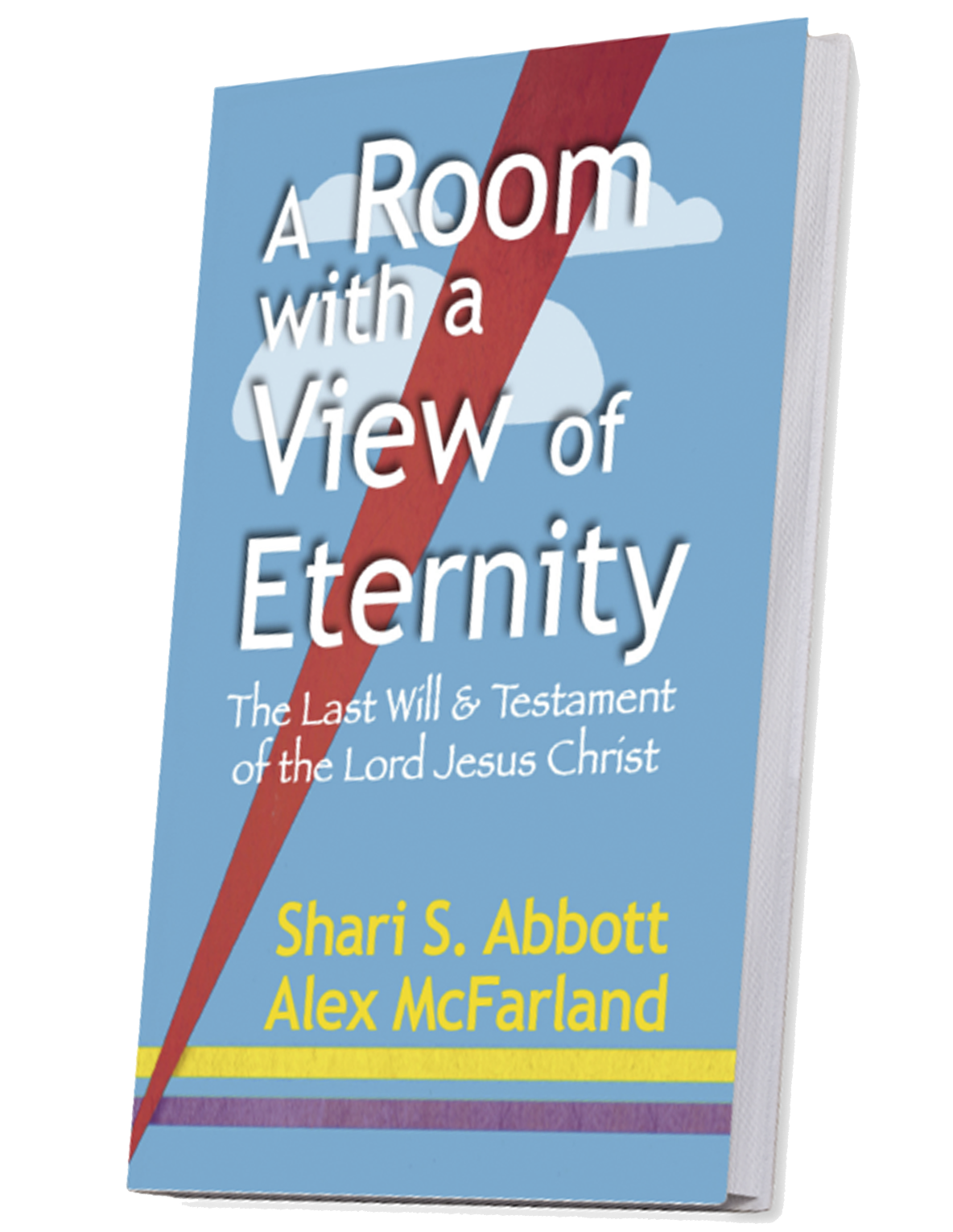 A Room with a View of Eternity—The Last Will & Testament of Jesus Christ   Take a seat at the Master's table. Learn about the riches He gives to all who are His. This book will bless and encourage you, give you hope, and help you live in the joy of your salvation and the riches of Christ that are yours.