"I never knew you …"  Would Jesus really say that to a believer?  We received this question:
"I am a believer and have been a Christian for years. However, there's one part of the Bible that confuses me. It's where Christians say to Jesus that they did many miracles and works in His name, but He says, "I never knew you." I thought if one is saved, and if signs and wonders follow (they did miracles in Jesus' name), that it showed a relationship with Jesus and the person will go to Heaven. Who were these miracle workers who did great works only to be rejected when Jesus said, "I never knew you?"  Am I reading this out of context? How should this be understood?
Answer
The passage referred to is Matthew 7:21-23, and context is definitely the key to understanding this.
Matthew 7:21-23  Not every one that saith unto me, Lord, Lord, shall enter into the kingdom of heaven; but he that doeth the will of my Father which is in heaven.  Many will say to me in that day, Lord, Lord, have we not prophesied in thy name, and in thy name have cast out devils, and in thy name done many wonderful works?  And then will I profess unto them, I never knew you: depart from me, ye that work iniquity.
 "In that day" is a key phrase that is used throughout the Bible to refer to a future time of judgment — a day when people will stand before God and be judged.  This judgment will not include those who have been saved during what we call the church age, the age of the Holy Spirit, the time in which we live.  Our judgment for our eternal destiny was done at the cross.  Our sins were laid upon Jesus and He paid the penalty for them.
When we repented and trusted in Him, we received forgiveness of our sins, and His righteousness was imputed to us (the Great Exchange, 2 Corinthians 5:21).  We also received eternal life with Him (John 3:16) and the gift of the Holy Spirit to lead and guide us (John 16:13).  And, we are sealed by the Holy Spirit until the day of redemption (Ephesians 4:30).  This same gift is freely given to all who repent and trust in Jesus during this time.
Matthew 7 Judgment
The judgment spoken of in Matthew 7 is called the Great White Throne Judgment (Rev 20:11).  It is a judgment of non-believers, and it is a judgment of works.  Remember, nobody has works worthy of Heaven — none are righteous, no not one (Romans 3:10).  Not all the good works in the world can pay the penalty of sin.  But as Christians, our sins were paid for by the blood of the perfect, righteous Lamb of God.  It is by His work that we have been made worthy of Heaven.
When Jesus spoke these words in Matthew 7:21-23, he had just finished talking about how we can judge false prophets by their fruit  (Matthew 7:15-20)   The passage is very clear.  It speaks of wolves that look like sheep, thorns that look like grapes, and thistles that look like figs. Jesus spoke of the contrast of good or fruitful trees and corrupt trees with bad fruit:
Matthew 7:17-20  Even so every good tree bringeth forth good fruit; but a corrupt tree bringeth forth evil fruit.  A good tree cannot bring forth evil fruit, neither can a corrupt tree bring forth good fruit.  Every tree that bringeth not forth good fruit is hewn down, and cast into the fire.  Wherefore by their fruits ye shall know them.
Man's Fruits
Man's "fruits" are his works.  So with these words, Jesus reminds us that we cannot judge the heart of man, but we can judge his works.  Both the profession of faith in Christ and the evidence of the fruits of faith should be apparent in every believer's life.  If we don't see good fruit in the life of someone who professes to be a follower of Christ, we should wonder.  And that wondering should cause us to share the gospel with them.  Hopefully, it will call them to repentance and they will begin to exhibit good "fruit" in their lives.  If they are someone who is not saved, hopefully sharing the gospel will turn their hearts to Christ.
Let's now consider those in the Matthew 7 passage who have evidence of good fruit, but are denied by Jesus. That does seem confusing. In verse 21 Jesus stated that not everyone who professes to know Him will enter the kingdom of heaven.  Only those who "…do the will of My Father…"
Matthew 7:21  Not every one that saith unto me, Lord, Lord, shall enter into the kingdom of heaven; but he that doeth the will of my Father which is in heaven.
What is the will of the Father?
Jesus' mission on earth was to seek and save the lost:
Luke 19:10  For the Son of man is come to seek and to save that which was lost.
Jesus was obedient to the Father's will of restoring mankind to a right relationship with God.  He lived the perfect life and willingly went to the cross, dying the atoning death that opened the way for forgiveness of sins.
We know that salvation is the will of God the Father.   Peter tells us that God is "not willing that any should perish, but that all should come to repentance" (2 Peter 3:9).  We also know that salvation is a gift from the Father.  It is by grace alone, through faith (Ephesians 2:8) that we are saved.  Salvation is freely given to all who repent and trust in the life, death, burial, and resurrection of the Lord Jesus Christ.
When asked by the people "What shall we do, that we may work the works of God?" (John 6:28), Jesus answered and said to them, "This is the work of God, that you believe in Him whom He sent." (John 6:29) He continued with, "This is the will of Him who sent Me, that everyone who sees the Son and believes in Him may have everlasting life…" (John 6:40)
The people spoken of in Matthew 7:22 are those who are numbered in the group Jesus spoke of in verse 21.  They will not enter the kingdom of heaven because they have not done the Father's will.  Because they have not repented and trusted in Christ, He does not know them.
Rightful Judging
You might ask, how can we judge their hearts and say they aren't saved?  Well, we aren't judging their hearts. Let's examine the passage. Jesus judged both their words and their works.  Remember, this judgment will take place in the future. And in that day, they will call upon Jesus as Lord.  But on what basis do they know Him?  Their words reveal their hearts.  They spoke of the worthiness of their good works, the works that they had done, not the work Jesus did to secure salvation for mankind.
Matthew 7:22  Many will say to me in that day, Lord, Lord, have we not prophesied in thy name? and in thy name have cast out devils? and in thy name done many wonderful works.
These people are counting on their good works to make them righteous, rather than the good work of Jesus and His imputed righteousness (2 Cor 5:21). They have not understood that there isn't any good work that man can do to earn salvation.  Salvation is never earned.  It is freely given by God to those who are humbled, repent, and trust in Christ's good work. The people claiming the merit of their good works are demonstrating pride, not humility, before God.
Safe in Jesus
When Jesus saved us, we entered into a relationship with Him.  We know Him and He knows us!  And we will never hear the words, "I never knew you: depart from me." He loves us and has assured us of our eternal security in Him.  (Read: Can I lose my salvation? What is eternal security/assurance of salvation?) 
However, the words, "I never knew you," will be heard by those who count on their own good works to earn a place in the Kingdom of Heaven.  And Jesus will make it even clearer when, after saying "depart from me," He will add "you that work iniquity."  (Matthew 7:23)  Works done for one's own self-centered reasons do not glorify the Father in Heaven.
A Warning
As Christians, we should understand this message as a warning.  There are wolves who look like sheep, and thorns that look like grapes. And there are thistles that look like figs, and also non-Christians who look like Christians because of their words or their good works.
Our words and our works should be a reflection of what's in our hearts.  Carefully judge what people say.  If these people truly knew Jesus they would be praising His works, not their own works.  If they truly knew Jesus they would say, "but for the grace of God, I am not worthy of Your Kingdom."  And by such a confession of faith and trust in God's grace (Jesus' work), they would be saved.
A Motivation
Share the gospel of saving grace with someone today.  Be faithful to proclaim the goodness of the Lord.  It's all about Jesus!  Help people to understand that only by trusting in Jesus' finished work will they enter the Kingdom of Heaven.
Jesus told us that He is preparing a place for those who trust in Him and He has promised, "I will come again, and receive you unto myself; that where I am, there ye may be also."  John 14: 3
And we receive that promise because Jesus said:
"…where I go you know, and the way you know." (John 14:4 )
"I am the way, the truth, and the life. No one comes to the Father except through Me." (John 14:6)
<*}}}><
Jesus is the Reason this Ministry Exists
Thank you to all who contributed in 2020. Your generosity is a blessing and encouragement to us.  We did not meet expenses in 2020 and still need your help to continue our global outreach in 2021.  Our mission is to glorify God by equipping, encouraging, and empowering YOU to understand the Bible and grow in faith. If our online resources have blessed you, we hope you will support Reasons for Hope* Jesus. Our ministry outreach has grown significantly and. . .
Please support Reasons for Hope* Jesus with a donation of $5, $10, $20, or more. A donation of any amount is needed and greatly appreciated.
CLICK TO DONATE
to Reasons for Hope*Jesus(a 501c3 Ministry)
Use a Credit Card or PayPal for safe, secure giving.
***A Hidden Message in Psalm 23?***  
Hidden in the six verses of Psalm 23 are 11 names for Jesus.
When you subscribe to our newsletter, we'll send you
The Names of God in Psalm 23 PDF
that reveals all 11 names and Scripture verses of comfort and hope (link will be sent in your confirmation email).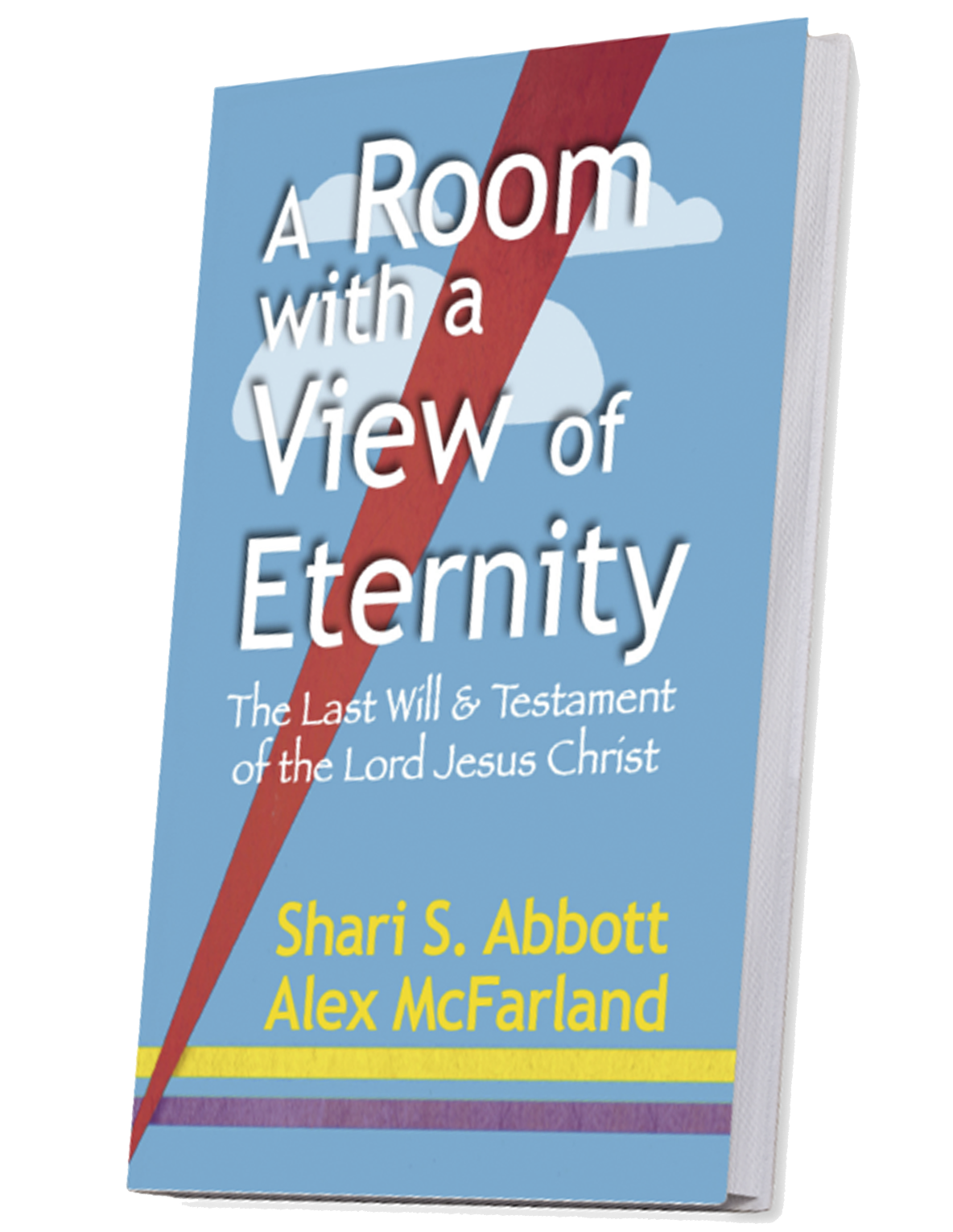 A Room with a View of Eternity—The Last Will & Testament of Jesus Christ
Take a seat at the Master's table. Learn about the riches He gives to all who are His. This book will bless and encourage you, give you hope, and help you live in the joy of your salvation and the riches of Christ that are yours.
Top Ten  in 2019
More Popular Questions & Articles:
If BAPTIZED as an Infant, Do I Need to Be Baptized Again?
How was Jesus Like a Worm? What's the CRIMSON (OR SCARLET) WORM? Psalm 22
Is Satan's Real Name LUCIFER? Or Should We Call Him Satan?
What is the Significance of the Wise Men's THREE GIFTS? And were they kings? 
Was Jesus CRUCIFIED on Wednesday, Thursday, or Friday?
The Names of Jehovah hidden in Psalm 23! This will surprise you!
What Did Jesus Say About HEAVEN (and HELL)?
JESUS WEPT. Why? And…it's not the shortest verse in the Bible!
Is There a Remez (HIDDEN MESSAGE ) in Revelation 7? Why is Dan Missing?
What Does it Mean to Be A CHILD OF GOD?
Why Is PRAYER Important?
Is SUICIDE an Unforgivable Sin?
Something ALL Christians must know:  IVDARR
Our Top Three Videos
Christian Version of Leonard Cohen's HALLELUJAH
Memorial Day BAGPIPES TRIBUTE: Amazing Grace
RISE AND SHINE and Give God the Glory, Glory!

Help us spread the good news and saving grace of the Lord Jesus Christ.

Please tell your friends about ReasonsforHopeJesus.com. If you have a website or blog, please link to ReasonsforHopeJesus.com.   All resources on this site © Reasons for Hope* Jesus --  click for Republication Permissions or contact hope@reasonsforhopeJesus.com