Why do people shorten Christmas to Xmas?  Since Jesus Christ is the Word, why would anyone want to leave the word Christ out of Christmas?  Does using Xmas dishonor Jesus? 
Lots of Questions, For Which There are Answers
Some think using Xmas, instead of Christmas, has an underlying intent to make Christmas more secular. Perhaps that might be the case for some, but there is an explanation about the use of Xmas that might surprise you! Let's look back in history to find the answers.
The Origin of the "X" in Xmas
Substitution of the letter "x" for "Christ" in Christmas is not a 20th-century advertising tactic to remove Christ from the holiday.  Historical records tell us that the first use of the word Xmas was in the mid-1500s and it has to do with abbreviating the word.
The first letter in the Greek spelling of Christos, the Greek word we translate as Christ, is "chi" (pronounced "kye" rhyming with "eye"). It is written the same as the letter x in the English alphabet.  In Greek, Christos is spelled Chi (C) rho (r) iota (i) sigma (s) tau (t) omicron (o) sigma (s).  Substituting the letter chi (x) for Christ in Christmas was simply an abbreviation.  For 16th century Christians, the X was intended to represent Christ.  Such representation of a letter or an object was common and is seen in many of the early Chrismons.  
What's a Chrismon?
A Chrismon, or Christogram, is a Christian symbol that represents Christ or the Christian faith. Examples include a fish, an anchor, a butterfly, even the Christmas cradle, the Calvary cross, the King's crown.  The terms Chrismon and Christogram come from the Latin words, "Christi monogramma," meaning "monogram of Christ."  (For more on this read about these Chrismons: Why the Fish?  Why the Anchor?  and Why the Cradle, Cross & Crown?)
The Chi-Rho is a centuries-old Chrismon that uses the letter "X." The symbol is formed by combining the first two letter of Christ.  While Xmas is an abbreviated word (technically not a Chrismon), the idea is the same.  
Another Chrismon, the fish" (Read: Why the Fish?) comes from the Greek word for fish, which is spelled icthus in English and iota (i) -chi (x) -theta (t) -upsilon (Y or u) -sigma (s) in Greek.  Each of the Greek letters represents the first letter of another word, forming an acrostic (a word using the first letter from a series of words).  The first letters in the phrase Jesus Christ God Son Saviour are:
Iota (i) is the first letter of Iēsous (

Ἰησοῦς

), Greek for "Jesus".
Chi (ch) is the first letter of Christos (

Χριστός

), Greek for "anointed" (of the Lord).
Theta (th) is the first letter of Theou (

Θεοῦ

), Theos, Greek for "God".
Upsilon (y) is the first letter of (h)yios (

Yἱός

), Greek for "Son". (lower case letter looks like a "u")
Sigma (s) is the first letter of sōtēr (

Σωτήρ

), Greek for "Saviour".
In Greek, the word is written as IXOYS or Ixous.  Again, we see where the letter "x" stands for the word "Christos" in Greek.
"X" as an abbreviation for Christ is intended to represent Him.  It does not "eliminate" Him.  Such use is similar to the way in which the Greek letter theta (an O with a line across the middle) is often used as an abbreviation for Theos, the Greek word for God.
The Origins of the "mas" in Xmas and Christmas
Now that we know where the "X" comes from, what about the "mas"?  The "mas" in Christmas is another abbreviation.  It is a shortened form of the word "mass," an Old English word.
Dictionary.com lists many definitions for mass, including a body of coherent matter, a collection of incoherent particles, parts, or objects, an aggregate, a considerable assemblage, number, or quantity, the main body, boat, or greater part of anything.  The site dates this use of "mass" to 1350-1400.  However, long before (circa 900 AD), the Latin word for mass (missa) was used to refer to the church's celebration of the Eucharist.  The Webster's 1828 Dictionary includes this definition: 
M'ASS, noun [Low Latin missa. The word signifies primarily leisure, cessation from labor, from the Latin missus, remissus, like the Latin ferioe; hence a feast or holiday.] The service of the Romish church; the office or prayers used at the celebration of the eucharist; the consecration of the bread and wine.
We can understand the word Christmas as a gathering together of those in Christ to remember Him, whether or not Holy Communion, Holy Eucharist, or The Lord's Table is partaken of on December 24 and/or 25. Our Christmas Eve and Christmas Day gatherings at church, and with family and friends, is a type of "mas" — a type of gathering to remember Jesus (specifically His incarnation).
While we look back and remember Jesus' incarnation, Christmas should also be a time of gathering ("mas") to look forward to and anticipate the second coming of Chris.
Xmas — What to Think?
If you receive a text, email, or even a card, with Xmas, don't be too critical.  For most people, it is simply an abbreviation (remember, the X does represent Jesus).  That said, it's still best to write the word as "Christmas."  Spell it out clearly that this holiday is all about Jesus, who is the Christ.
Use "X" To Open A Conversation
When opportunities arise, share how the "X" came into use as an abbreviation of Christmas. Tell how it is the first letter in the Greek spelling of Christ and that it does not cross Jesus out of Christmas. Rather, it represents Jesus. It will remind Christians of Jesus' presence in Xmas and it just might unsettle some non-believers who think they are excluding Christ with an Xmas greeting (It's impossible to leave Jesus out of Christmas.  It's all about His birth.)
Either way, Christmas or Xmas, refers to Jesus' incarnation.  Seize the opportunity to talk about our Lord's entry into this world.  Ask others if they know what the word "Christ" means?  It means "anointed." Jesus was anointed to do God's work.  Tell people that the Anointed One (the "Christ" or "X" in Christmas) came to earth to live among us, to die for us, and to usher in the Kingdom of God.  He now reigns and gathers people (mas) to Himself.  
Tell everyone that Jesus is the Reason For This Season and that at Christmas (or Xmas) we celebrate the Name above all names, the name of Jesus, the anointed one of God, who is Kristos (ΧΡΙΣΤΟΣ) in Greek and Christ in English.
Isa 9:6  For unto us a Child is born, Unto us a Son is given.
John 3:16-17  For God so loved the world that He gave His only begotten Son, that whoever believes in Him should not perish but have everlasting life. For God did not send His Son into the world to condemn the world, but that the world through Him might be saved.
Luke 1:31  And, behold, thou shalt conceive in thy womb, and bring forth a son, and shalt call his name JESUS.
Luke 9:20  He said to them, "But who do you say that I am?" Peter answered and said, "The Christ of God."
The Season of Advent (the 4 weeks before Christmas)
Jesus is the Reason this Ministry Exists
Thank you to all who contributed in 2020. Your generosity is a blessing and encouragement to us.  We did not meet expenses in 2020 and still need your help to continue our global outreach in 2021.  Our mission is to glorify God by equipping, encouraging, and empowering YOU to understand the Bible and grow in faith. If our online resources have blessed you, we hope you will support Reasons for Hope* Jesus. Our ministry outreach has grown significantly and. . .
Please support Reasons for Hope* Jesus with a donation of $5, $10, $20, or more. A donation of any amount is needed and greatly appreciated.
CLICK TO DONATE
to Reasons for Hope*Jesus(a 501c3 Ministry)
Use a Credit Card or PayPal for safe, secure giving.
***A Hidden Message in Psalm 23?***  
Hidden in the six verses of Psalm 23 are 11 names for Jesus.
When you subscribe to our newsletter, we'll send you
The Names of God in Psalm 23 PDF
that reveals all 11 names and Scripture verses of comfort and hope (link will be sent in your confirmation email).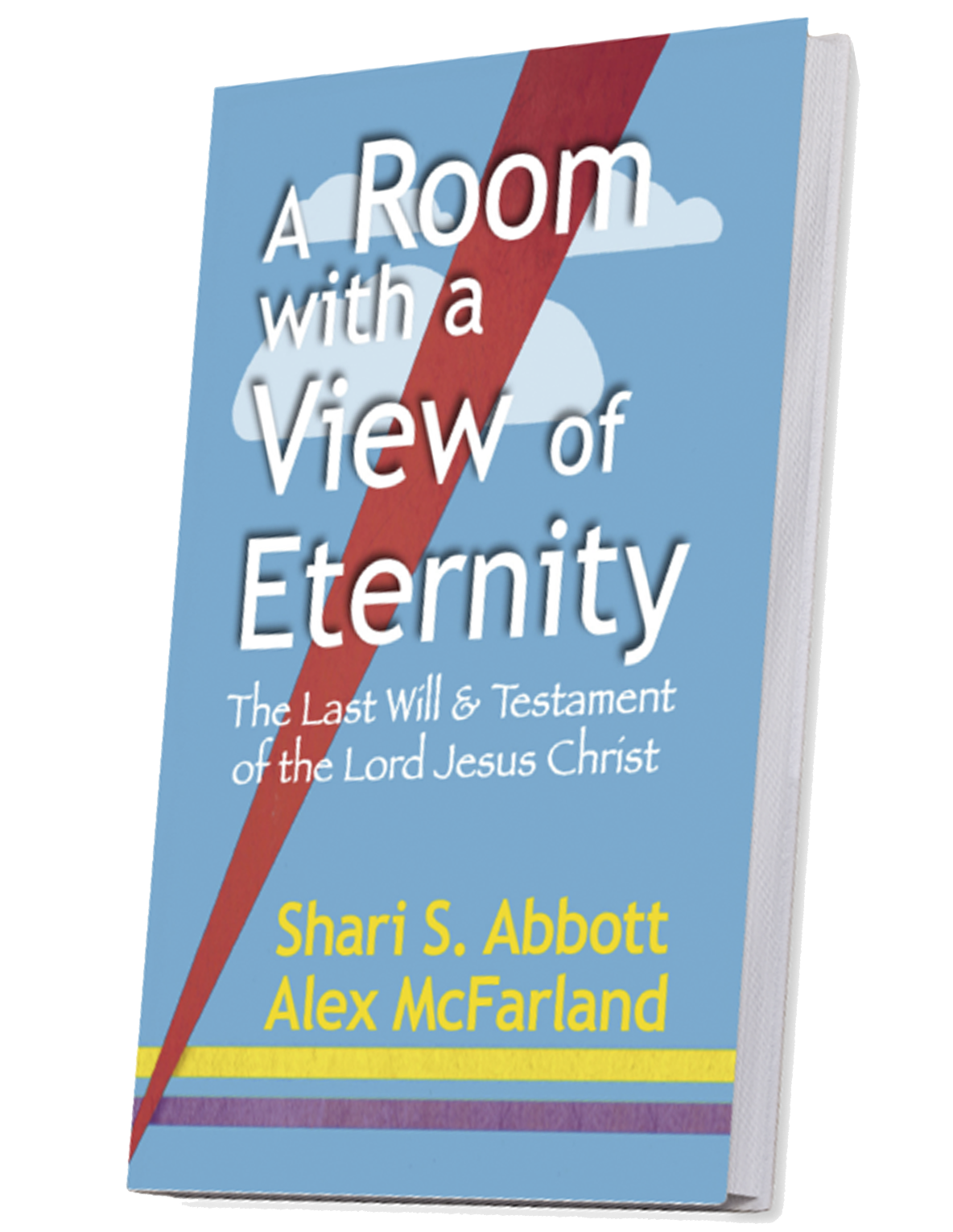 A Room with a View of Eternity—The Last Will & Testament of Jesus Christ
Take a seat at the Master's table. Learn about the riches He gives to all who are His. This book will bless and encourage you, give you hope, and help you live in the joy of your salvation and the riches of Christ that are yours.
Top Ten  in 2019
More Popular Questions & Articles:
If BAPTIZED as an Infant, Do I Need to Be Baptized Again?
How was Jesus Like a Worm? What's the CRIMSON (OR SCARLET) WORM? Psalm 22
Is Satan's Real Name LUCIFER? Or Should We Call Him Satan?
What is the Significance of the Wise Men's THREE GIFTS? And were they kings? 
Was Jesus CRUCIFIED on Wednesday, Thursday, or Friday?
The Names of Jehovah hidden in Psalm 23! This will surprise you!
What Did Jesus Say About HEAVEN (and HELL)?
JESUS WEPT. Why? And…it's not the shortest verse in the Bible!
Is There a Remez (HIDDEN MESSAGE ) in Revelation 7? Why is Dan Missing?
What Does it Mean to Be A CHILD OF GOD?
Why Is PRAYER Important?
Is SUICIDE an Unforgivable Sin?
Something ALL Christians must know:  IVDARR
Our Top Three Videos
Christian Version of Leonard Cohen's HALLELUJAH
Memorial Day BAGPIPES TRIBUTE: Amazing Grace
RISE AND SHINE and Give God the Glory, Glory!

Help us spread the good news and saving grace of the Lord Jesus Christ.

Please tell your friends about ReasonsforHopeJesus.com. If you have a website or blog, please link to ReasonsforHopeJesus.com.   All resources on this site © Reasons for Hope* Jesus --  click for Republication Permissions or contact hope@reasonsforhopeJesus.com