An anchor is a Chrismon.  Chrismons are symbols in the Christian faith.  And yet, I'm sure that many, who like them and use them, don't even know what "Chrismon" means.
It's really very simple. A Chrismon is a symbol that represents something about Jesus Christ or the Christian faith.   The term Chrismon comes from the Latin phrase "Christi monogramma," which translates as "monogram of Christ." There are many Chrismons. Individually, they remind us of some specific aspect of our God and the relationship we have with Him.  Collectively they can tell a story of our faith, and all that Christ has done for us and who we are in Him.
An Anchor is a Chrismon
This hope we have as an anchor of the soul, both sure and steadfast… (Hebrews 6:19)
Hebrews 6:19 tells that our hope is an anchor of the soul.  This verse is very meaningful for me.  I know how it feels to be adrift in a sea of sadness and despair. I would venture to say that all of us know what that is like–to some extent or another.  It is truly hope in the Lord that will keep our "boats" safe and above water in the storms of life.  His grace, His hope and His power will keep us in the boat and safe from drowning.
Why the Anchor?
The anchor as a Chrismon dates back to the early church.  It was used as a symbol of  faith in the same way that a cross or a fish are used.
We all know that an anchor for a boat, or ship, provides stability and safety in both calm and dangerous weather by holding the ship securely in one place.  In storms, when the waters are tumultuous, the winds are violently strong, and the rains are torrential, the anchor prevents the ship from being tossed and turned by tethering it to the bottom of the sea or ocean.  In calmer weather and waters, the anchor keeps the ship from drifting.
How very similar is our hope in Christ.  When the world's temptations, trials and tribulations rock our "ship," our stability is anchored in Christ and it is without tossing, turning or drifting.   Christ provides the real safety and security that gives us peace and hope.
An Early Chrismon
The anchor ranks as one of the earliest Christian symbols to represent faith.  It was used on many tombstones and epitaphs as an indication that the deceased had died "in Christ."  The presence of an anchor served as a testimony to belief in the hope and promise of resurrection from the dead.
The anchor was also a symbol of security and hope for those oppressed in various reigns of terror and was known to be the symbol of St. Clement of Rome.  Tradition tells us that he was martyred when he was tied to an anchor and thrown into the sea.
For early Christians facing persecution, an anchor could easily evoke thoughts of the Apostles.  Most of the the apostles were sea-faring fishermen, and most were persecuted and died for their faith.  Again, an anchor symbolizes that Christ is the true stability in the storms of life. It is His cross alone that opens the way to forgiveness of sins. As we navigate the sea of life, an anchor can remind us that Jesus is our hope.  He is always with us until we reach the home shores of Heaven.
Like the early Christian symbol of a fish, an anchor is quite simple to draw.  The drawing of an anchor has been thought to incorporate a stylized form of the Greek letters Alpha and Omega in lower case. Combined they transform into the symbol of an anchor.
Of course, we can easily recognize the representation of the cross in the symbol of an anchor, as well as a circle that represents wholeness.
Next time you see an anchor, whether a real anchor or just a symbol, you just might look at it a little differently.  Let it call to remembrance the hope you have in Jesus, the salvation you have now and eternally with Him, and the promise of your final rest from all the storms—for He truly is the Anchor in this sea of life!
This hope we have as an anchor of the soul, both sure and steadfast… (Hebrews 6:19)
The Anchor on Reasons for Hope* Jesus
The anchor symbolizes security.  It is an emblem of stability, strength,safety, and hope. Nowhere in the Bible is this symbol more clearly connected to our faith than in Hebrews 6:19, which tells us this hope we have as an anchor for the soul. ).  Anchors secure ships in a stationary position and keep the from being carried away by the waves or from drifting away by the wind's power.  Anchors are strong, weighty, and durable. They are securely attached to the ship, often by a strong rope, which cannot be easily broken (Ecclesiastes 4:12).
The anchor reference in Hebrews 6:19 is Jesus.  He is our stability, our strength, our safety, our security and our hope.  In Him, we rejoice and are able to say, "it is well with my soul."  For this reason, the anchor has been incorporated into the logo of Reasons for Hope* Jesus.  It is a visual proclamation that Jesus is our True Hope and He is the One who is building, leading and sustaining this ministry.
The Anchor on the Cover of Reasons Book 1
Each of the three Reasons Books (Got Questions? We Have Reasons for Hope 1, 2 and 3) features a Chrismon on the cover. The anchor, with Hebrews 6:19, is the Chrismon on the cover of Reasons Book 1 to represent our hope in Christ and the blue color is to represent the sea of life. The fish, and Matthew 4:19 is the Chrismon on the cover of Reasons Book 2 to represent our mission in Christ, to make "fish" for men in the seas of the world and make disciples for Christ.  The green color represents life and growth.  Reasons Book 3 features three Chrismons, a cradle, a cross and a crown.(Reasons Books available in print or e-book for Kindle)
From Shari Abbott, Executive Director and Founder of Reasons for Hope*Jesus
It was no surprise to me when God, in His loving kindness, moved me out of the secular business world and into ministry in early 2011.  It was the "anchor" that my "ship" needed during a turbulent time in the worst "storm" of my life.  At the same time, the Lord laid on my heart a ministry message of rightly remembering.
The ministry logo for Reasons for Hope* Jesus  proclaims hope in the Lord– hope established by His grace and anchored in His strength through knowledge and reason. An asterisk leads to the name above all names, the name of Jesus.  The anchor represents the sure and steadfast hope we have in Jesus (Hebrews 6:19) and the ministry's message is fully focused on Jesus, the Author and Finisher of our faith (Hebrews 12:2).  Our mission is to help you know Jesus better and to love Him more.
Faith is a gift from God.  Growing one's faith is achieved through increasing one's biblical knowledge and reasoning. Reasons for Hope* Jesus encourages Bible reading and study for knowledge to know Jesus better.  From biblical knowledge and reasoning comes wisdom that produces strong belief.  From increased knowledge and strong belief comes deeper trust of God and His Word, as well as increasing one's desire and ability to surrender to His will.  Knowing, believing and trusting makes up our faith.  Yet, there's more.  We also must remember.  We are so prone to forgetting. And sadly, when we forget, we wander.  And, when we wander, we fall.
In my first book, Why the Butterfly? Rightly Remembering Jesus, and the companion study course Remember Me, I focused extensively on rightly remembering and what happens when we do.  I defined rightly remembering as always recalling and holding in our minds three important truths:  1) who God is, 2) what He has done for us and 3) who we are in Christ.
When we filter all that we think, say and do through rightly remembering Jesus, it 1) changes our perspective and our priorities, 2) guides our thoughts and 3) direct our words and actions. Rightly remembering Jesus establishes our hearts, anchors our souls and renews our minds:
It is good that the heart be established by grace (Hebrews 13:9)
This hope we have as an anchor of the soul, both sure and steadfast. (Hebrews 6:19)
Be transformed by the renewing of your mind. Romans 12:2
The anchor Chrismon on Reasons Book #1 represents our hope.  The fish Chrismon on Reasons Book #2 represents our mission and Reasons Book #3 features three, cradle, cross and crown Chrismons, that showcase the heart of it all. 
Read: Why the Fish? and Why the Cradle, Cross & Crown?
<*}}}><
Jesus is the Reason this Ministry Exists
We continue to reach people worldwide with the truths of God's Word and the gospel of the Lord Jesus Christ. Your generosity is both a blessing and encouragement. Our mission is to glorify God by equipping, encouraging, and empowering YOU to understand the Bible and grow in faith. If our online resources have blessed you, please support Reasons for Hope* Jesus. Our ministry outreach has grown significantly and . . .
Please support Reasons for Hope* Jesus with a donation of $5, $10, $20, or more. A donation of any amount is needed and greatly appreciated.
CLICK TO DONATE
to Reasons for Hope*Jesus(a 501c3 Ministry)
Use a Credit Card or PayPal for safe, secure giving.
***A Hidden Message in Psalm 23?***  
Hidden in the six verses of Psalm 23 are 11 names for Jesus.
When you subscribe to our newsletter, we'll send you
The Names of God in Psalm 23 PDF
that reveals all 11 names and Scripture verses of comfort and hope (link will be sent in your confirmation email).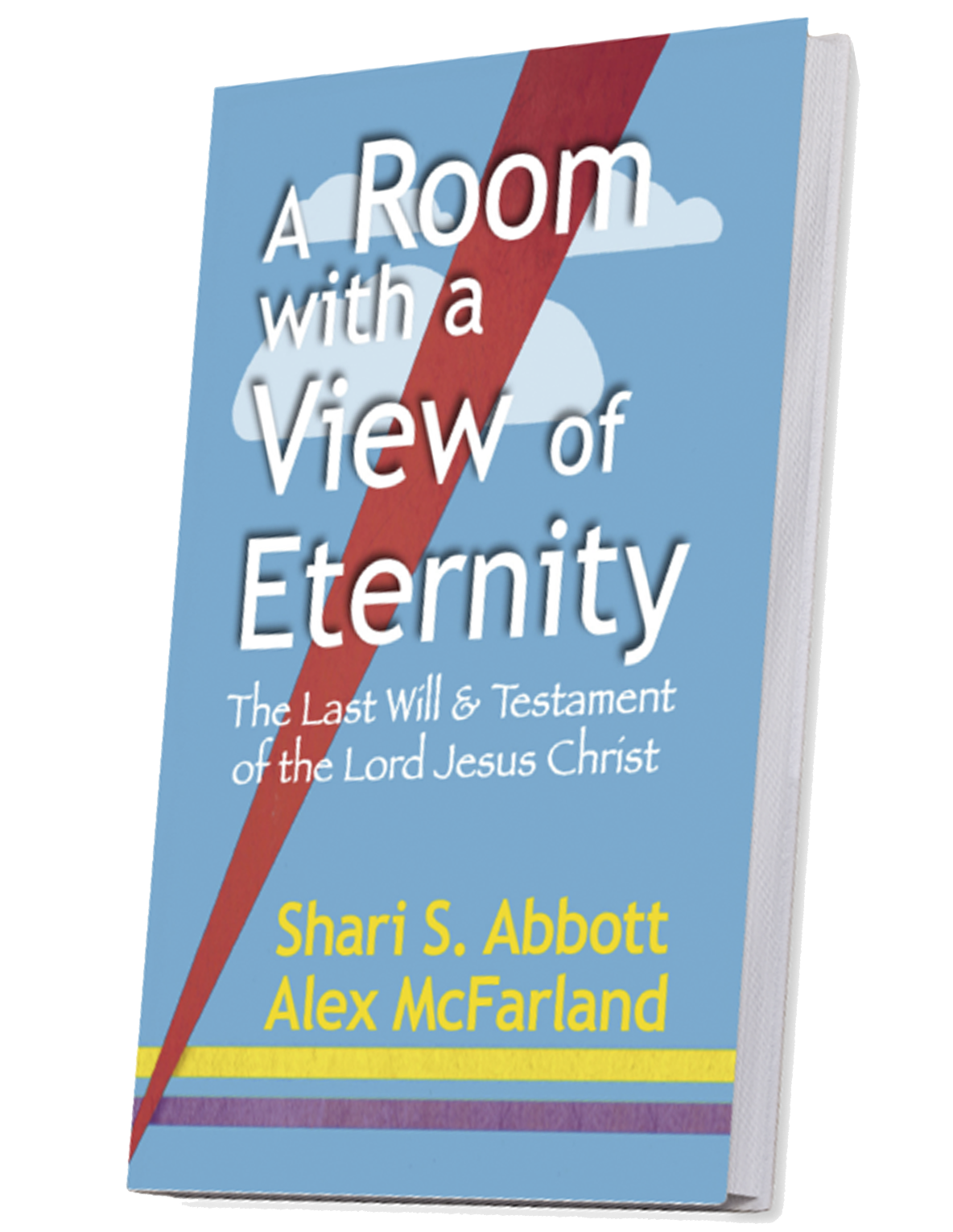 A Room with a View of Eternity—The Last Will & Testament of Jesus Christ   Take a seat at the Master's table. Learn about the riches He gives to all who are His. This book will bless and encourage you, give you hope, and help you live in the joy of your salvation and the riches of Christ that are yours.