A fish is a Chrismon.  Chrismons are symbols in the Christian faith.  And yet, I'm sure that many, who like them and use them, don't even know what "Chrismon" means.
It's really very simple. A Chrismon is a symbol that represents something about Jesus Christ or the Christian faith.   The term Chrismon comes from the Latin phrase "Christi monogramma," which translates as "monogram of Christ." There are many Chrismons. Individually, they remind us of some specific aspect of our God and the relationship we have with Him.  Collectively they can tell a story of our faith, and all that Christ has done for us and who we are in Him.
A Fish as a Chrismon
Following the Lord's baptism in the Jordan River by John, and after His time in the wilderness having been tempted by the devil, Jesus began His earthly ministry.  He began preaching the gospel of the Kingdom of God (Mark 1:14) and calling to Himself those who would be His disciples.  As Jesus walked by the Sea of Galilee, He saw Simon (later named Peter) and his brother Andrew and Jesus called to them:
Follow Me and I will make you fishers of men, (Matthew 4:19) 
Fishermen by trade, they left their nets and followed Jesus.  Jesus continued to call His disciples, twelve in all.  These twelve would be taught by Jesus, commissioned to do His work and sent forth as ambassadors in His name.  All, except Judas, were from Galilee, a region in northern Israel that bordered the Sea of Galilee, and most were fishermen, who caught fish not men.  
Jesus said He would make them "fishers of men." This meant that they would be prepared to preach the gospel (symbolically casting one's net), with the hope that the fish of the sea (unregenerate man in a lost world) would be captured by the net (the gospel of saving grace) and come to know Jesus, the One who offers living water. 
In the early days of Christianity a simple fish symbol became a representation of one's being a disciple of the Lord Jesus Christ.  Around 200 AD, Clement of Alexandria wrote the following in The Teacher (Logos Paidagogos):
"Our seals should be a dove or a fish or a ship, or a musical lyre or a ship's anchor.  And if someone is fishing he will call to mind the apostle and the children drawn up out of the water."
Tertullian in his treatise, De Baptismo, wrote: 
"We little fishes are born in water, after the example of our     Ichthys Jesus Christ."
The Use of the Fish as a Chrismon
First century Christians used the fish symbol to mark meeting places of Christians gatherings and to mark tombs and headstones of those who had died in Christ.  Legend (which may or may not be true) also tells of the use of the fish symbol during ancient times when Christians were persecuted.  When a  Christian encountered someone on a path, the Christian would draw in the sand, or in the dust of the road, a half arc, which is a portion of the fish symbol.  If the other person drew the other arc, completing the "sign of the fish," it revealed that they were both followers of Jesus and could safely talk about their faith.  The fish symbol was not new when Christians adopted it for their use.  It was a symbol already used by Greeks, Romans, and other cultures.  Therefore it could be used without drawing suspicion, but it was known by Christians to "speak" a message of belief in Jesus.
Icthus
The Greek word for fish is "ichthus."  In the Greek language, it is spelled "IXOYE."  These letters serve as an acronym, a word formed from the first letters of other words.   IXOYE represents the first letter of five Greek words:  Iesous Xristos Theou Yios Sotare.  That translates into English as Jesus, Christ, Son of, God, Saviour.
Just as in the first century, the fish symbol is used in our day to declare faith in Jesus.  It is seen on bumper stickers, giftware, novelty items, tattoos, books and much more.  The "sign of the fish" is a beautiful reminder of many of Jesus' words and His works. It also reminds us of the work He has commissioned us to do. 
Fishers of men
Jesus called His disciples to be "fishers of men." That calling is also intended for all of us who belong to Him.  We are to be His fishermen, and we are to cast our "nets." We are to preach the gospel of saving grace, so that the "nets" might be filled.  
In the Bible, water is symbolic not only of the world but also of judgment.  So when a fish is drawn out of the water, it is symbolic of a non-believer being raised up from under the judgment of God.   The sign of the fish can also be a visual reminder of the miracles of Jesus in which He multiplied the fish to feed the multitudes—at one time 4,000 and at another time 5,000.
The sign of the fish does not hold any special significance beyond that of a useful token to call to remembrance the name of Jesus, His calling of disciples, and His mighty miracles.  While the focus of this symbol is usually linked with our identification as Christians and our mission to be "fishers of men," the symbol should also evoke a remembrance that, at one time, we were the little fish, that was born in the water and swimming in the lost seas of the world.  We were under God's judgment until the net of the gospel was cast before us and we were captured by the saving grace of the Lord Jesus Christ. Let the sign of the fish be both a reminder of our great gift of salvation and a motivation to share the saving grace of Jesus Christ with those who are aimlessly swimming in the sea of the world. 
The Fish on the Cover of Reasons Book 2
Each of the three Reasons Books (Got Questions? We Have Reasons for Hope 1, 2 and 3) features a Chrismon on the cover. The anchor, with Hebrews 6:19, is the Chrismon on the cover of Reasons Book 1 to represent our hope in Christ and the blue color is to represent the sea of life. The fish, and Matthew 4:19 is the Chrismon on the cover of Reasons Book 2 to represent our mission in Christ, to make "fish" for men in the seas of the world and make disciples for Christ.  The green color represents life and growth.  Reasons Book 3 features three Chrismons, a cradle, a cross and a crown.(Reasons Books available in print or e-book for Kindle)
Read Why the Anchor?  and Why the Cradle, Cross & Crown?
<*}}}><
Jesus is the Reason this Ministry Exists
Thank you to all who contributed in 2020. Your generosity is a blessing and encouragement to us.  We did not meet expenses in 2020 and still need your help to continue our global outreach in 2021.  Our mission is to glorify God by equipping, encouraging, and empowering YOU to understand the Bible and grow in faith. If our online resources have blessed you, we hope you will support Reasons for Hope* Jesus. Our ministry outreach has grown significantly and. . .
Please support Reasons for Hope* Jesus with a donation of $5, $10, $20, or more. A donation of any amount is needed and greatly appreciated.
CLICK TO DONATE
to Reasons for Hope*Jesus(a 501c3 Ministry)
Use a Credit Card or PayPal for safe, secure giving.
***A Hidden Message in Psalm 23?***  
Hidden in the six verses of Psalm 23 are 11 names for Jesus.
When you subscribe to our newsletter, we'll send you
The Names of God in Psalm 23 PDF
that reveals all 11 names and Scripture verses of comfort and hope (link will be sent in your confirmation email).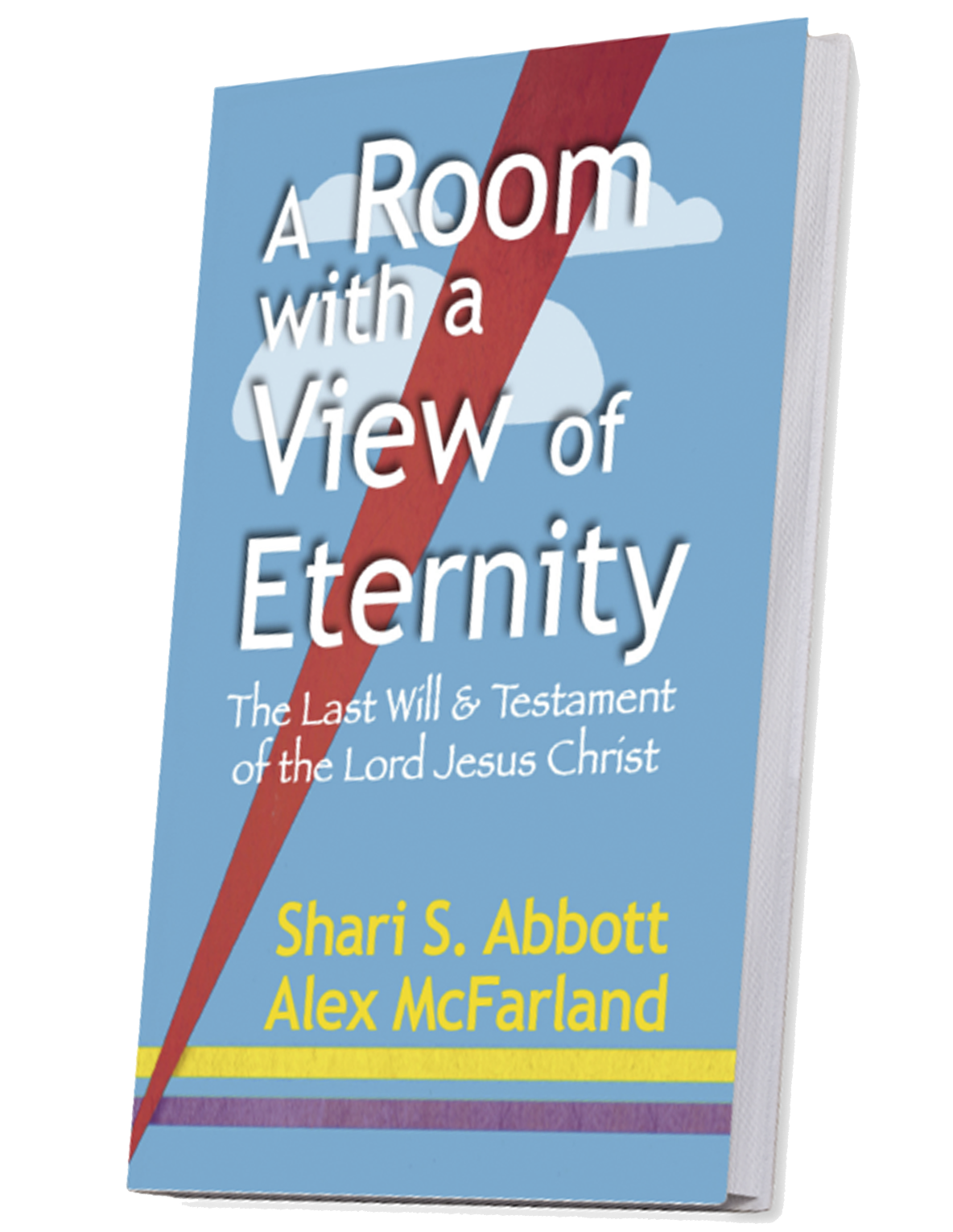 A Room with a View of Eternity—The Last Will & Testament of Jesus Christ
Take a seat at the Master's table. Learn about the riches He gives to all who are His. This book will bless and encourage you, give you hope, and help you live in the joy of your salvation and the riches of Christ that are yours.
Top Ten  in 2019
More Popular Questions & Articles:
If BAPTIZED as an Infant, Do I Need to Be Baptized Again?
How was Jesus Like a Worm? What's the CRIMSON (OR SCARLET) WORM? Psalm 22
Is Satan's Real Name LUCIFER? Or Should We Call Him Satan?
What is the Significance of the Wise Men's THREE GIFTS? And were they kings? 
Was Jesus CRUCIFIED on Wednesday, Thursday, or Friday?
The Names of Jehovah hidden in Psalm 23! This will surprise you!
What Did Jesus Say About HEAVEN (and HELL)?
JESUS WEPT. Why? And…it's not the shortest verse in the Bible!
Is There a Remez (HIDDEN MESSAGE ) in Revelation 7? Why is Dan Missing?
What Does it Mean to Be A CHILD OF GOD?
Why Is PRAYER Important?
Is SUICIDE an Unforgivable Sin?
Something ALL Christians must know:  IVDARR
Our Top Three Videos
Christian Version of Leonard Cohen's HALLELUJAH
Memorial Day BAGPIPES TRIBUTE: Amazing Grace
RISE AND SHINE and Give God the Glory, Glory!

Help us spread the good news and saving grace of the Lord Jesus Christ.

Please tell your friends about ReasonsforHopeJesus.com. If you have a website or blog, please link to ReasonsforHopeJesus.com.   All resources on this site © Reasons for Hope* Jesus --  click for Republication Permissions or contact hope@reasonsforhopeJesus.com