Don't Miss the Video at the End of the Article!
We've covered "WHO Were the Wise Men?" Then we answered, "HOW Did They Know?" and "WHEN Did the Wise Men Arrive?" Finally, we'll address "WHAT is the Significance of the Wise Men's Gifts?" and "Were These Men Kings?"
The Gospel of Matthew tells of the gifts that the Wise Men gave to Jesus  (Matthew 2:1).  While there were only three gifts mentioned, it's likely there were more than three Wise Men and, while they were noblemen, we are not told that they were kings.
We Three Kings?
Every year we sing a popular Christmas song about three kings and the gifts they brought to the Christ child.  The song is not technically correct because the Bible does not say they were kings.  This assumption is probably made from the value of the gifts that they brought to Jesus and a misapplication of verses in Isaiah 60 that speak of the Millennial Kingdom.  The Bible simply calls these men "wise men" (Matthew 2:1).
Mat 2:1-2 Now when Jesus was born in Bethlehem of Judaea in the days of Herod the king, behold, there came wise men from the east to Jerusalem, Saying, Where is he that is born King of the Jews? for we have seen his star in the east, and are come to worship him.

Matthew 2:11 And when they were come into the house, they saw the young child with Mary his mother, and fell down, and worshipped him: and when they had opened their treasures, they presented unto him gifts; gold, and frankincense, and myrrh.
These men were wise. They gave of their time, talents, treasures, and testimonies:
Gold, Frankincense, and Myrrh
The treasures the wise men brought were of significant value and prophetic importance.  Gold, frankincense, and myrrh are gifts worthy of a king.  Gold is symbolic of Christ's deity as King, frankincense represents His purity as Priest of God, and myrrh is suggestive of His anointed work as a Prophet and of His death.   Let's look at what the Bible reveals about these gifts and what we sing about in the Christmas carol We Three Kings.
Gold = Kingship of God
Gold in the Bible is symbolic of God.  It represents the most precious of metals and is extremely rare in its purest form.  The intrinsic value of gold has been established since ancient times and gold was used to honor kings.  King Solomon had an ivory throne overlaid with the best gold (1 Kings 10:18).  The furniture of the Tabernacle features gold,symbolically pointing to Christ and His deity.  The Ark of the Covenant was constructed of acacia wood (symbolic of Jesus' humanity) and overlaid with gold (symbolic of His divinity).  The mercy seat and two cherubim were made of pure gold (Exodus 25:10-21).  Since gold represents God, it's no surprise that many idols and false gods were created of gold.  Because gold is a pure and valuable metal, it is also associated with God's precepts, principles, and promises—all of which are perfect and pure and supersede any that are set by man.
The gift of gold, given by one of the wise men, pointed to the begotten Son who was given by God to be King of His people.  This wise man's gift proclaimed Jesus to be King at birth (Matthew 2:2), as did others during His life:
Jesus proclaimed Himself as King:
Matthew 27:11  Now Jesus stood before the governor. And the governor asked Him, saying, "Are You the King of the Jews?" So Jesus said to him, "It is as you say."
Some of the people proclaimed Jesus King:
John 12:12-13  On the next day much people that were come to the feast, when they heard that Jesus was coming to Jerusalem, Took branches of palm trees, and went forth to meet him, and cried, Hosanna: Blessed is the King of Israel that cometh in the name of the Lord.
Pilate proclaimed Jesus King:
John 18:39  But ye have a custom, that I should release unto you one at the passover: will ye therefore that I release unto you the King of the Jews?
John 19:14  …and he saith unto the Jews, Behold your King!
John 19:19  And Pilate wrote a title, and put it on the cross. And the writing was, JESUS OF NAZARETH THE KING OF THE JEWS.
Jesus spoke 60 times of the Kingdom of God during His earthly ministry.  That Kingdom is here on earth and is found in the hearts of all who belong to Jesus.  Jesus is our King and He rules and reigns in our hearts.
Verse 2 – We Three Kings
Born a King on Bethlehem's plain
Gold I bring to crown Him again,
King forever, ceasing never,
Over us all to reign.
Frankincense = High Priest of God
Frankincense is an aromatic, clear resin obtained from trees in northern India and Arabia (Isaiah 60:6; Jeremiah 6:20).  It is used in incense and perfumes, and was treasured for its aroma and healing properties.  Frankincense was an ingredient used in the sanctuary of the Lord (Exodus 30:34) as part of the meat offering (Leviticus 2:1, 16; 6:15; 24:7) and as a sweet savor (incense).  Frankincense is also a symbol of prayer (Psalm 141:2; Luke 1:10; Revelation 5:8; 8:3).
Because of the use in the Temple, frankincense is considered to be emblematic of Jesus' office as a Priest of God (Exodus 30:34-37).  It is also symbolic of the priest's work in offering the prayers of the people to the Lord, (Luke 1:10, Revelation 8:3-5).
The gift of frankincense, given by one of the wise men, pointed to the work of Jesus as a Priest of God, who ministered for three and one half years to the people.
Mark 10:45  For even the Son of man came not to be ministered unto, but to minister, and to give his life a ransom for many.
Verse 3 – We Three Kings
Frankincense to offer have I;
Incense owns a Deity nigh;
Prayer and praising, voices raising,
Worshipping God on high.
Myrrh = Prophet of God
Myrrh was a spice used for medicine, cosmetics, and anointing oil.  It was mixed into the oil that was used to anoint prophets for the divinely appointed work of revealing God and communicating His will and words to His people.  Jesus came to the nation of Israel (Matthew 15:24) and He came as a Prophet in fulfillment of a prophecy of Moses:
Deuteronomy 18:15  The LORD thy God will raise up unto thee a Prophet [Jesus] from the midst of thee [Israel], of thy brethren, like unto me [Moses]; unto Him ye shall hearken.
Jesus Himself confirmed His office as a Prophet to Israel.  He attributed the office of Prophet to Himself with His words:
Luke 13:33  Nevertheless I must walk to day, and to morrow, and the day following: for it cannot be that a prophet perish out of Jerusalem.
Matthew 13:57  And they were offended in him. But Jesus said unto them, A prophet is not without honour, save in his own country, and in his own house.
Jesus also confirmed His office as a Prophet by His works:
As a Prophet, Jesus did the will of the Father:  John 4:34  Jesus said unto them, My meat [food] is to do the will of him that sent me, and to finish his work.
As a Prophet, Jesus did the work of the Father:  Matthew 11:27  All things are delivered unto me of my Father…
As a Prophet, Jesus spoke the words of the Father:  John 8:28  Then said Jesus unto them…I do nothing of myself; but as my Father hath taught me, I speak these things.
John 12:49  For I have not spoken of myself; but the Father which sent me, he gave me a commandment, what I should say, and what I should speak.
The gift of myrrh also takes on another representation. In addition to anointing prophets, oil was used in the anointing of the dead.  Myrrh was presented to Jesus at His birth pointing to His life as a Prophet and it was used at His death to anoint His body for the grave.
Mark 16:1  And when the sabbath was past, Mary Magdalene, and Mary the mother of James, and Salome, had bought sweet spices, that they might come and anoint him.
John 19:39  And there came also Nicodemus, which at the first came to Jesus by night, and brought a mixture of myrrh and aloes, about an hundred pound weight.
John 19:40  Then took they the body of Jesus, and wound it in linen clothes with the spices, as the manner of the Jews is to bury.
Verse 4 – We Three Kings
Myrrh is mine, its bitter perfume
Breathes a life of gathering gloom;
Sorrowing, sighing, bleeding, dying,
Sealed in the stone cold tomb.
King, Priest and Prophet
Jesus came as King of Israel (Messiah), Priest of God (to atone for man's sins), and Prophet of God (speaking God's words).  The wise men's gifts represented each of those offices in prophetic typology and pointed to all that Jesus would do in His incarnation and in His glorification.
Just as the Wise Men gave of their time, talent and treasures, so should we give.  Before we close, let's remember one more "t" — Testimony!   Be ready always to share your testimony!  When we testify of His love and faithfulness, and all He has done for us and given to us…then we, too, are wise men!
Verse 5 – We Three Kings
Glorious now behold Him arise;
King and God and sacrifice;
Alleluia, Alleluia,
Peals through the earth and skies.
O star of wonder, star of night,
Star with royal beauty bright,
Westward leading, still proceeding,
Guide us to thy perfect Light.
<*}}}><
Note: There's also a future prophetic type of each of these three gifts.  Jesus was a prophet during His incarnation (spoke God's words and did His works), now He is our High Priest in Heaven interceding for us (Hebrews 2:14-5:6) and He will one day rule and reign on earth as King (His second advent, Acts 1:11).  
This article focused only on the prophetic aspect of these gifts given to Jesus at His birth and they were fulfilled in His incarnation.  Many prophecies have a double reference–a near and far fulfillment.  We've seen the near fulfillment and we keep looking up to see our Blessed Hope (Titus 2:13) and the far fulfillment of His rule and reign on earth (Revelation 11:15).
<*}}}><
The Season of Advent (the 4 weeks before Christmas)
Jesus is the Reason this Ministry Exists
We continue to reach people worldwide with the truths of God's Word and the gospel of the Lord Jesus Christ. Your generosity is both a blessing and encouragement. Our mission is to glorify God by equipping, encouraging, and empowering YOU to understand the Bible and grow in faith. If our online resources have blessed you, please support Reasons for Hope* Jesus. Our ministry outreach has grown significantly and . . .
Please support Reasons for Hope* Jesus with a donation of $5, $10, $20, or more. A donation of any amount is needed and greatly appreciated.
CLICK TO DONATE
to Reasons for Hope*Jesus(a 501c3 Ministry)
Use a Credit Card or PayPal for safe, secure giving.
***A Hidden Message in Psalm 23?***  
Hidden in the six verses of Psalm 23 are 11 names for Jesus.
When you subscribe to our newsletter, we'll send you
The Names of God in Psalm 23 PDF
that reveals all 11 names and Scripture verses of comfort and hope (link will be sent in your confirmation email).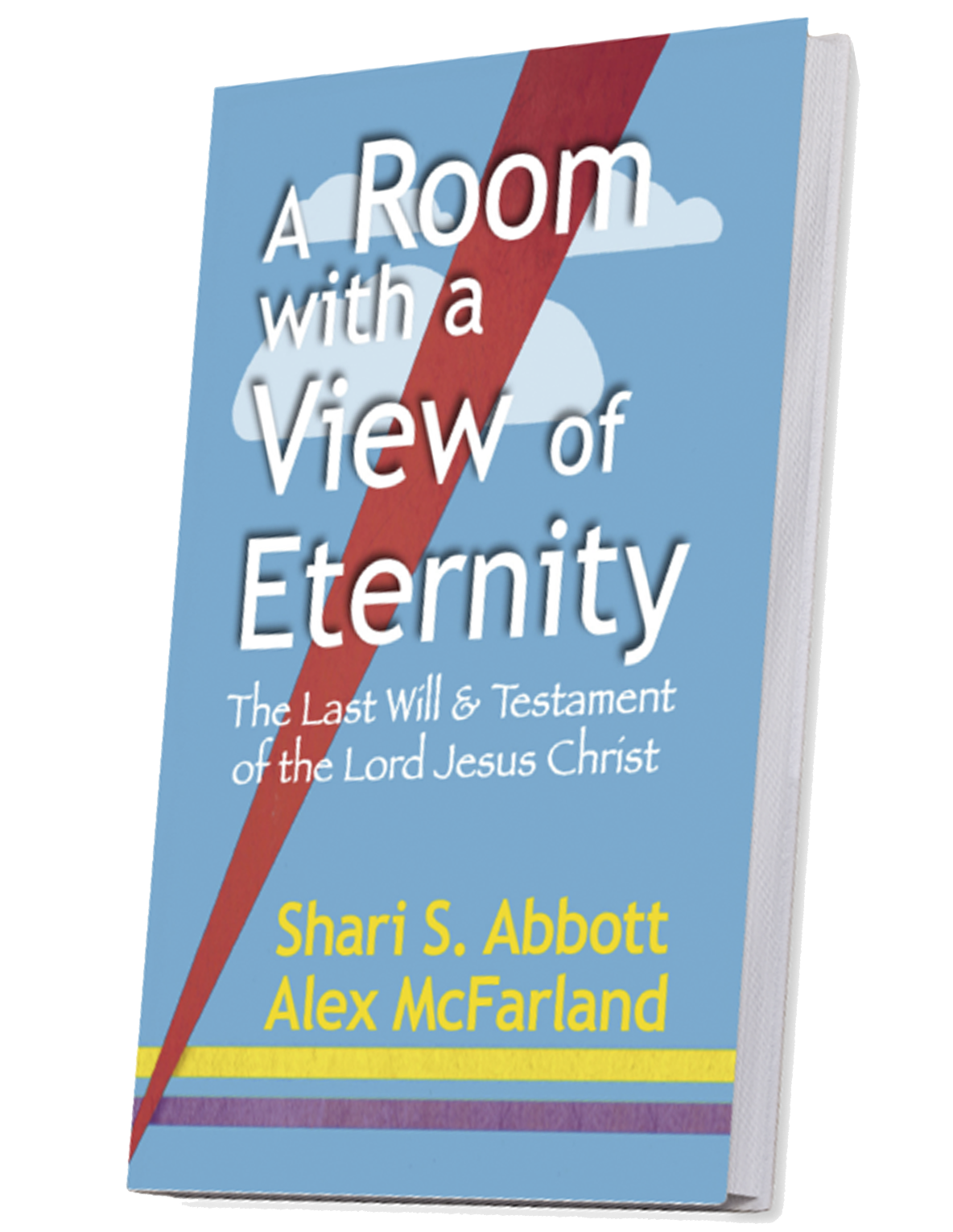 A Room with a View of Eternity—The Last Will & Testament of Jesus Christ   Take a seat at the Master's table. Learn about the riches He gives to all who are His. This book will bless and encourage you, give you hope, and help you live in the joy of your salvation and the riches of Christ that are yours.