Genesis 21
1 And the Lord visited Sarah as he had said, and the Lord did unto Sarah as he had spoken.  2 For Sarah conceived, and bare Abraham a son in his old age, at the set time of which God had spoken to him.  3 And Abraham called the name of his son that was born unto him, whom Sarah bare to him, Isaac. 
It had been 25 years since Abraham and Sarah entered the Promised Land and began waiting for the promised son.  Both knew that through this son would come a multitude of people and a great nation. And in chapter 21, we read of God fulfilling His promise.  The first verse is interesting: "the LORD visited Sarah as He had said" and "did unto Sarah as He had spoken."  Clearly, the meaning here is that God keeps His word. When God promises something, it will come to pass.
The faithfulness of Abraham Demonstrated
Verse 4 reminds us that Abraham obeyed God.  He was diligent in circumcising Isaac on the eighth day (Gen 17:12-13) signifying that Isaac was a member of his household, dedicated to the LORD, and an heir of the everlasting covenant (Gen 12:1-3). 
4 And Abraham circumcised his son Isaac being eight days old, as God had commanded him.  5 And Abraham was an hundred years old, when his son Isaac was born unto him. 
Sarah Laughed Again
Verse 5, 6 and 7 are just one more reminder that God can and does perform miracles.  Sarah had laughed in skepticism when she first heard she would bear a child in her old age (Gen 18:12), but here laughs differently (Gen 21:6). 
6 And Sarah said, God hath made me to laugh, so that all that hear will laugh with me.  7 And she said, Who would have said unto Abraham, that Sarah should have given children suck? for I have born him a son in his old age.
The word Hebrew word for "laugh" is "tsechoq" or "tsachaq," and each can mean to laugh in pleasure or derision, in merriment or scorn. While Sarah once had laughed in unbelief prior (Gen 18:12), now having received the promise of this child, she laughed in pleasure, merriment, and rejoicing.  Furthermore, "all that will hear" will "laugh" (rejoice) in this son of the promise. 
According to God's command (Gen 17:19), Abraham named their son, Yitschaq (English: Isaac)—a name derived from "tsachaq" meaning "laughter."
The Destiny of Hagar and Ishmael
At the Feast celebrating the weaning of Isaac, Sarah saw Ishmael taunting his young half-brother (as brothers do).  Ishmael was 16 and Isaac 2 or 3.  
8 And the child grew, and was weaned: and Abraham made a great feast the same day that Isaac was weaned.  9 And Sarah saw the son of Hagar the Egyptian, which she had born unto Abraham, mocking.  
Sarah told Abraham that Hagar and Ishmael must separate from the household and make their own way.  
10 Wherefore she said unto Abraham, Cast out this bondwoman and her son: for the son of this bondwoman shall not be heir with my son, even with Isaac. 
Abraham was crushed by this, but God told him to do as Sarah desired.
11 And the thing was very grievous in Abraham's sight because of his son. 1 
 Isaac and his descendants would be God's chosen people of the promise and they would become a unique people, separate and distinct from all others in the world. That included being separate from his brother Ishmael, the son of the flesh, and his descendants.  But when God told this to Abraham, He also promised that He would bless Ishmael because he was Abraham's child.  From Ishamael would come a great nation. 
2 And God said unto Abraham, Let it not be grievous in thy sight because of the lad, and because of thy bondwoman; in all that Sarah hath said unto thee, hearken unto her voice; for in Isaac shall thy seed be called.  13 And also of the son of the bondwoman will I make a nation, because he is thy seed.
Genesis 21:12-13
14 And Abraham rose up early in the morning, and took bread, and a bottle of water, and gave it unto Hagar, putting it on her shoulder, and the child, and sent her away: and she departed, and wandered in the wilderness of Beersheba.  15 And the water was spent in the bottle, and she cast the child under one of the shrubs.  16 And she went, and sat her down over against him a good way off, as it were a bow shot: for she said, Let me not see the death of the child. And she sat over against him, and lift up her voice, and wept. 
God Heard the Cries
Abraham sent Hagar and Ishmael away, with bread and water, but when the water was gone, Hagar lifted her voice and cried out in despair.  She did not want her son to die.  
God heard!  But the text is clear, it was not Hagar whom God heard.  It was Ishmael (Gen 21:17). 
17 And God heard the voice of the lad; and the angel of God called to Hagar out of heaven, and said unto her, What aileth thee, Hagar? fear not; for God hath heard the voice of the lad where he is.  18 Arise, lift up the lad, and hold him in thine hand; for I will make him a great nation.
Hearing Ishmael, God was faithful to provide.  He had promised Abraham that Ishmael would be a great nation and He repeated that promise to Hagar.  From that time forward, it was a certainty that Ishmael would survive the wilderness wandering.  Why?  Because God had promised a nation would come from him.  So God provided water to sustain his life.
Genesis 21:19-20
19 And God opened her eyes, and she saw a well of water; and she went, and filled the bottle with water, and gave the lad drink.  20 And God was with the lad; and he grew, and dwelt in the wilderness, and became an archer.  21 And he dwelt in the wilderness of Paran: and his mother took him a wife out of the land of Egypt.
Abraham and Abimelech
Genesis 21:22-23
22 And it came to pass at that time, that Abimelech and Phichol the chief captain of his host spake unto Abraham, saying, God is with thee in all that thou doest: 23 Now therefore swear unto me here by God that thou wilt not deal falsely with me, nor with my son, nor with my son's son: but according to the kindness that I have done unto thee, thou shalt do unto me, and to the land wherein thou hast sojourned. 24 And Abraham said, I will swear.  
This King had himself been visited by the voice of God in a dream when God told him to leave Sarah untouched and to return her to Abraham.  So, the King went to Abraham with the commander of his armies and said he wanted no trouble with Abraham because he feared Abraham's God.  And Abraham swore to treat him well.
Genesis 21:25-26
25 And Abraham reproved Abimelech because of a well of water, which Abimelech's servants had violently taken away.  26 And Abimelech said, I wot not who hath done this thing; neither didst thou tell me, neither yet heard I of it, but to day.  
 Abraham tested the king's trustworthiness by telling of the well that he had dug having been seized.  Abimelech claimed not to be aware of this happening.   Then Abraham gave sheep and oxen to the king as compensation for the return of the well and they made a covenant. 
Genesis 21:27-34
27 And Abraham took sheep and oxen, and gave them unto Abimelech; and both of them made a covenant.  28 And Abraham set seven ewe lambs of the flock by themselves.  29 And Abimelech said unto Abraham, What mean these seven ewe lambs which thou hast set by themselves?  30 And he said, For these seven ewe lambs shalt thou take of my hand, that they may be a witness unto me, that I have digged this well.
31 Wherefore he called that place Beersheba; because there they sware both of them.  32 Thus they made a covenant at Beersheba: then Abimelech rose up, and Phichol the chief captain of his host, and they returned into the land of the Philistines.  33 And Abraham planted a grove in Beersheba, and called there on the name of the Lord, the everlasting God.  34 And Abraham sojourned in the Philistines' land many days.
So, the agreement with King Abimelech was sealed by the king when he accepted the sheep and oxen.  And then Abraham planted trees and worshipped God.
+++
Jesus is the Reason this Ministry Exists
We continue to reach people worldwide with the truths of God's Word and the gospel of the Lord Jesus Christ. Your generosity is both a blessing and encouragement. Our mission is to glorify God by equipping, encouraging, and empowering YOU to understand the Bible and grow in faith. If our online resources have blessed you, please support Reasons for Hope* Jesus. Our ministry outreach has grown significantly and . . .
Please support Reasons for Hope* Jesus with a donation of $5, $10, $20, or more. A donation of any amount is needed and greatly appreciated.
CLICK TO DONATE
to Reasons for Hope*Jesus(a 501c3 Ministry)
Use a Credit Card or PayPal for safe, secure giving.
***A Hidden Message in Psalm 23?***  
Hidden in the six verses of Psalm 23 are 11 names for Jesus.
When you subscribe to our newsletter, we'll send you
The Names of God in Psalm 23 PDF
that reveals all 11 names and Scripture verses of comfort and hope (link will be sent in your confirmation email).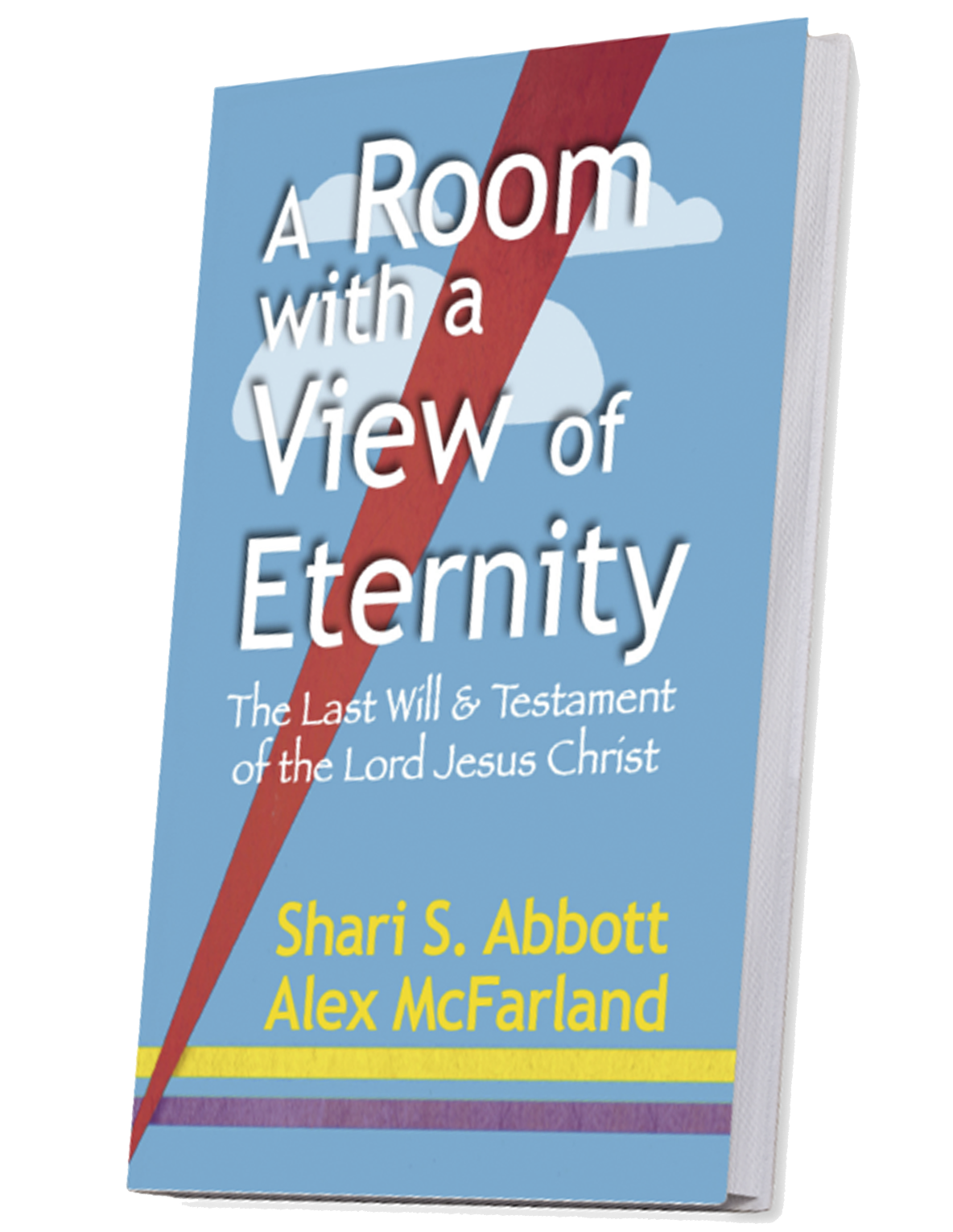 A Room with a View of Eternity—The Last Will & Testament of Jesus Christ   Take a seat at the Master's table. Learn about the riches He gives to all who are His. This book will bless and encourage you, give you hope, and help you live in the joy of your salvation and the riches of Christ that are yours.