We've studied the first three verses of Genesis 12 (Read: Abraham – A Story of Relationship). Those three verses included God's call to Abram and the covenantal promises that God gave to Abram  Remember that God's call was to leave the world that Abram knew and enjoyed, and go to a new, unknown place that God would show him.  Remember, also, that God's promises to Abrahm included: (1) a LAND, (2) a PEOPLE, and (3) a KING(DOM).  
With Abram, God began to advance the way He would deal with mankind.  Rather than dealing with all mankind as a whole, as was the case from Adam to Abram, God called out and prepared a single man (Abram) to be the "father" of the people that would become the Jewish nation of Israel.
Genesis 12:4 – 9
4So Abram departed, as the Lord had spoken unto him; and Lot went with him: and Abram was seventy and five years old when he departed out of Haran.  5 And Abram took Sarai his wife, and Lot his brother's son, and all their substance that they had gathered, and the souls that they had gotten in Haran; and they went forth to go into the land of Canaan; and into the land of Canaan they came.  
6 And Abram passed through the land unto the place of Sichem, unto the plain of Moreh. And the Canaanite was then in the land.  7 And the Lord appeared unto Abram, and said, Unto thy seed will I give this land: and there builded he an altar unto the Lord, who appeared unto him.  8 And he removed from thence unto a mountain on the east of Bethel, and pitched his tent, having Bethel on the west, and Hai on the east: and there he builded an altar unto the Lord, and called upon the name of the Lord.  9 And Abram journeyed, going on still toward the south.
Scripture tells that Abram was 70 years old when God first called him (Gen 12:1-3) and 75 years old when he finally yielded to the call of God (Gen 12:4-9).  He left Haran with his wife, Sarai, and his brother's son, Lot.  They also took with them many servants and a great number of livestock. From this we know that Abram was a very affluent man and that could have made it much harder to leave.  Sarai was 65 and apparently still a very attractive woman.  
From Haran to Canaan
The journey from Haran (in the southern portion of modern Turkey) to Canaan (in what today is Israel) is about 400 miles.  This would be a very long, arduous journey by foot with a caravan of people, possessions, and livestock.   Hebrews 11:8 tells that Abram knew the general direction that God was leading him (southwest), but he did not know exactly where he was going or what he would find there.   Think about the faith Abram must have had to begin this journey.
At about the center point of the land of Canaan was the place called Shechem.  There, Abram briefly stopped.  He surveyed the land and took note of the Canaanites who were in the land.  In Shechem, Abram built the first of many altars as a tribute to God.  This altar was a formal worship site where he offered sacrifices to God.  Why is that significant?  Because  it shows the sacrificial system existed before the Law was given at Sinai.  It had been handed down from the time of Adam. God had taught Adam, Adam had taught his sons, they had taught their sons, and so on, that God wanted the offering of the blood of an innocent animal as an atonement for their sin.  
Genesis 12:7
This is the first biblical record of an actual physical appearance of God to man. In Genesis, we read that God talked to both Adam and Noah. But it doesn't say that they could see God.  It's possible they only felt His presence and heard His voice.  Whatever the case, in Genesis 12:7 there is no doubt that Abram saw the LORD.   
When God showed Himself to man in a physical form, it was a preincarnate appearance of the Lord Jesus. This is called as a Theophany or Christophany.  The key understanding is that when God intimately communicates with man, appearing to man, He takes the form of God the Son, Jesus, the visible manifestation of God.  That is why Jesus is called the WORD of God (God speaks) and why Jesus is EMMANUEL (God with us).  God the Father is far beyond space and time. He is "high and lifted up" (Isaiah 6:1). And He is approachable only through the Lord Jesus Christ, God the Son.  
So why did the LORD appear to Abram? To reaffirm the promise that the land he was looking at was the land that God had promised to give to him. It would be the place where God would raise up a nation out of his descendants, and where He would bring forth the promised King.   
Abram did not stay long in Shechem. Instead, he continued south until he had traversed the entire length and breadth of the land God wanted him to see.  Finally he set up camp at the foot of a mountain near Bethel and there he built a second altar to God.
In Canaan
Things were looking pretty good.  Abram had safely traveled from Haran to Canaan and God had confirmed the covenantal promises that He intended to give to Abram.   Since Abram was traveling in a strange land like a nomad, he clearly had to learn to trust God to provide for the needs of his household and to keep his livestock safe, well-watered, and fed.  The relationship God wanted with Abram (dependence and trust), seemed perfectly intact.  But alas, that is not the nature of man!  And while Abram was surely an incredibly faithful man, it was not long before that faith would give way to Abram's own way of thinking.  
Genesis 12:10
 10 And there was a famine in the land: and Abram went down into Egypt to sojourn there; for the famine was grievous in the land. 
Soon after settling, a severe famine developed in the land of Canaan that was likely caused by a drought or locusts.  Whatever the cause, Abram reasoned that it would be best to leave the place near Bethel, where God had led him, and head south to Egypt where there was food.  
Egypt, at this time, was the most powerful and wealthy nation on earth.  The Pharaoh was the most powerful King in the world.  Egypt had the wealth, power, and all the appeal that men desired in the fallen world.  And in fact, Egypt stood as a symbol of the world that is at enmity with God (Rom 8:7) — a place that is so seductive to man because it promises wealth, power, and lustful decadence (1 John 2:16).  
Remember, God had called Abram to "come out" of this type of world and to stay separate from all of its trappings.  But when things got really scary, really hard, Abram chose to trust in the world, rather than trusting God.
Separate from the World
God called his people to be holy and dependent on Him. The word "holy" does not mean good or religious. "Holy" means to be separate and set-apart. God called Abram and his descendants to be holy by staying separate from the rest of the world while He would teach them about Himself. Sadly, man's natural desires draw him into the world to seek power, wealth, and worldly gain and it wasn't long before Abram did so.
Sarai's Great Beauty and Abram's Fear
At this time in human history, there were some universal customs and rules that applied everywhere so that nomadic tribes and traders could move from country to country with reasonable security.  Many of these rules and customs had to do with how travelers, visitors, and strangers were to be treated. One of these rules was that a man was never to take another man's wife.  That was a crime, and even pagan cultures believed that their "gods" would punish any man who took another man's wife.  However, it was okay to take a widow—even if one had made her a widow by killing her husband.  Abram feared that Sarai's beauty would ensure his death so she could be taken as another's wife.  So Abram came up with his own plan, apart from God's plan.
Genesis 12:11-13
11 And it came to pass, when he was come near to enter into Egypt, that he said unto Sarai his wife, Behold now, I know that thou art a fair woman to look upon: 12 Therefore it shall come to pass, when the Egyptians shall see thee, that they shall say, This is his wife: and they will kill me, but they will save thee alive. 13 Say, I pray thee, thou art my sister: that it may be well with me for thy sake; and my soul shall live because of thee.
Indeed, everything happened just as Abram thought it would.  Specifically, Sarai became known to one of the princes of Pharaoh and he recommended to Pharaoh that he might want to add her to his harem.  Pharaoh sent a representative to Abram and paid Abram well for Sarai.  Sarai was then prepared to become one of the many wives of Pharaoh.
Genesis 12:14-20
14And it came to pass, that, when Abram was come into Egypt, the Egyptians beheld the woman that she was very fair.  15 The princes also of Pharaoh saw her, and commended her before Pharaoh: and the woman was taken into Pharaoh's house.  16 And he entreated Abram well for her sake: and he had sheep, and oxen, and he asses, and menservants, and maidservants, and she asses, and camels. 
While Sarai was being prepared for Pharaoh, bad things began to happen to Pharaoh and his entire household.  
17 And the Lord plagued Pharaoh and his house with great plagues because of Sarai Abram's wife.  
In anger for being deceived, Pharaoh went to Abram to understand why he had done this.  
18 And Pharaoh called Abram and said, What is this that thou hast done unto me? why didst thou not tell me that she was thy wife?  19 Why saidst thou, She is my sister? so I might have taken her to me to wife: now therefore behold thy wife, take her, and go thy way.  20 And Pharaoh commanded his men concerning him: and they sent him away, and his wife, and all that he had.
Pharaoh decided that any "god" that could make his entire household suffer was a god not to be tested or trifled with.  So Pharaoh returned Sarai to Abram, untouched, and he exiled Abram and his caravan!
Lessons from this Passage
God calls His own people to "come out" of the world and to stay separate from worldly things that often seem attractive but lead to unhappiness and turmoil. 

When man is confronted with hard times and the potential for suffering, man too often is quick to seek refuge in the world and rationalize that what the world can offer is where God is leading him.

Once man starts reasoning apart from God, he will need more and more "plans" and "schemes" to make his folly work.

 

God will intervenes in man's critical errors, misjudgments, and outright schemings to work things according to His purpose and plan.

 

This magnifies God's mercy and grace and gives man opportunities to trust Him more and depend on Him alone, resisting the temptations and allure of the world.
+++
Jesus is the Reason this Ministry Exists
We continue to reach people worldwide with the truths of God's Word and the gospel of the Lord Jesus Christ. Your generosity is both a blessing and encouragement. Our mission is to glorify God by equipping, encouraging, and empowering YOU to understand the Bible and grow in faith. If our online resources have blessed you, please support Reasons for Hope* Jesus. Our ministry outreach has grown significantly and . . .
Please support Reasons for Hope* Jesus with a donation of $5, $10, $20, or more. A donation of any amount is needed and greatly appreciated.
CLICK TO DONATE
to Reasons for Hope*Jesus(a 501c3 Ministry)
Use a Credit Card or PayPal for safe, secure giving.
***A Hidden Message in Psalm 23?***  
Hidden in the six verses of Psalm 23 are 11 names for Jesus.
When you subscribe to our newsletter, we'll send you
The Names of God in Psalm 23 PDF
that reveals all 11 names and Scripture verses of comfort and hope (link will be sent in your confirmation email).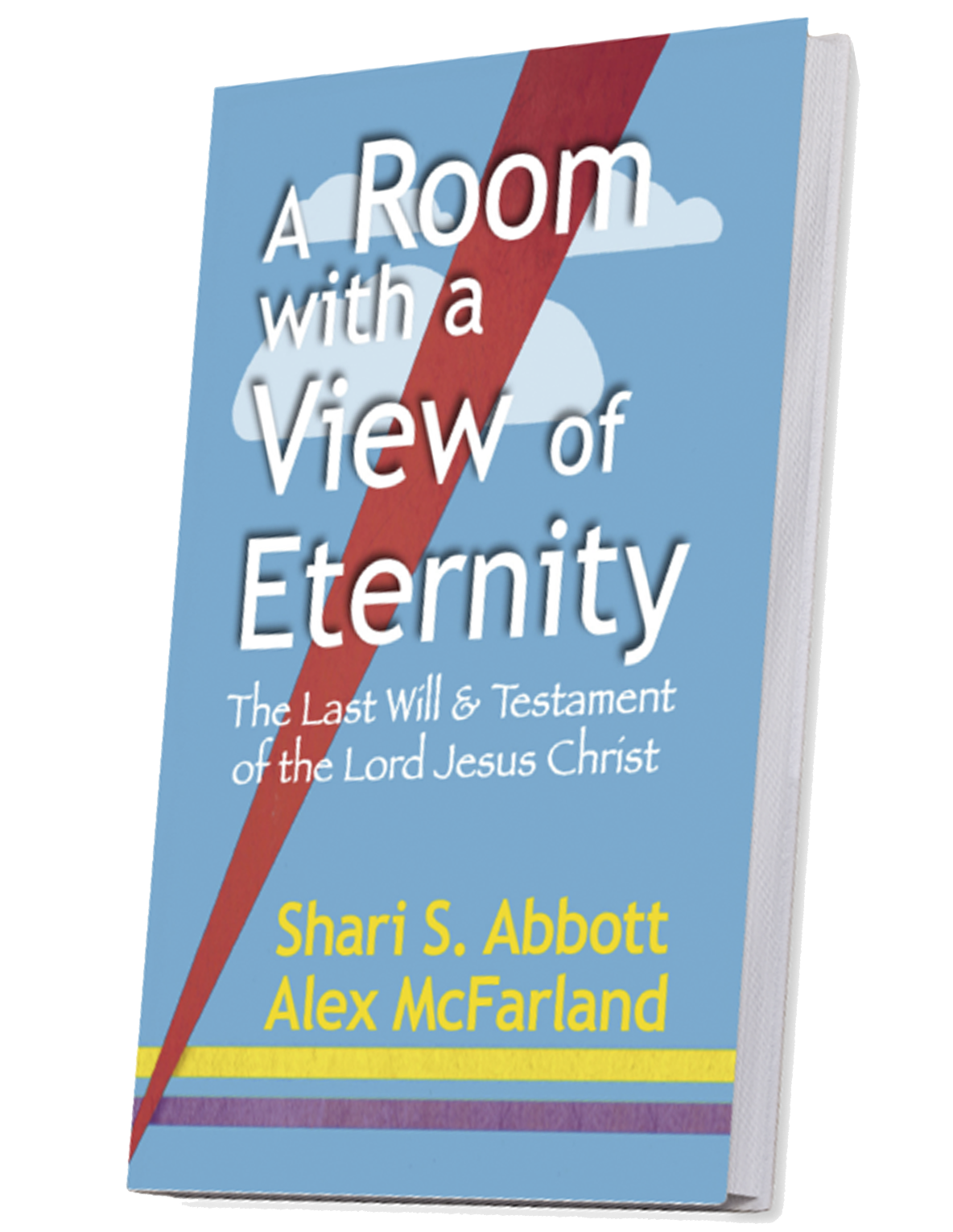 A Room with a View of Eternity—The Last Will & Testament of Jesus Christ   Take a seat at the Master's table. Learn about the riches He gives to all who are His. This book will bless and encourage you, give you hope, and help you live in the joy of your salvation and the riches of Christ that are yours.