In this chapter, we read of the blessing of a father to his son. The ceremonial blessing was like an anointing of the son, so he would be treated with all the respect and authority of his father.  It was like the passing of the torch from one generation to the next.
Esau was Isaac's oldest son and the rightful heir of the blessing.  The chapter begins with Isaac's instructions to Esau and Rebekah's response to what she heard:
Genesis 27
1 And it came to pass, that when Isaac was old, and his eyes were dim, so that he could not see, he called Esau his eldest son, and said unto him, My son: and he said unto him, Behold, here am I.
2 And he said, Behold now, I am old, I know not the day of my death: 3 Now therefore take, I pray thee, thy weapons, thy quiver and thy bow, and go out to the field, and take me some venison; 4 And make me savoury meat, such as I love, and bring it to me, that I may eat; that my soul may bless thee before I die.
5 And Rebekah heard when Isaac spake to Esau his son. And Esau went to the field to hunt for venison, and to bring it.  
The Blessing of the Firstborn
Even though Jacob had secured the birthright from Esau (Gen 25:29-34), it was Isaac's intention to anoint Esau with the blessings of the firstborn. Rebekah overheard Isaac say that he would bless Esau  (vs 6)  when he brought him food, so she decided to prepare a meal for Isaac and Jacob could deceptively present it to his father. 
Genesis 27:6-10
6 And Rebekah spake unto Jacob her son, saying, Behold, I heard thy father speak unto Esau thy brother, saying, 7 Bring me venison, and make me savoury meat, that I may eat, and bless thee before the Lord before my death.  8 Now therefore, my son, obey my voice according to that which I command thee.  9 Go now to the flock, and fetch me from thence two good kids of the goats; and I will make them savoury meat for thy father, such as he loveth:  10 And thou shalt bring it to thy father, that he may eat, and that he may bless thee before his death.
The deception was greater than just the meal Rebekah would prepare.  Knowing that Isaac's eyesight and hearing were failing, she devised a plan to trick Isaac into thinking Jacob was Esau.
Genesis 27:11-12
11 But Jacob said to Rebekah his mother, Behold, Esau my brother is a hairy man, and I am a smooth man: 12 My father peradventure will feel me, and I shall seem to him as a deceiver; and I shall bring a curse upon me, and not a blessing.
13 And his mother said unto him, Upon me be thy curse, my son: only obey my voice, and go fetch me them.  
14 And he went, and fetched, and brought them to his mother: and his mother made savoury meat, such as his father loved.
15 And Rebekah took goodly raiment of her eldest son Esau, which were with her in the house, and put them upon Jacob her younger son: 16 And she put the skins of the kids of the goats upon his hands, and upon the smooth of his neck: 17 And she gave the savoury meat and the bread, which she had prepared, into the hand of her son Jacob.
Jacob and Rebekah Deceived Isaac
Genesis 27:18-23
18 So he went to his father and said, "My father."  And Isaac answered and said, "Here I am. Who are you, my son?"  19 And Jacob said to his father, "I am Esau your firstborn; I have done just as you told me; please arise, sit and eat of my game, that your soul may bless me."  20 But Isaac said to his son, "How is it that you have found the deer so quickly, my son?"  And Jacob said, "Because the Lord your God brought it to me."
21 Isaac said to Jacob, "Please come near, that I may feel you, my son, and determine that you are really my son Esau." 22 So Jacob went near to Isaac his father, and he felt him and said, "The voice is Jacob's voice, but the hands and arms are the hands and arms of Esau." 23 And he did not recognize him, because his hands were hairy like his brother Esau's hands; so he blessed him with these words:
The Blessing
28 Therefore may God give you
Of the dew of heaven,
Of the fatness of the earth,
And plenty of grain and wine.
29 Let peoples serve you,
And nations bow down to you.
Be master over your brethren,
And let your mother's sons bow down to you.
Cursed be everyone who curses you,
And blessed be those who bless you!"
Having received Isaac's blessing, Jacob had everything he wanted. He had the birthright from Esau and the blessing of the firstborn from Isaac.
Esau's Return
When Esau returned from hunting and went to his father, Isaac realized what had happened.
Genesis 27:35-36
35 And [Isaac] said, Thy brother came with subtlety, and hath taken away thy blessing.
36 And [Esau] said, Is not he rightly named Jacob? for he hath supplanted me these two times: he took away my birthright; and, behold, now he hath taken away my blessing. And he said, Hast thou not reserved a blessing for me?
Isaac also knew that the blessing had been given and it could not be rescinded.
Genesis 27:35-36
37 And Isaac answered and said unto Esau, Behold, I have made him [Jacob] thy lord, and all his brethren have I given to him for servants; and with corn and wine have I sustained him: and what shall I do now unto thee, my son?
38 And Esau said unto his father, Hast thou but one blessing, my father? bless me, even me also, O my father. And Esau lifted up his voice, and wept.
A Blessing for Esau?
Gen 27:39-40  And Isaac his father answered and said unto him [Esau], Behold, thy dwelling shall be the fatness of the earth, and of the dew of heaven from above;  And by thy sword shalt thou live, and shalt serve thy brother; and it shall come to pass when thou shalt have the dominion, that thou shalt break his yoke from off thy neck.
While Isaac gave a blessing — "Behold, thy dwelling shall be the fatness of the earth, and of the dew of heaven from above" — he also spoke a prophecy of strife to come in Esau's life — "by thy sword shalt thou live, and shalt serve thy brother…"  This was not the blessing Esau had desired.  Jacob had taken the blessing of the firstborn from him and he determined that he would kill Jacob.  Again, Rebekah intervened.
Genesis 27:41-45
41 And Esau hated Jacob because of the blessing wherewith his father blessed him: and Esau said in his heart, The days of mourning for my father are at hand; then will I slay my brother Jacob.  
42 And these words of Esau her elder son were told to Rebekah: and she sent and called Jacob her younger son, and said unto him, Behold, thy brother Esau, as touching thee, doth comfort himself, purposing to kill thee.  43 Now therefore, my son, obey my voice; arise, flee thou to Laban my brother to Haran; 44 And tarry with him a few days, until thy brother's fury turn away; 45 Until thy brother's anger turn away from thee, and he forget that which thou hast done to him: then I will send, and fetch thee from thence: why should I be deprived also of you both in one day?
To protect Jacob from Esau's wrath, Rebekah sent Jacob to her brother Laban's house, many miles away. She told him to hide out there until Esau calmed down.  It's likely she thought he would be gone for a few weeks or months, but instead, it would be so many years that Rebekah would die, never having seen her son Jacob again. 
A Lesson
God had said that Jacob would be the son of the promise (Gen 25:23) and to him would the covenantal promises pass. So it was certain God would have raised up Jacob, in His way and in His timing.  But instead, Rebekah and Jacob tricked Esau into selling his birthright and they lied to Isaac to steal Esau's blessing. These were sinful actions, and we know that God never condones sins like lying, deception, and self-centeredness to bring about His purpose and plan.   Rebekah and Jacob should have waited on the Lord to bring about His promises.  But what we also know is that our God is a God of mercy. He forgave their sins and He raised up Jacob to become the father of the nation of Israel.
The great lesson for us?  God is a good and gracious Father.  He has a plan for our lives and He will work it out in His way and time and according to His purpose and plan.  Wait on the Lord.
Psa 27:14  Wait on the LORD: be of good courage, and he shall strengthen thine heart: wait, I say, on the LORD.
Jesus is the Reason this Ministry Exists
We continue to reach people worldwide with the truths of God's Word and the gospel of the Lord Jesus Christ. Your generosity is both a blessing and encouragement. Our mission is to glorify God by equipping, encouraging, and empowering YOU to understand the Bible and grow in faith. If our online resources have blessed you, please support Reasons for Hope* Jesus. Our ministry outreach has grown significantly and . . .
Please support Reasons for Hope* Jesus with a donation of $5, $10, $20, or more. A donation of any amount is needed and greatly appreciated.
CLICK TO DONATE
to Reasons for Hope*Jesus(a 501c3 Ministry)
Use a Credit Card or PayPal for safe, secure giving.
***A Hidden Message in Psalm 23?***  
Hidden in the six verses of Psalm 23 are 11 names for Jesus.
When you subscribe to our newsletter, we'll send you
The Names of God in Psalm 23 PDF
that reveals all 11 names and Scripture verses of comfort and hope (link will be sent in your confirmation email).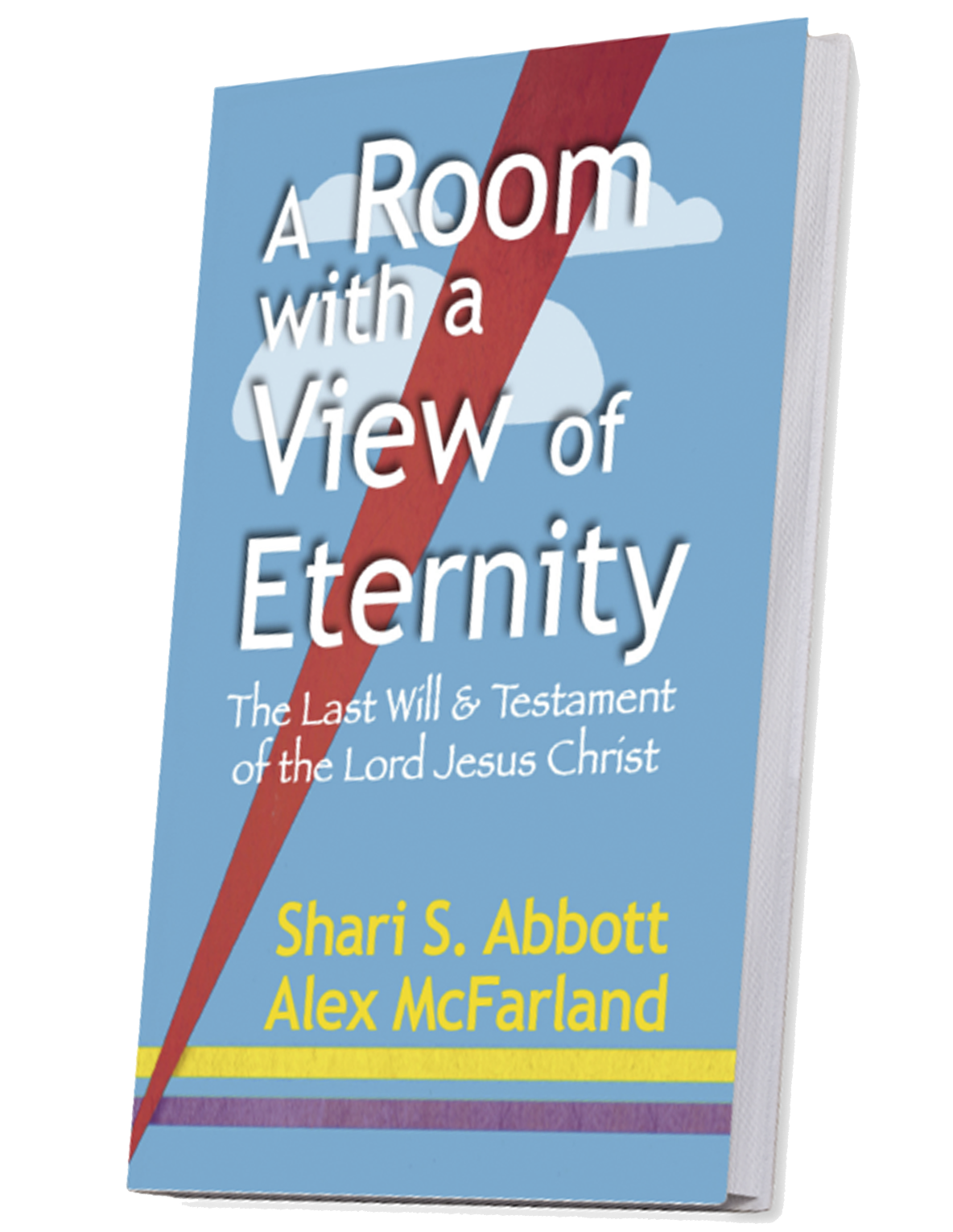 A Room with a View of Eternity—The Last Will & Testament of Jesus Christ   Take a seat at the Master's table. Learn about the riches He gives to all who are His. This book will bless and encourage you, give you hope, and help you live in the joy of your salvation and the riches of Christ that are yours.