Genesis 22 is an amazing chapter.  It records God's testing of Abraham's faith and obedience.  The chapter begins with God telling Abraham to offer his son, Isaac, on the altar of sacrifice. 
Jews refer to this event with the Hebrew word "akedah."  The word means "binding."  The Akedah is the binding of Isaac. It's likely Abraham was bewildered by the instruction God gave him to bind Isaac upon an altar and offer him as a burnt offering.  Abraham knew that Isaac was the long-awaited son of the promise. He knew it would be through Isaac that God would fulfill His promise to make a great nation with a King. Abraham must have wondered, if he did as God asked, how would the promises of God come to be? 
Genesis 22:1-2
1 And it came to pass after these things, that God did tempt Abraham, and said unto him, Abraham: and he said, Behold, here I am.  2 And he said, Take now thy son, thine only son Isaac, whom thou lovest, and get thee into the land of Moriah; and offer him there for a burnt offering upon one of the mountains which I will tell thee of.
Genesis 22:3-5
3 And Abraham rose up early in the morning, and saddled his ass, and took two of his young men with him, and Isaac his son, and clave the wood for the burnt offering, and rose up, and went unto the place of which God had told him.  4 Then on the third day Abraham lifted up his eyes and saw the place afar off.  5 And Abraham said unto his young men, Abide ye here with the ass; and I and the lad will go yonder and worship, and come again to you.
The text tells that God spoke with Abraham.  It does not tell if it was in a vision, or a dream, or face-to-face.  Whatever the case, the message must have been as devastating as it was perplexing.  After Abraham had waited several decades for the son of the promise to be born, God told him to sacrifice his son on the altar.  The sacrifice was to be a burnt offering to God. And burnt offerings began with the killing of a lamb on the altar, then the butchering of the lamb, and then the cooking of its parts on the fire.
The Surrender of Isaac
Isaac was not a child at this time. He was at least 20 years old and possibly 30.  He is called a "lad" because that suggests a young man still in service to his father versus a young married man responsible for his own family.  This indicates that whatever was going on, Isaac was allowing it to happen as he could easily have overpowered and stopped his elderly father.
The Surrender of Abraham
Note also God's words to Abraham regarding Isaac:  "take your son, your ONLY son, the son you LOVE… and offer him…for a burnt offering…"  Clearly, God was asking Abraham if his trust and obedience was greater  than even the love for his beloved son.
Without a single objection or question, Abraham woke up early the next morning. He prepared to head off to the mountain  where God would show him, and where he was to offer Isaac.  Abraham took two, young servants with him and Isaac.
The Faith of Abraham
 Take careful note of what Abraham says to the two young servant men in verse 5:  "…..and WE will come back to you."
Somehow Abraham knew in his heart that his son Isaac was going to live.  How did he know this?  Because God had made a promise that through Isaac His covenant would be fulfilled.  Therefore, Isaac could not die. Hebrews tells us that Abraham believed Isaac would be resurrected:
Heb 11:17-19  By faith Abraham, when he was tried, offered up Isaac: and he that had received the promises offered up his only begotten son.  Of whom it was said, That in Isaac shall thy seed be called: Accounting that God was able to raise him up, even from the dead; from whence also he received him in a figure.
So Abraham was certain that he could offer Isaac on the altar and return with Isaac to the servants at the foot of the mountain.  Abraham trusted and believed. And He had no doubt that he could obey the command to offer Isaac as a burnt offering and God would raise  him up.
Mount Moriah
God led Abraham to Mount Moriah. About a thousand years later, King David bought the threshing floor of Araunah the Jebusite on Mt. Moriah (2 Sam 24:18-24).  There, David built an altar and made burnt offerings and peace offerings unto the Lord. He did that seeking the Lord to withdraw a plague from Israel (2 Sam 24:25). And it came to pass that David desired to build a house for the Lord on that very mountain. But God would not allow him (1 Chron 17:1-4). Instead, it would be David's son, Solomon who would build the Lord's house:
1 Chr 17:11-12 And it shall be, when your days are fulfilled, when you must go to be with your fathers, that I will set up your seed after you, who will be of your sons; and I will establish his kingdom. He shall build Me a house, and I will establish his throne forever.
2 Chr 2:12  Hiram also said: Blessed be the LORD God of Israel, who made heaven and earth, for He has given King David a wise son, endowed with prudence and understanding, who will build a temple for the LORD and a royal house for himself!
King Solomon built the Lord's house on Mt. Moriah:
2 Chr 3:1  Now Solomon began to build the house of the LORD at Jerusalem on Mount Moriah, where the Lord had appeared to his father David, at the place that David had prepared on the threshing floor of Ornan the Jebusite.
The Temple stood for more than four hundred years until the Babylonian King Nebuchadnezzar besieged the city, destroyed the Temple, and deported many of God's people in 587/586 B.C.  (Dan 1:1ff)
Abraham and Isaac on Mt. Moriah
Genesis 22:6-8
6 And Abraham took the wood of the burnt offering, and laid it upon Isaac his son; and he took the fire in his hand, and a knife; and they went both of them together.  7 And Isaac spake unto Abraham his father, and said, My father: and he said, Here am I, my son. And he said, Behold the fire and the wood: but where is the lamb for a burnt offering?  8 And Abraham said, My son, God will provide himself a lamb for a burnt offering: so they went both of them together.
Genesis 22:9-12
9 And they came to the place which God had told him of; and Abraham built an altar there, and laid the wood in order, and bound Isaac his son, and laid him on the altar upon the wood.  10 And Abraham stretched forth his hand, and took the knife to slay his son. 11 And the angel of the Lord called unto him out of heaven, and said, Abraham, Abraham: and he said, Here am I.  12 And he said, Lay not thine hand upon the lad, neither do thou any thing unto him: for now I know that thou fearest God, seeing thou hast not withheld thy son, thine only son from me.
Genesis 22:13-14
13 And Abraham lifted up his eyes, and looked, and behold behind him a ram caught in a thicket by his horns: and Abraham went and took the ram, and offered him up for a burnt offering in the stead of his son.  14 And Abraham called the name of that place Jehovahjireh: as it is said to this day, In the mount of the Lord it shall be seen.
As Abraham and Isaac set off together up the mountain, Isaac carried the wood and materials to start the fire for a burnt offering unto God.  So he asked his father, "Where is the lamb?"  And note Abraham's response, "God will provide Himself a lamb……" (vs 7). This shows Abraham's certainty in God.  If Isaac was to be that burnt sacrifice, Abraham was acknowledging that He understood Isaac belonged more to God than to himself.
If Abraham surmised that God would provide another (a "substitute") for Isaac, how could he have known?  And moreover, look carefully at how Abraham responded. We can read it literally and conclude that Abraham said…God would HIMSELF be the lamb.  How about that?  Oh, that men would search the riches of the Bible as the Word of God.  Whether God was foreshadowing for our benefit or whether God gave even more information to Abraham than we can possibly imagine (or both), what a miraculous and glorious God we have. And how miraculous and glorious is His Word.
Foreshadows of Calvary
Isaac, the son of Abraham the father of the great nation to come, was bound on the altar on Mt. Moriah.  This foreshadowed another Son, who would be bound by His Father on another altar — on Mount Calvary.  But on Mount Calvary, the offering of the Father's Son would not be stopped.  On Mount Moriah, God provided a ram as a substitute for Abraham's son, Isaac. (Read: Why Was a Ram Sacrificed in Genesis 22 Instead of a Lamb? ) On Mt. Calvary, God offered His only begotten Son, the Lamb of God, as a substitutionary atonement for the sin of the world. The perfect and final atonement for sin.  Praise God for His generous mercy, amazing grace, and abounding love — for us!
Jesus is the Reason this Ministry Exists
We continue to reach people worldwide with the truths of God's Word and the gospel of the Lord Jesus Christ. Your generosity is both a blessing and encouragement. Our mission is to glorify God by equipping, encouraging, and empowering YOU to understand the Bible and grow in faith. If our online resources have blessed you, please support Reasons for Hope* Jesus. Our ministry outreach has grown significantly and . . .
Please support Reasons for Hope* Jesus with a donation of $5, $10, $20, or more. A donation of any amount is needed and greatly appreciated.
CLICK TO DONATE
to Reasons for Hope*Jesus(a 501c3 Ministry)
Use a Credit Card or PayPal for safe, secure giving.
***A Hidden Message in Psalm 23?***  
Hidden in the six verses of Psalm 23 are 11 names for Jesus.
When you subscribe to our newsletter, we'll send you
The Names of God in Psalm 23 PDF
that reveals all 11 names and Scripture verses of comfort and hope (link will be sent in your confirmation email).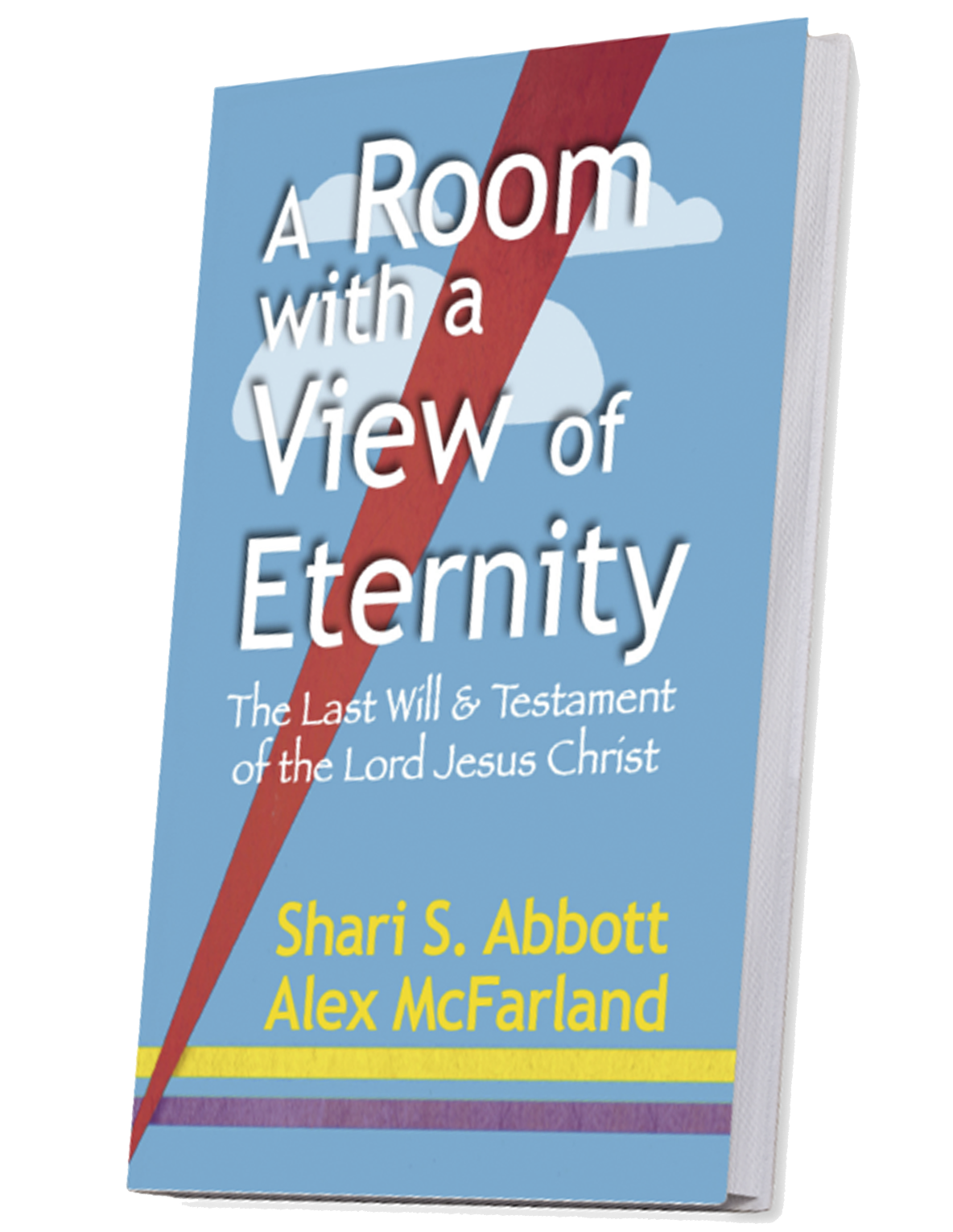 A Room with a View of Eternity—The Last Will & Testament of Jesus Christ   Take a seat at the Master's table. Learn about the riches He gives to all who are His. This book will bless and encourage you, give you hope, and help you live in the joy of your salvation and the riches of Christ that are yours.