The life of Abram (later Abraham) is an amazing illustration of living by faith.  (Check out our Abraham Study on our Bible Study Resources page).  But it was God alone who established the Abrahamic Covenant.  In Genesis 15, we read that God told Abram to take three animals and two birds and divide them. Then, he was to lay them out. Abram did as God commanded.  But then God put Abram into a deep sleep, and God alone passed through the animals, thereby "cutting" the covenant as was done in ancient times.
<<Comparisan chart of the Abrahamic and New Covenants, below.>>
Genesis 15
Gen 15:7  Then He said to him, "I am the LORD, who brought you out of Ur of the Chaldeans, to give you this land to inherit it." 
8  And he said, "Lord GOD, how shall I know that I will inherit it?"

9-11 So He said to him, "Bring Me a three-year-old heifer, a three-year-old female goat, a three-year-old ram, a turtledove, and a young pigeon."  Then he brought all these to Him and cut them in two, down the middle, and placed each piece opposite the other; but he did not cut the birds in two.  And when the vultures came down on the carcasses, Abram drove them away. 
Gen 15:12 Now when the sun was going down, a deep sleep fell upon Abram; and behold, horror and great darkness fell upon him.
Gen 15:17-18  And it came to pass, when the sun went down and it was dark, that behold, there appeared a smoking oven and a burning torch that passed between those pieces.  On the same day the LORD made a covenant with Abram, saying: "To your descendants I have given this land, from the river of Egypt to the great river, the River Euphrates;
The Abrahamic Covenant is an unconditional covenant.  That means, all the promises God made to Abram are guaranteed to be fulfilled to his descendants because the covenant was based on God's faithfulness alone.  
A New Name for a New Man
Once Abram was in a covenantal relationship with God (Gen 15), Abram was a new man. And God gave Him a new name (Gen 16:5) and reminded him of the promises of the covenant (Gen 16:6-8).  After this, God "sealed" His covenant with a sign — circumcision.
Genesis 17
Gen 17:9-11  And God said to Abraham: "As for you, you shall keep My covenant, you and your descendants after you throughout their generations. This is My covenant which you shall keep, between Me and you and your descendants after you: Every male child among you shall be circumcised. And you shall be circumcised in the flesh of your foreskins, and it shall be a sign of the covenant between Me and you.
Why Circumcision?
So why did God require circumcision as the sign of the covenant?  Why didn't God choose a different act that would not have been as strange, or as difficult, and certainly not as painful?  The answer is simple.  We do not know. God does not clearly tell us why He chose circumcision.  However, in the symbolism of this act, we might find reasons that answer our questions.
1. First, life is of ultimate importance to God and life is in the blood. 
The cutting away of the foreskin on the male reproductive organ was a practice in which human blood was shed.  And in Leviticus we are told that the "life of the flesh is in the blood" and that "blood makes an atonement for the soul" (Lev 17:11).  This removal of the foreskin and the shedding of blood can be seen as a sacrifice (an atonement for sin).  Symbolically, it was a "dying" — a being "cut away"/separated from the world — that allowed them to enter into the household of Abraham.  Also, in a symbolic way, a circumcised male (adult or child) would be standing "bare" before God, separated from the world to be prepared for His service. 
2. SECOND, circumcision can also be seen as a choice to follow God. 
When Abraham circumcised his household, each adult male made a choice to do as God commanded, indicating their free-will choice to obey God. And for each male child, the parents made the choice thereby surrendering their child to God's will and consecrating their child as member of Abraham's household.
3. Most importantly, the significance of an unconditional covenant with God.
The Abrahamic Covenant was guaranteed because it was based on the faithfulness of God alone. Animals were sacrificed and their shed blood served as an atonement for sin. However, animal blood is never sufficient to pay for man's sin.  Only man's blood could pay for man's sin and enable man to enter into the household of God as God's child.  Yet, God would never ask for human sacrifice of those whom He created in His image.  And so, His covenant with Abraham and his household was completed (ie. sealed) with man's blood by circumcision. 
Similarities to the New Covenant
Just like the animals were cut/broken, and God walked through the sacrifice alone, and then required man's blood in the act of circumcision, Jesus's body was also cut and broken. And in darkness, God "walked through," pouring out His wrath in judgment. And then, God required the only perfect man's blood, the only pure, sinless blood of man — the blood of Jesus.  Jesus' blood was the atonement, the payment, for the sins of the whole world.  And then Jesus declared "It is finished" (John 19:30).
Free-will Choice
Man was created in the image of God and God is volitional.  Therefore, God gave man the freedom to make choices.  Both covenants required faith choices.  Certainly, no one would have chosen circumcision of the flesh (for himself or his child) unless his faith was in the God of Abraham. And during the Church Age, salvation (circumcision of the heart) is by grace alone, but it is received through faith — by choosing to come to Jesus in repentance and faith!
Other Covenants Sealed by Blood
Many of God's covenants are considered blood covenants—sealed by the blood of sacrifice.  But only the Abrahamic Covenant and the New Covenant are sealed by man's blood. That is: fallen, fully human blood in the Abrahamic Covenant and, in the New Covenant, the pure, sinless blood of the God-Man–Jesus. 
Another Sign — Another Seal
There is yet one more aspect of the New Covenant that is a sign.  This sign is unparalleled, not found in any of God's other covenants.  And it is unique to the time in which we live — the Church Age.  
The New Covenant was established with the death of Jesus by His precious blood.  But the sealing and indwelling of the Holy Spirit is yet another sign of the New Covenant.  In Abraham's time, the Spirit would come upon, or enter into, those whom God chose for His service.  But the Spirit did not permanently indwell them or permanently seal them unto eternal life.
In Conclusion
Just as the blood of circumcision opened the way of entrance into the Abrahamic Covenant, the blood of Jesus opens the way to enter into the New Covenant. 

Just as circumcision of the male organ was a cutting away of the flesh under the Abrahamic Covenant, circumcision of the heart is a cutting away of the flesh from the soul, the heart, under the New Covenant.

And, just as circumcision indicated a dying to the world and living in the household of Abram, our circumcision of the heart indicates a dying to self and living for Christ (Col 3:3-4a).
The parallels between the unconditional Abrahamic Covenant and the unconditional New Covenant are amazing.  Review this chart:
Biblical symbolism is clear and consistent and it gives us insights into God's perfect plan and purpose.
Let us not neglect so great a salvation.
May we live in gratitude, keeping our eyes focused on the Author and Finisher of our faith (Heb 12:2)

May our hearts be devoted to Him (Prov 23:26, Heb 13:9), a

nd our minds renewed in His Word (Rom 12:2)

And may we live, every day, firmly grounded in our Reasons for Hope—Jesus!  (Hebrews 6:19)
<*}}}><
Read more about the life and faith of Abraham: Check out our Abraham Study on our Bible Study Resources page.
Jesus is the Reason this Ministry Exists
We continue to reach people worldwide with the truths of God's Word and the gospel of the Lord Jesus Christ. Your generosity is both a blessing and encouragement. Our mission is to glorify God by equipping, encouraging, and empowering YOU to understand the Bible and grow in faith. If our online resources have blessed you, please support Reasons for Hope* Jesus. Our ministry outreach has grown significantly and . . .
Please support Reasons for Hope* Jesus with a donation of $5, $10, $20, or more. A donation of any amount is needed and greatly appreciated.
CLICK TO DONATE
to Reasons for Hope*Jesus(a 501c3 Ministry)
Use a Credit Card or PayPal for safe, secure giving.
***A Hidden Message in Psalm 23?***  
Hidden in the six verses of Psalm 23 are 11 names for Jesus.
When you subscribe to our newsletter, we'll send you
The Names of God in Psalm 23 PDF
that reveals all 11 names and Scripture verses of comfort and hope (link will be sent in your confirmation email).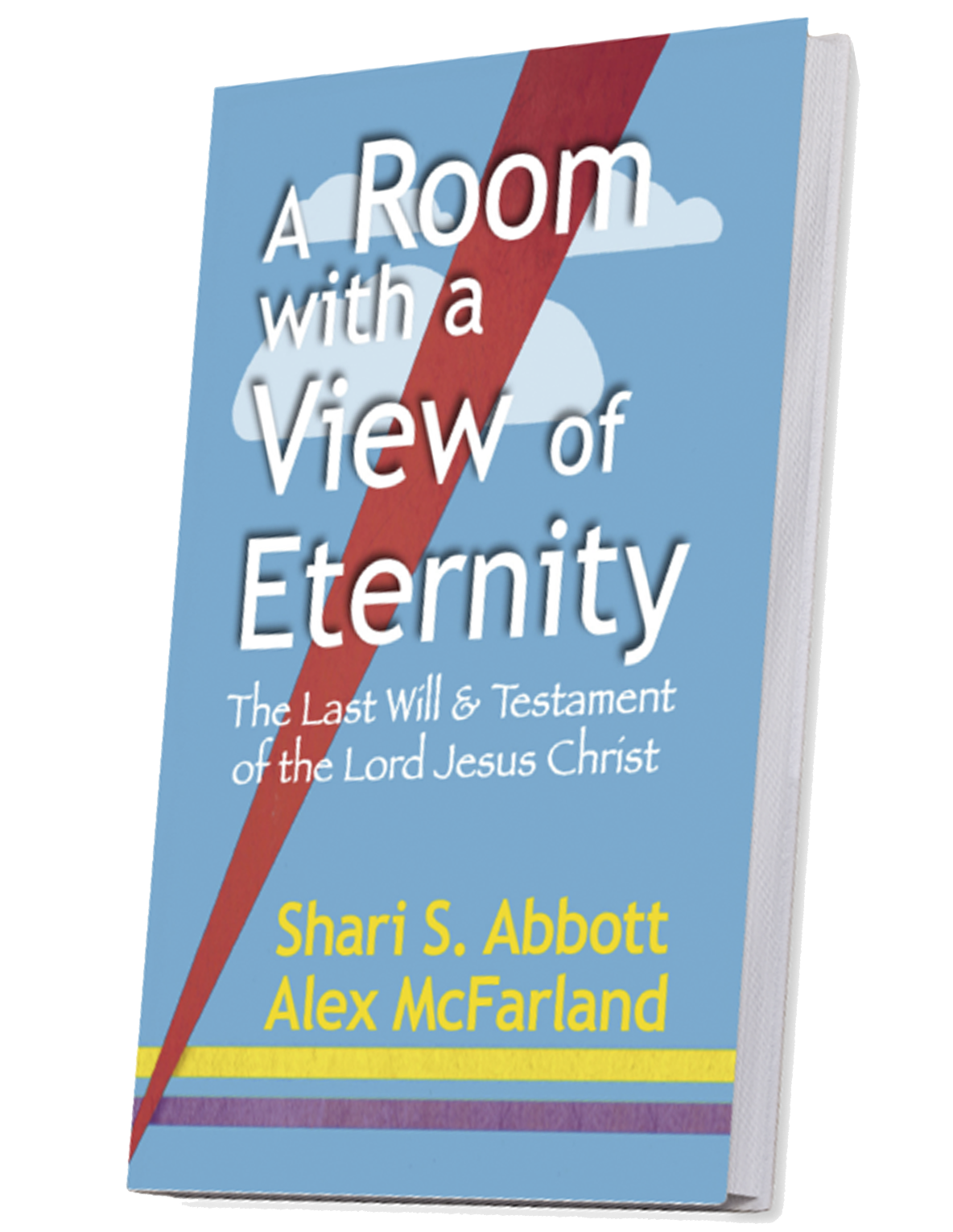 A Room with a View of Eternity—The Last Will & Testament of Jesus Christ   Take a seat at the Master's table. Learn about the riches He gives to all who are His. This book will bless and encourage you, give you hope, and help you live in the joy of your salvation and the riches of Christ that are yours.
Summaries of Warren Wiersbe's list of 77 questions abridged from
Fbcgodfrey.org.