While Abram's faith in God was deemed sufficient by God, his faith was yet still "young" and still in need of growth and maturation.  This highlights that our salvation (redemption) is an event in God's hands alone. But our sanctification (our growth, refinement) is an ongoing process in which we participate.  Specifically, at this stage in Abram's journey, Scripture tells that even though Abram believed God's WORD (i.e., that he would be the father of a great, chosen people), he was still confused about how this would happen because he and Sarai were without a son and beyond child-bearing age.  They began to rationalize that they should do something to bring about God's promise of a great people and nation.  It is godly to stand on faith, but it is oh-so-human to reason that "God helps those who help themselves."
Genesis 15
In the second half of Chapter 15 and in Chapter 16 two important things happen.  
Chapter 15: God began the process of teaching Abram that faith requires patience and trust.

 

Abram had to learn that things will happen God's way and in God's time, which may be (and usually is) much different than man's expectations or desires.

 

Chapter 16: Sarai convinced Abram that God was waiting for them to take the initiative and help bring about His promises.
But first, God reaffirmed the promises He made to Abram when He called him from Ur of the Chaldees (Gen12:1-3) and cut a covenant that established those promises.
Genesis 15:7-8
And the LORD said unto Abram, I am the Lord that brought thee out of Ur of the Chaldees, to give thee this land to inherit it. 8 And Abram said, Lord God, whereby shall I know that I shall inherit it?
In this short passage, we read of God verbally reassuring Abram that He will fulfill His promises.  Abram then asked for assurance of their agreement.  That assurance would be God's covenant with him.
Cutting a Covenant
The ancient way of establishing a covenant was to "cut a covenant."  The Hebrew word for "covenant" is  "berîyth" and it derives from a root that means "to cut."   Ancient covenants were established by the cutting, dividing, of animals into two parts. The contracting parties would then pass between the animal parts.  This was to signify their promise to keep the covenant and that their desire was not to be killed/cut apart by failing to do so.
God gave His instructions for His covenant with Abram:
Genesis 15:9-12
And the LORD said unto him, Take me a heifer of three years old, and a she goat of three years old, and a ram of three years old, and a turtledove, and a young pigeon.  10 And Abram took unto Him all these, and divided them in the midst, and laid each piece one against another: but the birds divided he not.  11 And when the fowls came down upon the carcasses, Abram drove them away. 12  And when the sun was going down, a deep sleep fell upon Abram; and, lo, an horror of great darkness fell upon him.
Gen 15:13-18
And the LORD said unto Abram, Know of a surety that thy seed shall be a stranger in a land that is not theirs, and shall serve them; and they shall afflict them four hundred years; 14 And also that nation, whom they shall serve, will I judge: and afterward shall they come out with great substance. 15 And thou shalt go to thy fathers in peace; thou shalt be buried in a good old age. 16 But in the fourth generation they shall come hither again: for the iniquity of the Amorites is not yet full. 
17 And it came to pass, that, when the sun went down, and it was dark, behold a smoking furnace, and a burning lamp that passed between those pieces. 18 In the same day the Lord made a covenant with Abram, saying, Unto thy seed have I given this land, from the river of Egypt unto the great river, the river Euphrates.
An Unconditional Covenant
God instructed Abram to kill a heifer, a goat, and a ram and cut the animals in two.  The birds were not to be divided.  But instead of both God and Abram passing between the animals, God put Abram into a deep sleep (Gen 15:12) so God alone passed between the animals.  This established the Abrahamic Covenant as an unconditional covenant, one that is unable to be broken. 
Why can it NOT be broken?  Because God alone made the covenant.  And God is unable to lie and He is faithful to keep His promises. Therefore He is unable to break this covenant.  If Abram had participated in passing between the animals, he would have participated in the covenantal agreement.  And as a human, Abram would have been able to break any covenant he made.  
It was clearly God's purpose and plan to make unconditional promises to Abram and his descendants and to establish those promises in a way that Abram would know for certain (Gen 15:13) that the promises would come to pass.   While Abram cut the animals,  it was God alone who established the covenant.  This covenant was sealed with the blood of sacrifice making it certain and secure.  So also, we should reflect on the New Covenant. Having been sealed with the blood of sacrifice for forgiven sins, being established in the darkness by God alone, we are assured that all the covenantal promises are certain and secure.  Read our article and review our chart that compares the Abrahamic Covenant with the New Covenant:
God Alone
In establishing this covenant, Abram sacrificed the animals, divide them, and laid the pieces on the ground as God instructed.  Then "a smoking furnace, and a burning lamp … passed between those pieces" (Gen 15:17).  T
The smoking furnace and burning lamp would come to be prominent symbols in the history of Abram's descendants.  There are many varying definitions of what these two items symbolize.  While the varying definitions serve to teach spiritual truths, we believe the best meaning of these symbols are:
The iron furnace represented the world and Israel's sufferings in the world (Especially Egypt.

 

Israel's time in Egypt was later called "the iron furnace" Jer

 

11:4)
The burning lamp represented God's presence with them in all their afflictions. (2 Sam 22:29, Ps 119.105, Isa 62:1)
In his deep sleep, Abram saw a symbol of Israel and its suffering, and God in His light and glory, passed between the animals of sacrifice.  Thereby, God cut the covenant alone.  In doing so, God swore fidelity to His people, Israel, and to His promises. God took upon Himself alone the obligation of fulfilling the covenant.
These symbols also have significance in the life of a Christian.  When we are "in the world," affliction is like a smoking furnace. And Jesus is like a Burning Lamp– a Light unto our path.  Jesus is always with us and will draw us to His Light.  What we must do is that which Abram Did.  Abram believed God and trusted that God was with Him!!!  We are to be looking unto Jesus in faith, for He is both the author and finisher of our faith (Heb 12:2).  He is our Light and He is faithful to bring all of His promises to pass.
The Land Defined
In establishing this covenant, God gave further information about that which He had promised.  Previously, He had promised "a land," but now God defined the boundaries of that land:  "…from the river of Egypt unto the great river, the river Euphrates" (Gen 15:18).   This promise has not yet been fulfilled. But this promise will be fulfilled when Christ returns. Israel will be given all the land that God gave in His covenantal promises to Abram. And in that land, Israel will live as the lead nation with Jesus as the King.
Grace Through Faith
Faith is needed for God's GRACE to be poured out in our salvation.  "By grace you have been saved through faith, and that not of yourselves; it is the gift of God, not of works, lest anyone should boast." (Eph 2:8-9)
So also, our faith is to be a living faith. We received the righteousness of Christ (Read: The Gift of Salvation: Justification & Imputation) the moment we truly believed who He is and what He has done for us.  But we are called to continue to grow and develop in that faith the rest of our lives.  And when we do, we will do increasingly great things (works and witness) trusting the Lord and allowing His Holy Spirit to work in and through us.  
+++
Jesus is the Reason this Ministry Exists
We continue to reach people worldwide with the truths of God's Word and the gospel of the Lord Jesus Christ. Your generosity is both a blessing and encouragement. Our mission is to glorify God by equipping, encouraging, and empowering YOU to understand the Bible and grow in faith. If our online resources have blessed you, please support Reasons for Hope* Jesus. Our ministry outreach has grown significantly and . . .
Please support Reasons for Hope* Jesus with a donation of $5, $10, $20, or more. A donation of any amount is needed and greatly appreciated.
CLICK TO DONATE
to Reasons for Hope*Jesus(a 501c3 Ministry)
Use a Credit Card or PayPal for safe, secure giving.
***A Hidden Message in Psalm 23?***  
Hidden in the six verses of Psalm 23 are 11 names for Jesus.
When you subscribe to our newsletter, we'll send you
The Names of God in Psalm 23 PDF
that reveals all 11 names and Scripture verses of comfort and hope (link will be sent in your confirmation email).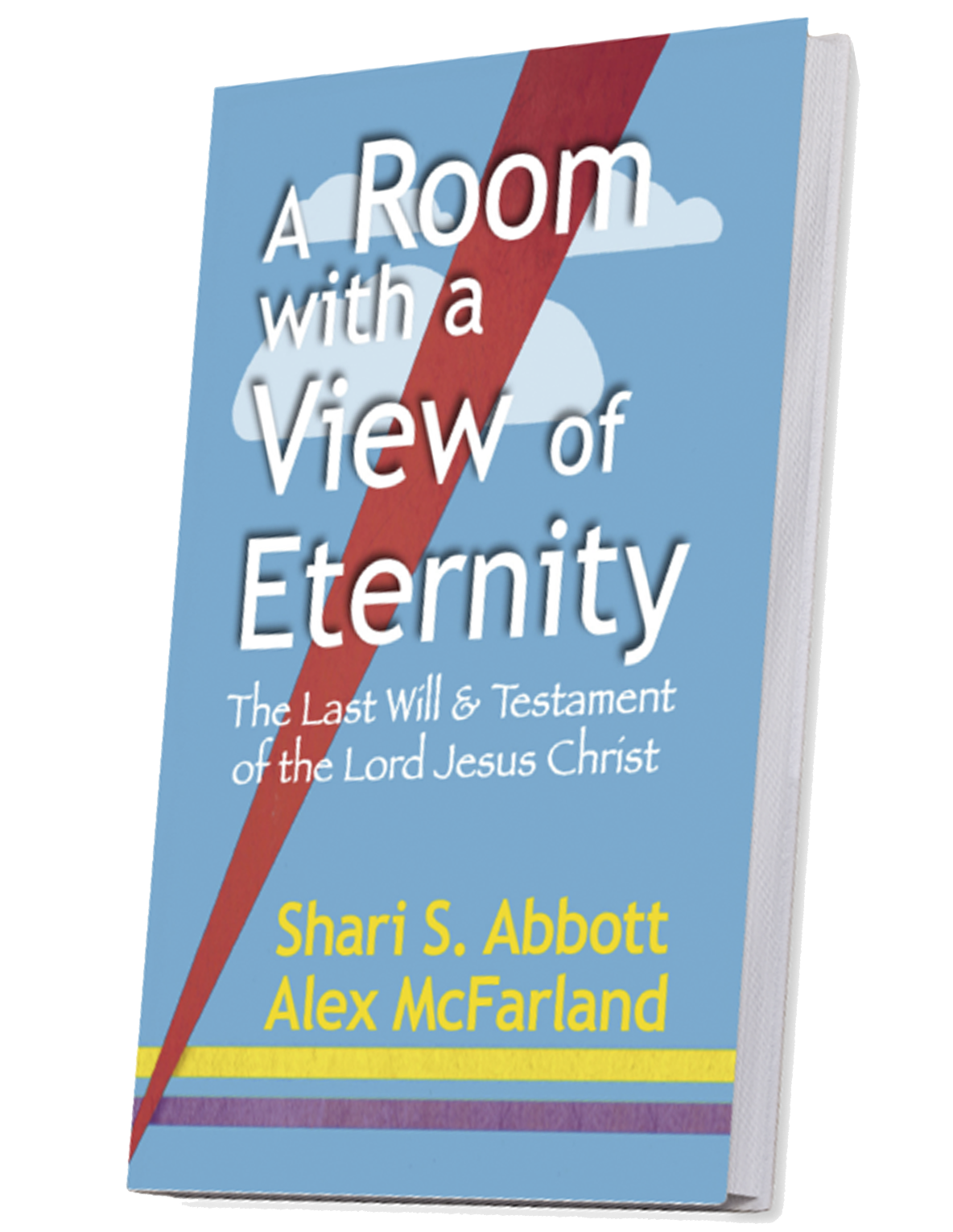 A Room with a View of Eternity—The Last Will & Testament of Jesus Christ   Take a seat at the Master's table. Learn about the riches He gives to all who are His. This book will bless and encourage you, give you hope, and help you live in the joy of your salvation and the riches of Christ that are yours.
Summaries of Warren Wiersbe's list of 77 questions abridged from
Fbcgodfrey.org.