We love getting questions, and we love hearing how they came up.  We received this from a reader:
During Bible study, a person said, "once I get to heaven, Jesus rakes me over the coals for all the stuff I've done, but I will be forgiven and allowed into heaven." I answered, "Um, no. I don't think Jesus will rake His own over the coals. We are forgiven and set free. There is no judgment or condemnation. God sees us through rose-colored glasses." So he asked, "are we not to be judged?  Our actions are not free of consequences." 
Understanding God's Judgements
It's sad that many Christians do not live in the peace they have with God (Read the difference between peace of God and peace with God).  The peace we have with God was received when Jesus saved us and it assures us that our sins (past, present, and future) are forgiven and there will be no further judgment of them or any penalty for them.  Let's examine God's judgment of our sins and His future judgment of our works at the Judgment Seat of Christ.
God's Judgement of Sin
God is a True and Faithful Judge and we know that to be just He must judge all sin.  On the cross, the sins of the world were placed upon Jesus and judged by God.  God's wrath was poured out upon Jesus, and Jesus suffered death (Romans 6:23) paying the penalty for our sins and satisfying the righteous judgment of God.  Jesus paid that penalty because He was the only one who could.  The Bible tells us that the "life is in the blood" and that only a pure, without-stain sacrifice, is acceptable to God to atone for sin.  Jesus is the only man who ever lived a sinless life and, therefore, the only man who had pure blood to offer in payment for our sin. 
So all sin was paid for by Jesus.  But only those who belong to Him, who have repented and trusted in Him, have received forgiveness of their sins and are saved by Jesus.  For those who do not belong to Jesus, there will be an end of times judgment, the Great White Throne Judgment, where their sins will be judged.  But that's another topic for another day.
The Blood and The Righteousness
For some Christians, their understanding of salvation is focused upon the cross, the death of Jesus.  While it is true and necessary that His paid for our sins, there is so much more.  Forgiven sins do not get us into Heaven.  Our eternal home is guaranteed by the resurrection of Jesus and the righteousness He gives to those who are His.
1 Cor 15:14  And if Christ be not risen, then is our preaching vain [empty, meaningless) and your faith is also vain.
When Jesus rose from the grave He conquered death and, when He ascended to the Father, He was glorified.  When Jesus saves a repentant sinner, the sinner dies to the "old man" (Romans 6:6) and is made a new creature (2 Cor 5:17) regenerated by the Holy Spirit and clothed with the imputed righteousness of Christ.
2 Cor 5:17-18  Therefore, if anyone is in Christ, he is a new creation; old things have passed away; behold, all things have become new. Now all things are of God, who has reconciled us to Himself through Jesus Christ…
The Imputed Righteousness of the Lord Jesus Christ
During His earthly ministry, Jesus told how one can enter into Heaven, "Therefore you shall be perfect, just as your Father in heaven is perfect." (Mat 5:48).  Uh, oh!  No one can be perfect, that's certain.  
Only Jesus can give a forgiven sinner the righteousness that is needed to be seen perfect in God's eyes.  And Jesus does just that. He gives repentant sinners, who trust in Him, His own righteousness by imputing, or crediting, it to their account.  This is the Great and Glorious Exchange of which the reformation leaders spoke and wrote so much.  Jesus took our sin upon Himself.  He paid for our sins by giving His life for us.  He rose to glory and gives His righteousness to those who repent and trust in Him.
2 Cor 5:21  For He [God] made Him [Jesus] who knew no sin to be sin for us, that we might become the righteousness of God in Him.
For more information on imputed righteousness, read The Gift of SalvaTION: Justification & Imputation 
Judgment of Works (Not Sin) at the Judgment Seat of Christ
This judgment will take place when the Church, the Body of Christ, is raptured into Heaven at the close of the Church Age and the beginning of the Seventieth Week of Daniel (for more information read, "Why a Pre-trib Rapture?")
2 Cor 5:10  For we must all appear before the judgment seat of Christ, that each one may receive the things done in the body, according to what he has done, whether good or bad.
Yes, we will all stand before Jesus and our works will be judged, but not for punishment.
Rom 8:1  There is therefore now no condemnation to those who are in Christ Jesus…
This judgment will be for rewards for the work done in service to God.  It will be a preparation and an adornment of the Bride of Christ for our service to God throughout eternity.  It can be likened to the Olympic games when an athlete is adorned with gold, silver, or bronze.  The success of their competition is rewarded and any mishaps in performance are not even mentioned.  That's why in the passage that addresses this most clearly tells that the "wood, hay, and stubble" (works not done to honor God) will quickly burn up.  
1 Cor 3:11-12  For no other foundation can anyone lay than that which is laid, which is Jesus Christ. Now if anyone builds on this foundation with gold, silver, precious stones, wood, hay, straw, each one's work will become clear; for the Day [Judgment Day] will declare it, because it will be revealed by fire; and the fire will test each one's work, of what sort it is.  

1 Cor 3:14-15  If anyone's work which he has built on it endures, he will receive a reward. If anyone's work is burned, he will suffer loss [of rewards]; but he himself will be saved, yet so as through fire.
Read More:
What Crowns will Believers Receive?
What is the Crown of Righteousness?
Rest assured, no one will be "raked over the coals" when we stand before Jesus. We will be filled with awe and joy. Perhaps when we see the "wood, hay, and stubble" burn up, we may be wishing we had done more on earth to glorify God.  That should be a motivation to serve Him daily in everything we do.  And yet, our true focus should be on serving Jesus from a heart of gratitude for what He has done for us, not on earning rewards.  Whatever rewards the Lord chooses to give us, we will be honored and thankful throughout all eternity.
1 Cor 15:57  … thanks be to God, who gives us the victory through our Lord Jesus Christ.
<*}}}><
Jesus is the Reason this Ministry Exists
Thank you to all who contributed in 2020. Your generosity is a blessing and encouragement to us.  We did not meet expenses in 2020 and still need your help to continue our global outreach in 2021.  Our mission is to glorify God by equipping, encouraging, and empowering YOU to understand the Bible and grow in faith. If our online resources have blessed you, we hope you will support Reasons for Hope* Jesus. Our ministry outreach has grown significantly and. . .
Please support Reasons for Hope* Jesus with a donation of $5, $10, $20, or more. A donation of any amount is needed and greatly appreciated.
CLICK TO DONATE
to Reasons for Hope*Jesus(a 501c3 Ministry)
Use a Credit Card or PayPal for safe, secure giving.
***A Hidden Message in Psalm 23?***  
Hidden in the six verses of Psalm 23 are 11 names for Jesus.
When you subscribe to our newsletter, we'll send you
The Names of God in Psalm 23 PDF
that reveals all 11 names and Scripture verses of comfort and hope (link will be sent in your confirmation email).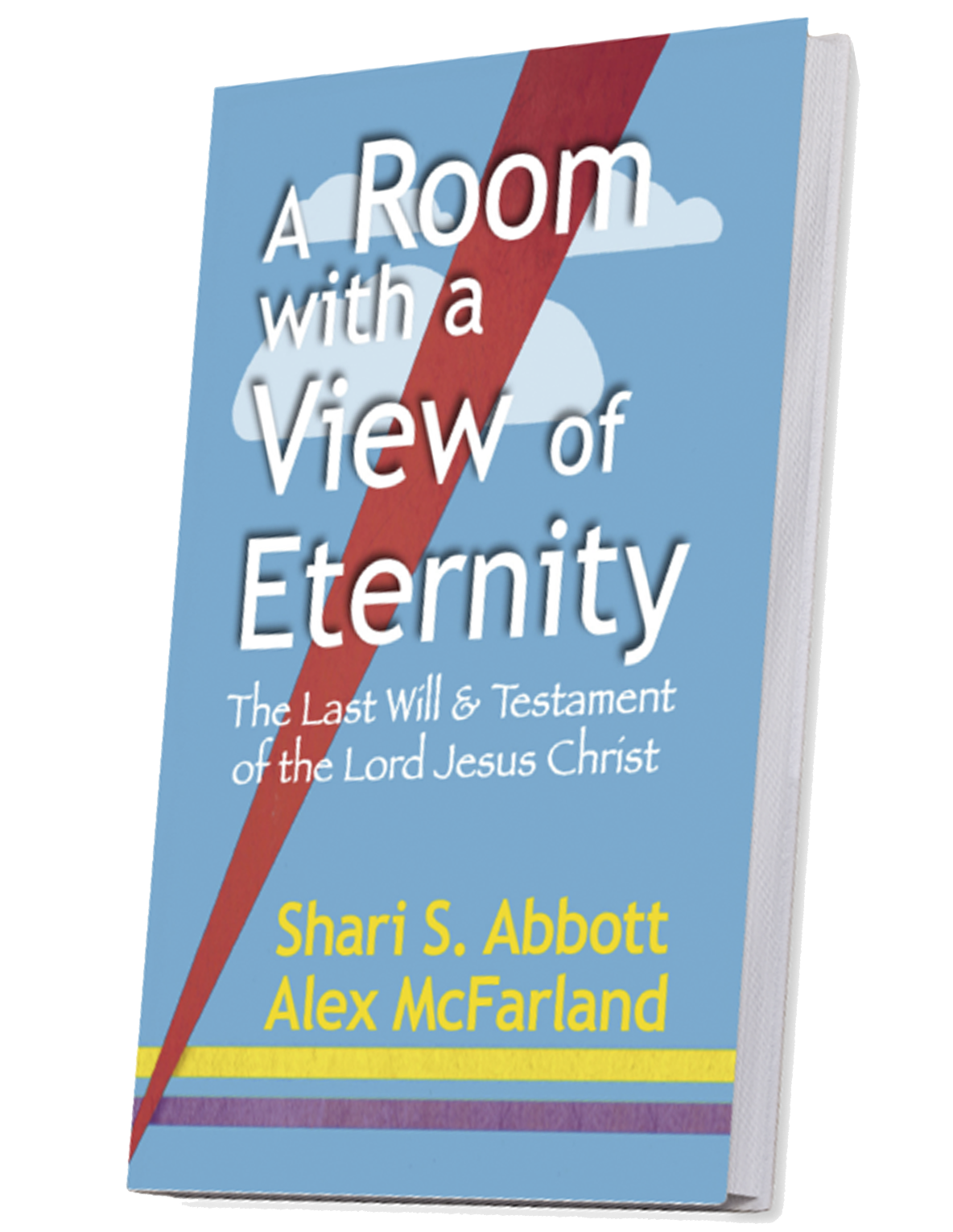 A Room with a View of Eternity—The Last Will & Testament of Jesus Christ
Take a seat at the Master's table. Learn about the riches He gives to all who are His. This book will bless and encourage you, give you hope, and help you live in the joy of your salvation and the riches of Christ that are yours.
Top Ten 
in 2019
More Popular Questions & Articles:
If BAPTIZED as an Infant, Do I Need to Be Baptized Again?
How was Jesus Like a Worm? What's the CRIMSON (OR SCARLET) WORM? Psalm 22
Is Satan's Real Name LUCIFER? Or Should We Call Him Satan?
What is the Significance of the Wise Men's THREE GIFTS? And were they kings? 
Was Jesus CRUCIFIED on Wednesday, Thursday, or Friday?
The Names of Jehovah hidden in Psalm 23! This will surprise you!
What Did Jesus Say About HEAVEN (and HELL)?
JESUS WEPT. Why? And…it's not the shortest verse in the Bible!
Is There a Remez (HIDDEN MESSAGE ) in Revelation 7? Why is Dan Missing?
What Does it Mean to Be A CHILD OF GOD?
Why Is PRAYER Important?
Is SUICIDE an Unforgivable Sin?
Something ALL Christians must know:  IVDARR
Our Top Three Videos
Christian Version of Leonard Cohen's HALLELUJAH
Memorial Day BAGPIPES TRIBUTE: Amazing Grace
RISE AND SHINE and Give God the Glory, Glory!

Help us spread the good news and saving grace of the Lord Jesus Christ.
Please tell your friends about ReasonsforHopeJesus.com. If you have a website or blog, please link to ReasonsforHopeJesus.com.   All resources on this site © Reasons for Hope* Jesus --  click for Republication Permissions or contact hope@reasonsforhopeJesus.com