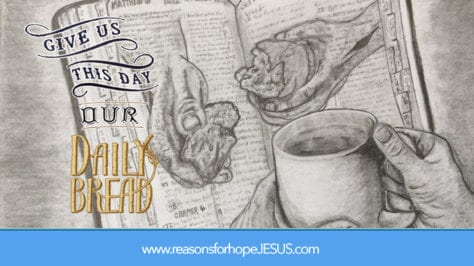 Daily Devotions with Pastor Chuck
Note this word from the gospel of John, as Jesus prays for those who are His . . .
 
"Sanctify them in the truth; Thy word is truth" (John 17:17 – NASB)
 
Jesus, in His high priestly prayer, prays to the Father that all His disciples would be sanctified "in the truth." The word "sanctify" means, "set apart." So He prayed, "Father, set them apart in the truth." And then He goes on to say, "Thy word is truth." So, it is the desire of our Lord that we that are His be "set apart in the truth" by the "word of truth" . . . by the Word of God, the Bible. 
 
God in ages past had spoken by the patriarchs and the prophets. Then, He spoke to us in the flesh. Today He speaks to us through the written pages of the Bible, the "word" that "is truth."
 
In multiple places, the Bible refers to itself as "truth" (Ephesians 1:13; II Timothy 2:15; James 1:18; I Thessalonians 2:13; etc., etc.). Dr. Joseph Stowell writes regarding the "word" of "truth,"
 
"The Bible . . . since it is God-breathed (II Timothy 3:16) it also carries worth as His supreme authority. God is the divine, sovereign, head of the universe. He is God, who spoke to nothingness, and nothingness obeyed and became stars and planets, sky, atmosphere, and living things. He is the sovereign, authoritative God . . . and His authority is vested in His Word, the Bible."
 
Common terms used today in reference to the Bible are, INFALLIBLE and INERRANT. What exactly do these words mean? In October of 1978 the Chicago Statement of the International Council on Biblical Inerrancy, stated:
 
"INFALLIBLE signifies the quality of neither misleading nor being misled and so safeguards in categorical terms the truth that Holy Scripture is a sure, safe, and reliable rule and guide in all matters."
"Similarly, INERRANT signifies the quality of being free from all falsehood or mistake and so safeguards the truth that Holy Scripture is entirely true and trustworthy in all its assertions."
 
We are, as Christians, to be set apart by this book, this Bible, this Holy Scripture, this "infallible," this "inerrant" Word of God . . . it is our Lord's prayer for us. 
 
Dr. Stowell writes,
 
"The Word of God . . . an essential tool for the Christian. The Bible presents itself as the final measurement for all data — that is, truth — concerning every area of life."
 
Brethren . . . be sanctified in this Word! Let it be in you, in your mind and in your heart, and let it be that which sets you apart from the world (Romans 12:1-2).
 
Have a good day . . . and as you walk let the Word of truth, the very Word of Christ, dwell in you richly (Colossians 3:16)
+++
Do not be anxious about anything.  (Phil 4:6)
In this time of confusion and uncertainty because of the COVID-19 pandemic,  we must rightly remember who is in control.  Our God is sovereign over all things, including COVID-19.  As Charles Spurgeon (1834-1892) once said, "The sovereignty of God is a soft pillow on which weary people lay their heads." 
Remember also God's gracious promise, and that it is true and He is faithful to keep it:  Hebrews 13:5 …"I will never leave you, nor forsake you."  The next verse remind us of the power that comes in trusting God and how we can live:  Hebrews 13:6 So that we may boldly say, The Lord is my helper, and I will not fear what man [or COVID-19] shall do to me.
God loves us, and in Christ we find confidence and calm in times of uncertainty and trouble.  When we trust in God, fear is replaced with faith, stress is replaced with strength, anxiety is gone and hope abounds, problems become opportunities, and we are able to receive the blessings God has for us in the midst of difficult circumstances. Turn to Jesus. He will lead you to the still waters and give rest for your troubled soul.  
This hope we have as an anchor of the soul, both sure and steadfast…Hebrews 6:19
****************************
Be Ready Always...
to give a reason for the Hope that you have (1 Peter 3:15).  When you can't share the gospel with your words, share it by leaving tracts that tell people about God's grace.
When leaving a tract, always be diligent to pray about the short gospel message. Pray that it be found by someone who is in need of Jesus' saving grace, and pray that the person will have a tender heart and open ears to receive the gift Jesus desires to give them.  
By the power of the Holy Spirit, even a small tract can help in turning a broken sinner from darkness to light.
SHARE THE GOSPEL!
Click the Image to Read the Messages on the Tracts