To answer this question we need to begin with the understanding that, as Christians, our trust is grounded in the Lord Jesus Christ.  While we have many reasons to accept and believe that the Bible is accurate, we can never fully prove it to be so because we do not have the original manuscripts.  But what we do have is the promise of God to preserve His Word (Matthew 4:4).  This is perhaps an even greater blessing.  We think that it would be great to have the original manuscripts so we could prove to the world that the Bible is true.  However, if that were so, we would be trusting in the proof of those original manuscripts.  Instead, we are trusting our God.  Our faith is built on trust in Jesus Christ.  He is the foundation from which all our understanding and reasoning comes.  Therefore, we walk in faith knowing that He promised to preserve His Word and that His Word is true.
John 17:17  Sanctify them through thy truth: thy word is truth.
Trusting the Bible
Beginning with that understanding that our trust is first in the God of the Word, let's address how we know that we can also trust the Word of God.  The Bible has been translated into many languages and into multiple versions in those languages.  The answer to whether every translation of the Bible is 100% accurate, would certainly be, no.  Some Bible translations are definitely more accurately translated than others.  
The question asked is likely addressing the multitude of English language Bible available today, most of which are reliable and accurate translations, but some of which are not.  In determining which translations are reliable and accurate, one must consider the methods of translation and the manuscripts from which a translation derive.
Faithful Translations
In the English language, we have a number of time-tested Bible translations that have been proven to be accurate and trustworthy.  The King James Version and the New King James come from a line of manuscripts that originated in Antioch, Syria.  Throughout the centuries the KJV has been held to be an accurate translation.  It was translated from more than 5,200 manuscripts available in 1611. 
The New King James is very similar to the King James but is written in modern language, removing the Elizabethan language of 1611.  Since its publication, in full, in 1982 (New Testament in 1979; Psalms in 1980),  it has been considered to be an accurate translation. 
The New American Standard (NASB, 1971, most recently updated in 1995) is translated from manuscripts that originated in Alexandria, Egypt and is also considered to be a very accurate translation.  It is fair to say that these three Bibles are the preserved Word of God and are accurate in their translation. 
Translation Styles
Each of the Bibles mentioned (KJV, NKJV, and NASB) is a word-for-word, or formal equivalence, translation.  There are also Bibles that are thought-for-thought, or dynamic equivalence, translation.  There will be more variation from the original manuscripts in such Bibles.
No "Telephone" Errors
It is correct that the Bible has been translated into English many times.  However, unlike the game of  "telephone," where a message is passed from person to person and can conclude with a very distorted message, in Bible translation the translators begin with the oldest manuscripts available to them.  They went "back" to the most "original" sources available. It would be like each person in the "telephone" game going to the first person and being given the message directly, before passing it on. The message would be extremely accurate as it would have lost nothing through the progressive passing from one person to another.
The Preferred Translation Debate
All English Bibles derive from one of the two manuscript lines—Antioch or Alexandria.  There are far too many to discuss their merits and judge which are considered to be accurate and reliable and which take too much liberty in translation and deviate from the historical manuscripts.  
Selecting a Bible is dependent on personal preference and purpose of use (i.e. reading or studying).  Standards for selecting a Bible to study should be much higher than for a Bible to read for pleasure.  When it comes to studying the Bible it is best to stay with a time-tested, formal equivalence translation. (For more information, read Which is the best Bible translation?) 
Take care in selecting which Bible you will read and which Bible you will use for study. You should do enough research to make an informed decision on choosing a Bible translation.  However, I return to what was stated at the beginning. Our trust is not in manuscript evidence or proofs of biblical accuracy.  Our trust is in God, and He has promised to preserve His Word and teach us.  As Christians, it is not about proving the Bible to be accurate.  It is about trusting that it is accurate because it's God's Word.
Prepare
Always seek God in prayer before you read and study.  Remember, it is the Holy Spirit who teaches us all things and He can faithfully teach us about God and His will and ways through any translation.
John 14:26  But the Comforter, which is the Holy Ghost, whom the Father will send in my name, he shall teach you all things, and bring all things to your remembrance, whatsoever I have said unto you.
John 16:13  Howbeit when he, the Spirit of truth, is come, he will guide you into all truth: for he shall not speak of himself; but whatsoever he shall hear, that shall he speak: and he will show you things to come.
When one has thoughtfully and prayerfully chosen a Bible translation, begin reading with confidence, knowing that the Word of God is just as true and faithful as the God of the Word.  We do have accurate Bibles available to us today and we can trust that the Bible is inerrant.  Remember, Jesus declared,
"…It is written, Man shall not live by bread alone, but by every word that proceedeth out of the mouth of God. (Matthew 4:4)  
Jesus would not expect us to live by His Word if He has not accurately preserved it. The Bible has incredible unity, accuracy, and life-changing power and influence because it reveals to us the Lord Jesus Christ.  It is proven that when God says He will do something, He is faithful and true to do so.  A great example is prophecy. God has fulfilled so many of the prophecies found in the Bible and has done so precisely as He said He would.  The proof of fulfilled prophecy supports the belief that He will be faithful to fulfill the prophecies that are yet to be fulfilled, including:
"Heaven and earth shall pass away, but my words shall not pass away."  (Matthew 24:35 35).  
The Precious Word of God
Revere the Word of God, for it is through the Bible that we receive a greater revelation of God and His will and ways.  The great reformer Martin Luther so beautifully proclaimed what our feelings and beliefs about the Bible should be:
Feelings come and feelings go, and feelings are deceiving.
My warrant is the Word of God–naught else is worth believing.

Though all my heart should feel condemned, for want of some sweet token.
There is One greater than my heart, Whose Word cannot be broken.
I'll trust in God's unchanging Word, till soul and body sever.
For, though all things shall pass away. . .
HIS WORD SHALL STAND FOREVER!
                             ― Martin Luther
<*}}}><
Jesus is the Reason this Ministry Exists
We continue to reach people worldwide with the truths of God's Word and the gospel of the Lord Jesus Christ. Your generosity is both a blessing and encouragement. Our mission is to glorify God by equipping, encouraging, and empowering YOU to understand the Bible and grow in faith. If our online resources have blessed you, please support Reasons for Hope* Jesus. Our ministry outreach has grown significantly and . . .
Please support Reasons for Hope* Jesus with a donation of $5, $10, $20, or more. A donation of any amount is needed and greatly appreciated.
CLICK TO DONATE
to Reasons for Hope*Jesus(a 501c3 Ministry)
Use a Credit Card or PayPal for safe, secure giving.
***A Hidden Message in Psalm 23?***  
Hidden in the six verses of Psalm 23 are 11 names for Jesus.
When you subscribe to our newsletter, we'll send you
The Names of God in Psalm 23 PDF
that reveals all 11 names and Scripture verses of comfort and hope (link will be sent in your confirmation email).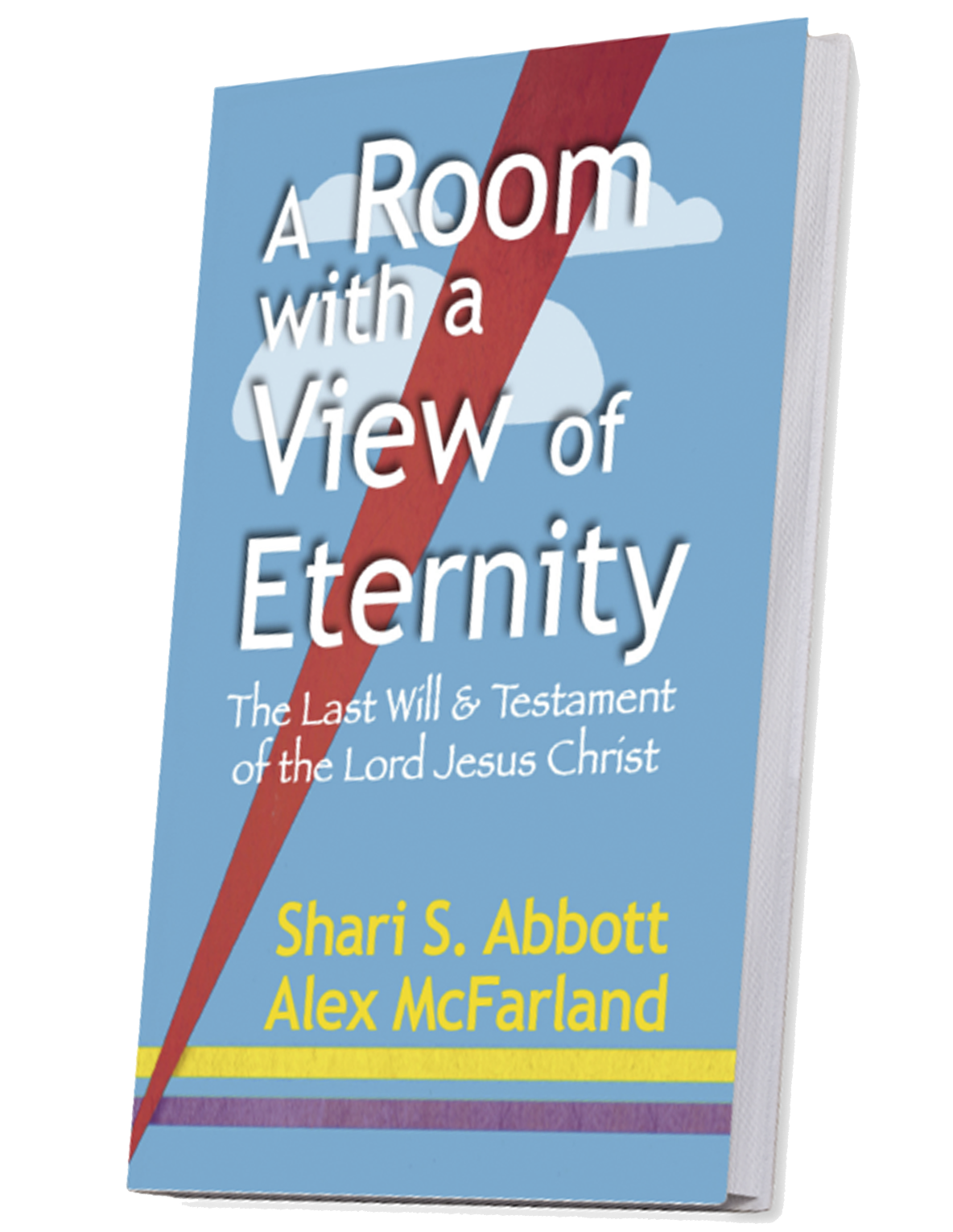 A Room with a View of Eternity—The Last Will & Testament of Jesus Christ   Take a seat at the Master's table. Learn about the riches He gives to all who are His. This book will bless and encourage you, give you hope, and help you live in the joy of your salvation and the riches of Christ that are yours.