Please help us share God's truths and hope in Christ. A donation of any amount is greatly needed and appreciated.
Israel had three harvests each year, and each offers a prophetic pattern and typology for our understanding.  The three harvests of Israel are:
Barley harvest in early spring

Wheat harvest in late spring or early summer, and

Grape (fruit) harvest in early fall.
Centered around each harvest time was one of the three prescribed Feasts of the Lord (Leviticus 23). Each harvest can be understood as a biblical type that prophesies of, or reveals a teaching about, something yet to come.  Specifically, we are considering each harvest, in typology, as pointing to the final bodily resurrection of all people.
Two Resurrections
John 5:28-29  Marvel not at this: for the hour is coming, in which all that are in the graves shall hear his voice, And shall come forth; they that have done good, unto [1] the resurrection of life; and they that have done evil, unto [2] the resurrection of damnation.
Those are Jesus' words and He was speaking of a bodily resurrection. All people will be bodily raised from the dead, but the eternal destiny for the just and unjust will be very different. The first resurrection is the resurrection of the just:
Revelation 20:6  Blessed and holy is he that hath part in the first resurrection: on such the second death has no power, but they shall be priests of God and of Christ, and shall reign with him a thousand years.
The second resurrection is the resurrection of unbelievers — all those who failed to trust in God for the salvation of their souls. They also will be bodily raised, and they will be judged, but, sadly, they will be found wanting. These two resurrections were also prophesied by Daniel:
Daniel 12:2 And many of them that sleep in the dust of the earth shall awake, some to [1] everlasting life, and some to [2] shame and everlasting contempt.
Let's consider the prophetic types found in the harvests that point to the two resurrections. But first. . . 
What is Biblical Typology?
Types in the Bible can be people, rituals, ceremonies, events, objects, offices, and more. The study of biblical types is called biblical typology and it can be interesting, challenging, and enlightening. Typology is a kind of symbolism that "prophecies," because types always point to, or whisper of, something yet to happen or some person or thing yet to be. In our case, the three harvests have typology that points to the two resurrections.  Read more: What is Biblical Typology and Symbolism? 
Th
ree Harvests and Two Resurrections
In 2008, I did a study of the harvests and resurrections. It lay "dormant" until recently when something discussed in a Bible study brought it to mind.
Bible teachers before me have also taught on the typology of the harvests, but with a different explanation of the types.  Well known is Clarence Larkin (1850-1924), and his illustration of the harvest typology. He defined believers by the three parts of the harvest. He suggested that:
First fruits represent Jesus and Old Testament saints,

Harvest represents the Church-age saints, and

Gleanings the Tribulation saints.
In Larkin's teaching, these three parts of the harvest represent all believers who will be bodily raised. Larkin then identifies the lost, who will also be bodily raised, as the tares in the parable of the sower (Matthew 13). 
While Clarence Larkin was an incredibly gifted Bible teacher, illustrator, and theologian, I see the typologies in a different way. I don't see the tares as non-believers, because the Bible clearly states that those tares were sown by the evil one. They were sown among the wheat, but they appeared after the wheat had produced a crop (Matthew 13:25ff). The tares did not come from the good seed that was sown (Matt 13:27), nor were they sown by the sower (Matthew 13:3). We are told in Matthew 13:38 that the tares are "the children of the wicked one" [Satan].  I suggest they are demons.
My typology of the harvests also presents the three parts (first fruits, harvest, and gleanings), but I present them as being distinct in each of the three harvests (the barley, the wheat, and the grape harvests). Only two of the three parts (first fruits and harvest) represent believers. In my typology, the harvests represent people from different time periods:
Barley harvest (early spring) — Old Testament

Wheat harvest (late spring/early summer) — Church Age

Grape harvest (late September to late October) 

— The Tribulation
In each of those time periods, there were/are people who have been redeemed and people who have rejected God/Jesus, and the Lord's atoning work and offer of forgiveness of sins. Therefore, I see the gleanings, which were not part of the harvest of Israel, as a typology of non-believers.
Consider now the typology of the harvests. Jesus said, "The harvest truly is plentiful, but the laborers are few. Therefore pray the Lord of the harvest to send out laborers into His harvest." (Mat 9:37-38)  "His harvest" will be believers, who have grown from the good seed (Mat 13:38a), and they will "shine forth as the sun in the kingdom of their Father" (Mat 13:43).
Please understand that this is simply an application of typology and no type is perfect. However, we study types because they can be beneficial for our learning.
The Great White Throne Judgment
Those present at the Great White Throne judgment (after the Millennial Kingdom) will be the dead, the unregenerate, the gleanings from the barley, wheat and grape harvests.  They will be judged according to their works (Rev 20:12) and found wanting.  They will be blotted out of the book of life.
It's also possible that some believers will be at the Great White Throne Judgment.  Those who will come to faith in Jesus during the Tribulation and Millennium might also be judged for their works of service to the Lord. Their salvation is already determined by their trust in Jesus, but if there will be a judgment of their works (as there will be for the Church, Romans 14:10, 2 Corinthians 5:10), it could take place at this judgment seat. The Bible does not tell us this, so it's also possible their works will not be judged.  
The Bible does tell that all who have placed their faith in Jesus will have been written into the Lamb's Book of Life and will enter into eternity
Rev 21:27  And there shall in no wise enter into it [the eternal city] any thing that defileth, neither whatsoever worketh abomination, or maketh a lie: but they which are written in the Lamb's book of life.
Share the Gospel
We want all people who live during this time to be a part of the wheat harvest and have their name written into the Lamb's Book of Life.  Tell people about Jesus.  Tell about His love for all people, His death on the cross to pay the penalty of sin for all people, and His desire that all people will come to Him in faith.
We don't want anyone to be left behind, to be "gleaned" at the second resurrection, and one day stand before Jesus at the Great White Throne as a non-believer.
<*}}}><
Jesus is the Reason this Ministry Exists
We continue to reach people worldwide with the truths of God's Word and the gospel of the Lord Jesus Christ. Your generosity is both a blessing and encouragement. Our mission is to glorify God by equipping, encouraging, and empowering YOU to understand the Bible and grow in faith. If our online resources have blessed you, please support Reasons for Hope* Jesus. Our ministry outreach has grown significantly and . . .
Please support Reasons for Hope* Jesus with a donation of $5, $10, $20, or more. A donation of any amount is needed and greatly appreciated.
CLICK TO DONATE
to Reasons for Hope*Jesus(a 501c3 Ministry)
Use a Credit Card or PayPal for safe, secure giving.
***A Hidden Message in Psalm 23?***  
Hidden in the six verses of Psalm 23 are 11 names for Jesus.
When you subscribe to our newsletter, we'll send you
The Names of God in Psalm 23 PDF
that reveals all 11 names and Scripture verses of comfort and hope (link will be sent in your confirmation email).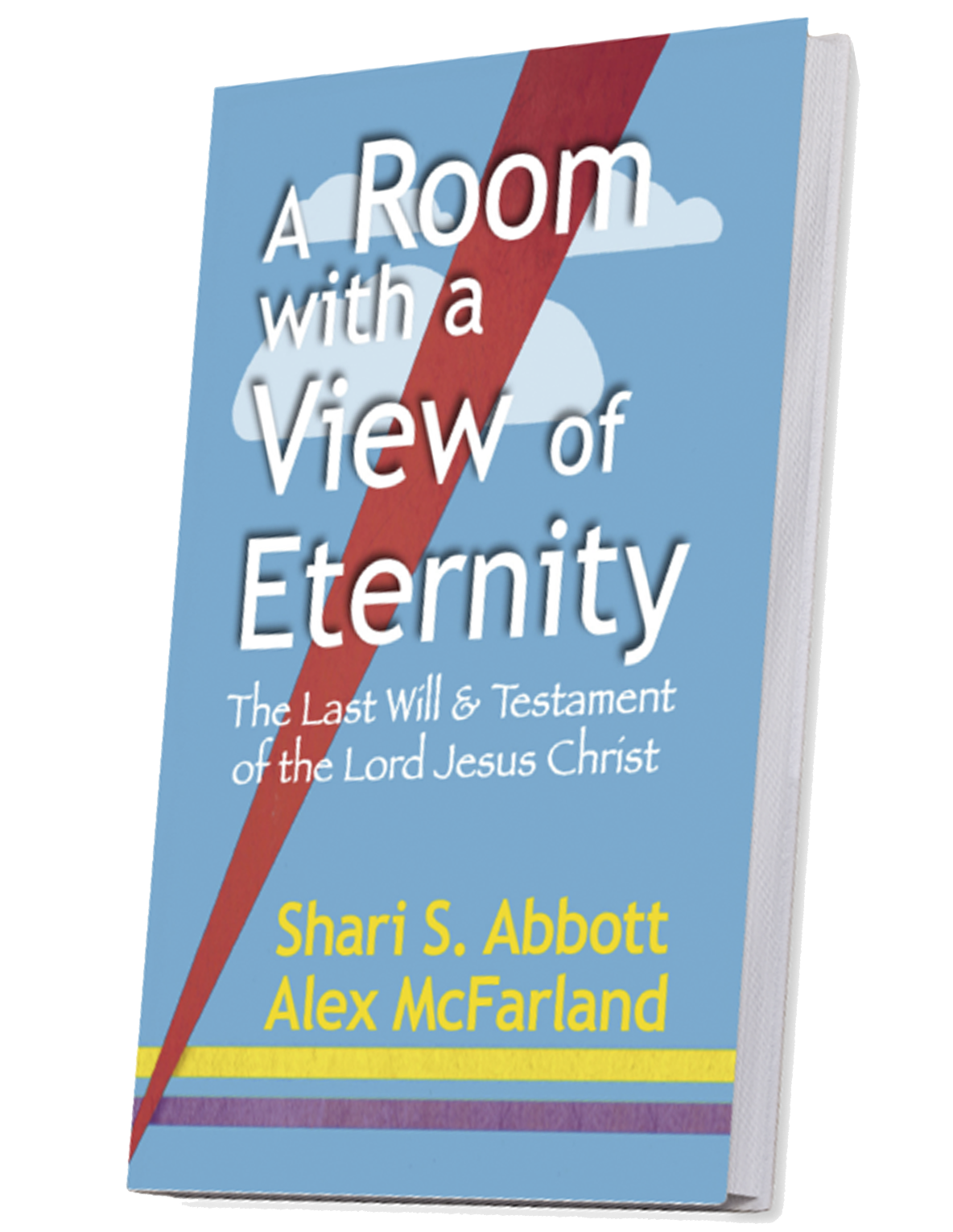 A Room with a View of Eternity—The Last Will & Testament of Jesus Christ   Take a seat at the Master's table. Learn about the riches He gives to all who are His. This book will bless and encourage you, give you hope, and help you live in the joy of your salvation and the riches of Christ that are yours.