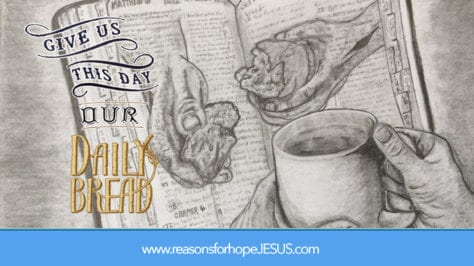 Daily Devotions with Pastor Chuck
From the prophet Isaiah's writings we read,
"The grass withers, the flower fades, but the word of our God stands forever." (Isaiah 40:8 – NASB)
 "The word of our God" . . . something we do not take lightly but hold in the highest regard. The author of Hebrews writes in regards to the progression of this "word," 
"God, after He spoke long ago to the fathers in the prophets in many portions and in many ways, in these last days has spoken to us in His Son . . ." (Hebrews 1:1-2 – NASB)
And now, in our "days . . . God" speaks "to us" through His written Word, 
"All Scripture is inspired by God and profitable . . ." (II Timothy 3:16 – NASB)
"All Scripture," the word "Scripture" being the Greek word graphe, meaning "writings. 
 
Though man has chosen to rebel against His Creator, to sin against Him, God has not stopped speaking to His creation. He has intervened in a sinful world to tell us that there is way by which we can be saved from the penalty due our rebellion. He has "spoken" in times past through "the fathers" and "the prophets" and then through "His Son" and now, through His Holy "Scriptures." 
 
Throughout all of this history, "the grass" continues to "wither" and "the flower" continues to "fade, but the word of our God," it "stands forever."
 
May we who know this great truth continue to seek Him through His "word." May we be a people who are faithful to be in HIs "word" and of His "word," and set apart by His "word." And may we be eternally grateful that He has chosen not to keep silent. 
 
Have a good day. . . and may I encourage you to be diligent to be in the Word of God, growing in the knowledge of our great God and Savior Jesus Christ.
A Hidden Message in Psalm 23
Hidden in the six verses of Psalm 23 are 11 names for Jesus.  Subscribe to our newsletter and we'll send you The Names of God in Psalm 23 PDF that reveals all 11 names and Scripture verses of comfort and hope (link will be sent in your confirmation email).  SUBSCRIBE NOW
+++
Do not be anxious about anything.  (Phil 4:6)
In the midst of the COVID-19 pandemic, we must rightly remember who is in control.  Our God is sovereign over all things, including COVID-19.  As Charles Spurgeon (1834-1892) said, "The sovereignty of God is a soft pillow on which weary people lay their heads." 
Remember also God's gracious promise, and that it is true and He is faithful to keep it:  Hebrews 13:5 …"I will never leave you, nor forsake you."  The next verse remind us of the power that comes in trusting God and how we can live:  Hebrews 13:6 So that we may boldly say, The Lord is my helper, and I will not fear what man [or COVID-19] shall do to me.
God loves us, and in Christ we find confidence and calm in times of uncertainty and trouble.  When we trust in God, fear is replaced with faith, stress is replaced with strength, anxiety is gone and hope abounds, problems become opportunities, and we are able to receive the blessings God has for us in the midst of difficult circumstances. Turn to Jesus. He will lead you to the still waters and give rest for your troubled soul.  
This hope we have as an anchor of the soul, both sure and steadfast…Hebrews 6:19
****************************
Be Ready Always...
to give a reason for the Hope that you have (1 Peter 3:15).  When you can't share the gospel with your words, share it by leaving tracts that tell people about God's grace.
When leaving a tract, always be diligent to pray about the short gospel message. Pray that it be found by someone who is in need of Jesus' saving grace, and pray that the person will have a tender heart and open ears to receive the gift Jesus desires to give them.  
By the power of the Holy Spirit, even a small tract can help in turning a broken sinner from darkness to light.
SHARE THE GOSPEL!
Click the Image to Read the Messages on the Tracts