In answering the question, "what is the most popular, and the least popular, books in the Bible," we will measure popularity by determining which book is most read and which is least read.
The Most Read Book
The book of Psalms easily wins, probably because it is both the longest book in the Bible (150 chapters) and it covers every human emotion and every circumstance in life.  It addresses inward, private thoughts and feelings, as well as outward, publicly expressed words and actions.  The book models everything.  From the depths of despair to the heights of joy, from overwhelming discouragement to overflowing praise, the book of Psalms speaks.  The most important message that the book conveys is that all hope is founded, and grounded, in Christ alone. He is the answer to every one of life's issues and, in Him, a downcast soul is healed by the joy of salvation.
Christians quickly turn to the 150 psalms for daily encouragement and instruction.  With each chapter giving a complete message, it's easy to read and imparts great wisdom that points us toward the goal of living life by loving, honoring, and glorifying Jesus.  It's no wonder that it is the most read book in the Bible.
The Least Read Book 
Most people will guess that book of Revelation is the least read book in the Bible.  While it's true that many neglect reading this book, and it's probably because they don't want to hear the message of coming judgment, Revelation is not the least read book.  That distinction goes to the Book of Obadiah.
Obadiah
Mention Obadiah and you might get responses like, "who's Obadiah?"   "There's a book of Obadiah?"  "Why have I never seen it in the Bible?"   Most Christians know very little, or nothing, about this prophet and his book. Let's look at some reasons why this book might rank at the bottom of the list of Bible reading.
Three
Reasons Why Christians Might Neglect Reading Obadiah 
Obadiah is very short book. In fact, it's the shortest book in the Old Testament.  Therefore, it's easily missed when leafing through the Bible and choosing a book to read.  It's also not directly quoted anywhere in the New Testament, leading to it being very easily overlooked.

Obadiah was an obscure man.  We know nothing about him, except his name and his message.

Obadiah's message is not obscure, but it isn't about Israel or the Church.  It's about a pagan nation that is prideful and mistreats its brother (now that kind of sounds like all of us).  The book of Obadiah tells of God's coming judgment on this nation for their actions.
The Book of Obadiah
In my women's Bible study, we are making our way through the minor prophets.  The prophecies from "the minors" are just as important as those from "the majors."  The only real reason that they are called minor prophets is that their messages are much shorter—especially Obadiah's.
In teaching the book of Obadiah, it became apparent that the significance of his message far exceeded the number of his words.  So we devoted two study sessions to this short, 21 verse book. In doing so, we found the book to be rich in meaning and application for our day.  Obadiah echoes the messages of other prophets in a concise manner, making it a fun, fast, and easy read.  That's probably good for the times in which we live, when people are so busy that they don't, can't, or won't make time to read and study the Bible.   Obadiah is the perfect book to read and study!  Its message is timeless and the hope it proclaims is eternal.
Obadiah is a perfect book to read and study!  Its message is timeless and the hope it proclaims is eternal.
Seven Reasons to Read the Book of Obadiah
Obadiah is Short and Easy to Read: With only 21 versus and very clear language, Obadiah can be read from start to finish in a few minutes provoking thoughts to ponder that will last much longer.
Obadiah is Easily Outlined
I. The Doom of Edom, 1-9
A. The Certainty, 1-4
B. The Completeness, 5-9
II. The Denunciation of Edom, 10-14
A. For Mistreatment of Their Brother, vs. 10
B. For Not Caring and Not Helping Their Brother, 11-12
C. For Actions Against Their Brother, 13-14
III. The Destruction of Edom, 15-21
A. The Time of the Destruction, vs. 15
B. The Nature of the Destruction, 16-21
3. Obadiah is Easily Summarized:  1) God's Righteous Judgment on Edom (Esau) and 2) God's Righteous Restoration of Israel (Jacob)
3. Obadiah is Rich in Detail: The book clearly tells of the sins of Edom.  Edom was proud and arrogant.  Built on a natural fortress of high rocks, they thought themselves to be impregnable. They cared little for the nation of  Israel, whom God said was their brother (Deut 23:7, Amos 1:11).  They not only failed to offer refuge they also acted to harm Israel.
4. Obadiah is Culturally Relevant: Man is arrogant in nature and prideful in his works.  God's people are still mistreated both by those outside of the Kingdom of God.  God will judge all sins of omission (doing nothing) and all sins of commission (active choice).
5. Obadiah Tells of God's Righteous and Just Judgment: "I will bring you down!" (vs 4) was God's message to prideful Edom. And His righteous judgment is alway just.  With mercy and to bring repentance, God always warns of judgment to come:  "As you have done, it shall be done to you" (vs 15). Vengeance is God's and He will judge all sin justly.  For those who have not sought God and been forgiven by Jesus, they will receive their due judgment.
6. Obadiah Offers Messianic Hope: In verse 17, the little word "BUT" turns the book's message from doom and judgment to hope and deliverance.  After God's warning to Israel's enemies, telling them that judgment will come unless they repent, God assures His people that they will be delivered from opression and persecution and they will enjoy peace:
Obadiah 1:21  And saviours shall come up on mount Zion to judge the mount of Esau…
7. Obadiah Offers Ultimate Victory
Obadiah 1:21  …and the kingdom shall be the LORD'S.
This was partially fulfilled when God gave His Son, to be born, to live among His people, to teach them, and to ultimately die for the sins of man.  Jesus in His incarnation opened the way to eternal life with God, and when He comes again He will come in glory to rule and reign.
Conclusion
If those seven reasons aren't enough to prompt you to read this short book, then consider the great lesson for us.  Edom was to be judged for two reasons: 1) their pride and 2) their mistreatment of their brother.  Remember, that the Edomites were the descendants of Esau, Jacob's brother.  And Jacob was the father of the nation of Israel.  So the nation of Edom really did fail to show love to their brother, the nation of Israel.  
This reminds us that Jesus gave us two great commandments: 
to love the Lord your God with all your heart, soul, and mind (Mat 22:37)

.  That can't be done when one's heart is filled with pride, his desires are selfish, and his mind is on himself.  

to love your neighbor as yourself (

Luke 10:27).  Mistreatment of a brother (neighbor) is a direct violation of this commandment.  Jesus said that people will know we are His disciples by our love for one another (John 13:34-36).
The Book of Obadiah reminds us that God will judge all who do not live in accordance with His Holy purpose and plan.  As Christians, of course, we will never be judged unworthy for our justification in salvation.  Our justification is secure because Jesus secured it for us (Read: Can I lose my salvation? and The Gift of SalvaTION: Justification & Imputation)  However, we will be judged for our worthiness to serve Jesus in His coming Kingdom. How we live, and how we treat others, will determine our rewards.  We certainly want to receive any reward that Jesus might have for us, so determine to learn from the Edomites.  Love the one true God and love your neighbor!  In doing so you will honor Jesus and glorify His name.
Start Reading Now
Get started by watching this short overview of the Book of Obadiah.  Then, pick up your Bible and read the entire book.  It's ONLY 21 verses. No excuse of "not enough time."  In fact, the book is so short that it's easy to miss in the Bible.  Look for Obadiah right after Amos and before Jonah.  Receive the blessing of reading this book.  
<*}}}><SaveSave
Be Ready Always...
to give a reason for the Hope that you have (1 Peter 3:15).  When you can't share the gospel with your words, share it by leaving tracts that tell people about God's grace.
When leaving a tract, always be diligent to pray for the short gospel message. Pray that it be found by someone who is in need of Jesus' saving grace, and pray that the person will have a tender heart and open ears to receive the gift Jesus desires to give them.  
By the power of the Holy Spirit, even a small tract can help in turning a broken, sinful person from darkness to light.
Jesus is the Reason this Ministry Exists
We continue to reach people worldwide with the truths of God's Word and the gospel of the Lord Jesus Christ. Your generosity is both a blessing and encouragement. Our mission is to glorify God by equipping, encouraging, and empowering YOU to understand the Bible and grow in faith. If our online resources have blessed you, please support Reasons for Hope* Jesus. Our ministry outreach has grown significantly and . . .
Please support Reasons for Hope* Jesus with a donation of $5, $10, $20, or more. A donation of any amount is needed and greatly appreciated.
CLICK TO DONATE
to Reasons for Hope*Jesus(a 501c3 Ministry)
Use a Credit Card or PayPal for safe, secure giving.
***A Hidden Message in Psalm 23?***  
Hidden in the six verses of Psalm 23 are 11 names for Jesus.
When you subscribe to our newsletter, we'll send you
The Names of God in Psalm 23 PDF
that reveals all 11 names and Scripture verses of comfort and hope (link will be sent in your confirmation email).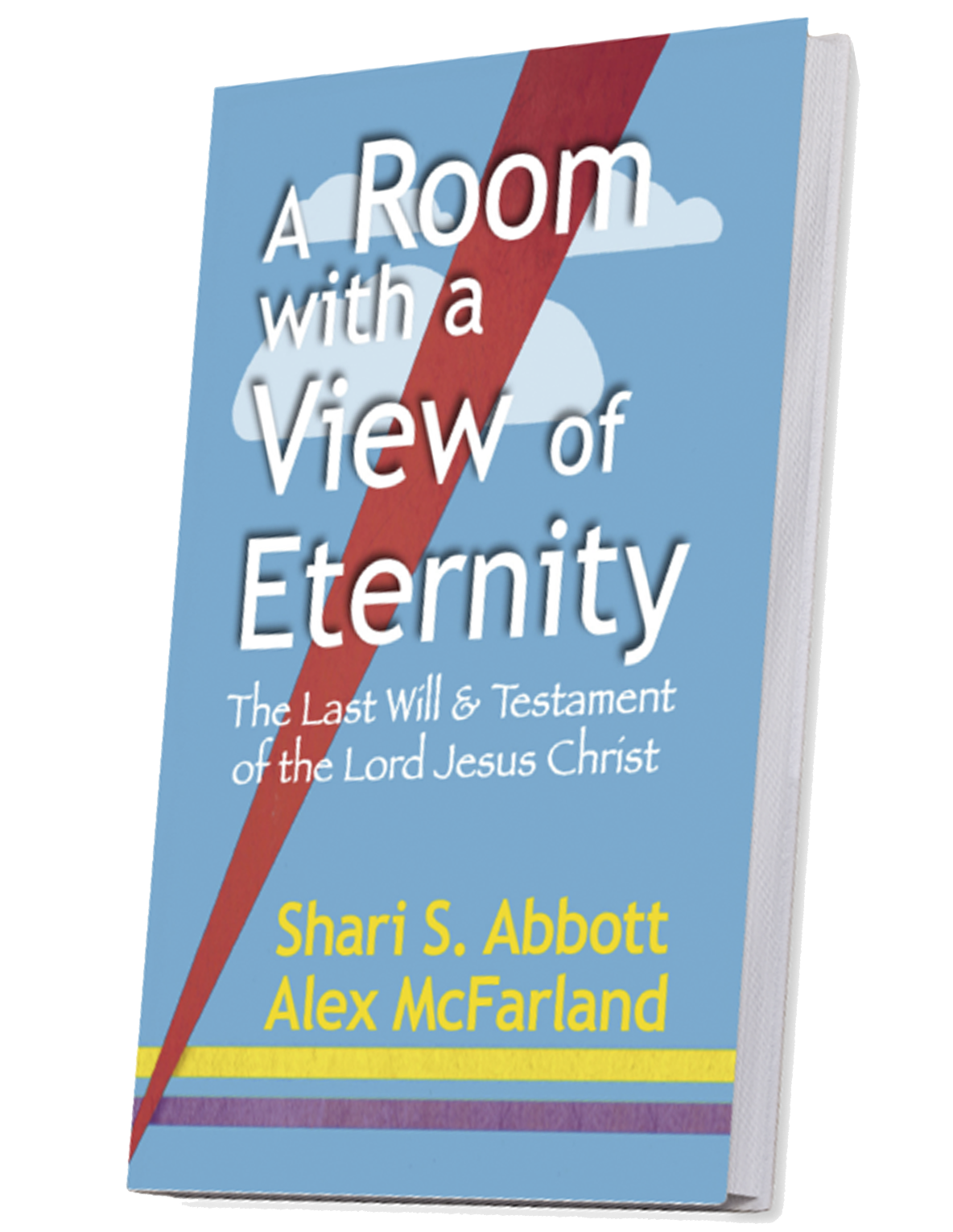 A Room with a View of Eternity—The Last Will & Testament of Jesus Christ   Take a seat at the Master's table. Learn about the riches He gives to all who are His. This book will bless and encourage you, give you hope, and help you live in the joy of your salvation and the riches of Christ that are yours.