Please help us share God's truths and hope in Christ. A donation of any amount is greatly needed and appreciated.
The Bible is made up of 66 books written over 1,500 years and penned by about 40 different writers—most of whom did not know each other.  The writers had different backgrounds, varying economic and educational levels and different levels of status and acceptance. They wrote in different geographic locations, in a variety of circumstances, and while experiencing a variety of emotions.  The Bible was written on three continents (Asia, Africa, and Europe) and in three languages (Hebrew, Aramaic, and Greek).  It was penned by human writers, in human language, to record human and divine history and revelation. 
Unique
The Bible is unique in that it records the Word of God, given by God.  No other book is written by the God of all creation.  The Bible begins by giving a historical account of what once was, a world created perfect and in perfect harmony with God.  From Genesis 3, the sin of man and the promise of a Saviour to come, to Revelation 22, the restoration of all things, God speaks through His Word to reveal Himself.  
God-Breathed
The Bible is God-breathed, Holy Spirit inspired, and the only book that provides all the answers to all the questions man has, especially the questions of utmost importance: 
   Who is God?  
         Who is man?  
               Why am I here? 
                     What is wrong with the world and man?
                           How can things be made right? 
Unity and Accuracy
No other book has the unity and accuracy of the Bible.  The unity is due to the fact that it has one author, God, who is revealed as one Triune God in three persons—Father, Son, and Holy Spirit. (Read: How can I understand the Trinity?) The Bible reveals the Son, the second Person of the Trinity, to be our Redeemer who is the Lord Jesus Christ. The Bible begins and ends with Jesus, and on every page is a testimony to His Person and His works (read: See Jesus on every page of the Bible!).  While the Bible is of great importance and a great gift from God, we do not worship it.  We worship the person whom the Bible reveals, the Lord Jesus Christ.  He is the greatest gift from God.
Evidence
The Bible is evidence of God's ability and desire to be in communion with His creation.  It is simple enough for a child to read and deep and rich enough for the most learned of scholars.  The Bible contains the words of God and imparts to us the knowledge and wisdom of God.  On the pages of the Bible, we find revealed God's mercy for sinners and His grace for those who repent and trust in Jesus.  
Truth
The Bible is the only book that provides an absolute standard of truth, morality, and ethics.  The Bible is inerrant, inspired, and infallible.  It contains prophecies that have been perfectly fulfilled and others that are yet to be fulfilled.  It provides all knowledge for man's understanding of God, the world, and the times in which we live, as well as the time to come.
The Bible—A Gift from God to Us
Throughout history, many have recognized the great gift of God's Word and proclaimed their daily need for the Bible to strengthen and sustain them and to grow and deepen their relationship with their Saviour.
The book of Hebrews speaks of a "great cloud of witnesses" (Hebrews 12:1), those who have walked before us in faith, and continue to inspire and encourage us by their faith.
Hebrews 12:1  Wherefore seeing we also are compassed about with so great a cloud of witnesses, let us lay aside every weight, and the sin which doth so easily beset us, and let us run with patience the race…
A Cloud of Witnesses
Hebrews 12:1 speaks of the Old Testament saints as a great cloud of witnesses to those alive at the time.  While they continue to be a witness and testimony to us through the pages of Scripture, in our times we also have a "cloud of witnesses" who encourage us to remember the importance of God's Word in our lives.
The Holy Scriptures are our letters from home. — Saint Augustine
A thorough knowledge of the Bible is worth more than a college education. — Theodore Roosevelt 
Take all that you can of this book upon reason, and the balance on faith, and you will live and die a happier man.  — Abraham Lincoln  [Response when a skeptic expressed surprise seeing Lincoln reading a Bible]
As Commander-in-Chief I take pleasure in commending the reading of the Bible to all who serve in the armed forces of the United States.  Throughout the centuries men of many faiths and diverse origins have found in the Sacred Book words of wisdom, counsel, and inspiration.  It is a fountain of strength and now, as always, an aid in attaining the highest aspirations of the human soul.  — Franklin D. Roosevelt, January 25, 1941   [Letter from the White House to the Armed Forces on the first page of my father's military-issued New Testament and Psalms pocket Bible.]
Within the covers of the Bible are the answers for all the problems men face. — Ronald Reagan 
We can never learn too much of His will towards us, too much of His messages and His advice. The Bible is His word and its study gives at once the foundation for our faith and an inspiration to battle onward in the fight against the tempter. — John D. Rockefeller
Unless we form the habit of going to the Bible in bright moments as well as in trouble, we cannot fully respond to its consolations because we lack equilibrium between light and darkness. — Helen Keller 
The Bible will keep you from sin, or sin will keep you from the Bible. — Dwight L. Moody 
The Bible was not given for our information but for our transformation.  — Dwight L. Moody 
A Bible that's falling apart usually belongs to someone who isn't.   — Charles H. Spurgeon
The Bible is worth all the other books that have ever been printed.   — Patrick Henry 
I study my Bible like I gather apples. I search the Bible as a whole like shaking the whole tree. Then I shake every limb – study book after book. Then I shake every branch, giving attention to the chapters. And then I shake every twig, or a careful study of the paragraphs and sentences and words and their meanings. — Martin Luther
The Word of God well understood and religiously obeyed is the shortest route to spiritual perfection. And we must not select a few favorite passages to the exclusion of others. Nothing less than a whole Bible can make a whole Christian. — A. W. Tozer 
All miseries and evils that men suffer from—vice, crime, ambition, injustice, oppression, slavery, and war—proceed from their despising or neglecting the precepts contained in the Bible.   — Noah Webster 
Word of God Speak
In addition to the voice of the "cloud of witnesses" who have gone before us, the Word of God itself speaks to us.  The Bible equips us with knowledge, encourages us with hope, and empowers us in our daily walk in faith with the Lord.
John 1:1, 14  In the beginning was the Word, and the Word was with God, and the Word was God.  John 1:14  And the Word was made flesh, and dwelt among us, (and we beheld his glory, the glory as of the only begotten of the Father,) full of grace and truth.
Romans 15:4  For whatever things were written before were written for our learning, that we through the patience and comfort of the Scriptures might have hope.
2 Timothy 2:15  Study to show thyself approved unto God, a workman that needeth not to be ashamed, rightly dividing the word of truth.
2 Peter 1:5  And beside this, giving all diligence, add to your faith virtue; and to virtue knowledge;
Psalm 119:89  Forever, O LORD, thy word is settled in heaven.
Matthew 24:35  Heaven and earth shall pass away, but my words shall not pass away.
I hope in thy word.  

Psalm 119:81, 114
<*}}}><
Jesus is the Reason this Ministry Exists
We continue to reach people worldwide with the truths of God's Word and the gospel of the Lord Jesus Christ. Your generosity is both a blessing and encouragement. Our mission is to glorify God by equipping, encouraging, and empowering YOU to understand the Bible and grow in faith. If our online resources have blessed you, please support Reasons for Hope* Jesus. Our ministry outreach has grown significantly and . . .
Please support Reasons for Hope* Jesus with a donation of $5, $10, $20, or more. A donation of any amount is needed and greatly appreciated.
CLICK TO DONATE
to Reasons for Hope*Jesus(a 501c3 Ministry)
Use a Credit Card or PayPal for safe, secure giving.
***A Hidden Message in Psalm 23?***  
Hidden in the six verses of Psalm 23 are 11 names for Jesus.
When you subscribe to our newsletter, we'll send you
The Names of God in Psalm 23 PDF
that reveals all 11 names and Scripture verses of comfort and hope (link will be sent in your confirmation email).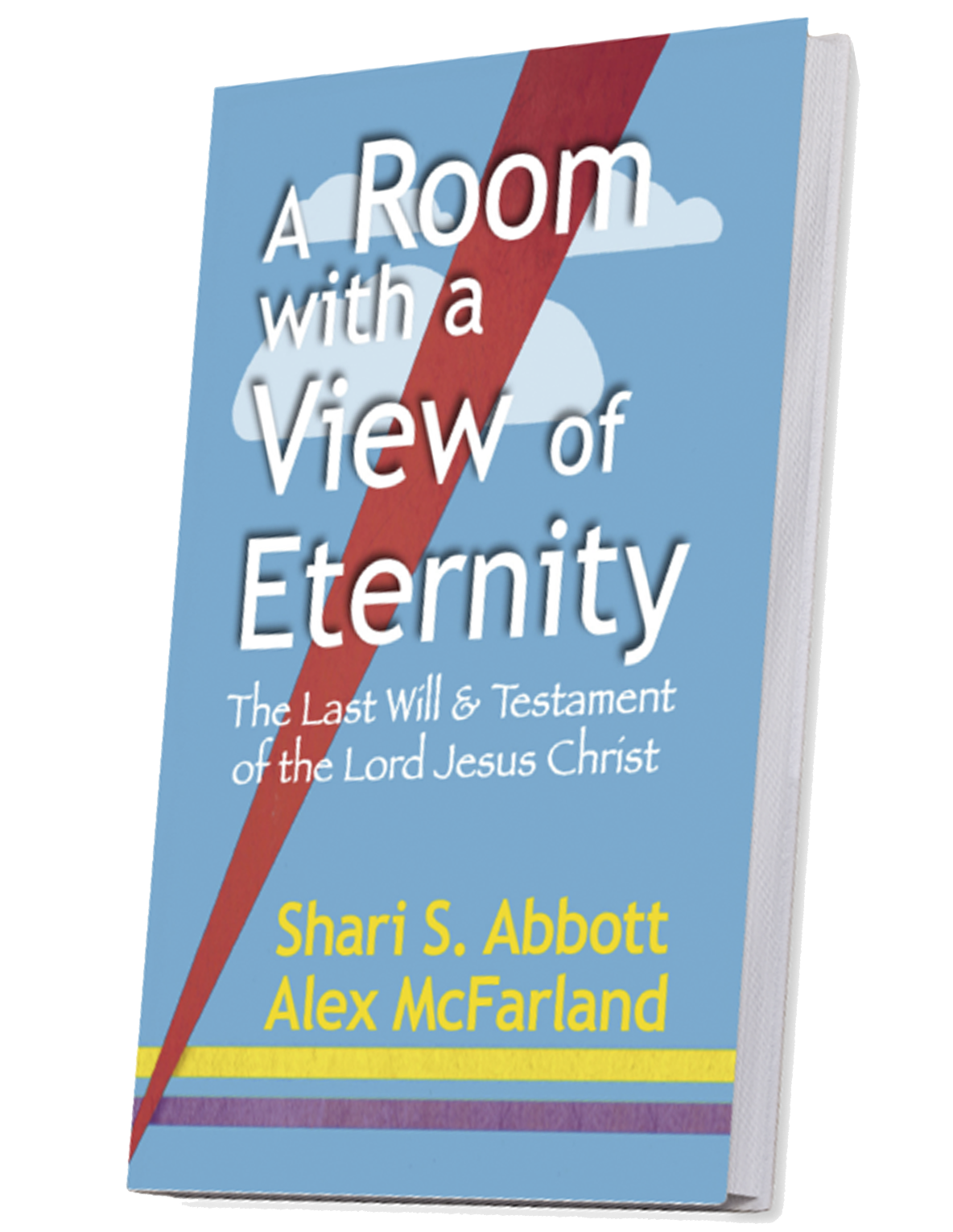 A Room with a View of Eternity—The Last Will & Testament of Jesus Christ   Take a seat at the Master's table. Learn about the riches He gives to all who are His. This book will bless and encourage you, give you hope, and help you live in the joy of your salvation and the riches of Christ that are yours.