There's no question that there are many Bible translations.  In fact, it should be the goal of the Church to strive to have the Bible translated into every language.  However, that's not really what this question is asking.  It's really more about, why are there so many English translations?  Let's address that and consider how to determine which translation is best.
 Why are there so many English translations?
There are a number of reasons why there are so many English translations.  The challenges of translating from one language to another language is one reason.  Another reason is that a Hebrew or Greek word might not have an equivalent English word, or there might be more than one English word that conveys the meaning of the Hebrew or Greek word, so translators need to make judgment about which word best conveys the meaning of the original language.  That's why various translations often use different words.
Another reason for so many English Bibles is because Bibles sell, and publishing is a profitable industry.  Especially in our time, Bibles are published to meet personal preferences of the reader, and with every modern translation there must be a copyright.  In order to obtain that copyright the work needs to be original within specified standards.  Therefore, the changing of words and phrases must be done to obtain a copyright.
Understanding why so many English Bibles exist today, let's address the question, which one is best?  To answer that question, one must study the manuscript evidence, i.e. the documents upon which the translation is based.  There are two "streams" of manuscripts.   One  derives from Antioch, Syria and the other from Alexandria, Egypt.
Antioch and Alexandrian Manuscripts
From the Antioch manuscripts we have the following English translations (not an all inclusive list):  Wycliffe Bible (1388), Tyndale Bible (1522), Coverdale Bible (1535), Matthews Bible (1537), Great Bible (1539), Geneva Bible (1560), Bishops Bible (1568), King James Bible (1611), and New King James Bible (1982)
From the Alexandrian manuscripts we have the following English translations (not an all inclusive list):  Rheims-Douay (1582), Revised Version (1881), American Standard Version (1901), RSV, NASV, LB, NSRB, JB, TEV, NEB, NIV, GNB, NRSV, NAB, NCV, NBV, HCSB, ISV, ESV.
There are significant translation differences between the two manuscript lines. Which one is best is a hotly debated topic and one that each person must decide for themselves. Something to  to consider is that the Alexandrian manuscript line has the oldest manuscripts, but the Antioch has, by far, more manuscripts from which to translate.  Is oldest better?  Not necessarily.  It could be that the older Alexandrian manuscripts survived because they were not used as much  That might cause us to wonder if those manuscripts were not considered as reliable as the Antioch manuscripts.  Perhaps the Antioch manuscripts were used so much that they deteriorated and  perhaps they number far more because they were copied more frequently, being deemed more accurate.  We really can't know for certain.
Read and download this chart of the Two Manuscript Lines of the Bible.
Literal versus Dynamic Equivalent Translations
In addition to the two different manuscript lines, there are also differences in translation style.  Literal translations are a word-for-word rendering of the Hebrew and Greek.  Literal translations strive to maintain the sentence structure and emphasis of the original language.  Dynamic Equivalent translations are often called thought-for-thought translations. They take more liberty and venture into the gray area between translation and interpretation.
Literal translations:
These include the King James (KJV) and the New King James (NKJV) from the Antioch line of manuscripts, and the New American Standard (NASB), NET Bible (NET), Amplified Bible (AMP), Revised Standard (RSV), The Holman Christian Standard Bible (HCSB), and English Standard Versions (ESV) from the Alexandrian manuscripts.
Dynamic Equivalent translations:
These include the New International Version (NIV), New American Bible (NAB), New English Bible (NEB), New Living Translation (NLT) and New Revised Standard (NRSV)–all from that Alexandrian line of manuscripts.
Free or Paraphrase translations:
It should be understood that these are not truly translations, but rather man's interpretation of the Bible and, in some cases, they are actually a re-wording of the Bible.  The purpose of these works is to present a very readable interpretation of the Scriptures in modern English language. In these works some of the biblical accounts are rewritten in ways that have very little similarity to accounts found in literal or dynamic translations.
Free or paraphrase translations include the Living Bible (LB), Phillips Modern English (PME), Good News Bible (GNB), Modern Language (ML), Contemporary English (CEV), Today's English (TEV), Worldwide English (WEV) and The Message (MSG).
Should these free/paraphrase "translations" be avoided?  Not necessarily.  But it should be well-understood and always remembered that these paraphrases are not the actual Word of God.  They are often a very loose interpretation of the Holy Scriptures and therefore should be read with the same caution needed when reading any book written by a Christian writer.  Human writers are subject to much error.  It is only God's inspired Word, which we have translated from Bible manuscripts, that God has promised is both pure and preserved.
Psalms 12:6  The words of the LORD are pure words: as silver tried in a furnace of earth, purified seven times.
Psalms 119:140  Your word is very pure; Therefore Your servant loves it.
Proverbs 30:5  Every word of God is pure: he is a shield unto them that put their trust in him.
Matthew 24:35  Heaven and earth shall pass away, but my words shall not pass away.
John 10:35  … and the scripture cannot be broken
1 Peter 1:23  Being born again, not of corruptible seed, but of incorruptible, by the word of God, which liveth and abideth for ever.
Reasons for Hope* Jesus' Bible Pick
At Reasons for Hope* Jesus we primarily use the KJV and the NKJV.  However, we believe that people can learn from any translation, because it is the Holy Spirit who teaches us.
John 14:26  But the Comforter, which is the Holy Ghost, whom the Father will send in my name, he shall teach you all things, and bring all things to your remembrance, whatsoever I have said unto you.
John 16:13  Howbeit when he, the Spirit of truth, is come, he will guide you into all truth: for he shall not speak of himself; but whatsoever he shall hear, that shall he speak: and he will show you things to come.
We encourage you to do your own research and come to your own conclusion before selecting which Bible you will read.  Keep in mind that the translation you choose will influence how you interpret verses and passages.
We recommend the use of a literal (word-for-word) translation for in-depth Bible study.  For enjoyment, either a literal or dynamic equivalence is a good choice.  Paraphrases can be used for additional understanding of passages in a more culturally contextual way, but just remember that paraphrases are no different than commentaries.  They are man's interpretation.
Whichever Bible you select, spend time in the Word and grow in your knowledge and love of the Lord.
Grow in the grace and knowledge of our Lord and Savior Jesus Christ.
To Him be the glory both now and forever. Amen. (2 Peter 3:18)
<*}}}><
Jesus is the Reason this Ministry Exists
We continue to reach people worldwide with the truths of God's Word and the gospel of the Lord Jesus Christ. Your generosity is both a blessing and encouragement. Our mission is to glorify God by equipping, encouraging, and empowering YOU to understand the Bible and grow in faith. If our online resources have blessed you, please support Reasons for Hope* Jesus. Our ministry outreach has grown significantly and . . .
Please support Reasons for Hope* Jesus with a donation of $5, $10, $20, or more. A donation of any amount is needed and greatly appreciated.
CLICK TO DONATE
to Reasons for Hope*Jesus(a 501c3 Ministry)
Use a Credit Card or PayPal for safe, secure giving.
***A Hidden Message in Psalm 23?***  
Hidden in the six verses of Psalm 23 are 11 names for Jesus.
When you subscribe to our newsletter, we'll send you
The Names of God in Psalm 23 PDF
that reveals all 11 names and Scripture verses of comfort and hope (link will be sent in your confirmation email).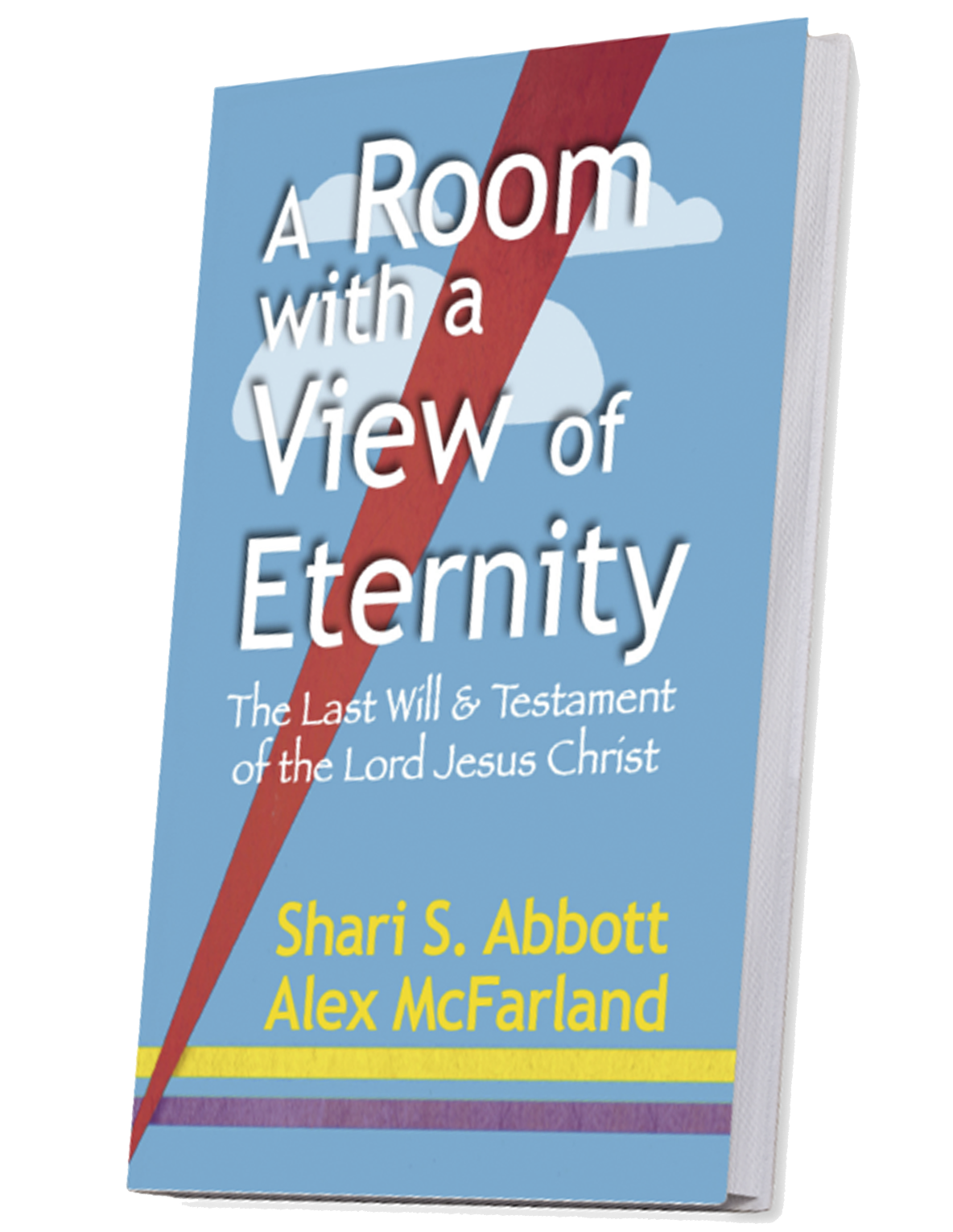 A Room with a View of Eternity—The Last Will & Testament of Jesus Christ   Take a seat at the Master's table. Learn about the riches He gives to all who are His. This book will bless and encourage you, give you hope, and help you live in the joy of your salvation and the riches of Christ that are yours.