In back-to-back verses in God's Hall of Faith chapter (Hebrews 11), we have two Bible characters that were truly worlds' apart in character and reputation — Joshua and Rahab.
The first and foremost of the two is not even named, but we know by the description that it is Joshua.  He was the great successor to Moses and would be used by God to lead Israel in conquering the pagan nations and taking possession of the Promised Land of Canaan. The other character is Rahab the harlot.  She was a woman of ill repute who was living in enemy territory, but she would be graciously spared (by Joshua) from being destroyed with the rest of her city, and she would become a mother in Israel who would amazingly become an ancestor in the genealogy of Jesus Christ.
 

Joshua: A Savior By Faith

Heb. 11:30 says… "By faith the walls of Jericho fell down after they were encircled for seven days."  

These few words summarize the great victory Israel had over the formidable city of Jericho.  Joshua, whose name means "Jehovah is salvation," was the God-chosen general who would lead Israel to victory in a most unusual way.  

Chapter six of Joshua give the account of the battle of Jericho.  God gave Joshua explicit instructions about how to defeat this formidable city with very high, thick walls.  They were to walk quietly around the city once a day for six days.  Then, on the seventh day, they were to walk around the city seven times, give a great shout, and God would collapse the walls and they could overrun their enemy. 

Joshua 6:15-20 "But it came to pass on the seventh day that they rose early, about the dawning of the day, and marched around the city seven times…and the seventh time…when the priests blew the trumpets, that Joshua said to the people, 'Shout, for the Lord has given you the city…only Rahab the harlot shall live, she and all who are with her in the house, because she hid the messengers that we sent…so the people shouted when the priests blew the trumpets….the people shouted with a great shout, that the wall fell down flat.  Then the people went up into the city…and they took the city."

What a stupendous victory!  That is what is called unconventional warfare!  Joshua was walking, warring, and winning by faith.  The Israelites were victors not because they were fierce, well-armed, experienced soldiers.  They obeyed God in walking around the impregnable walls by faith, and God honored their obedience and faith by causing the walls to fall down by His own unseen, omnipotent hands.
Rahab:
 

Saved By Faith

Heb. 11:31… "By faith the harlot Rahab did not perish with those who did not believe, when she had received the spies with peace."
Despite her lifestyle-

 

Rahab was a harlot.

 

Her very name was associated with her being a woman of ill repute.

 

One would think she would have been destroyed with all the other pagan enemies of Israel.

 

Surely there were people in that ill-fated city that were 'better' than Rahab in almost every measurable way. But people are not destroyed spiritually and eternally by their lifestyle, but by their sin of unbelief.

 

People are saved by faith. "For God so loved the world that whoever believes in Him shall not perish, but have everlasting life"- John 3:16.
Despite her location-

 

Rahab lived in Jericho among pagans, unbelievers who occupied a doomed city.

 

But yet she 'did not perish' as did the rest of them (with the exception of her family).

 

Remember, people do not die and go to hell because of where they live; they are eternally lost because of Who they won't believe in.

 

"He who believes in the Son has everlasting life; and he who does not believe the Son shall not see life, but the wrath of God abides on him." John 3:36.
Faith Revealed by Her
Deeds
Remember, "faith without works are dead"- James 2:20.  Faith is not accomplished by works, but faith is accompanied by works.
Hebrews 11:31 tells that Rahab received the spies, God's servants with peace.  Despite the fact that the two men were there to spy out her city, Rahab allowed them to stay and hid them from their pursuers (Joshua 2:1-7).  I believe this is symbolic of how, before a person is saved by faith in Jesus, they have to be willing to receive the message/messenger of the gospel, give them respect, attention, and hear what they have to say.
 In receiving the spies, Rahab confessed that she feared the true God of the Israelites and that she had faith in this God whom she acknowledged is the one and only true God in heaven and on earth.  (Joshua 2:8-11) Remember, Heb. 11:6 says that genuine faith believes that…" He is, and that He is a rewarder of those who diligently seek Him."  So faith in God is a must for salvation and Rahab's genuine faith was about to be rewarded.
Rahab

Requested Mercy for her Family

Josh 2:12-15… "Now therefore I beg you swear to me by the Lord, since I have shown you kindness, that you also will show kindness to my father's house and give me a true token, and spare my father, my mother, my brothers, my sisters, and all that they have, and deliver them from death'. So the men answered her, 'Our lives for yours, if none of you tell this business of ours; and it shall be when the Lord has given us the land, that we will deal kindly and truly with you.'"
Rahab

Relied on the Scarlet Cord

Josh 2:15-21… "Then she let them down by a (scarlet} rope through the window, for her house was on the city wall….and she said to them, 'Get to the mountain, lest the pursuers meet you…So the men said to her, 'We will be blameless of this oath of your which you have made us swear, unless when we come into the land, you bind this line of scarlet cord in the window through which you let us down…so it shall be that whoever outside of the doors of your house into the street, his blood shall be on his own head and we shall be guiltless'…then she said, 'According to your words, so be it.'  And she sent them away, and they departed.  And she bound the scarlet cord in the window."  

This scarlet cord would be the protection for all who stayed under the roof of Rahab's house It is a beautiful picture of the blood of Christ, reminiscent of the blood of the Passover lamb that was sprinkled on the lintel and doorpost of each Israelite home to deliver them from death on the night proceeding the exodus from Egypt.  Heb. 9:22 says… "without shedding of blood there is no remission [forgiveness of sin]."
Rahab

Relocated With God's Special People

Josh. 6:25… "And Joshua spared Rahab the harlot, her father's household and all that she had.  So she dwells in Israel to this day, because she hid the messengers whom Joshua sent to spy out Jericho."  

Though Rahab's home and city were destroyed, she was not homeless!  Joshua (whose name means Jehovah is Salvation, or in New Testament terms, Jesus Saves!) spared Rahab and her entire household because she believed in the true God and identified with the people of God.  So God, who is a rewarder, awarded Rahab a place in Israel.  She became part of the family of God and dwelt permanently with God's chosen people.  
Rahab

Received a New Identity

Rahab went from being a prostitute in a doomed city to be a convert of the true God and a citizen of His chosen nation of Israel.  On top of all that, Rahab has the privilege of being named in the genealogy of Jesus Christ in Matthew 1:5, as she was She later married Salmon, and they had a son named Boaz, who fathered Obed, who fathered Jesse, who fathered king David, a key ancestor in the Messianic line that led to Jesus. Rahab catapulted from being a lowly harlot to being named in the genealogy of Jesus to being included in God's Hall of Faith, right alongside Joshua.
Jesus is the Reason this Ministry Exists
We continue to reach people worldwide with the truths of God's Word and the gospel of the Lord Jesus Christ. Your generosity is both a blessing and encouragement. Our mission is to glorify God by equipping, encouraging, and empowering YOU to understand the Bible and grow in faith. If our online resources have blessed you, please support Reasons for Hope* Jesus. Our ministry outreach has grown significantly and . . .
Please support Reasons for Hope* Jesus with a donation of $5, $10, $20, or more. A donation of any amount is needed and greatly appreciated.
CLICK TO DONATE
to Reasons for Hope*Jesus(a 501c3 Ministry)
Use a Credit Card or PayPal for safe, secure giving.
***A Hidden Message in Psalm 23?***  
Hidden in the six verses of Psalm 23 are 11 names for Jesus.
When you subscribe to our newsletter, we'll send you
The Names of God in Psalm 23 PDF
that reveals all 11 names and Scripture verses of comfort and hope (link will be sent in your confirmation email).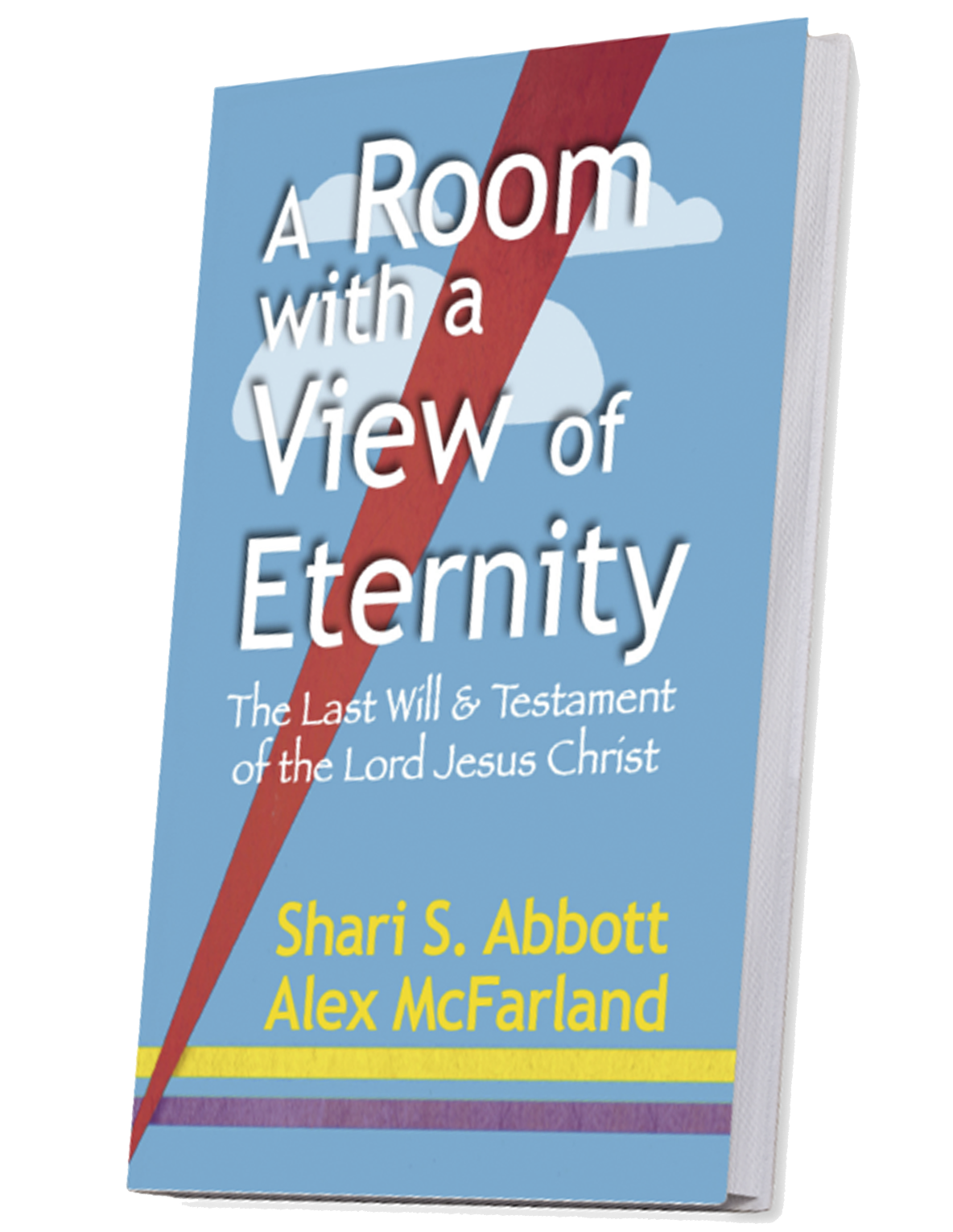 A Room with a View of Eternity—The Last Will & Testament of Jesus Christ   Take a seat at the Master's table. Learn about the riches He gives to all who are His. This book will bless and encourage you, give you hope, and help you live in the joy of your salvation and the riches of Christ that are yours.