Question
Rehab lied when asked if the spies were in her house. Yet she found favor with God.  So is it sometimes OK to lie?   
Answer
It is never OK to lie.  God clearly defined lying as a sin in the fourth of the Ten Commandments.
Exodus 20:16  "You shall not bear false witness against your neighbor."
Rehab Sinned
The fact that Rahab found favor with God does not in any way minimize her sin or in any way justify it.  Some will say that Rahab lied to bring about good, or to prevent evil (the death of the spies), so that makes it OK.  What was brought about because of her lie does not, however, change the fact that it was still a lie and lying is a sin.  
A Little White Lie
There is no such thing in God's eyes as a "little white lie."  That is a construct of man to excuse or justify a small, or seemingly harmless lie. (And crossing your fingers behind your back doesn't make it OK!)
No lie is harmless and every lie is the color of sin…black.  Even the "smallest," the "whitest," or the "seemingly most harmless," lies break the heart of the One who is Truth. So how should we understand Rahab's story?
The Bible Says…
The story of Rahab begins when Joshua sent two messengers/spies into the city of Jericho.  They were sent to "view the land" prior to the nation moving forward to take the land (Joshua 2).  The king of Jericho was informed of the presence of the Israelite men in the house of Rahab and he sent his men to require that she turn them over to him  (Josh 2:2-3).
We all know the story.  Rahab hid the spies and when she was confronted by the king's messengers she lied.  She told them that she did not know where the spies were (Joshua 2:4-5).  She later helped the spies escape.  
Her words were clearly a lie. Rehab knew where the men were hiding because she was the one who had hidden them.  The Bible records her sin, but it does not condemn her sin.  What we must understand is that just because the Bible records a sin without condemnation, it does not mean that God condones the sin.
An Unpunished Sin
We've established that Rahab did lie and that God did not judge and punish her sin.  Rahab's words to the two messengers/spies clearly revealed her heart and her faith in Israel's God:
Joshua 2:9-11 [Rahab] said to the men: "I know that the LORD has given you the land, that the terror of you has fallen on us, and that all the inhabitants of the land are fainthearted because of you. For we have heard how the LORD dried up the water of the Red Sea for you when you came out of Egypt, and what you did to the two kings of the Amorites who were on the other side of the Jordan, Sihon and Og, whom you utterly destroyed. And as soon as we heard these things, our hearts melted; neither did there remain any more courage in anyone because of you, for the LORD your God, He is God in heaven above and on earth beneath."
After professing her knowledge and awe of Israel's God, Rahab demonstrated her faith and trust.  Rehab boldly asked for deliverance for herself and her family. 
Joshua 2:12-13 …"Now therefore, I beg you, swear to me by the LORD, since I have shown you kindness, that you also will show kindness to my father's house, and give me a true token, and spare my father, my mother, my brothers, my sisters, and all that they have, and deliver our lives from death."
The men promised kindness in return for her protection…
Joshua 2:14  So the men answered her, "Our lives for yours, if none of you tell this business of ours. And it shall be, when the LORD has given us the land, that we will deal kindly and truly with you." 
God is Merciful and Gracious
Some will say that Rahab's lie was not a sin because God didn't judge it–and in fact, He blessed her.  While it is true that Rahab and her family were spared, it cannot be said that God's blessings indicated that her lie was not sinful.  
God must, and does, judge all sins. We can understand that God judged Rahab's sin but, instead of punishment that she rightfully deserved, God gave her mercy and forgave her sin.  
Rehab — a Picture of Faith
The story of Rahab is centered on her faith, not her sin. It is a wonderful reminder of how great the mercy and grace of God toward sinners.  Rehab believed in God because she had heard of His works and she trusted that He would act in His kindness.  Her knowledge of God produced belief.  Her response was to trust God enough to put her own life, and the lives of her family, at risk by hiding the two spies.  That demonstrated her faith. 
Knowledge + Believing + Trust = Faith
(Read What is Faith? How do I get it? How do I grow it?)
The Bible commends the faith of Rahab by including her in the Hebrews 11 "Hall of Faith."
Hebrews 11:31  By faith the harlot Rahab did not perish with those who did not believe, when she had received the spies with peace.
Read carefully what that verse says. Rehab did not perish with "those who did not believe."  Rehab was not among the unbelievers… she was counted as one who believed.  She demonstrated her faith by not only hiding the spies but also directing their escape
Joshua 2:16  And she said to them, "Get to the mountain, lest the pursuers meet you. Hide there three days, until the pursuers have returned. Afterward, you may go your way."
Be Prepared
Be prepared when critics of the Bible try to use the story of Rahab to claim that God morally contradicts Himself. When critics try to suggest that God approved of Rahab's lie, be ready with an answer.  Tell them about the…
mercy of God demonstrated

in the unmerited favor of forgiveness of sin.

grace of God magnified

in God's protection and deliverance of Rahab and her family.

richesof God bestowed

upon Rahab in the blessing of a very special plan and purpose for her life.  
Rehab's story didn't end in Jericho.  God had a glorious plan for her life.  Rehab entered into the house of Israel through marriage to Salmon. She gave birth to Boaz who married Ruth.  Ruth gave birth to Obed who fathered Jesse, who was the father of David, who became the King of Israel.  
We all know the rest of the story!  It was from this ancestral line that Jesus came.  What a blessing from God for Rahab to be included in the genealogy of the King of kings, Jesus (Mat 1:5). 
Two Lessons for Us
1. Thou shalt not lie (Ex 20:16, Lev 19:11)
Determine to always tell the truth and honor God, even in the face of dire consequences.  We are not like Rahab.  We have the Holy Spirit of God living in us and working through us.  Trust that God will protect and deliver us when we honor Him.  Who knows what blessings He might be waiting to give a good and faithful child.
James 1:17  Every good gift and every perfect gift is from above, and cometh down from the Father of lights, with whom is no variableness, neither shadow of turning.
2. God desires to forgive and forget all sins.
In the New Testament, Rahab is referred to as a harlot (James 2:25), but nowhere is she called a liar.  Her sin of lying was not overlooked—rather, it was forgiven!  It's clear Rahab lived a sinful, pagan life in Jericho, but she had heard about God, and by faith, her life was radically changed.  
God wants to forgive all sinners. But first, they must hear about God (as Rahab did) before they can respond (Romans 10:17). 
Romans 10:13-14  For "whoever calls on the name of the LORD shall be saved." How then shall they call on Him in whom they have not believed? And how shall they believe in Him of whom they have not heard? And how shall they hear without a preacher?
Be a Christian who tells non-believing friends, family, and acquaintances how they can be forgiven of their sins and how Jesus will change their lives.
<*}}}><
Jesus is the Reason this Ministry Exists
We continue to reach people worldwide with the truths of God's Word and the gospel of the Lord Jesus Christ. Your generosity is both a blessing and encouragement. Our mission is to glorify God by equipping, encouraging, and empowering YOU to understand the Bible and grow in faith. If our online resources have blessed you, please support Reasons for Hope* Jesus. Our ministry outreach has grown significantly and . . .
Please support Reasons for Hope* Jesus with a donation of $5, $10, $20, or more. A donation of any amount is needed and greatly appreciated.
CLICK TO DONATE
to Reasons for Hope*Jesus(a 501c3 Ministry)
Use a Credit Card or PayPal for safe, secure giving.
***A Hidden Message in Psalm 23?***  
Hidden in the six verses of Psalm 23 are 11 names for Jesus.
When you subscribe to our newsletter, we'll send you
The Names of God in Psalm 23 PDF
that reveals all 11 names and Scripture verses of comfort and hope (link will be sent in your confirmation email).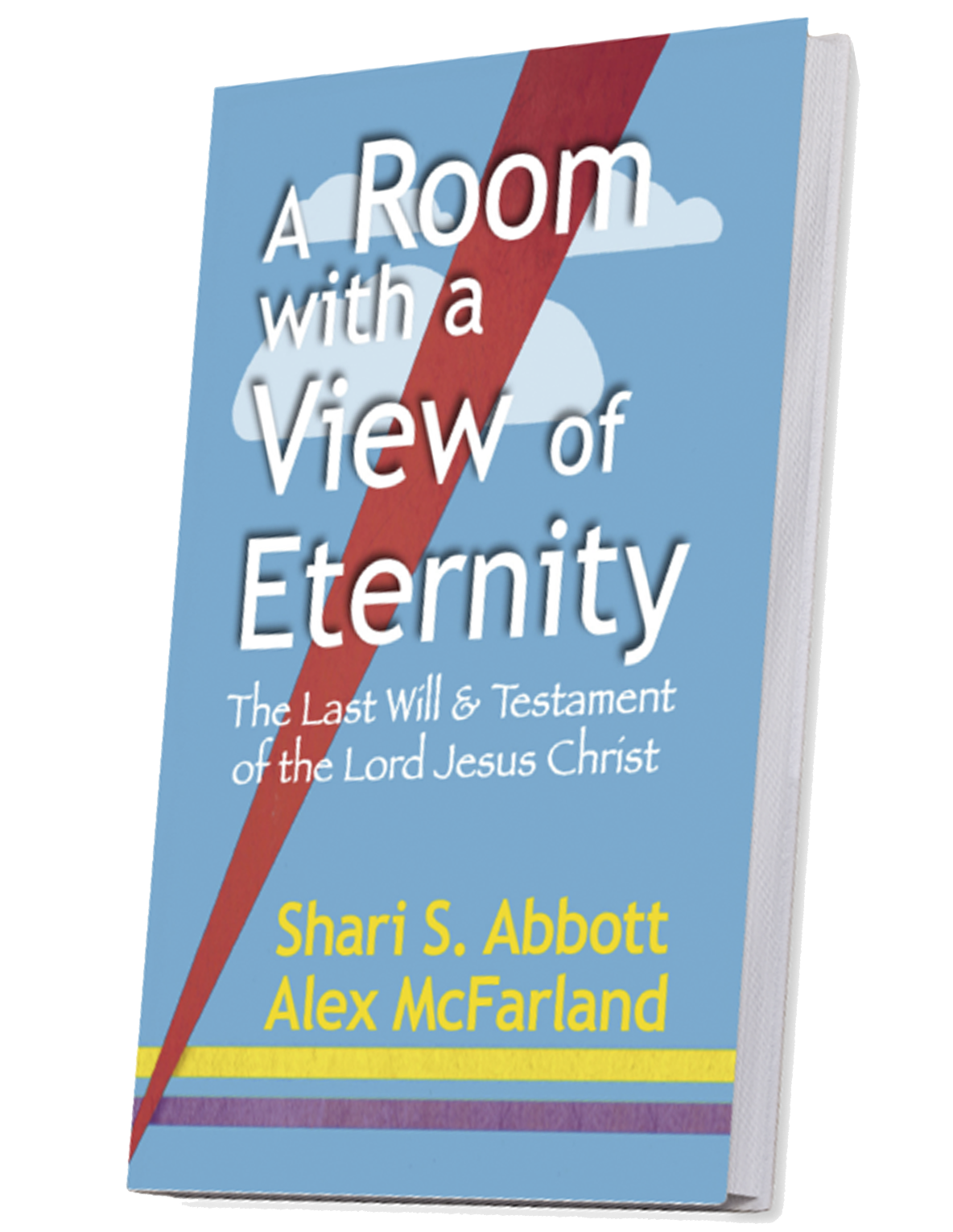 A Room with a View of Eternity—The Last Will & Testament of Jesus Christ   Take a seat at the Master's table. Learn about the riches He gives to all who are His. This book will bless and encourage you, give you hope, and help you live in the joy of your salvation and the riches of Christ that are yours.