Please help us share God's truths and hope in Christ. A donation of any amount is greatly needed and appreciated.
AUTHOR: Uncertain
DATE: 64-68 AD
There are many suggestions about who the author of Hebrews might have been: Paul, Barnabas, Apollos, Silas, Aquila, and Priscilla, or Clement of Rome. Only God knows for certain who wrote this book, but there are many similarities to Paul's words in his other epistles, and the early church often attributed this book to Paul.
Peter seems to allude to this letter in 2 Peter 3:15, And account that the longsuffering of our Lord is salvation; even as our beloved brother Paul also according to the wisdom given unto him hath written unto you [Jews]…
Peter mentions a letter written by Paul to the Hebrews ("written unto you." — the "you" are Hebrews/Jews). If our book of Hebrews is not written by Paul, then there is a missing letter written by Paul to the Hebrews.  We know that the 13 Pauline epistles all went to the churches (gentiles) and were signed by Paul.  For that reason, some dispute Paul as being the author of Hebrews.  However, it is quite possible that, since Paul is the Apostle to the Gentiles and he was writing to Jews about Jewish practices, he might not have signed the letter to avoid any confusion in the churches.
Following ascribing a letter to the Jews being written by Paul, Peter comments 2 Peter 3:16,  As also in all his epistles, speaking in them of these things; in which are some things hard to be understood, which they that are unlearned and unstable wrest, as they do also the other scriptures, unto their own destruction.
Peter is commenting on Paul's letter, and no one disputes that Hebrews has some of the most difficult to understand teachings (e.g. Hebrews 6 and 10).
Those who received and read this book were Jews.  They would have understood Paul's references to the prophets, angels ministering to Israel, Levitical worship practices, etc.  Most believe the people lived in Palestine or Italy, with Italy being a more favored location because these readers were not poor (the saints in Palestine were, 6:10; 10:34; Rom. 15:26).   "Those from Italy greet you" (13:24) sounds as though Italians outside of Italy are sending greetings back home.
Most who would have read these words were believers (Hebrews 3:1). The letter was a "word of exhortation" (13:22) because some were drifting and were in danger of abandoning their faith in Christ to revert to Judaism.  The book of Hebrews proclaims the superiority of Christ and Christianity over the prophets, the angels, the priesthood, the Law, for Jesus is the mediator of a New Covenant.
The date of this book is disputed, ranging from the 60s to the early 90s. Its use in the book of 1 Clement, which was written in A.D. 95, requires a date no later than the early 90s. However, it should be noted that there are no references to the destruction of the Temple in Jerusalem in AD 70.  Had the Temple already been destroyed it would have support Paul's claims that, in Christ, the Old Testament sacrificial system was fulfilled.  The writer also made mention of the Old Covenant "becoming obsolete," "growing old," and "ready to vanish away." (Heb 8:13).  Until the Temple was destroyed, the Jews were still performing rituals and sacrifices.
The author reveals his outstanding education and literary and rhetorical skill. His knowledge of Hebrew Scripture is outstanding, with 29 direct quotations from the Old Testament plus 53 clear allusions to various other passages.
Hebrews teaches that Jesus is the New and Better Deliverer (Hebrews 1-7), better than the Angels (Ch. 1, 2), than Moses (Ch. 3), better than Joshua (Ch. 4), better than Aaron Ch. 5 – 7.  He has given a better covenant (Ch 8 – 10), a better sanctuary (Ch. 9), a better sacrifice (Ch. 10).  He is the Final Revealer (Hebrews 1:1-3 ), the heir of all things, the maker of the worlds, the brightness of God's glory, the image of the Father, the upholder of all things, the One who purged our sins and sits on the right hand of the Majesty on high.
OUTLINE OF HEBREWS
 I.  The Superiority of the Person of Christ, 1:1-4:16
   A.  Christ Is Superior to the Prophets, 1:1-4
   B.  Christ Is Superior to the Angels, 1:5-2:18
      1.  In His divine person, 1:5-14
      2.  In His saving proclamation, 2:1-4
      3.  In His delivering purpose, 2:5-18
   C.  Christ Is Superior to Moses, 3:1-6
   D.  Christ Is the Supreme Object of Faith, 3:7-4:16
      1.  The catastrophe of unbelief, 3:7-19
      2.  The consequences of unbelief, 4:1-10
      3.  The cure for unbelief, 4:11-16
II.  The Superiority of the Priesthood of Christ, 5:1-10:39
   A.  Christ Is Superior in His Qualifications, 5:1-10
   B.  Parenthetical Warning: Don't Degenerate from Christ,  5:11-6:20
   C.  Christ Is Superior in the Order of His Priesthood,  7:1-8:13
      1.  The portrait of Melchizedek, 7:1-3
      2.  The preeminence of the Melchizedek priesthood,  7:4-8:13
   D.  Christ Is Superior in His Priestly Ministry,
      1.  The earthly priesthood, 9:1-10
      2.  Christ's priesthood, 9:11-14
      3.  Christ's fulfillment of the promise, 9:15-10:18
   E.  Parenthetical Warning: Don't Despise Christ, 10:19-39
III.  The Superiority of the Power of Christ, 11:1-13:19
   A.  The Power of Faith in Christ, 11:1-40
      1.  The description of faith, 11:1-2
      2.  The examples of faith, 11:3-40
   B.  The Power of Hope in Christ, 12:1-29
      1.  The debatable things of life, 12:1-3
      2.  The disciplines of life, 12:4-11
      3.  The direction of life, 12:12-17
      4.  The drive of life, 12:18-24
      5.  The duty of life, 12:25-29
   C.  The Power of the Love of Christ, 13:1-19
      1.  In relation to social duties, 13:1-6
      2.  In relation to spiritual duties, 13:7-19
IV.  Concluding Benedictions, 13:20-25
Videos and Charts Used By Permission of the Bible Project
Jesus is the Reason this Ministry Exists
We continue to reach people worldwide with the truths of God's Word and the gospel of the Lord Jesus Christ. Your generosity is both a blessing and encouragement. Our mission is to glorify God by equipping, encouraging, and empowering YOU to understand the Bible and grow in faith. If our online resources have blessed you, please support Reasons for Hope* Jesus. Our ministry outreach has grown significantly and . . .
Please support Reasons for Hope* Jesus with a donation of $5, $10, $20, or more. A donation of any amount is needed and greatly appreciated.
CLICK TO DONATE
to Reasons for Hope*Jesus(a 501c3 Ministry)
Use a Credit Card or PayPal for safe, secure giving.
***A Hidden Message in Psalm 23?***  
Hidden in the six verses of Psalm 23 are 11 names for Jesus.
When you subscribe to our newsletter, we'll send you
The Names of God in Psalm 23 PDF
that reveals all 11 names and Scripture verses of comfort and hope (link will be sent in your confirmation email).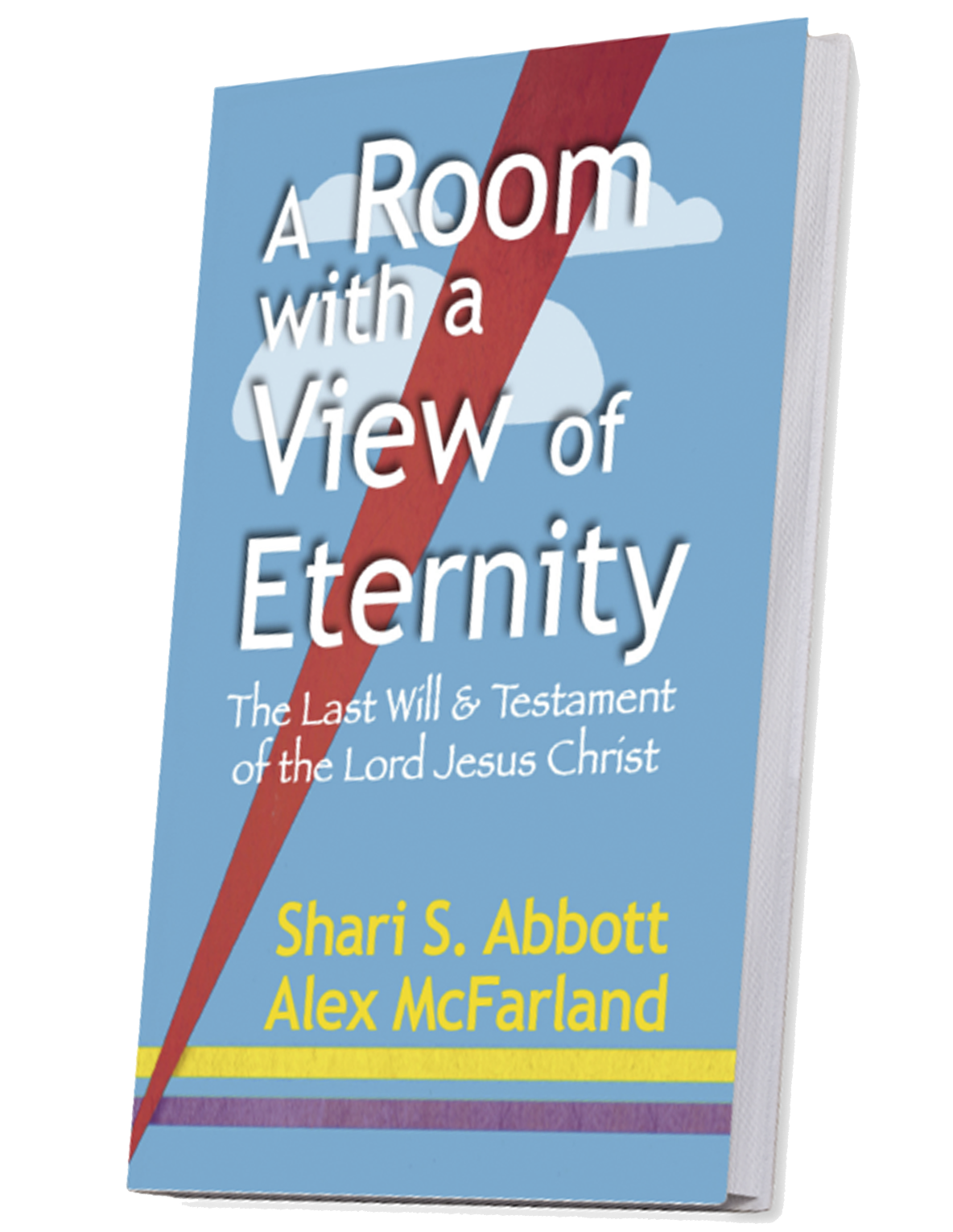 A Room with a View of Eternity—The Last Will & Testament of Jesus Christ   Take a seat at the Master's table. Learn about the riches He gives to all who are His. This book will bless and encourage you, give you hope, and help you live in the joy of your salvation and the riches of Christ that are yours.