God the Father is an invisible spirit and does not have a physical body.  Nonetheless, Scripture refers to God as having eyes, a nose, ears, hands, feet, etc. This is called anthropomorphism — the attribution of human characteristics or behaviors to something non-human.  Our understanding of God the Father is greatly enhanced by God the Son, Jesus Christ, who came to earth and took on a physical body. He said to His disciples, "He who has seen Me, has seen the Father" (John 14:9).  The Bibles speaks of the shoulder of God, but when it does, it is actually referring to the Son of God in a prophetical sense.  This would have been a curious mystery to the Jews at the time, but it has become a precious prophecy to believers in Jesus the Messiah.
The Shoulder of God
The word, 'shoulder', is found 29 times in the Bible (NKJV), with all of them in the Old Testament and only one instance referring to God. The reference to the shoulder of God has great significance and relevance and provides unparalleled hope and inspiration.    It's found in a prophecy of Jesus' return and His earthly reign. This wonderful promise is found in Isaiah 9:6-7.  
We often hear the first part of these verses quoted at Christmas time and rightly so… "For unto us a Child is born, unto us a Son is given. "  Those words are a prophecy of Christ's first coming as a babe born in a manger in Bethlehem.  But the remainder of the passage refers to Jesus' second coming… "And the government will be upon His shoulder, and His name shall be called; Wonderful, Counselor, Mighty God, Everlasting Father, Prince of Peace.  Of the increase of His government and peace there will be no end.  Upon the throne of David and over His kingdom, to order it and establish it with judgment and justice from that time forward, even forever.  The Zeal of the Lord of hosts will perform this." Let's look at what Isaiah 9:6-7 reveals about the government and the Divine Ruler upon whose shoulder it will rest.
A Government of
PREMIER CHARACTER
(vs 6a)
The character of this government will be defined by five qualities of its Ruler:
1. Wonderful
This future government will be headed by a fearless, flawless leader, Jesus Christ. Today, presidents, kings and politicians are measured by public opinion polls, and it is a major accomplishment when one reaches over 50% approval.  But when Jesus reigns, there will be no elections, no term limits, and no public opinion polls.  If there were, they would simply say of Him, "He is Wonderful!"  The living conditions, public morale, safety, security, economy will all be simply wonderful, because He is Wonderful!
2. Counselor
Jesus will not only be seen as a wonderful leader, unmatched in splendor and expertise, but  also as a supremely kind, gracious, benevolent, and wise Counselor. He will simultaneously be a magnificent ruler and also a precious friend and confidant.  The fact is, we all need wise counsel.  Proverbs says, "Where no counsel is, the people fall"…and without counsel, purposes are disappointed" (Prov. 11:14, 15:22).  Sadly, people often go to the wrong counselor, and their lives are ruined by bad advice.  Thankfully we don't have to wait for the Millennium to get wise counsel.  We can go to the Word of God anytime and find all that we need for life and godliness.
3. Mighty God
When it comes to governments, nations and leaders, it seems that power/might is everything.  The strong and mighty rise to the top and seek to increase their might to stay in power.  Yet we regularly see governments, dictators and armies fall.  They eventually succumb to someone who has risen to defeat them and suddenly they have gone from powerful to powerless.  Yet when Jesus rules, Scripture says, "Of the increase of His government…there will be no end."  He will never be overtaken or defeated.  His government will only continue to increase, and will never decrease or be vanquished.  He is the "Mighty God' and all-powerful for all time.  What a Mighty God we serve!
4. Everlasting Father
Fatherhood has fallen on hard times, but most still have an idea of what a father should be.  A dad wears many hats and does lots of things, but being a good dad involves being a provider.  Speaking to fathers, the Bible says, "If anyone does not provide for his own, and especially for those of his household, he has denied the faith and is worse than an unbeliever." (1 Tim. 5:8) 
Tragically, many men have abandoned their families, and the results are catastrophic.  According to stats in the AFA Journal, 60% of rapists, 72% of adolescent murderers, and 70% of long-term prison inmates grew up in fatherless homes. Nearly half of American children live in families without their biological fathers.  The last prophecy of the Old Testament told of a prophet who would come (John the Baptist) who would "turn the hearts of the fathers to the children, and the hearts of the children to their fathers" (Mal. 4:5-6).  It's comforting to know that one of the roles of King Jesus in the coming kingdom will be, "Everlasting Father!"
5.

 

Prince of Peace
Planet earth has never enjoyed real and lasting peace since before Adam and Eve sinned in the Garden of Eden.  Their two sons, Cain and Abel grew up, and horror of horrors, Cain murdered his brother Abel in a fit of rage.  In subsequent years, wickedness became so prevalent that God destroyed the earth with a universal flood.  Since then, there have been wars, revolutions, and riots almost continuously.  Students of Scripture know there is only One Person who can and will bring true and lasting peace to this earth– He is God the Son, the Lord Jesus Christ.  Recently I visited the holy land and stood at the western wall in Jerusalem.  I wrote a simple prayer and shoved it into the crevice of those ancient stones, and it simply said, "Even so come quickly, Lord Jesus"!  He is, and always will be, the Prince of Peace!
A Government of
PERMANENT CONTINUITY
(vs 7a)
"Of the increase of His government and peace there will be no end…"   
In the Messiah's administration there will be no elections, campaigns, or lobbying, no resignations or embarrassing terminations, no impeachments or investigative hearings, no policy changes or shifts in philosophy, no coup attempts, assassinations, or hostile takeovers, no stock market collapses, shortages or recessions, no constitutional amendments, crises or debates, and no problems with a liberal press or hostile media.  Jesus is the same, yesterday, today, and forever. His government will reflect that.  Please understand, I'm not putting down our government.  I'm a flag-waving American and am so thankful to live in the best country on God's green earth…for now.  But I highlight this passage from Scripture to shine a light on these glorious truths that are so encouraging and give us so much to look forward to!  The best is yet to come!  There will be perfect and permanent peace and progress when the Most High God reigns.
A Government of
PERFECT CONTROL
 

(v.7b)
"Upon the throne of David and over His kingdom, to order and establish it with judgment and justice from that time forward, even forever."  
 This text assures us that God Himself will order this government and will personally see to it that all things will run like clockwork.  God is not the author of confusion!  He will make sure that everything is operating decently and in order.  Do you remember the time of the Judges in Israel? That dark chapter in Hebrew history is described this way: "In those days there was no king in Israel; everyone did what was right in his own eyes."  What a disaster!  There was no judicial, moral, spiritual, or social order—only chaos, confusion, and carnality.  
It will be exactly the opposite when the King of Kings takes control!  There will be no tolerating of civil disobedience, lawlessness, or insubordination; no sanctuary cities or two-tiered justice system; no homelessness, rioting, or looting; no pornography, alcoholism, or drug addiction; no prostitution, homosexuality, or abortions; no bars, nightclubs, or casinos; no sensual music, public indecency, or immodesty; no raunchy radio broadcasts, TV programs, or dirty movies; no unfair taxation, welfare fraud, or abuse; no military bases, combat training, or weaponry; no divorces, child abuse, wife-beating, or dead-beat husbands;  no women's lib, affirmative action, or planned parenthood, no BCI, FBI, CIA, or IRS, and no humanism, paganism, or cultism!  Wow!  Doesn't that sound great?  This will be the answer to the Lord's Prayer… "Your kingdom come, Your will be done, on earth as it is in Heaven"!
A Government of
PROFOUND CONFIDENCE
(v.7c)
 "The zeal of the Lord of hosts will perform this."  
It doesn't say 'the zeal of the Republican party will performs this'—or the religious right, or Bible-believing churches, or saints and angels— it says, "the zeal of the Lord of hosts will perform this!"  This is a statement of certainty and should fill us with joy and a sense of profound confidence!   Zeal is wonderful thing.  Amazing things can be accomplished if there is enough zeal behind it.  But zeal alone cannot seal the deal.  When it comes to taking control of planet earth, the Lord Jesus Christ will return as the Lion of Judah, the King of Kings and Lord of Lords!  He will put down his enemies without a fight, and rule and reign with a rod of iron.  Let not your heart be troubled.  Believe sincerely and completely in Jesus Christ as Savior and Lord.
Conclusion
We don't need to pin our hopes on a certain politician or political party, or sink into despair when the person we voted for doesn't get elected.  There is no human leader or politician who has enough power or clout, or who has big enough shoulders to carry the weight of the world and solve its myriad and mammoth problems.  Instead, look unto Jesus Who is the Author and Finisher of our faith (Heb 12:2).  Be assured that the King is coming, and He will set everything and everyone straight!  He came first to die on a cross to pay for our sins.  Then He rose from the dead and ascended back into Heaven where He has been interceding for us and preparing a place for His own to dwell with Him forever.   
Be assured that He is coming again, this time in power and great glory!  And He will take His rightful place on the Throne in Jerusalem where the government will be upon His shoulders.  He will rule and reign as King of the Universe.  Every knee will bow and every tongue will confess that He is Lord.  How much better it is to submit to His Lordship now.  Get ready for the King and His kingdom.  It is coming!  "The zeal of the Lord of hosts will perform it!"
Jesus is the Reason this Ministry Exists
We continue to reach people worldwide with the truths of God's Word and the gospel of the Lord Jesus Christ. Your generosity is both a blessing and encouragement. Our mission is to glorify God by equipping, encouraging, and empowering YOU to understand the Bible and grow in faith. If our online resources have blessed you, please support Reasons for Hope* Jesus. Our ministry outreach has grown significantly and . . .
Please support Reasons for Hope* Jesus with a donation of $5, $10, $20, or more. A donation of any amount is needed and greatly appreciated.
CLICK TO DONATE
to Reasons for Hope*Jesus(a 501c3 Ministry)
Use a Credit Card or PayPal for safe, secure giving.
***A Hidden Message in Psalm 23?***  
Hidden in the six verses of Psalm 23 are 11 names for Jesus.
When you subscribe to our newsletter, we'll send you
The Names of God in Psalm 23 PDF
that reveals all 11 names and Scripture verses of comfort and hope (link will be sent in your confirmation email).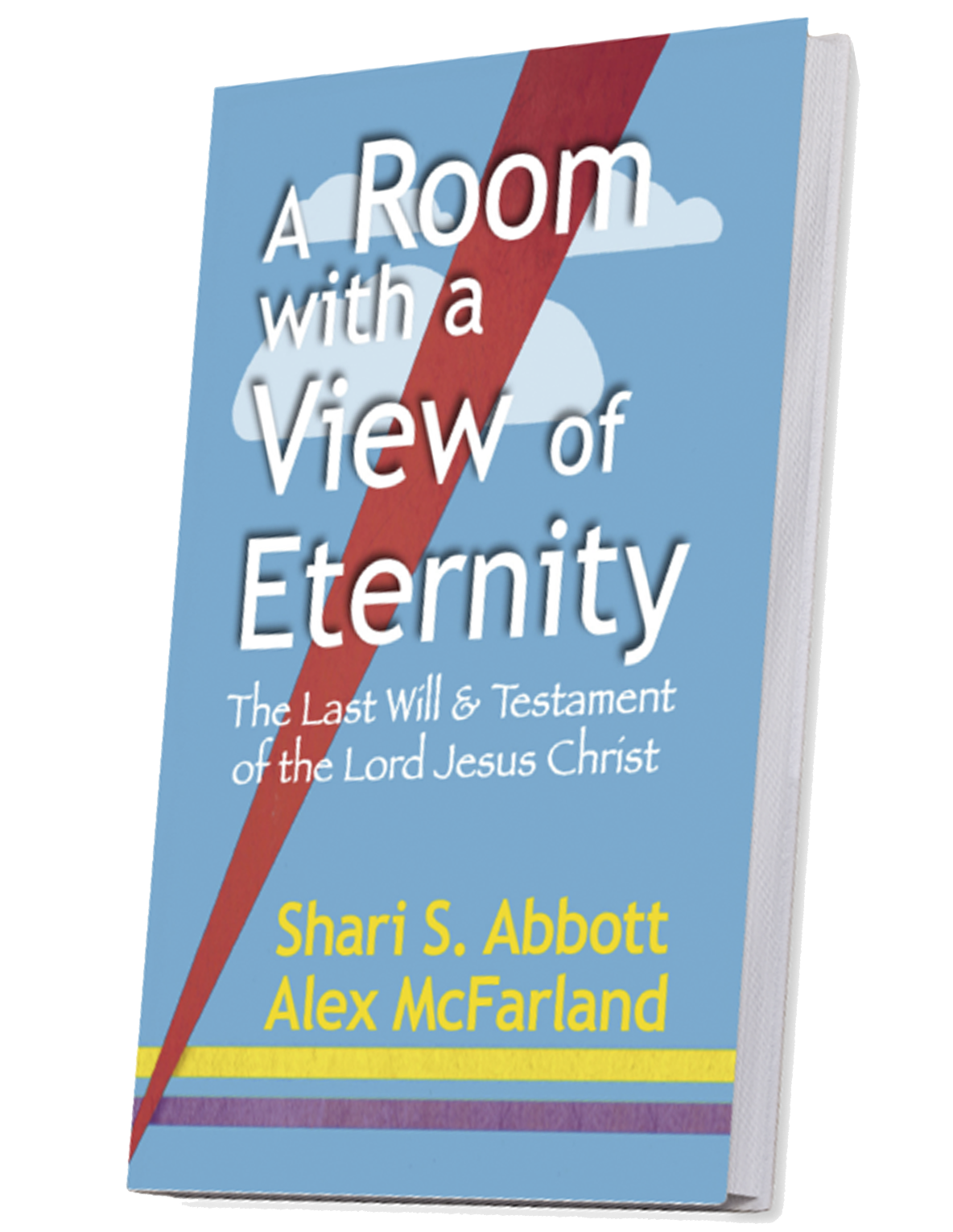 A Room with a View of Eternity—The Last Will & Testament of Jesus Christ   Take a seat at the Master's table. Learn about the riches He gives to all who are His. This book will bless and encourage you, give you hope, and help you live in the joy of your salvation and the riches of Christ that are yours.
Summaries of Warren Wiersbe's list of 77 questions abridged from
Fbcgodfrey.org.