This is a great question.  I believe that Christians err in two ways when it comes to Satan.  They either 1) think and worry too much about him and attribute all or most of their sins to his tempting; or they 2) don't understand enough about Satan, and how he desires to tempt us to sin and thereby damage or destroy our testimonies.
Knowing about Satan and understanding his will and works is important, but as Christians, we must begin by remembering that Jesus is Sovereign over all things and that includes Satan and his works.  We have no reason to fear Satan, but we have every reason to be aware of him and his evil intent and works.
It is important to understand the essence of Satan's character.  He is the total opposite of our God who is Truth.  Satan is a liar.  In fact, he's called the Father of Lies (John 8:44). That name alone should be a grave warning.  Additionally, there are many other names he's earned, each of which reveals his character.
Satan is an accuser (Revelation 12:10), an adversary (1 Peter 5:8), a deceiver (Revelation 12:9) and tempter (Matthew 4:3).  He is the lawless one (2 Thessalonians 2:8-10), the ruler of darkness, demons and this world (Ephesians 6:12, Luke 11:15, John 12:31,32) and he is the enemy of God and man (Matthew 13:39).  
 Satan is the devil (1 John 3:8 ) and the god of this age (2 Corinthians 4:4).  He is evil in his will and his ways (John 17:15) and he is the man of sin (2 Thessalonians 2:3,4 ) and the power of darkness (Colossians 1:13, 14).  
Satan is the antithesis to the Lord Jesus Christ because Satan is a false god (1 John 4:3).
We could spend hours learning about Satan, beginning with his honored work in Heaven as one of the cherubim, prior to his rebellion against God.  We can read in Scripture about his fall from Heaven, his tempting of Adam and Eve in the garden, his tempting of Jesus in the wilderness, and how he tempts of us.  The Bible is clear and detailed about Satan and his works.
In his epistle, Peter gives a strong warning of Satan's evil intent:
1 Peter 5:8  Be sober, be vigilant; because your adversary the devil, as a roaring lion, walketh about, seeking whom he may devour.
The evil intent of Satan can very easily frighten us, but it need not do so.  Just prior to giving this warning, Peter spoke of the mighty power of God.  He told that we can give all our cares to God…and that includes our fears of Satan.
1 Peter 5:6-7  Humble yourselves therefore under the mighty hand of God, that he may exalt you in due time:  Casting all your care upon him; for he careth for you.
Peter also added an assurance of God's promised glory and a confidence in Him to preserve and strengthen us:
1 Peter 5:10  But the God of all grace, who hath called us unto his eternal glory by Christ Jesus, after that ye have suffered a while, make you perfect, establish, strengthen, settle you.
So…what about Satan?
In answering this question about how much we should fear Satan, I am going to focus on his most infamous title, the father of lies.  It's what he used to deceive Eve and he desires to use it on us too.
John 8:44  …He [Satan] was a murderer from the beginning, and abode not in the truth, because there is no truth in him. When he speaketh a lie, he speaketh of his own: for he is a liar, and the father of it.
 Satan's weapon of destruction is lies.  The Bible doesn't say he sometimes lies.  The Bible says he always lies, "because there is no truth in him…"
In Christ, we stand in direct opposition to Satan.  There is truth in us.  Lies may be Satan's weapon of destruction, but we have something more powerful—truth is our weapon of defense—and that truth is the Lord Jesus Christ and His Word.
Jesus is the "…way, the truth and the life" (John 14:6).  He is full of truth (John 1:14) and He is Faithful and True (Revelation 19:11), and He has given us the Holy Spirit who dwells in us and teaches us the truth.  Jesus promised, "And ye shall know the truth, and the truth shall make you free" (John 8:32).  Therefore we stand strong in Christ and in His truth (Ephesians 6:14).  In opposition, Satan lies to the world (non-believers) and to Christians.
Three Lies of Satan to the World
1. Satan's lie: GOD doesn't exist.  Trust in yourself.
In the last half of the 20th century, this lie became prevalent.  The growing movement of outspoken atheists fueled a flat-out rejection of God and a dependence on self.  Reasoning is clouded for non-believers who have bought into this lie.  They deny the creator of the world and the wickedness of man's sin.  Nevertheless, we are to proclaim God and preach the gospel of saving grace to all…and pray that they have ears to hear.
Contrast God's truth: God said, "I am that I am" (Genesis 3:14). 
From "in the beginning" (Genesis 1:1) to the completion of God's plan of restoration (Revelation 22:21), every word of the Bible reveals the Lord Jesus Christ.  He is, He was and He always will be the one True God.  We are to trust in Him.  Share this truth with those who do not know Him.  He is the True and Faithful one who cannot lie (Titus 1:2, Hebrews 6:18) and is worthy of our trust.
2.  Satan's lie: There is no such place as hell.
For non-believers who acknowledge a Creator, or even God, Satan's strategy is to remove judgment so they have no reason to understand their need for a Saviour or to have a desire to know Jesus.  The reasoning becomes, if there is no hell for those who reject Jesus, then at death man ceases to exist.  This creates a "be all you can be" and "get all you can get"  kind of lifestyle.  Live for today. Don't worry about tomorrow.
Contrast God's truth: Hell is a real place (Luke 16)
This life is not all there is.  All humans are eternal beings (see "Are we a soul, or do we have a soul.")  The body will die, but not the soul.  This life is but a vapor (James 4:14) and condemnation awaits those who reject God's provision (Jesus' atonement) for the forgiveness of their sins (Romans 6:23).
3.  Satan's lie: Just be a good moral person and you'll get into Heaven.
For those who believe in God and an afterlife, but do not belong to Jesus, Satan will use the morals and ethics of the Bible to encourage them to work their way to Heaven.
Contrast God's truth: Jesus is the only way to be forgiven of sins and made worthy to enter into Heaven. (John 14:6)
If it's about good works, how many good works are good enough?  Jesus said, "Be ye therefore perfect, even as your Father which is in heaven is perfect." (Matthew 5:48)  No one can do that.  Praise God that He sent Jesus who lived and died for us and offers salvation to those who repent and trust in Him.  God's judgment of sin is not satisfied by our good works.  It is satisfied by Jesus' perfect works.
Three Lies of Satan to the Christian
1. Satan's lie:  God does not love you because you are not worthy of His love and acceptance.
Just as in the garden, Satan takes a truth and twists it into a deception.  It is true that unregenerate man is not worthy of God's love.  All mankind are sinful creatures who rebel against our creator.  But God is love.  It is intrinsic in His being and, in His mercy and grace, He provided the only way for us to be made worthy of His love and acceptance.
Remember God's truth:  God loves us. He sent Jesus to live and die for us, paying the penalty for our sins.  When we trusted in Jesus, He forgave our sins and gave us the gift of His righteousness (2 Corinthians 5:21)—that is what makes us worthy of His love and acceptance.
2. Satan's lie:  You must obey all that God commands you to do, if you want Him to be pleased with you and have Him continue to love and accept you.
Satan desires that we would minimize God's love and work hard to earn it.  God's love is not like human love.  God's love is not based on anything we do, but rather what Christ has done.  It is a free gift and is not based on our obedience.
Remember God's truth:  God loves us and He accepts us based on Jesus' good works, not ours.  We cannot earn more of God's love and acceptance, nor can we lose any of it.  God does not need our good works in order to love us.  However, our neighbor does need our good works,  and when we understand the magnitude of the gracious gift we have received, it should move our hearts in greater love for God and in motivation to love and service others.
3. Satan's lie:  God's not there for you.  Look at your problems.  What's he doing to make things better?  If you can't see God, He must not be there. 
Even for Bible reading, frequent praying, church attending Christians it is sometimes difficult to understand our circumstances and how God is working in our lives.  Satan will try to use this to confuse us and to create doubt, worry or fear.
Remember God's truth:  God loves us and He promises that He is with us (Deuteronomy 31:8), that He will never leave or forsake us (Hebrews 13:5).  Therefore, the One whom we have not seen, we love (1 Peter 1:8) and even when we cannot trace His hand, we can trust His heart.
How much should I fear Satan?
There are many other lies of Satan, but we must never believe any of them.  Always remember that the promises and the faithfulness of the Lord Jesus Christ overcomes and destroys Satan's power.  Throughout the Old Testament God said to His people, "fear not for I am with thee." (Genesis 26:24, Deuteronomy 31:6, 8, Joshua 1:9,10:25, 1 Chronicles 28:20, Isaiah 43:5, et.al.) Always remember, Jesus is with us, for He has promised, "I will never leave thee, nor forsake thee." (Hebrews 13:5)
We do not need to fear Satan, but only to be aware and cautious of him and his evil ways.  Jesus has given us the Holy Spirit to teach and guide us, so we can know and trust that "…greater is He [the Holy Spirit] who is in you, than he [Satan] that is in the world. (1 John 4:4)
The LORD shall preserve your going out and your coming in 
from this time forth, and even forevermore. 
Psalm 121:8 
<*}}}><
Jesus is the Reason this Ministry Exists
At  Reasons for Hope* Jesus, we are committed to equipping, encouraging, and empowering Christians to know Jesus better, love Him more, and share their faith. We also reach the lost through our Salvation Page. 
With your support, we can continue to provide valuable resources and engaging content.  Please join us in our mission by donating today. Your generous contribution helps us expand our outreach of sharing biblical truths and hope in Jesus.  Thank you for your kindness and for being an integral part of our mission.
***A Hidden Message in Psalm 23?***  
Hidden in the six verses of Psalm 23 are 11 names for Jesus.
When you subscribe to our newsletter, we'll send you
The Names of God in Psalm 23 PDF
that reveals all 11 names and Scripture verses of comfort and hope (link will be sent in your confirmation email).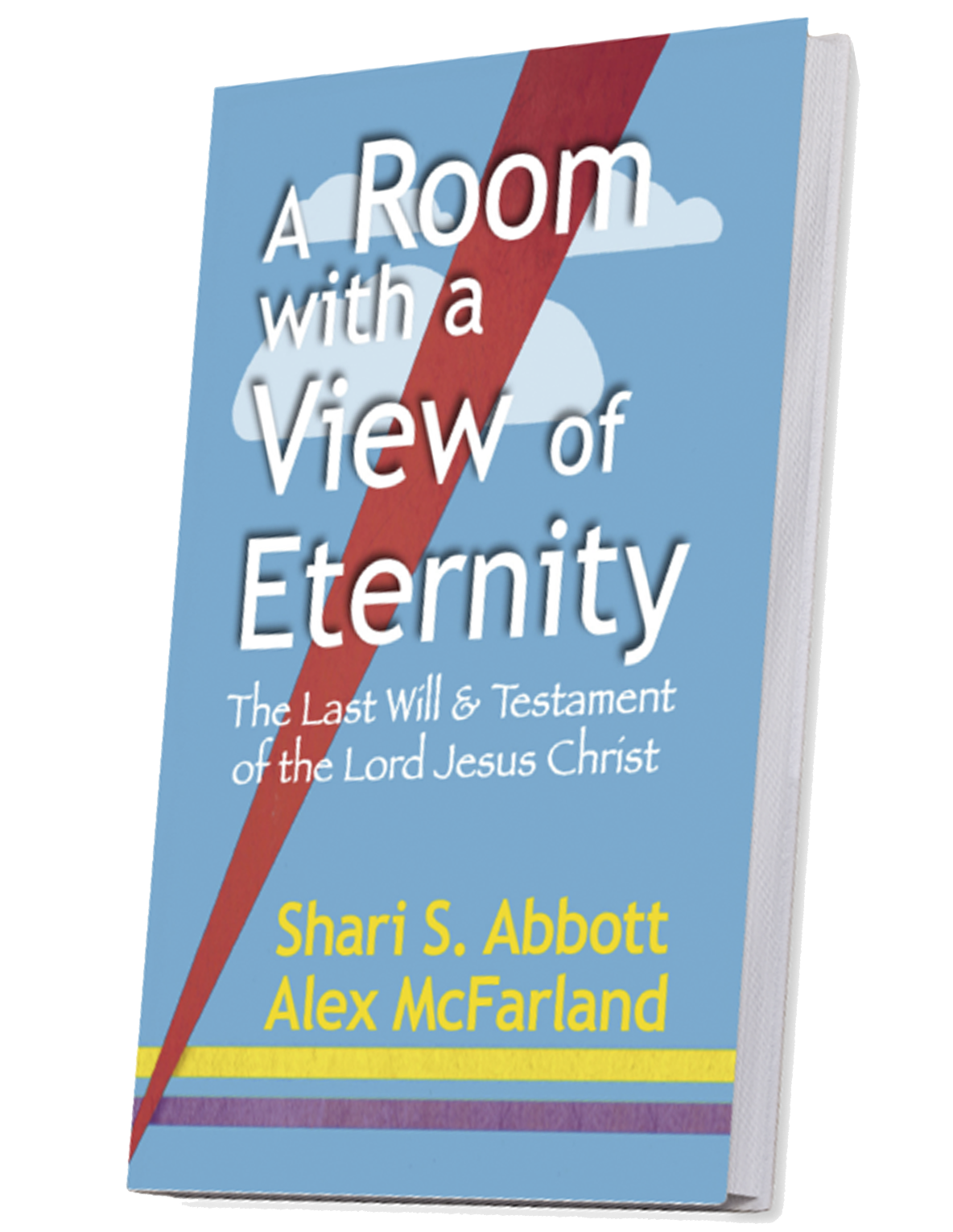 A Room with a View of Eternity—The Last Will & Testament of Jesus Christ   Take a seat at the Master's table. Learn about the riches He gives to all who are His. This book will bless and encourage you, give you hope, and help you live in the joy of your salvation and the riches of Christ that are yours.