What's a Remez?
 In Jewish hermeneutics (interpretation of Scripture), a remez is a hidden message or a deeper meaning.  It's said to be a "treasure" that is found below the surface of, or behind, the words.  (See below for Psalm 23 remez and other remezes in the Bible.)
In 2010 after doing a study of the Names of God, I began a study of the Psalms.  When I came to Psalm 23, I began to see many of God's names revealed in the psalm by the works of this Great Shepherd.  I believe this was a revealing of a remez by the Holy Spirit — the best Teacher in the whole world.  I hope you enjoy this teaching.
Psalm 23
Psalm 23 is a very short psalm, but packed into the words is the power, presence, and promises of God.  It is one of the three Shepherd Psalms (Psalms 22, 23, and 24) that reveal the Person and works of our Shepherd, the Lord Jesus Christ.  He is our Saviour, our Sanctifier, and our Sovereign.
In the precious words of Psalm 23 are tucked 11 names of God. This is likely something you have not seen before. Each of these names is a compound name of God.
While there are 11 compound names of God found in Psalm 23, there are also some other compound names in Bible. Let's review all the compound names of God, their meanings, and the passages in which they are found. And then we'll look at the names in Psalm 23.
Compound Names of God – Jehovah
The compound names of God begin with the name Jehovah or El.  Jehovah is the Anglicized form of the covenant name of God, YHVH, which is pronounced Yod Hey Vod Hey, or Yahweh (and Anglicized in Jehovah).  The name is translated as LORD (in uppercase) in most Bibles and as Jehovah in some.  The name El is translated as God.  Descriptive Hebrew words are added to Jehovah, or El, to create a compound name that reveals God's work in our lives or gives insight into His nature and character.  The compound names of God are very helpful in understanding many of God's attributes.
Jehovah-Cheleq – The Lord my Inheritance  –  Psalm 16:5
Jehovah-Ezer

 

– The Lord, my Help

 – Deuteronomy 33:29, Psalm 33:20, Hebrews 13:6

Jehovah-jireh – The Lord Will See To It –Genesis 22:14
Jehovah-Manah

– 

The Lord my Portion 

 –Lamentations 3:24, Psalm 16:5, Psalm 119:57

Jehovah-rawfaw – The Lord That Makes Whole – Exodus 15:26; 

Jeremiah 33:6

;  1 Kings 18:30;  Job 5:17,18;  Psalms 103:3; 

Psalms 146:3

Jehovah-nissi – The Lord Our Banner – Exodus 17:15
Jehovah-shalom – The Lord Gives Peace –Judges 6:24
Jehovah-tsidkeneau – The Lord Our Righteousness – Jeremiah 23:6
Jehovah-raah – The Lord My Shepherd – Psalm 23:1 (shepherd); Ezekiel 34:11-15 (companion); Jeremiah 3:12-16 (pastors); Judges 11:34-35(friend); Exodus 33:11 (friend)
Jehovah-Shama – The Lord is Present – Ezekiel 48:35; Exodus 33:14; Matthew 28:20; Hebrews 13:5; John 14:16-17; Romans 8:9
Jehovah-InKaddesh – The Lord Which Sanctifies – Leviticus 21:15, 21:23, 22:9, 22:16
Compound Names of God – El
El-shaddai – The Almighty God – 

Genesis 17:1

, 28:3, 35:11; Ruth 1:20-21; 31 x in Job; Ezekiel 10:5

El-elyon – The Most High God – Genesis 14:19, 22; Deuteronomy 32:8; Isaiah 14:14
El-elyon – Possessor of Heaven and Earth, Part II – Genesis 14:19, 22; Deuteronomy 32:8; Isaiah 14:14, Daniel 3: 26, 4:17; Psalm 56:2
El Qanna

 – The

Jealous God

 – 

Exodus 20:5, 34:14; Deuteronomy 4:24, 5:9, 6:15; Joshua 24:19
(Excerpted from the article,  "In addition to Yahweh (YHVH), Yeshua and Jesus, what other names for God are in the Bible?"  Read the names for Jesus and the Holy Spirit.)
A Remez in Psalm 23 — Watch or Read!
Where's the remez in Psalm 23? There are 11 names of our great God hidden in this psalm.  The names are revealed by His promises and His works and they remind us of our God's ever-present love, peace, comfort, help, and more! (Watch the video below)
The Names of God in Psalm 23
Vs 1 The LORD is my shepherd
[He is Jehovah-Raah—The Lord, my Shepherd!]
            I shall not want.
[He is Jehovah-Jireh—The Lord, my Provider!]
Vs 2 He maketh me to lie down in green pastures: he leadeth me beside the still waters.
[He is Jehovah-Shalom—The Lord, my Peace!]
Vs 3 He restoreth my soul
[He is Jehovah-Rophe—The Lord, my Healer!]: 
         He leadeth me in the paths of righteousness for his name's sake.
 [He is Jehovah-Tsidkeneau—The Lord of Righteousness!]
Vs 4 Yea, though I walk through the valley of the shadow of death I will fear no evil: for thou art with me;
[He is Jehovah-Shama—The Lord is Present!]
         Thy rod and thy staff they comfort me.
[He is Jehovah-Ezer—The Lord, my Help!]
Vs 5 Thou preparest a table before me in the presence of mine enemies:
[He is Jehovah-Nissi—The Lord, my Standard of Victory!]
      Thou anointest my head with oil;
[He is Jehovah-InKaddesh— The Lord, my Holiness, my Sanctification!]
      My cup runneth over.
[He is Jehovah-Manah—The Lord my Portion!]
Vs 6 Surely goodness and mercy shall follow me all the days of my life:
and I will dwell in the house of the LORD forever.
[He is Jehovah-Cheleq—The Lord my Inheritance!]
<*}}}><
© 2011 Reasons for Hope* Jesus, www.reasonsforhopeJesus.com
***************Sign up & get The Names of God Hidden in Psalm 23 in PDF format **************
Watch the video teaching of The Names of God Hidden in Psalm 23
Remezes in the Bible
In Jewish hermeneutics (interpretation of Scripture), a remez is a hidden message, or a deeper meaning found below the surface or behind the words.
Jesus is the Reason this Ministry Exists
Thank you to all who contributed in 2020. Your generosity is a blessing and encouragement to us.  We did not meet expenses in 2020 and still need your help to continue our global outreach in 2021.  Our mission is to glorify God by equipping, encouraging, and empowering YOU to understand the Bible and grow in faith. If our online resources have blessed you, we hope you will support Reasons for Hope* Jesus. Our ministry outreach has grown significantly and. . .
Please support Reasons for Hope* Jesus with a donation of $5, $10, $20, or more. A donation of any amount is needed and greatly appreciated.
CLICK TO DONATE
to Reasons for Hope*Jesus(a 501c3 Ministry)
Use a Credit Card or PayPal for safe, secure giving.
***A Hidden Message in Psalm 23?***  
Hidden in the six verses of Psalm 23 are 11 names for Jesus.
When you subscribe to our newsletter, we'll send you
The Names of God in Psalm 23 PDF
that reveals all 11 names and Scripture verses of comfort and hope (link will be sent in your confirmation email).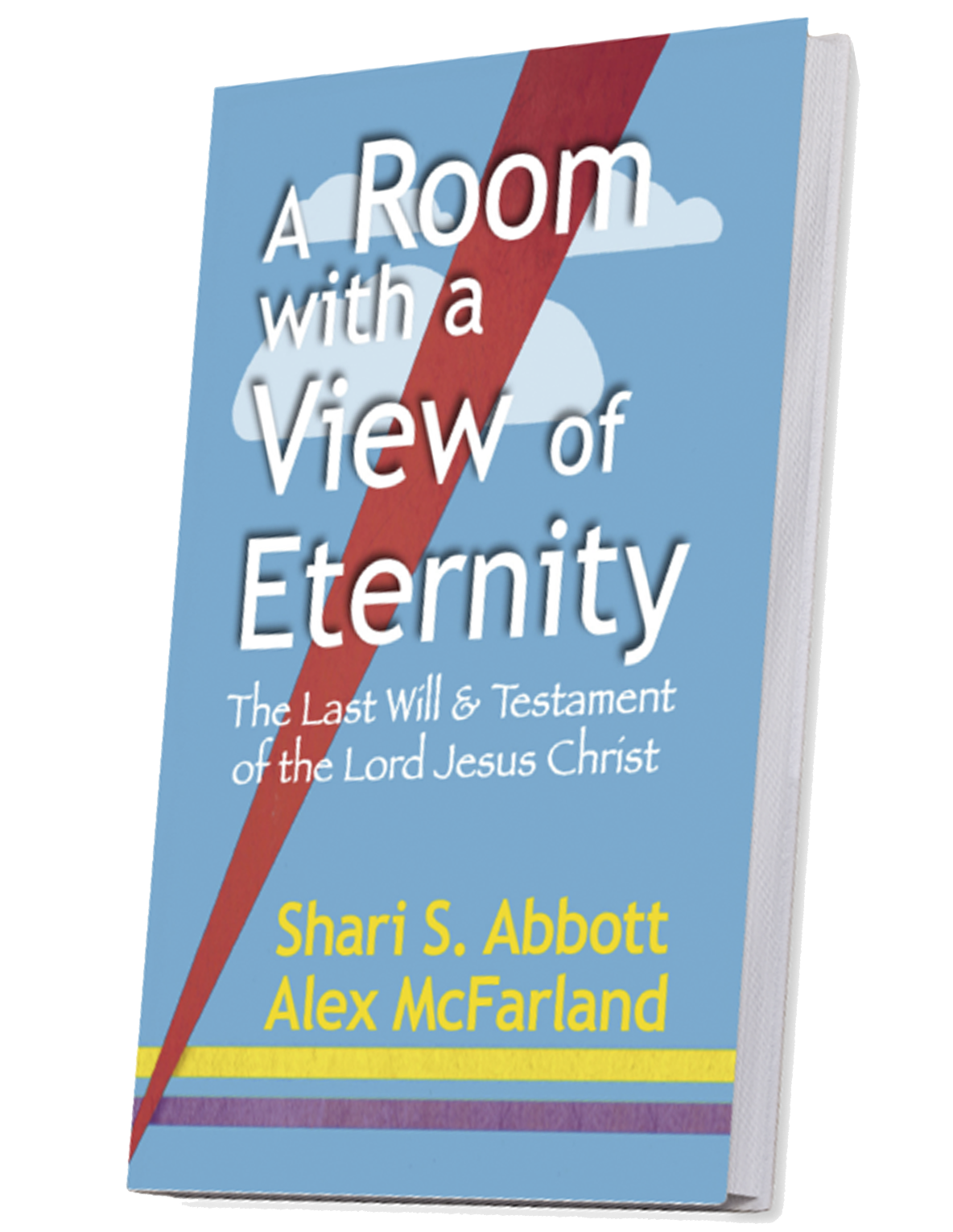 A Room with a View of Eternity—The Last Will & Testament of Jesus Christ
Take a seat at the Master's table. Learn about the riches He gives to all who are His. This book will bless and encourage you, give you hope, and help you live in the joy of your salvation and the riches of Christ that are yours.
Top Ten  in 2019
More Popular Questions & Articles:
If BAPTIZED as an Infant, Do I Need to Be Baptized Again?
How was Jesus Like a Worm? What's the CRIMSON (OR SCARLET) WORM? Psalm 22
Is Satan's Real Name LUCIFER? Or Should We Call Him Satan?
What is the Significance of the Wise Men's THREE GIFTS? And were they kings? 
Was Jesus CRUCIFIED on Wednesday, Thursday, or Friday?
The Names of Jehovah hidden in Psalm 23! This will surprise you!
What Did Jesus Say About HEAVEN (and HELL)?
JESUS WEPT. Why? And…it's not the shortest verse in the Bible!
Is There a Remez (HIDDEN MESSAGE ) in Revelation 7? Why is Dan Missing?
What Does it Mean to Be A CHILD OF GOD?
Why Is PRAYER Important?
Is SUICIDE an Unforgivable Sin?
Something ALL Christians must know:  IVDARR
Our Top Three Videos
Christian Version of Leonard Cohen's HALLELUJAH
Memorial Day BAGPIPES TRIBUTE: Amazing Grace
RISE AND SHINE and Give God the Glory, Glory!

Help us spread the good news and saving grace of the Lord Jesus Christ.
Please tell your friends about ReasonsforHopeJesus.com. If you have a website or blog, please link to ReasonsforHopeJesus.com.   All resources on this site © Reasons for Hope* Jesus --  click for Republication Permissions or contact hope@reasonsforhopeJesus.com