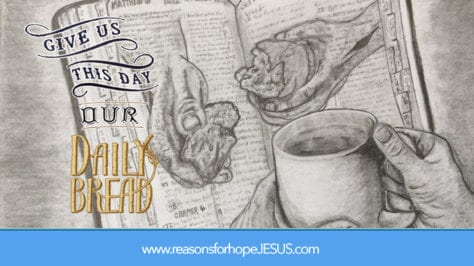 Daily Devotions with Pastor Chuck
Let me ask you a question . . . Do you desire after God? Do you long to have an intimate relationship with Him? Do you long after Him more than after the things of this world?
 
The psalmist writes, 
 
"As the deer pants for the water brooks, so my soul pants for Thee, O God." (Psalm 42:1 – NASB)
 
Once a rebellious people who never sought Him out, now a redeemed people, one would think now a people who always seek Him, a people who say with the psalmist, "my soul pants for Thee, O God;" is that you? 
 
Can we say,
 
"My soul thirsts for God, for the living God . . ." (Psalm 42:2 – NASB)
 
Just think of it! God in His great mercy and love, considering sinners such as you and I, sending His one and only Son to be the great sacrifice for our sin, that we might pass out of death and into life through His atoning work. God, the Creator, showing His desire to reconcile man to Himself . . . a rebellious man, a totally depraved man. 
 
If we are in Christ now, saved from the penalty due our sin, saved from the wrath to come, saved from everlasting hell, should we not be a people that "as the deer pants for the water, so (our) soul pants for . . . God . . . thirsts for the living God?" 
 
Whether in good times or in bad, if we are in Christ, we have a hope that transcends time. It is a burning light, this hope, that can never be extinguished, a hope given to us by our loving Father in heaven. And what is our response to all of this? Should it not be as the Scripture says?
 
"As the deer pants for the water brooks, so my soul pants for Thee, O God. My soul thirsts for God, for the living God" 
 
I fear we take our many blessings for granted . . . that we tend to forget what God has done for us in Christ. I fear we chase after the things of this world and long for them more than we "pant" after, "thirst" after our "God," He who is "the living God." 
 
The psalmist in writing these words was in troubled times, in exile, and surely his conditions prompted him to pen these heartfelt words. They are words meant for our counsel . . . so let us who are His, let us in good times as well as bad take note, and be as "the deer" and greatly desire our "God," the "living God."
 
Have a good day . . . and I would encourage you to do a heart-check, and in doing so ask yourself, "Do I desire after God?"