Recently I have received more questions than I wish to count on the eternal destiny of those who have committed suicide. In addition to asking if suicide is an unforgivable sin, a reader wrote:
"I can't find anything in the Bible about suicide.  I found Judas' hanging himself..but nothing else. Am I overlooking it? I have heard two preachers preach very different messages about suicide." 
Another reader asked, "When a person commits suicide, do they go straight to hell like most churches teach?"
Let me begin by saying that I don't believe most churches teach that a person goes straight to hell if they commit suicide (but yes, some do teach or imply that). Sadly, suicide is something that most churches don't even talk about.  But with the increasing rate of suicide, it should be addressed.  In March of 2015, CBS News reported these findings:
 "The suicide rate for girls and young women in the U.S. continues to rise at a pace far faster than for young males….The report from the Centers for Disease Control and Prevention said there were 5,178 suicide deaths among young people aged 10 to 24 in the U.S. in 2012. Suicide was the second leading cause of death in that age group, after accidents. The suicide rate has increased for young people of both genders since 2007. And it remains three times higher for young males than young females. But the female increase has been steadier.
"Suicide rates for younger people have varied over the years, with a recent upward trend starting around 2007. There were 4,320 suicide deaths in 2007; the toll was 5,264 in 2013. Suicide rates for older adults tend to be higher, in the range of 15 or 20 per 100,000. Since 2007, suicide rates have increased for older age groups, too." [1]
What Does the Bible Say About Suicide?
There are seven accounts in the Bible of people who took their own lives.  Probably the two best-known examples are 1) Saul, who took his life to avoid the dishonor of being captured, abused, and killed (1 Samuel 31:1-4), and 2) Judas, who betrayed Jesus and then hung himself (Matthew 27:5).  Others who committed suicide are:
3) Abimelech (Judges 9:54) – to avoid the dishonor of being killed by a woman
4) Samson (Judges 16:28-31) – to defeat the Philistines who had imprisoned him
5) Saul's armor-bearer (1 Samuel 31:5) – to follow his king, Saul, into death
6) Ahitophel (2 Samuel 17:23) – in defeat, when he realized his counsel was not followed
7) Zimri (1 Kings 16:18) – in defeat, to avoid capture
Although the act of suicide is condemned in the Bible, these men in the Old Testament were not personally condemned for taking their own lives.
Suicide Should Never Be An Option
It should be understood that suicide is never to be considered a viable option for escaping times of difficulty and despair.  There is always help…..family, friends, churches, local and online resources, and, the best of all help, Jesus.
If anyone reading this is considering suicide, stop and call the National Suicide Prevention Lifeline (another resource below) There are people ready, willing, and able  to help you sort through problems and give you resources to help you find hope.  Life is not hopeless. Reach out now.
Hope in Jesus
Scripture teaches that Jesus' grace is sufficient in all things (2 Corinthians 12:9-10) and that He is faithful to provide an escape from anything that threatens to overcome us (1 Corinthians 10:13).  But sadly when Christians experience dark seasons of the soul, they might fail to turn to Jesus to find the comfort they need. The depths of despair can be disabling.  That is why it is important to strengthen your knowledge and faith by spending time in prayer and reading the Bible.  Then, when a storm threatens to overtake us, comfort and strength can be found in Jesus and in His Word. Through regular Bible reading, prayer, and Christian fellowship, we can find peace and comfort in the most difficult of circumstances and the darkest of days.
With all that said, we must acknowledge that there have been believers with very strong foundations who have lost their "footings" and have taken their own lives.  It grieves the heart of God and those who love them. So let's answer the question:

Is Suicide the Unforgivable Sin?
While suicide is a sin, It is NOT the unforgivable sin. (There is only one unforgivable sin, and it is rejecting Jesus. Read: What is the unpardonable (unforgivable) sin? What if I commit it?) Suicide is the taking of human life. It is a self-inflicted murder.  However, just like any sin, it also has been paid for by Jesus. Jesus died to pay for ALL sins. And for those who belong to Him, all their sins are forgiven.
Therefore, if you are missing a friend, relative, or loved one who had been redeemed and regenerated by Jesus but committed suicide, their sin did not condemn them. Every one of the believer's sins were paid for by Jesus on the cross. When Jesus saved the person, the person received God's forgiveness for every sin (past, present, and future), including the final sin of suicide.   Jesus has promised that He has prepared a place for those who belong to Him and that He will come to receive them unto Himself (John 14:1-4). This was not a conditional promise. Jesus promised that no one can ever take one of His own out of His hand (John 10:28). Therefore, no sin a redeemed person commits will cause them to lose their eternal salvation. No one who belongs to Jesus will ever perish.
For a person who does not belong to Jesus and commits suicide,  they face the consequences of dying in unforgiven sin. God will judge them accordingly.  While God can forgive all sins, He cannot overlook any sin.  All sin must be paid for.  And if someone dies in their sin, they are already condemned. 
John 3:18  "He who believes in [Jesus] is not condemned [they have been forgiven and given the righteousness of Christ]; but he who does not believe is condemned already, because he has not believed in the name of the only begotten Son of God. (bracketed information added)
Share the Gospel
 This is a great reason to be diligent in sharing the gospel of saving grace with family, friends, and acquaintances.  People step off this earth every minute of every day, and if they don't belong to Jesus, they will not enter Heaven.  We should always share the gospel, hoping the Holy Spirit will work on the person's heart.  Some will repent and turn to Jesus, but sadly some are very hard-hearted and will stubbornly reject Jesus. 
However, even for those who reject Jesus, there is always hope. The hope is that they will surrender to God and trust in Jesus before they take their last breath.  God's mercy is available to all who will call upon Him, even until the moment that they die.  An example of this would be the thief on the cross.  He was saved in the last moments of his life when He trusted in Jesus as Lord (Luke 23:42), and he was given eternal life with Jesus (Luke 23:43).  Our non-believing friends and family can do the same if they know who Jesus is and what He has done for them.  When they are "looking into the face of death," they can turn to Jesus at any moment, repent, and trust in Him for forgiveness and salvation.  Therein lies our hope.  Continue to share the gospel of the saving grace found only in the Lord Jesus Christ with all who do not know Him.  
Conclusion
Regarding Christians who commit suicide, it is not an unforgivable sin.  Their sins were paid for on the cross by Jesus, and because they have trusted in Him they are forgiven sinners, now and forever.  
Colossians 2:13-14  And you, being dead in your trespasses and the uncircumcision of your flesh, He has made alive together with Him, having forgiven you all trespasses, having wiped out the handwriting of requirements that was against us, which was contrary to us. And He has taken it out of the way, having nailed it to the cross.
And not only are they forgiven sinners, but they are also righteous saints who stand in Christ's righteousness (2 Corinthians 5:21).  Those whom Jesus saves, He also regenerates in newness of life (Romans 6:4) and makes worthy to be citizens of Heaven (Philippians 3:20).  Remember always that peace and comfort are found in Jesus, and, when any Christian dies (under any circumstances), they go home to Heaven to be with Jesus (John 14:1-4).
Titus 2:14  who gave Himself for us, that He might redeem us from every lawless deed [sin] and purify for Himself His own special people…
Philippians 3:20  For our [citizenship/home] is in heaven; from whence also we look for the Saviour, the Lord Jesus Christ.
Watch and Respond
Show compassion and care for your brothers and sisters in Christ.  Watch for signs that might indicate despair or darkness building in their lives.  Offer hope in Jesus and be ready to share His love.  Be the Lord's hands of help, His ears of caring, His words of comfort, and His embrace of love.  Encourage those who despair to seek solid, Christian counseling, remembering God has a plan and purpose for all His children, and He promises to be near us in all the trials of this life.  
Do Not Think Suicide is an Option
For a Christian considering suicide: It should never be an option.  God promises to be with us in the dark seasons of the soul.  If one is struggling with deep desperation, reach out to a pastor or a brother or sister in Christ.  Know that there is help.  There are online help centers and 800 helplines for those who are despairing.
Trust that there is hope, even when it's not felt.

Trust that there is a new morning, even when the night is dark.

Trust that God will hold you up, even when you cannot stand.  
We all must remember to be the arms of Jesus to hold those who suffer; and to speak His words to comfort those who weep. Come alongside those who struggle. Reach out and help them to remember the hope they have been given. Show them the Light that will break through the darkness.
Finally…We grieve about all who have despaired so greatly that they took their own life. However, for those in Christ, they belonged to Him on this earth, and they belong to Him in the life hereafter. Jesus loves them and has welcomed them into His arms.   
Now unto the King eternal, immortal, invisible, the only wise God, be honor and glory forever and ever. Amen.
(1 Timothy 1:17)
<*}}}><
If you or someone you know is considering suicide, dial or text the U.S. Suicide and Crisis Lifeline at 988 to speak with a counselor. In the United Kingdom, call the Samaritans at 116123.
Postscript to those who have written to Got Questions, having lost a loved one to suicide:
It is our prayer that God will comfort you in your loss and that you will allow Him to use you to comfort others. After God brings you through a storm (whatever that storm might be), it is a great joy to be used by Him to comfort others.  Losing a loved one under any circumstances is painful and only the Lord's love can give true rest to the brokenhearted. May we always comfort others with the comfort that we have been given. –Shari Abbott, Reasons for Hope* Jesus
Thank you, Jesus. . .
[1] http://www.cbsnews.com/news/suicide-rates-rise-especially-for-one-group/
Another Postscript:  A reader responded to our article and shared a biblical passage that also illuminates this subject:
Job 36:20  Do not desire the night, When people are cut off in their place.
Job 36:21  Take heed, do not turn to iniquity, For you have chosen this rather than affliction.
Job 36:20-21 are the words of Job's friend Elihu.  He is speaking to Job and addressing Job's desire to end his life  (Job 6:9, Job 7:15, Job 14:13) and Elihu said, do not desire to die ("the night").  Do not turn to iniquity (sin).  Elihu is saying that Job had chosen despair, and a desire to die, rather than accepting affliction.  The lesson is to trust God and to wait patiently. God has promised to bring us through whatever affliction we are experiencing.
1 Cor 10:13  No temptation [trial, tribulation, affliction] has overtaken you except such as is common to man; but God is faithful, who will not allow you to be tempted [tried, tested] beyond what you are able, but with the temptation will also make the way of escape, that you may be able to bear it.
Jesus is the Reason this Ministry Exists
We continue to reach people worldwide with the truths of God's Word and the gospel of the Lord Jesus Christ. Your generosity is both a blessing and encouragement. Our mission is to glorify God by equipping, encouraging, and empowering YOU to understand the Bible and grow in faith. If our online resources have blessed you, please support Reasons for Hope* Jesus. Our ministry outreach has grown significantly and . . .
Please support Reasons for Hope* Jesus with a donation of $5, $10, $20, or more. A donation of any amount is needed and greatly appreciated.
CLICK TO DONATE
to Reasons for Hope*Jesus(a 501c3 Ministry)
Use a Credit Card or PayPal for safe, secure giving.
***A Hidden Message in Psalm 23?***  
Hidden in the six verses of Psalm 23 are 11 names for Jesus.
When you subscribe to our newsletter, we'll send you
The Names of God in Psalm 23 PDF
that reveals all 11 names and Scripture verses of comfort and hope (link will be sent in your confirmation email).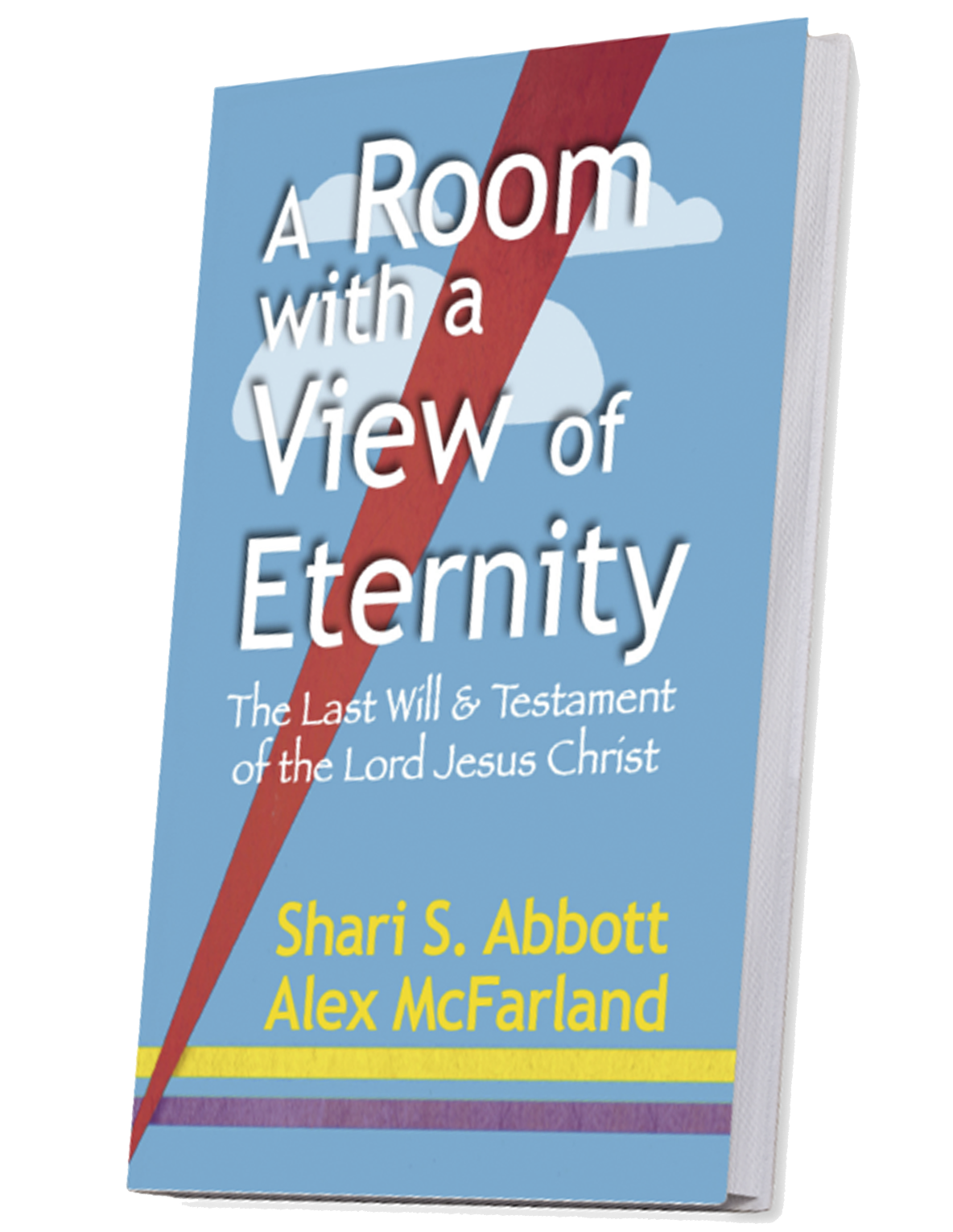 A Room with a View of Eternity—The Last Will & Testament of Jesus Christ   Take a seat at the Master's table. Learn about the riches He gives to all who are His. This book will bless and encourage you, give you hope, and help you live in the joy of your salvation and the riches of Christ that are yours.