Question
  I have friends who are afraid they might commit the unpardonable sin.  Should I be afraid?  What will happen to me if I blaspheme the Holy Spirit?
Answer
The unpardonable sin is one of the most misunderstood passages in the Bible.  It is one that creates a lot of concern for Christians, because it is a sin that leads to eternal damnation.  How should we understand this teaching?  Is there a warning for Christians?
The teaching on the unpardonable sin must be understood in the context in which it was spoken—under the Old Covenant.  The books of Matthew, Mark and Luke all record Jesus' words when He spoke of this sin– a sin for which there is no forgiveness. 
Matthew 12:31-32  Wherefore I say unto you, All manner of sin and blasphemy shall be forgiven unto men: but the blasphemy against the Holy Ghost shall not be forgiven unto men.  And whosoever speaks a word against the Son of man, it shall be forgiven him: but whosoever speaks against the Holy Ghost, it shall not be forgiven him, neither in this world, neither in the world to come.
Mark 3:29  But he that shall blaspheme against the Holy Ghost hath never forgiveness, but is in danger of eternal damnation.
Luke 12:10  And whosoever shall speak a word against the Son of man, it shall be forgiven him: but unto him that blasphemes against the Holy Ghost it shall not be forgiven.
Will this sin send me to hell?
Sadly, many Christians worry about committing the unpardonable sin.  They worry that if they speak against the Holy Spirit, if they blaspheme His name, they will receive the judgment of eternal damnation.  Could that be?
Let me quickly say that no Christian can commit this sin.  At the cross Jesus paid for every sin we have committed (past), and every sin we will commit (future).  All of our sins have been judged.  When we repented and trusted in Jesus' finished work, He saved us and justified us by forgiving all of our sins and giving us His righteousness. 
We are sealed by the Holy Spirit and cannot ever be in "danger of eternal damnation."  Jesus will never leave or forsake us (Hebrews 13:5).  He is faithful (Rev 3:14), our salvation is secure (Ephesians 1:13)  and our life in Him is eternal (John 10:28).  There is no condemnation for those who are in Christ Jesus (Romans 8:1).  
The Unpardonable Sin?
So how should we understand the Lord's words in these Gospel passages?  We must remember that prior to the cross and Jesus' full and complete atonement for sins, no one was secure in their salvation.  Under the Old Covenant, they were saved by the grace of God because they put their faith in Him.  However, unlike the church age, they were not sealed by the Holy Spirit (Eph 4:30). 
It was important that people in the Old Testament stay in a faith relationship with God, holy (set apart) unto Himself.  That is one of the reasons that God gave them the sacrificial system and the moral and ceremonial laws.  Such practices and commandments would keep the people focused on Him and would set them apart from the nations. 
The sacrificial system was the God-given means by which the Israelites atoned for their sins.  Although God commanded that a sin offering be made, it was something the people had to willingly do.  Bringing a sin offering demonstrated their faith in God and it strengthened them in a relationship with Him.  
Again, remember that they were not sealed. They were not eternally secure in their relationship.  If the relationship was diminished or broken, they could be in danger of "eternal damnation."
Context
Let's look at Jesus' words in the context of when, and to whom, He spoke them.  When Jesus spoke to the Pharisees, He told them that all sin and blasphemy (defined by the scribes as a direct and explicit abuse of the name of God) is forgivable. He then added an exception for a very specific type of blasphemy, that which is blasphemy against the Holy Spirit. 
In context, the Pharisees had just said that the power Jesus had to cast out devils was by Beelzebub (Matthew 12:24).  Beelzebub means "lord of flies," and was the name of a guardian deity of the Ekronites (2 Kings 1:2).  The Jews used this name as an epithet for Satan.  In this context, the Pharisees were saying that Jesus was of Satan. 
The scribes also attributed Jesus' power as given by Satan (Mark 3:22). The words of the Pharisees and scribes were blasphemy of Jesus. Their words were a direct and explicit abuse of His name and a rejection of who Jesus is. 
Blasphemy of the Spirit
This blasphemy by the Pharisees and scribes led Jesus to expound more clearly on a sin that was, and always will be, unpardonable—the blaspheming of the Holy Spirit.  Since the work of the Holy Spirit is to testify of Jesus, when someone blasphemes the Holy Spirit they are rejecting His testimony of the Lord Jesus Christ. 
Jesus had presented Himself as God and the Pharisees and scribes were rejecting Him.  Since Jesus and the Holy Spirit are one God, the Pharisees and the scribes had committed the unpardonable sin. When they rejected Jesus, when they attributed His power to Satan, they blasphemed the Holy Spirit.  
There was no sacrifice for such a sin.  To whom would one offer such a sacrifice?  To God the Father, who is one with Jesus and the Holy Spirit?  They had just blasphemed Him also. 
Warning and Hope!
Although there was no sacrifice for this sin, Jesus offered a way of forgiveness.  He gave a strong warning that was intended to bring about repentance:
Matthew 12:34-37  O generation of vipers, how can ye, being evil, speak good things? for out of the abundance of the heart the mouth speaketh.  A good man out of the good treasure of the heart bringeth forth good things: and an evil man out of the evil treasure bringeth forth evil things. 
But I say unto you, That every idle word that men shall speak, they shall give account thereof in the day of judgment.  For by thy words thou shalt be justified, and by thy words thou shalt be condemned.
Jesus was telling them that their words reflect what is in their hearts.  Would Jesus have forgiven their blasphemy if they had repented?  People disagree on this.  Some say that He would not have, because they had already committed the unpardonable sin.  I believe that until someone takes his last breath, all unregenerate sinners have the opportunity to repent and receive the saving grace of Jesus.  I believe that Jesus was saying to them, examine your hearts… before it's too late. 
Application for Us?
We certainly cannot stand before Jesus and reject Him as the Pharisees did.  And, we've established that under the New Covenant, as Holy Spirit sealed believers, we cannot suffer the consequences of the unpardonable sin. Therefore this sin cannot be committed by a Christian.   Our salvation in Christ is eternally secure (1 John 1.7, Romans 3:24, 6:23b, 8:1).  
However, our family and friends who do not belong to Jesus  are just like the Pharisees and scribes.  They commit this sin every day by rejecting Jesus (Acts 4:12), and in doing so they blaspheme the Holy Spirit and His testimony of Jesus.  Without Jesus they are perishing and will be subject to "the danger of eternal damnation"….unless they repent and turn in faith to Jesus.
God, in His love and mercy, offers forgiveness to all who will repent and trust in Jesus.  If they turn their hearts to Jesus, and seek His forgiveness, they will be justified. If they die in the sin of blaspheming the Holy Spirit (rejecting the Spirit's testimony of Jesus), they have committed the unpardonable sin for which there is no forgiveness and for which they are already condemned.  
Share the Love and Grace of Jesus
Let this passage create in us a heartfelt desire to share the gospel of saving grace with all who do not know Jesus.  God desires that all people come to repentance and that not anyone should perish (2 Peter 3:9).    
Just as Jesus commissioned Paul, we are also commissioned to be His ambassadors (2 Corinthians 5:20) and…
To open their eyes, and to turn them from darkness to light, and from the power of Satan unto God, that they may receive forgiveness of sins, and inheritance among them which are sanctified by faith that is in me [Jesus]. (Acts 26:18)
Tell someone about Jesus today.  Let the Holy Spirit testify through you.  Tell an unforgiven sinner about the love and mercy of the Lord Jesus Christ and that He desires to forgive their sins and give them eternal life.  We don't want anyone to step into eternity, having committed the unpardonable sin.
<*}}}><
Jesus is the Reason this Ministry Exists
We continue to reach people worldwide with the truths of God's Word and the gospel of the Lord Jesus Christ. Your generosity is both a blessing and encouragement. Our mission is to glorify God by equipping, encouraging, and empowering YOU to understand the Bible and grow in faith. If our online resources have blessed you, please support Reasons for Hope* Jesus. Our ministry outreach has grown significantly and . . .
Please support Reasons for Hope* Jesus with a donation of $5, $10, $20, or more. A donation of any amount is needed and greatly appreciated.
CLICK TO DONATE
to Reasons for Hope*Jesus(a 501c3 Ministry)
Use a Credit Card or PayPal for safe, secure giving.
***A Hidden Message in Psalm 23?***  
Hidden in the six verses of Psalm 23 are 11 names for Jesus.
When you subscribe to our newsletter, we'll send you
The Names of God in Psalm 23 PDF
that reveals all 11 names and Scripture verses of comfort and hope (link will be sent in your confirmation email).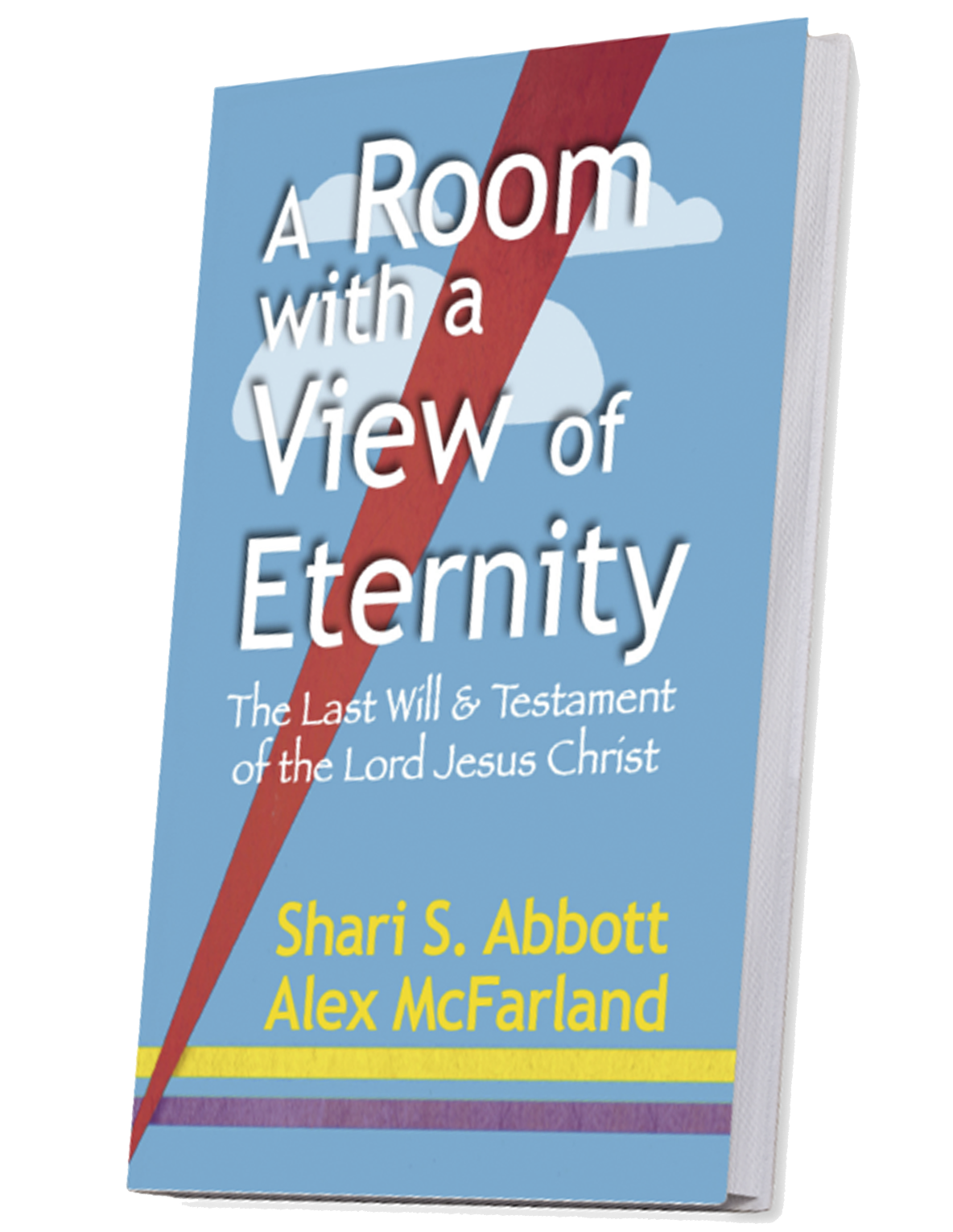 A Room with a View of Eternity—The Last Will & Testament of Jesus Christ   Take a seat at the Master's table. Learn about the riches He gives to all who are His. This book will bless and encourage you, give you hope, and help you live in the joy of your salvation and the riches of Christ that are yours.
Summaries of Warren Wiersbe's list of 77 questions abridged from
Fbcgodfrey.org.