Last week we covered the words that Jesus spoke about Hell.  This week, our focus is on what Jesus said about Heaven — His home, and the future home of all who trust in Jesus for the salvation of their soul. 
We must remember that under the Old Covenant no one went to Heaven when they died.  Entering into Heaven required that man's sins be fully atoned for and that man is made perfect.  That was done for us, by Jesus, when He died on the cross to pay for our sins.  Jesus opened the way to Heaven and, when a sinner repents and trust in Jesus' work, Jesus is faithful to forgive and to impute His righteousness (2 Cor 5:20).  It's Jesus' imputed righteousness (His righteousness credited to us) that makes a forgiven sinner perfect in the eyes of God.
During Jesus' earthly ministry, when He spoke of the place of the righteous dead, Jesus was referring to a place in the earth that He referred to as Abraham's Bosom (Luke 16) and Paradise (Luke 23:43).  When Jesus ascended to Heaven (Acts 1), He "emptied" Abraham's Bosom and led those saints who died under the Old Covenant to Heaven, the dwelling place of God (Eph 4:8).  You can read about what Jesus said about Abraham's Bosom here: Where did OT saints go at death? Abraham's Bosom? Where was it?  
So What Did Jesus Say About Heaven?
Surprisingly, Jesus said very little about Heaven.  He spoke more about eternal life and how one can enter Heaven than He did about the place of Heaven.  Jesus did make a direct reference about Heaven when He comforted the disciples with these words:
John 14:2 In my Father's house are many mansions: if it were not so, I would have told you. I go to prepare a place for you.
John 14:3 And if I go and prepare a place for you, I will come again, and receive you unto myself; that where I am, there ye may be also.
John 14:4 And whither I go ye know, and the way ye know.
With those words, Jesus revealed that Heaven is a real place and that it is the dwelling place of God (His Father's house).  Nineteen times Jesus made reference to God the Father dwelling in Heaven:
Mat 5:16  Let your light so shine before men, that they may see your good works and glorify your Father in heaven.

Mat 5:45  that you may be sons of your Father in heaven; for He makes His sun rise on the evil and on the good, and sends rain on the just and on the unjust.

Mat 5:48  Therefore you shall be perfect, just as your Father in heaven is perfect.

Mat 6:1  Take heed that you do not do your charitable deeds before men, to be seen by them. Otherwise you have no reward from your Father in heaven.

Mat 6:9  In this manner, therefore, pray: Our Father in heaven, Hallowed be Your name.

Mat 7:11  If you then, being evil, know how to give good gifts to your children, how much more will your Father who is in heaven give good things to those who ask Him!

Mat 7:21  Not everyone who says to Me, 'Lord, Lord,' shall enter the kingdom of heaven, but he who does the will of My Father in heaven.

Mat 10:32  Therefore whoever confesses Me before men, him I will also confess before My Father who is in heaven.
Mat 10:33  But whoever denies Me before men, him I will also deny before My Father who is in heaven.
Mat 12:50  For whoever does the will of My Father in heaven is My brother and sister and mother.
Mat 16:17 Jesus answered and said to him, "Blessed are you, Simon Bar-Jonah, for flesh and blood has not revealed this to you, but My Father who is in heaven.
Mat 18:10 Take heed that you do not despise one of these little ones, for I say to you that in heaven their angels always see the face of My Father who is in heaven.
Mat 18:14 Even so it is not the will of your Father who is in heaven that one of these little ones should perish.

Mat 18:19  Again I say to you that if two of you agree on earth concerning anything that they ask, it will be done for them by My Father in heaven.

Mat 23:9 Do not call anyone on earth your father; for One is your Father, He who is in heaven.

Mark 11:25  And whenever you stand praying, if you have anything against anyone, forgive him, that your Father in heaven may also forgive you your trespasses.

Mark 11:26  But if you do not forgive, neither will your Father in heaven forgive your trespasses.

Mark 13:32  But of that day and hour no one knows, not even the angels in heaven, nor the Son, but only the Father.

Luke 11:2  So He said to them, When you pray, say: Our Father in heaven, Hallowed be Your name. Your kingdom come. Your will be done On earth as it is in heaven.
Jesus also demonstrated that Heaven is the dwelling place of God, when He "lifted up his eyes to heaven, and said, Father, the hour is come; glorify thy Son, that thy Son also may glorify thee" (John 17:1).  And, Jesus proclaimed that God reigns in Heaven with these words:
I thank thee, O Father, Lord of heaven and earth…(Mat 11:25).
I thank thee, O Father, Lord of heaven and earth… (Luke 10:21)
Heaven is a place of joy, rewards, and treasures:
Mat 5:12  Rejoice, and be exceeding glad: for great is your reward in heaven…
Mat 6:19 Do not lay up for yourselves treasures on earth, where moth and rust destroy and where thieves break in and steal
Mat 6:20 but lay up for yourselves treasures in heaven, where neither moth nor rust destroys and where thieves do not break in and steal.
Luke 6:23  Rejoice in that day and leap for joy! For indeed your reward is great in heaven…
Luke 15:7  I say to you that likewise there will be more joy in heaven over one sinner who repents than over ninety-nine just persons who need no repentance.
Heaven is Perfect
We know from all the words of Jesus that Heaven is the place of eternal life with God after we depart this world.  We know that it is a place of rest and peace, as well as of perfect union and communion with our Creator, Lord, and Saviour.  We know that is a populated place, prepared by Jesus (John 14:1-3).  We also know that while Jesus is preparing Heaven for us, He is also preparing us for Heaven.  By the power of His Holy Spirit, we are being conformed to His image. There is no greater aspiration than to become more and more like Jesus.  And what was it that Jesus spoke of more than anything? Life! He spoke of the Kingdom of God that was at hand (Gospel of Matthew), the Kingdom of God that was for man (Gospel of Luke), devotion and service to God and others (Gospel of Mark), and assurance of who He is (Gospel of John).  If we are to be like Jesus, let's tell people about life. Tell them about the gracious forgiveness of sins that Jesus offers and the new and eternal life that He desires to give them.
<*}}}><
Read also: What Did Jesus Say About Hell?SaveSave
SaveSave
Jesus is the Reason this Ministry Exists
Thank you to all who contributed in 2020. Your generosity is a blessing and encouragement to us.  We did not meet expenses in 2020 and still need your help to continue our global outreach in 2021.  Our mission is to glorify God by equipping, encouraging, and empowering YOU to understand the Bible and grow in faith. If our online resources have blessed you, we hope you will support Reasons for Hope* Jesus. Our ministry outreach has grown significantly and. . .
Please support Reasons for Hope* Jesus with a donation of $5, $10, $20, or more. A donation of any amount is needed and greatly appreciated.
CLICK TO DONATE
to Reasons for Hope*Jesus(a 501c3 Ministry)
Use a Credit Card or PayPal for safe, secure giving.
***A Hidden Message in Psalm 23?***  
Hidden in the six verses of Psalm 23 are 11 names for Jesus.
When you subscribe to our newsletter, we'll send you
The Names of God in Psalm 23 PDF
that reveals all 11 names and Scripture verses of comfort and hope (link will be sent in your confirmation email).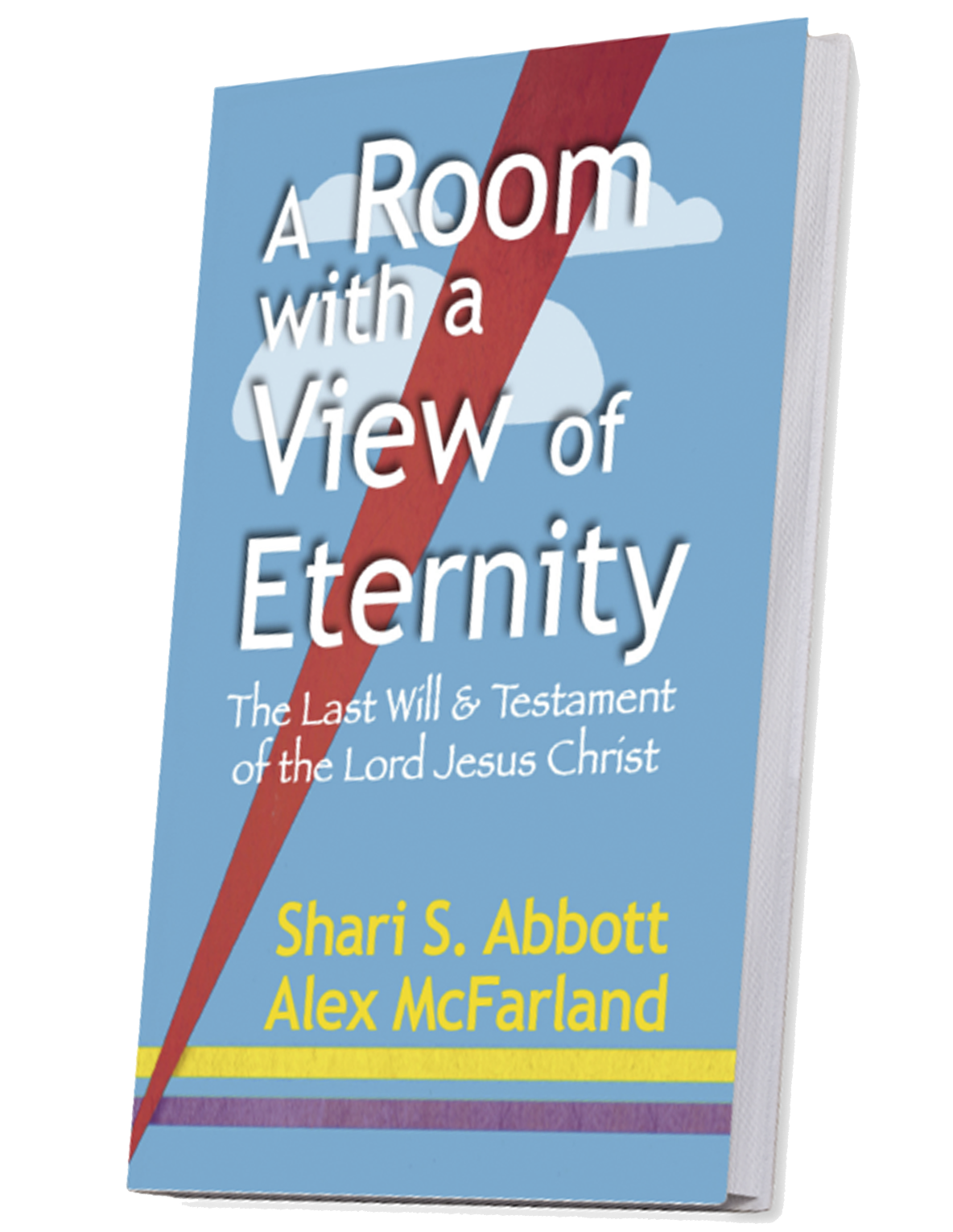 A Room with a View of Eternity—The Last Will & Testament of Jesus Christ
Take a seat at the Master's table. Learn about the riches He gives to all who are His. This book will bless and encourage you, give you hope, and help you live in the joy of your salvation and the riches of Christ that are yours.
Top Ten  in 2019
More Popular Questions & Articles:
If BAPTIZED as an Infant, Do I Need to Be Baptized Again?
How was Jesus Like a Worm? What's the CRIMSON (OR SCARLET) WORM? Psalm 22
Is Satan's Real Name LUCIFER? Or Should We Call Him Satan?
What is the Significance of the Wise Men's THREE GIFTS? And were they kings? 
Was Jesus CRUCIFIED on Wednesday, Thursday, or Friday?
The Names of Jehovah hidden in Psalm 23! This will surprise you!
What Did Jesus Say About HEAVEN (and HELL)?
JESUS WEPT. Why? And…it's not the shortest verse in the Bible!
Is There a Remez (HIDDEN MESSAGE ) in Revelation 7? Why is Dan Missing?
What Does it Mean to Be A CHILD OF GOD?
Why Is PRAYER Important?
Is SUICIDE an Unforgivable Sin?
Something ALL Christians must know:  IVDARR
Our Top Three Videos
Christian Version of Leonard Cohen's HALLELUJAH
Memorial Day BAGPIPES TRIBUTE: Amazing Grace
RISE AND SHINE and Give God the Glory, Glory!

Help us spread the good news and saving grace of the Lord Jesus Christ.

Please tell your friends about ReasonsforHopeJesus.com. If you have a website or blog, please link to ReasonsforHopeJesus.com.   All resources on this site © Reasons for Hope* Jesus --  click for Republication Permissions or contact hope@reasonsforhopeJesus.com