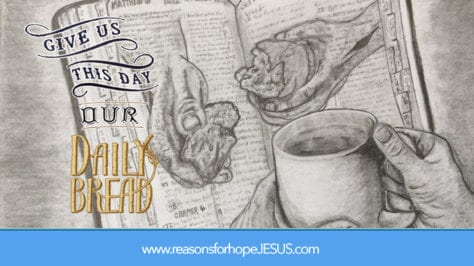 Daily Bread Devotions by Chuck Myer  Daily Bread Archive | Sign up for our resources
Today is a new day, a gift from our Father who is in heaven, a day in which to "keep" His Word, knowing that "all (our ways) are known by Him.  It is a fine morning that the Lord has blessed us with and it is a good day to praise Him and say to Him,
I Keep Thy precepts and Thy testimonies, for all my ways are before Thee" (Psalm 119:168)
On this day, let's consider those who reject the Lord's precepts and testimonies, the people, and nations who reject the one and only true God.  In Psalm 9 David wrote:
The wicked shall be turned into hell, and all the nations that forget God. (Psalm 9:17)
 If one is to read the entire psalm you will find him proclaiming the righteous virtues of the LORD and His righteous judgments. In this context, David speaks of how this righteous judgment will be brought to bear on his enemies and that God will rebuke them. He writes of how God has "destroyed the wicked," He has "blotted out their name . . . destroyed cities," to the point where "even their memory has perished." He writes of how, "in righteousness" the LORD "shall judge the world," dealing out justice for "the oppressed . . . the humble," and justice for "the wicked." He writes of favor for "those who seek" the LORD and "hell" for those who "forget God."
Promises and Warnings
Our text has its positives and its negatives. Unspoken positives for those who know God and are His and who are not accounted with "the wicked," and negatives for those who "forget" Him. A sobering death warrant for "nations" that "forget God." Here in our verse the Hebrew word for "forget" speaks of being "oblivious." The nations become and remain "oblivious" to God. The English word "oblivious" means, "unmindful or unaware of; forgetful, without remembrance or memory."
 
David writes, "The wicked shall be turned into hell" (KJV, NKJV – or "Sheol" in the NASB). Who are "the wicked?" Those who "forget," are "oblivious" to,"unmindful of, forgetting, without memory" of "God." Nations adopt the thinking that they can operate without the Creator, that they can conduct their business without His counsel, without acknowledging Him, without seeking Him out, and thus, they act in wickedness. The warning of Scripture to "the nations," to the people that make up the nations, is loud and clear; "forget God" and you will "be turned into hell." Mortal danger awaits every "nation" that "forgets God," for . . . 
You put away all the wicked of the earth like dross… (Psalm 119:119)
Every nation's dilemma, every nation's "perplexing situation or problem," is that its attempts to put God away and operate as if He didn't exist and as if there will be no judgment.
 
America has, from the beginning, acknowledged God, the Sovereign, the Creator. It was known that as America's founding fathers sought to  forge the laws that would govern our nation, they realized that this could not be done without seeking, in prayer, the wisdom and help of "the Most High" who "is Ruler over the realm of mankind" (read and grasp the principle of Daniel, chapter 4).
God help America . . . for she has moved away from this understanding and is making her lot with "the wicked."    May our nation turn back to the Lord.  May we remember who He is and all He has done for our nation.  May we give thanks that we are His children and may we be bold to proclaim His name and serve Him.  That will change the direction of our nation.
Have a good day brethren, not because all is well with our nation, but because all is well with our souls.  As we journey through our day, let's realize that though the nations seek to forget God, we who are His will not.  Let's put our hand into the hand of God.  Let's stand strong and walk upright.  Let's remember that God leads us.  And, let's continue to pray for our nation and its leaders.  
Receive articles like this in your inbox. 
Click to Read More: ,   , , , 
The Top Ten  articles in 2015
The Top Ten  of 2015

Share this with your friends…