Question
 I read your article, is it a sin to drink alcohol? It made me wonder, is it a sin to be fat?
Answer
My answer to the alcohol question was, no, it is not a sin to drink alcohol. I say this because the Bible does not condemn alcohol and there are some passages that condone the responsible consumption of limited amounts of alcohol. However, let me be perfectly clear. The Bible clearly proclaims drunkenness to be a sin and repeatedly warns against drinking to excess. Excess can easily be a single glass of wine. It's not about the quantity consumed, it's about how it affects the person who consumes it. Certainly no one gets drunk on the wine that is served in some churches for communion, but social drinking (even as a complement to a meal) can easily get out of hand. Anyone who drinks alcohol must do so with caution and restraint…especially Christians.
Is it a sin to be fat?
Before answering the question, let's first define "fat." This is an unfortunate word used to categorize and label people.  It is applied to slightly overweight, moderately overweight or extremely overweight bodies and all too often it is used in an unkind, derogatory way. Doctors seldom use the word "fat," because it can be discouraging and it is their intention to help and encourage an overweight person in weight-loss efforts for health improvement.
As Christians, we must remember that the body is a gift from God and there is beauty in every body shape and every body weight.
The Body is the Temple of the Holy Spirit
Some people claim that being overweight is a sin because the Bible clearly states that the body is the temple of the Holy Spirit (1 Corinthians 6:19).  However we must ask, who determines the standard for overweight and who defines sin?  The Bible does not say that being overweight is a sin, so we should never label something as sin when the Bible does not. 
Some bodies are naturally heavier than others and some are naturally thinner.  Society needs to stop setting standards based upon worldly, and almost always ungodly, values and desires. People are born in all shapes and weights and then they grow into an endless variety of shapes and weights. God loves people of all sizes and shapes.  Plus, we must always remember that it is the heart that God looks upon.  The condition of one's heart is not determined by one's body weight.  Being overweight, or being underweight, is not a sin.
Gluttony
With all that said, we should understand that some of the behaviors that contribute to being excessively overweight can be sinful. Specifically, the behavior of gluttony.  Gluttony is the act of eating large amounts of food, far beyond that which is necessary to satisfy hunger, sustain life and fuel the body. Gluttony is almost always an outward sign of an inward emotional need that is being satisfied with excessive food consumption. And, gluttony is labeled as a sin in the Bible. 
Is Gluttony a Deadly Sin?
Many are familiar with the list of seven deadly sins. They are seven behaviors that the early church proclaimed to be capital vices or cardinal sins. They include, wrath, greed, sloth (laziness), pride, lust, envy and gluttony. Many think the list of seven deadly sins are found in the Bible. However, while each of them is addressed as a sin in the Bible, there is no clearly defined list of these seven. We do find in Proverbs 6 a list of seven sins that God hates, but note that gluttony is not one of them.
Proverbs 6:16-19 These six things doth the LORD hate: yea, seven are an abomination unto him: (1) A proud look, (2) a lying tongue, and (3) hands that shed innocent blood, (4) An heart that deviseth wicked imaginations, (5) feet that be swift in running to mischief, (6) A false witness that speaketh lies, and (7) he that soweth discord among brethren.
Gluttony is also not included in two clearly defined lists of sins in the New Testament:
1 Corinthians 6:9-10 Know ye not that the unrighteous shall not inherit the kingdom of God? (1) Be not deceived: neither (2) fornicators, nor (3) idolaters, nor (4) adulterers, nor (5) effeminate, nor (6) abusers of themselves with mankind, Nor (7) thieves, nor (8) covetous, nor (9) drunkards, nor (10) revilers, nor (11) extortioners, shall inherit the kingdom of God.
Galatians 5:19-21 Now the works of the flesh are manifest, which are these; (1) Adultery, (2) fornication, (3) uncleanness, (4) lasciviousness, (5) Idolatry, (6) witchcraft, (7) hatred, (8) variance, (9) emulations, (10) wrath, (11) strife, (12) seditions, (13) heresies, (14) Envyings, (15) murders, (16) drunkenness, (17) revellings, and such like: of the which I tell you before, as I have also told you in time past, that they which do such things shall not inherit the kingdom of God.
This raises the questions, exactly what is gluttony and how or where does the Bible define it as a sin?
Gluttony Defined and Understood
Gluttony is defined as: an excess in eating or drinking; greedy or excessive indulgence. That definition reveals an understanding of why the Bible labels gluttony as a sin. Our bodies were created to need food, but to exceed the natural need for food, for satisfying hunger and maintaining body health, and to do so to an extreme or gluttonous extent, is considered greedy and sinful indulgence.
Galatians tells us that one of the fruit of the Spirit is self control (Galatians 5:23). Self control is to be exercised in all areas of life and gluttony is definitely a behavior that results from a lack of self control. Gluttonous indulgence of food and drink is clearly warned against in the Bible.
Proverbs 23:20 Be not among winebibbers; among riotous eaters of flesh [gluttony].
Proverbs 23:21 For the drunkard and the glutton shall come to poverty: and drowsiness shall clothe a man with rags.
Proverbs 23:2 And put a knife to thy throat, if thou be a man given to appetite [controlled by appetite].
Deuteronomy 21:20 And they shall say unto the elders of his city, This our son is stubborn and rebellious, he will not obey our voice; he is a glutton, and a drunkard.
Another grave warning about not exercising self-control is found in a passage about the last days. It speaks of people who will give themselves over to fleshly desires.
2 Timothy 3:1-4 This know also, that in the last days perilous times shall come. For men shall be lovers of their own selves, covetous, boasters, proud, blasphemers, disobedient to parents, unthankful, unholy, Without natural affection, trucebreakers, false accusers, incontinent, fierce, despisers of those that are good, Traitors, heady, highminded, lovers of pleasures more than lovers of God.
We are not to let our fleshly appetites control us in any way. Gluttonous eating is a result of giving-in to what the stomach (flesh) desires, and often for emotional satisfaction.
Satisfaction in Jesus
As Christians, we know that our emotional needs can only be fully satisfied by Jesus. We also know that we are to find our comfort, peace and rest in Him. Sadly, all too often food is used to obtain conditional contentment, but that contentment is fleeting. It will never last and it will never satisfy.
We should always endeavor to bring under control every thought and every behavior to be God-honoring.
2 Corinthians 10:5 Casting down imaginations, and every high thing that exalts itself against the knowledge of God, and bringing into captivity every thought to the obedience of Christ.
1 Corinthians 10:31 Whether therefore ye eat, or drink, or whatsoever ye do, do all to the glory of God.
Have Compassion
Before closing, let us remember that many faithful Christians struggle with weight issues. Let us also remember Peter's words of encouragement and exhortation to have self-control. Most importantly, may we always remember the importance Peter puts on our loving one another.
2 Peter 1:5-7 And beside this, giving all diligence, add to your faith virtue; and to virtue knowledge; And to knowledge temperance [self control]; and to temperance patience; and to patience godliness; And to godliness brotherly kindness; and to brotherly kindness charity [love].
The "charity" Peter spoke of is a true affection, a sacrificial love, for others. We know it by the Greek word "agape" and we have the ability to love in this way because we have received this love from Jesus.
1 John 4:7 Beloved, let us love one another: for love is of God.
Be a friend to those who struggle with weight issues–whether they are excessively overweight or underweight. Never use labels that will discourage and hurt them.
Remember, in the list of six things the LORD hates we are told that the seventh is "an abomination to Him" (Proverbs 6:16-19).  The seventh is "he who sows discord among brethren." (Proverbs 6:19)
Be an encourager and be a friend. Be slow to label an outward appearance as an inward sin. Being overweight is most often not a result of gluttony. Remember only God truly knows what each one of us struggles with in our hearts… and He is always ready and quick to help those who turn to Him, desiring to gain victory over anything.
Whatever you do in word or deed, do all in the name of the Lord Jesus, 
giving thanks to God the Father through Him. (Colossians 3:17)
<*}}}><
You might be interested in:
Jesus is the Reason this Ministry Exists
We continue to reach people worldwide with the truths of God's Word and the gospel of the Lord Jesus Christ. Your generosity is both a blessing and encouragement. Our mission is to glorify God by equipping, encouraging, and empowering YOU to understand the Bible and grow in faith. If our online resources have blessed you, please support Reasons for Hope* Jesus. Our ministry outreach has grown significantly and . . .
Please support Reasons for Hope* Jesus with a donation of $5, $10, $20, or more. A donation of any amount is needed and greatly appreciated.
CLICK TO DONATE
to Reasons for Hope*Jesus(a 501c3 Ministry)
Use a Credit Card or PayPal for safe, secure giving.
***A Hidden Message in Psalm 23?***  
Hidden in the six verses of Psalm 23 are 11 names for Jesus.
When you subscribe to our newsletter, we'll send you
The Names of God in Psalm 23 PDF
that reveals all 11 names and Scripture verses of comfort and hope (link will be sent in your confirmation email).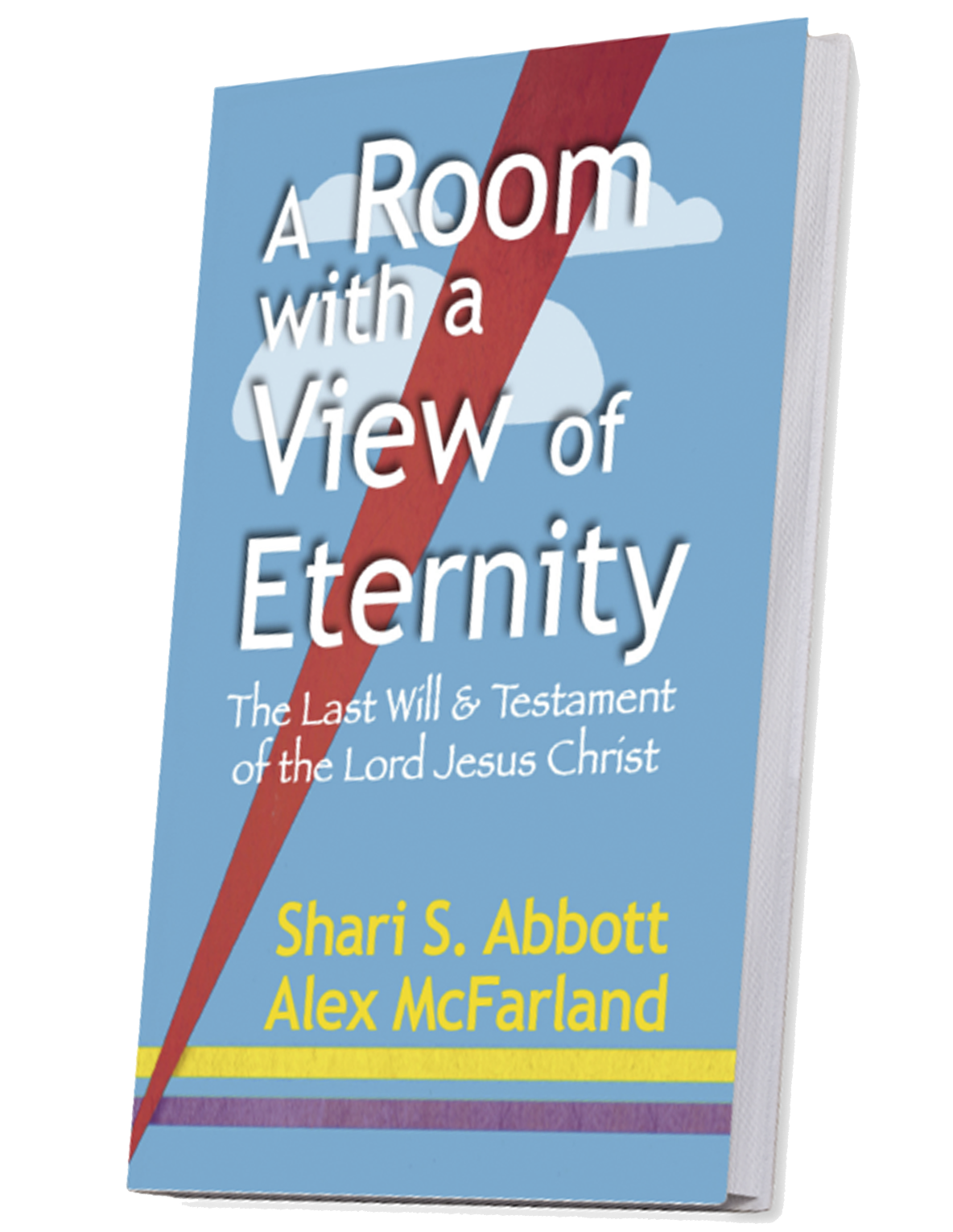 A Room with a View of Eternity—The Last Will & Testament of Jesus Christ   Take a seat at the Master's table. Learn about the riches He gives to all who are His. This book will bless and encourage you, give you hope, and help you live in the joy of your salvation and the riches of Christ that are yours.