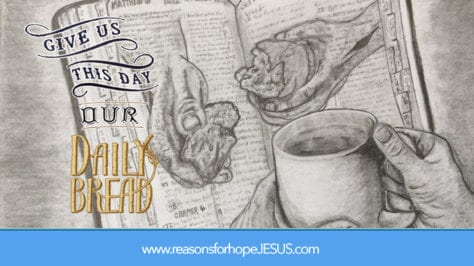 Daily Devotions with Pastor Chuck
Praise be to the Lord for graciously giving us this fresh new morning to enjoy. May each one of us who professes to know Him, may we go before His throne of grace and shower Him with our thanksgiving. Oh that He would be pleased with our offering of thanks!
 
For this past week I have centered my attention on warnings from the writings of John and Paul regarding "deceivers" who come from within the church. One may think that I've exhausted the Scriptures that speak of these heretics that rise up among us and seek to corrupt the truth of God, but no, there is more. 
 
Brethren, I cannot stress it enough, the church is a body of believers entrusted with the truth, a truth delivered to us in God's Word. This truth finds its very substance in the Christian faith, a faith that embodies revealed truth from God. The faith . . . those historical doctrines that speak God's truth and that Christians believe on and hold dearly to and guard with great care. Precious revealed truth from the heart of God to mankind, truth that when proclaimed is the very tool used by God to convert the soul, to save the transgressors, to rescue the perishing, and to build His church. 
 
The devil and his demons and his world constantly attempt to corrupt the truth, to introduce destructive heresies that will "deceive" the masses and keep them from the life-giving truth of God's Word. The effort is on-going and we are warned repeatedly in the Word to be on the alert for it. It only makes sense that where the truth is the "deceivers" will be most prominent . . . so be warned,
 
Peter writes,
"But false prophets also arose among the people, just as there will be false teachers among you, who will secretly introduce destructive heresies, even denying the Master who bought them, bringing swift destruction upon themselves. And many will follow their sensuality, and because of them the way of the truth will be maligned; and in their greed they will exploit you with false words . . ." (II Peter 2:1-3 – NASB)
Jude writes,
"Beloved, while I was making every effort to write you about our common salvation, I felt the necessity to write to you appealing that you contend earnestly for the faith which was once for all delivered to the saints. For certain persons have crept in unnoticed, those who were long beforehand marked out for this condemnation, ungodly person who turn the grace of our God into licentiousness and deny our only Master and Lord, Jesus Christ." (Jude 3-4 – NASB)
Paul, John, Peter, and Jude, all writing as they are led by the Holy Spirit to so do, warning us of "false prophets . . . false teachers . . . certain persons . . . ungodly persons" who "will be . . . among you" who creep "in unnoticed," who "introduce destructive heresies," who "turn the grace of our God into licentiousness." And they arduously labor to "exploit you with false words," their intent being that "the way of the truth will be maligned." Oh what a most serious concern! Think of it for a moment: "false words" that result in "the way of the truth (being) maligned." if the result is that they are successful the church becomes a purveyor of messages that are not "the way of the truth," are not of "the faith" but end up being "destructive heresies." It can happen! In many churches, it is happening!  
 
And note these infiltrators, these "ungodly persons" and what they have in common, they are "denying the Master who bought them," they "deny our only Master and Lord, Jesus Christ." They "deny" the One who is Lord of all (Romans 14:7-9).  
 
Oh the Scriptures call us to take note! Oh that we would have the ears to hear! Do we take these words to heart, having great concern for that which has been entrusted to us? 
 
It is, I believe, imperative that we pay attention to these repeated warnings. We must ensure, as good soldiers in the warfare, that the truth that God has revealed, that truth which He has entrusted to the church (read I Timothy 3:15), this "faith" that you and I have embraced, be known and that it be "earnestly contended for." 
 
Have a good day brethren . . . and never be lulled to sleep, don't be caught off guard, don't become lethargic or apathetic, but as long as God's gives you breath fight the good fight, keep the faith (II Timothy 4:5-7).
Do Not Be Deceived I
Do Not Be Deceived II
Do Not Be Deceived III
Do Not Be Deceived IV
Do Not Be Deceived V
If you do NOT know Jesus, click here.
###
***A Hidden Message in Psalm 23?***  
Hidden in the six verses of Psalm 23 are 11 names for Jesus.  Subscribe to our newsletter and we'll send you The Names of God in Psalm 23 PDF that reveals all 11 names and Scripture verses of comfort and hope (link will be sent in your confirmation email).  SUBSCRIBE NOW
Please Share this Article on Social Media to Equip and Encourage Others
+++
Do not be anxious about anything.  (Phil 4:6)
In the midst of the COVID-19 pandemic, we must rightly remember who is in control.  Our God is sovereign over all things, including COVID-19.  As Charles Spurgeon (1834-1892) said, "The sovereignty of God is a soft pillow on which weary people lay their heads." 
Remember also God's gracious promise, and that it is true and He is faithful to keep it:  Hebrews 13:5 …"I will never leave you, nor forsake you."  The next verse remind us of the power that comes in trusting God and how we can live:  Hebrews 13:6 So that we may boldly say, The Lord is my helper, and I will not fear what man [or COVID-19] shall do to me.
God loves us, and in Christ we find confidence and calm in times of uncertainty and trouble.  When we trust in God, fear is replaced with faith, stress is replaced with strength, anxiety is gone and hope abounds, problems become opportunities, and we are able to receive the blessings God has for us in the midst of difficult circumstances. Turn to Jesus. He will lead you to the still waters and give rest for your troubled soul.  
This hope we have as an anchor of the soul, both sure and steadfast…Hebrews 6:19
****************************
Be Ready Always...
to give a reason for the Hope that you have (1 Peter 3:15).  When you can't share the gospel with your words, share it by leaving tracts that tell people about God's grace.
When leaving a tract, always be diligent to pray about the short gospel message. Pray that it be found by someone who is in need of Jesus' saving grace, and pray that the person will have a tender heart and open ears to receive the gift Jesus desires to give them.  
By the power of the Holy Spirit, even a small tract can help in turning a broken sinner from darkness to light.
SHARE THE GOSPEL!
Click the Image to Read the Messages on the Tracts