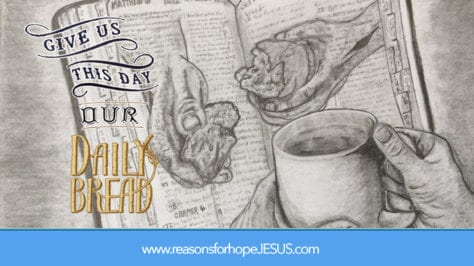 Daily Devotions with Pastor Chuck
The Lord our God has said to us,
"I am the LORD, and there is no other; there is no other God besides Me . . . I have made the earth, and created man on it. I — My hands — stretched out the heavens, and all their host I have commanded." (Isaiah 45:5, 12 – NKJV)
This is our God whom we have been saved by and whom we serve . . . He is God!
 
From John's first letter we read,
 
"They went out from us, but they were not of us; for if they had been of us, they would have continued with us; but they went out that they might be made manifest, that none of them were of us." (I John 2:19 – NKJV)
 
Beware brethren, for we live in a day when the "they" that John speaks of are many. "They" are those who seek to come in among us and in doing so attempt to have us compromise the truth, the faith. 
 
In John's day the Gnostics were very prevalent, and they sought to infiltrate the church with their heresies, seeking to have believers in Christ conform to their doctrine. They were a very influential group, learned in what they believed, aggressive in their evangelistic tactics. John used the truth he had been set apart in (John 17:17) to expose them. Note how he separated them out in chapter one,
 
"If we say that we have fellowship with Him, and walk in darkness, we lie and do not the practice the truth." (I John 1:6 – NKJV)
"If we say that we have no sin, we deceive ourselves and the truth is not in us." (I John 1:8 – NKJV)
"If we say that we have not sinned, we make Him a liar, and His word is not in us." (I John 1:10 – NKJV)
 
Look at what was going on here! Take heed! Take notice! The false teachers came amongst the disciples of Christ and sought to tell them that they could "have fellowship with" Christ and at the same time "walk in darkness." "They" brought the "lie" into the congregation of believers that said "we have no sin . . . we have not sinned." 
 
Oh how it appeals to the self when one can say that he can continue to order his behavior in step with his flesh and its desires. Oh how it appeals to the self when one can say that he has "no sin," has "not sinned." If this could be true then maybe we really have been misled, deceived, taught that which is false. If this could be true I can then return to my old behavior, I can be released to live to satisfy self and the lust of the flesh, I'm deserving to be held in high-regard.
Just for a moment, think what damage a message of this sort, coming from within the church, would have on the gospel of God.
 
But do not be deceived! The apostle John, under the control of the Holy Spirit, writes that to say one can "have fellowship with" Christ and still "walk in darkness . . . lies," and does "not practice the truth." It is a "lie . . . and the truth is not in" the one who says "they . . . have no sin." Such people who say such things "deceive" themselves! To say "we have not sinned" makes Christ "a liar" and makes it most evident that "His word is not in us." 
 
Relevant to today? You bet it is! The New Age Movement and its self-motivated heresies are very prevalent in churches around the world. "Truth" is sacrificed for doctrine that caters to self and the flesh. Church leaders abound that seek to make people feel good about themselves, ministries abound that cater to the self-esteem of their congregations. Church leaders abound that play down "sin," remove it from their teaching so that "they" might rather build the individual person up. 
 
We must be on guard to such flattering heresies, and we must challenge them with "His word," His "truth." We must "practice the truth" and in doing so expose false teaching, false teachers (cf. Titus 1:10-11). We must challenge them with "truth" and call them to repentance and faith in Christ and that "they" submit to the authority of "His word." If "they" refuse then "they" must go "out from us." It must be "made manifest" that "they (are) not of us; for if they (were) of us, they would . . . continue with us." 
 
Do not be deceived! 
 
Have a good day brethren . . . and walk as one who knows the truth and walks in the light of that truth, never afraid to challenge a lie with it.
Do Not Be Deceived I
Do Not Be Deceived II
Do Not Be Deceived III
Do Not Be Deceived IV
Do Not Be Deceived V
If you do NOT know Jesus, click here.
###
***A Hidden Message in Psalm 23?***  
Hidden in the six verses of Psalm 23 are 11 names for Jesus.  Subscribe to our newsletter and we'll send you The Names of God in Psalm 23 PDF that reveals all 11 names and Scripture verses of comfort and hope (link will be sent in your confirmation email).  SUBSCRIBE NOW
Please Share this Article on Social Media to Equip and Encourage Others
+++
Do not be anxious about anything.  (Phil 4:6)
In the midst of the COVID-19 pandemic, we must rightly remember who is in control.  Our God is sovereign over all things, including COVID-19.  As Charles Spurgeon (1834-1892) said, "The sovereignty of God is a soft pillow on which weary people lay their heads." 
Remember also God's gracious promise, and that it is true and He is faithful to keep it:  Hebrews 13:5 …"I will never leave you, nor forsake you."  The next verse remind us of the power that comes in trusting God and how we can live:  Hebrews 13:6 So that we may boldly say, The Lord is my helper, and I will not fear what man [or COVID-19] shall do to me.
God loves us, and in Christ we find confidence and calm in times of uncertainty and trouble.  When we trust in God, fear is replaced with faith, stress is replaced with strength, anxiety is gone and hope abounds, problems become opportunities, and we are able to receive the blessings God has for us in the midst of difficult circumstances. Turn to Jesus. He will lead you to the still waters and give rest for your troubled soul.  
This hope we have as an anchor of the soul, both sure and steadfast…Hebrews 6:19
****************************
Be Ready Always...
to give a reason for the Hope that you have (1 Peter 3:15).  When you can't share the gospel with your words, share it by leaving tracts that tell people about God's grace.
When leaving a tract, always be diligent to pray about the short gospel message. Pray that it be found by someone who is in need of Jesus' saving grace, and pray that the person will have a tender heart and open ears to receive the gift Jesus desires to give them.  
By the power of the Holy Spirit, even a small tract can help in turning a broken sinner from darkness to light.
SHARE THE GOSPEL!
Click the Image to Read the Messages on the Tracts