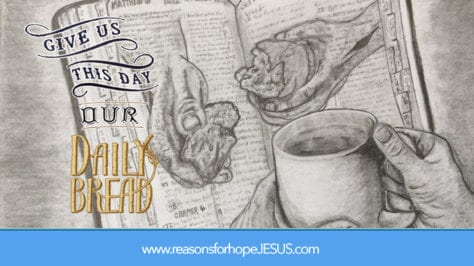 Daily Devotions with Pastor Chuck
Do not be deceived! Part 1
This week we offer five, very short, devotionals on deception. We can all be easily deceived. Short lessons for you to not fall prey to deception. Read pt. 1 now…..
++++++++++++++
We awake to the new day as subjects of the Kingdom of God, born again subjects that have received the forgiveness of our sins and trespasses through the saving work of our Lord Jesus Christ, to the glory of the Father. Quite a thought to start the new day with.
 
I would think it safe to say that being deceived is something that none of us wants to happen. I would think that we don't like the idea at all that someone can entrap us, ensnare us, trip us up, cause us to go the wrong way, do the wrong thing, think the wrong thing. 
 
Interestingly enough the New Testament is filled with warnings regarding being deceived, with commands to stop being deceived. God expects His people to be on their spiritual toes, sober and alert to deception, equipped by His Word and ready to thwart the deceptions of the devil and his demons and of this evil world. 
 
Take note of just some of these warnings to us in Scripture to not be deceived:
 
"'Take heed that no one deceive you. For many will come in My name, saying, 'I am the Christ,' and will deceive many.'" (Matthew 24:4-5 – NKJV)
"Do you not know that the unrighteous will not inherit the kingdom of God? Do not be deceived . . ." (I Corinthians 6:9 – NKJV)
"Do not be deceived: 'Evil company corrupts good habits.'" (I Corinthians 15:33 – NKJV)
"Do not be deceived, God is not mocked; for whatever a man sows, that he will also reap." (Galatians 6:7 – NKJV)
"Let no one deceive you with empty words, for because of these things the wrath of God comes upon the sons of disobedience." (Ephesians 5:6 – NKJV) 
"Do not be deceived, my beloved brethren." (James 1:16 – NKJV)
"Little children, let no one deceive you. He who practices righteousness is righteous, just as He is righteous." (I John 3:7 – NKJV)
 
Just a few of the passages to drive my point home! And in most of these instances the verb is in the imperative, thus commanding the reader to stop being "deceived." In other words, believers were being deceived. The Scripture says,
"For we ourselves were also once foolish, disobedient, deceived, serving various lusts and pleasures, living in malice and envy, hateful and hating one another." (Titus 3:3 – NKJV)
The key word here, "were." We "were . . . deceived." We are no longer to be "deceived," it is the command of Scripture. Jesus, when he prayed for His disciples in John 17, prayed that they would be "set apart in the truth," and then He specified what "truth" that was; "Thy word is truth" (John 17:17). We who are disciples of Christ are to "be diligent" in "rightly dividing" this "word of truth" (II Timothy 2:15), guarding it, retaining it (II Timothy 1:13-14), living it out as "new creations" (II Corinthians 5:17), "walking in newness of life (Romans 6:4), "contending earnestly for the faith which was once for all delivered to the saints" (Jude 3). 
 
"Stop being deceived" wrote Paul and Peter and James and John. Take heed brethren to the warnings of Scripture and the command of God and "do not" allow yourself to "be deceived."
 
Have a good day . . . and make sure you are reading and studying the Word of God, equipping yourself as a learned disciple of Christ so that no one may deceive you.
Do Not Be Deceived I
Do Not Be Deceived II
Do Not Be Deceived III
Do Not Be Deceived IV
Do Not Be Deceived V
If you do NOT know Jesus, click here.
###
***A Hidden Message in Psalm 23?***  
Hidden in the six verses of Psalm 23 are 11 names for Jesus.  Subscribe to our newsletter and we'll send you The Names of God in Psalm 23 PDF that reveals all 11 names and Scripture verses of comfort and hope (link will be sent in your confirmation email).  SUBSCRIBE NOW
Please Share this Article on Social Media to Equip and Encourage Others
+++
Do not be anxious about anything.  (Phil 4:6)
In the midst of the COVID-19 pandemic, we must rightly remember who is in control.  Our God is sovereign over all things, including COVID-19.  As Charles Spurgeon (1834-1892) said, "The sovereignty of God is a soft pillow on which weary people lay their heads." 
Remember also God's gracious promise, and that it is true and He is faithful to keep it:  Hebrews 13:5 …"I will never leave you, nor forsake you."  The next verse remind us of the power that comes in trusting God and how we can live:  Hebrews 13:6 So that we may boldly say, The Lord is my helper, and I will not fear what man [or COVID-19] shall do to me.
God loves us, and in Christ we find confidence and calm in times of uncertainty and trouble.  When we trust in God, fear is replaced with faith, stress is replaced with strength, anxiety is gone and hope abounds, problems become opportunities, and we are able to receive the blessings God has for us in the midst of difficult circumstances. Turn to Jesus. He will lead you to the still waters and give rest for your troubled soul.  
This hope we have as an anchor of the soul, both sure and steadfast…Hebrews 6:19
****************************
Be Ready Always...
to give a reason for the Hope that you have (1 Peter 3:15).  When you can't share the gospel with your words, share it by leaving tracts that tell people about God's grace.
When leaving a tract, always be diligent to pray about the short gospel message. Pray that it be found by someone who is in need of Jesus' saving grace, and pray that the person will have a tender heart and open ears to receive the gift Jesus desires to give them.  
By the power of the Holy Spirit, even a small tract can help in turning a broken sinner from darkness to light.
SHARE THE GOSPEL!
Click the Image to Read the Messages on the Tracts