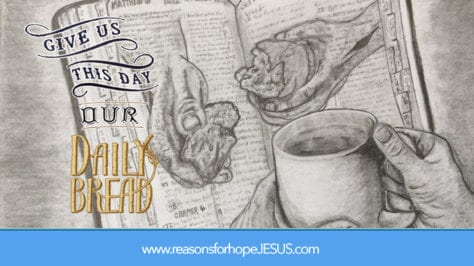 Daily Devotions with Pastor Chuck
Do not be deceived! That has been my biblical theme this week, and oh how you and I need to be aware of just how important this subject is. It is addressed over and over again in the New Testament, from the gospels to the epistles. And its very repetition should be a trumpet call to us to be constantly on the alert for not only deceivers from the outside but, as I have attempted to point out each day this week, even more so for those on the inside of the church. Oh brethren . . . Oh how important sound doctrine in our day and age.
 
To Titus, a young leader in the church, the apostle Paul wrote of those who were engaged in deception within the church,
". . . to Titus, my true child in a common faith . . . For this reason I left you in Crete, that you might set in order what remains, and appoint elders in every city as I directed you . . . For there are many rebellious men, empty talkers and deceivers, especially those of the circumcision, who must be silenced because they are upsetting whole families, teaching things they should not teach, for the sake of sordid gain . . . reprove them severely that they may be sound in the faith." (Titus 1:4-5, 10-13 – NASB)
The apostle obviously had faith in his young co-laborer "Titus." For He "left" him "in Crete" to "set" things "in order." There were problems in the churches and it was imperative that someone return these local bodies of believers to "order." 
 
So, young "Titus" was instructed to get it done. He was to "appoint elders in every city." And these "elders" were to meet certain qualifications  (1:6-8). For "many rebellious men, empty talkers and deceivers" were "teaching things they should not teach" and subsequently "upsetting whole families" of believers. These "deceivers" needed to be "reproved . . . severely." The word "reprove" means to "shed light upon; expose by light" (note use of word in II Timothy 3:16). Their "teaching" needed to have the light of the Word of God shed upon it and correction needed to take place so that "they may be sound in the faith." 
 
Brethren, this is oh so relevant to our day, for right in the midst of churches around the world, right in the midst of churches in our own backyard, it is happening on a much larger scale than when Paul wrote to "Titus." Larger populations spawn more interested church attenders which in turn creates the greater chance of "rebellious men" and "empty talkers" and "deceivers" infiltrating the body of Christ. If not set apart in the Word (John 17:17) these can easily end up "teaching," and in turn "teaching things they should not teach."
 
That said it is especially important that we note the qualification that Paul lists for the "elder" to have that "Titus" was to "appoint,"   
"holding fast the faithful word which is in accordance with the teaching, that he may be able to exhort in sound doctrine and to refute those who contradict." (Titus 1:9 – NASB)
To fight the good fight, to war the good warfare, to stand firm against the devil, his demons, and the world and all their deceptive teachings, we need leaders who "hold fast the faithful word" and are "able to exhort in sound doctrine and to refute those who contradict . . . sound doctrine." That "word  . . . is in accordance with" the Bible, the authority for every believer, for every church, the "words" that have been handed down to us in writing that are "in accordance with the teaching" of the Holy Spirit through the apostles who penned the Scriptures. 
 
And every believer should have the same desire, to be one who is "holding fast the faithful word which is in accordance with the teaching" of holy writ . . . every believer! Why? So that we can also "refute those who contradict . . . sound doctrine." Truth is ours, it has been given to the church via "sound doctrine." It must be defended at all cost! "Deceivers" must be "refuted" and "refuted severely." "The faith" must be contended for (Jude 3) if we are to fulfill our calling to be a body of believers that worships God in Spirit and in truth (John 4:24). 
 
Do not be deceived! And one is not deceived or led astray, when they know "the faithful word."
 
Have a good day brethren . . . and labor to be a Berean, one who knows and searches the Scriptures, always testing what is said, what is done, what is promoted, that you might be able to refute what is not in keeping with sound teaching.
Do Not Be Deceived I
Do Not Be Deceived II
Do Not Be Deceived III
Do Not Be Deceived IV
Do Not Be Deceived V
If you do NOT know Jesus, click here.
###
***A Hidden Message in Psalm 23?***  
Hidden in the six verses of Psalm 23 are 11 names for Jesus.  Subscribe to our newsletter and we'll send you The Names of God in Psalm 23 PDF that reveals all 11 names and Scripture verses of comfort and hope (link will be sent in your confirmation email).  SUBSCRIBE NOW
Please Share this Article on Social Media to Equip and Encourage Others
+++
Do not be anxious about anything.  (Phil 4:6)
In the midst of the COVID-19 pandemic, we must rightly remember who is in control.  Our God is sovereign over all things, including COVID-19.  As Charles Spurgeon (1834-1892) said, "The sovereignty of God is a soft pillow on which weary people lay their heads." 
Remember also God's gracious promise, and that it is true and He is faithful to keep it:  Hebrews 13:5 …"I will never leave you, nor forsake you."  The next verse remind us of the power that comes in trusting God and how we can live:  Hebrews 13:6 So that we may boldly say, The Lord is my helper, and I will not fear what man [or COVID-19] shall do to me.
God loves us, and in Christ we find confidence and calm in times of uncertainty and trouble.  When we trust in God, fear is replaced with faith, stress is replaced with strength, anxiety is gone and hope abounds, problems become opportunities, and we are able to receive the blessings God has for us in the midst of difficult circumstances. Turn to Jesus. He will lead you to the still waters and give rest for your troubled soul.  
This hope we have as an anchor of the soul, both sure and steadfast…Hebrews 6:19
****************************
Be Ready Always...
to give a reason for the Hope that you have (1 Peter 3:15).  When you can't share the gospel with your words, share it by leaving tracts that tell people about God's grace.
When leaving a tract, always be diligent to pray about the short gospel message. Pray that it be found by someone who is in need of Jesus' saving grace, and pray that the person will have a tender heart and open ears to receive the gift Jesus desires to give them.  
By the power of the Holy Spirit, even a small tract can help in turning a broken sinner from darkness to light.
SHARE THE GOSPEL!
Click the Image to Read the Messages on the Tracts