Dichotomy or 
Trichotomy?
Some Christians hold the view that man is a two-part being. That would be a dichotomy, two parts: 1) body and 2) soul/spirit.  Others believe man is a three-part being, or a trichotomy: 1) body and 2) soul and 3) spirit.  Those who support a dichotomy, a two-part being, consider the soul and spirit to be the same thing.  However, Scripture supports a trichotomy.  
Created Triune
When God created man, He created him (Adam) in His image  (Genesis 1:26-27) with a body, soul, and a spirit of man (Zec 12:1, Rom 8:16, 1 Cor 2:11) .  When God breathed into Adam, he became a living soul: 
Gen 2:7  And the LORD God formed man of the dust of the ground, and breathed into his nostrils the breath of life; and man became a living soul.
The breath of God in Genesis 2:7 is the Hebrew word ruach, which means wind, breath, air, and spirit.  Since it was God's ruach, it was God's wind, God's breath, God's air, God's Spirit that was breathed into Adam.  It was Holy Ruach—Holy Wind, Holy Breath, Holy Air…Holy Spirit.  By that Holy Breath Adam was made alive, filled with the Breath/Spirit of God, making him the full image-bearer of God — a body, a soul, and a spirit that was perfect and was united with God just as the Father, Son, and Spirit share union.
Adam's Sin
Sadly, Adam's sin changed everything.  The union he had with God ended when the Holy Spirit departed from him.  No longer filled with the Breath of God, only the spirit of man remained in Adam–and that spirit of man was fallen in sin and man's body began to die. 
Only Adam was created.  Since the fall of Adam, all mankind is born.  Only Adam was created in the image of God.   Since the fall of Adam, all are born in the image of their earthly fathers (Genesis 5:3).  Everyone is born with a body, a soul, and the spirit of man — without the Holy Spirit.  Since it is the Holy Spirit who makes the soul alive, all are born spiritually dead and that's why Jesus taught, we must be:
born again (John 3:3)

born of water and of the Spirit (John 3:5

made alive (1 Cor 15:22)
It is only by God's Spirit that man can be born again, made spiritually alive, and sealed unto the day of redemption (Eph 4:30).
Trichotomy
All mankind are body, soul, and spirit.  Redeemed and regenerated sinners are filled with the Spirit of God and alive, but unrepentant sinners are also a trichotomy—body, soul, and spirit —albeit a fallen spirit (the spirit of man) and spiritually dead soul. 
The Bible speaks most clearly of the distinct three parts of man in this verse:
1 Th 5:23  And the very God of peace sanctify you wholly; and I pray God your whole [1] spirit and [2] soul and [3] body be preserved blameless unto the coming of our Lord Jesus Christ.
This verse lists spirit and soul as separate, and it cannot be speaking of the Holy Spirit because Paul prays that the "spirit…be preserved blameless." The Holy Spirit does not need to be "preserved blameless," because He is blameless…He's God.  
Further references to the "spirit of man" are found in these verses:
Prov 20:27  The spirit of man is the candle of the LORD, searching all the inward parts of the belly.
Eccl 3:21  Who knoweth the spirit of man that goeth upward, and the spirit of the beast that goeth downward to the earth?
Eccl 12:7  Then shall the dust return to the earth as it was: and the spirit shall return unto God who gave it.
Zec 12:1  The burden of the word of the LORD for Israel, saith the LORD, which stretcheth forth the heavens, and layeth the foundation of the earth, and formeth the spirit of man within him.
1 Cor 2:11  For what man knoweth the things of a man, save the spirit of man which is in him? even so the things of God knoweth no man, but the Spirit of God.
The Tri-unity of Man 
We are triune beings in many ways.  Our physical bodies have 1) an outward, fleshly part, 2) an inward part comprised of our organs, and 3) an even more internal life force (e.g. the blood in our veins, air in our lungs).  So also is our soul triune, in that it is the essence of who we are and is governed by 1) our mind, 2) our will, and 3) our emotions.  Even God's desired pattern for human life, since the fall, is triune:  1) physical birth (spiritually dead), 2) spiritual re-birth, 3) physical death (eternal spiritual life).  Sadly for those who do not trust in Jesus, and are not re-born by His Spirit, they will experience 1) physical birth (spiritually dead), 2) physical death (eternally spiritually dead). (Interested in God's pattern of triunity?  Read: What is the Triunity of Creation?)
Be Kind
This is not a core doctrine of Christian faith — meaning this is not something people need to believe for salvation.  What is core doctrine is that  Jesus is God.  He was born of a virgin. He lived as a man. He paid the penalty for our sins. He died in our place. He rose from death to glory, and He offers forgiveness and everlasting life to those who repent and trust in Him.  That's what people need to hear and respond to.
Do not let "dichotomy or trichotomy" become divisive. Bible-reading, Bible-believing Christians hold differing views on this. At Reasons for Hope* Jesus, we believe the Bible teaches a three-part being, but always search the Scriptures for yourself to see if these things are so (Acts 17:11).
Who Am I?
This is one of life's most important questions.  Paraphrasing a popular song, let's consider the question:  "who am I, that the Lord of all the earth would care to know our names?" 
The answer?  We are His creation—originally created in His image, but now born in the image of our earthly fathers.  The creation of man is God's most miraculous work.  It is beyond our full understanding and we stand in awe of both His creative ability and His amazing love.  The redemption of man is even more awe-inspiring. God, in His love, mercy, and grace provided the only way to make us whole again. 
For God so loved us that He gave His only begotten Son to live and die for us, and now He offers redemption and regeneration to all trust by faith in Jesus.  Tell someone today how they can be born again and made alive.  
<*}}}><
Music by Casting Crowns | Video by Reasons for Hope* Jesus
Jesus is the Reason this Ministry Exists
Thank you to all who contributed in 2020. Your generosity is a blessing and encouragement to us.  We did not meet expenses in 2020 and still need your help to continue our global outreach in 2021.  Our mission is to glorify God by equipping, encouraging, and empowering YOU to understand the Bible and grow in faith. If our online resources have blessed you, we hope you will support Reasons for Hope* Jesus. Our ministry outreach has grown significantly and. . .
Please support Reasons for Hope* Jesus with a donation of $5, $10, $20, or more. A donation of any amount is needed and greatly appreciated.
CLICK TO DONATE
to Reasons for Hope*Jesus(a 501c3 Ministry)
Use a Credit Card or PayPal for safe, secure giving.
***A Hidden Message in Psalm 23?***  
Hidden in the six verses of Psalm 23 are 11 names for Jesus.
When you subscribe to our newsletter, we'll send you
The Names of God in Psalm 23 PDF
that reveals all 11 names and Scripture verses of comfort and hope (link will be sent in your confirmation email).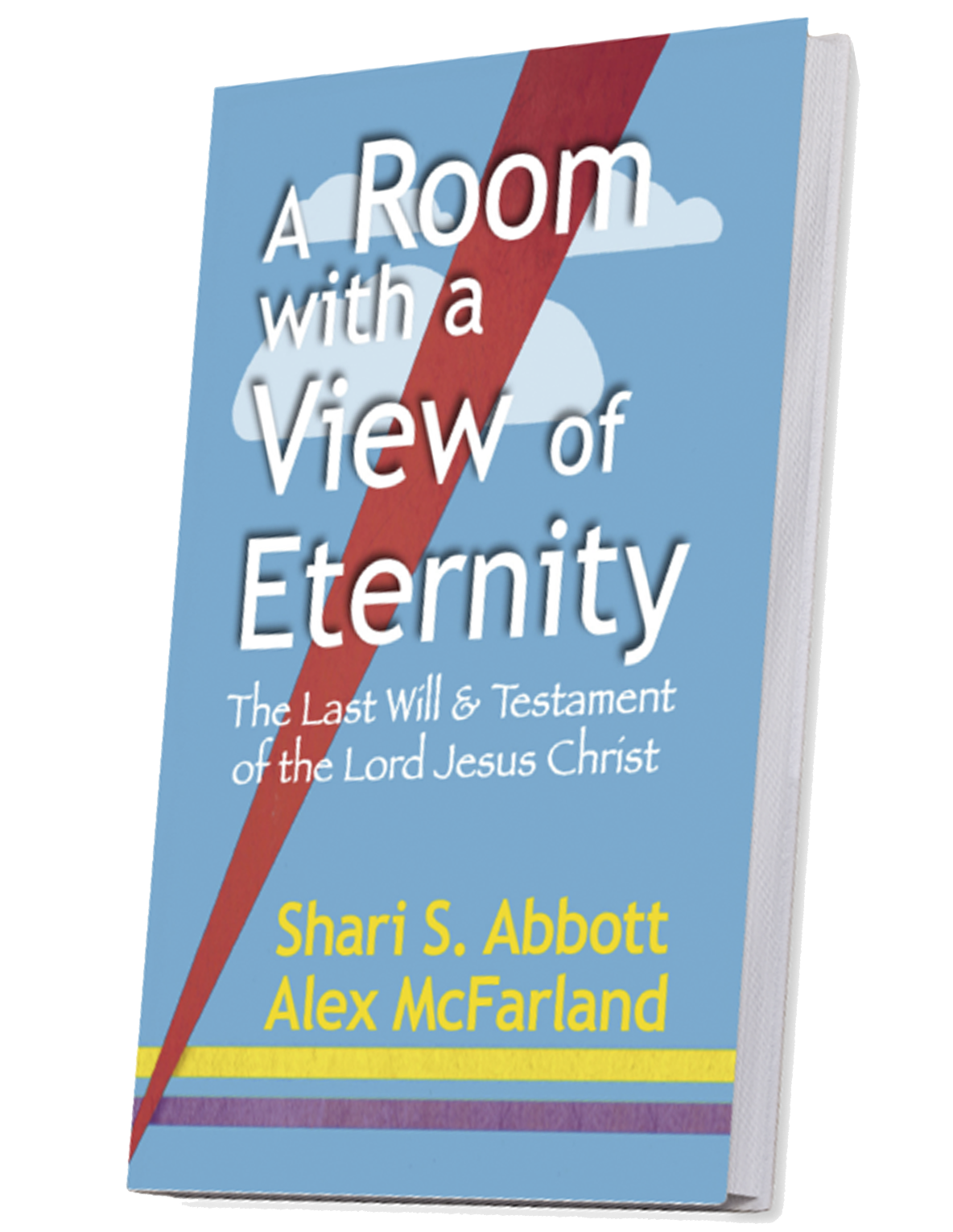 A Room with a View of Eternity—The Last Will & Testament of Jesus Christ
Take a seat at the Master's table. Learn about the riches He gives to all who are His. This book will bless and encourage you, give you hope, and help you live in the joy of your salvation and the riches of Christ that are yours.
Top Ten  in 2019
More Popular Questions & Articles:
If BAPTIZED as an Infant, Do I Need to Be Baptized Again?
How was Jesus Like a Worm? What's the CRIMSON (OR SCARLET) WORM? Psalm 22
Is Satan's Real Name LUCIFER? Or Should We Call Him Satan?
What is the Significance of the Wise Men's THREE GIFTS? And were they kings? 
Was Jesus CRUCIFIED on Wednesday, Thursday, or Friday?
The Names of Jehovah hidden in Psalm 23! This will surprise you!
What Did Jesus Say About HEAVEN (and HELL)?
JESUS WEPT. Why? And…it's not the shortest verse in the Bible!
Is There a Remez (HIDDEN MESSAGE ) in Revelation 7? Why is Dan Missing?
What Does it Mean to Be A CHILD OF GOD?
Why Is PRAYER Important?
Is SUICIDE an Unforgivable Sin?
Something ALL Christians must know:  IVDARR
Our Top Three Videos
Christian Version of Leonard Cohen's HALLELUJAH
Memorial Day BAGPIPES TRIBUTE: Amazing Grace
RISE AND SHINE and Give God the Glory, Glory!

Help us spread the good news and saving grace of the Lord Jesus Christ.

Please tell your friends about ReasonsforHopeJesus.com. If you have a website or blog, please link to ReasonsforHopeJesus.com.   All resources on this site © Reasons for Hope* Jesus --  click for Republication Permissions or contact hope@reasonsforhopeJesus.com