In previous articles, we have seen the Necessity and Provision, Slaying and Character, Personality and Identity, and the Crucifixion and Resurrection of the Lamb.  Now we come to the Preaching of the Lamb.
After Jesus was crucified and buried, some of His devoted women followers went early on the morning of the first day of the week and found the stone rolled away from the grave.  An angel said to them, "Do not be afraid, for I know that you seek Jesus who was crucified.  He is not here, for He is risen, as He said.  Come, see the place where the Lord lay."  (Matt 28:5-6)  Truly the tomb was empty. Jesus had risen from the dead and they were understandably overjoyed!  Praise the Lord. 
Earth's saddest day and gladdest day were just three days apart!   The resurrection of Jesus was a real event that happened in history almost 2000 years ago.  Praise God, it happened. But that was then, and this is now. Now what?  What are we to do about it? 
Certainly, we should be happy, but God also wants us to be heralds who are constantly ready, willing, and able to proclaim this good news!  So that brings us to the preaching of the Lamb.
The Angel's Assignment
After the angel told the women, "He is not here; for He is risen, as He said. Come, see the place where the Lord lay" (Matt 28:5-6), the angel continued, "and go quickly and tell His disciples that He is risen from the dead. And indeed He is going before you into Galilee. There you will see Him, Behold, I have told you." (Matt 28:7)
They had seen the evidence of the empty tomb. They knew that Jesus had indeed risen from the dead. And, they were given a holy assignment.  They were to go and tell this wonderful news!
Matt 28:8  "So they went out quickly from the tomb with fear and great joy, and ran to bring the disciples word."
Jesus' Assignment
Matt 28:9-10  "Jesus met them, saying, 'Rejoice! So they came and held Him by the feet and worshiped Him.  Then Jesus said to them, 'Do not be afraid.  Go and tell My brethren to go to Galilee, and there they will see Me.'"
Jesus Himself commanded them to spread the good news!  In fact, Jesus repeated this command also to the men  (Matt 28:16-19), and to all the disciples (Acts 1:8).  Clearly, this responsibility is to be accepted and enacted by all Christ's followers, both in the first century and in our present day. 
All of us are to be personally and passionately involved in the preaching of the Lamb. We do not have to be vocational ministers or missionaries to proclaim the good news that Jesus saves, keeps, and satisfies.  We just need to be ready, willing, and able to read the Scriptures, explain the simple meaning, and share our own testimony—and God can and will use His word which is alive and powerful.
The Great Commission
Jesus gave his followers the Great Commission, commanding them to go and proclaim this gospel to all nations, to make disciples, baptizing them in the triune name of God, and to train them to go and repeat this cycle with others.  The Great Commission is found in all four gospels (Matthew, Mark, Luke 24, and John), and also in Acts (1:8).  
Let's look at the Great Commission recorded in Luke 24:46-48, where Jesus emphasized three key ingredients to the gospel, each beginning with "r."
The "3-R's" in the Preaching of the Lamb
RESURRECTION
Luke 24:46  "Then He (Jesus) said to them, 'Thus it is written, and thus it was necessary for the Christ to suffer and to rise from the dead the third day…"  
The power of the gospel hinges on the resurrection of Jesus from the dead.  The most succinct definition of the gospel is given in 1 Corinthians 15:3-4, "For I delivered to you first of all that which I also received; that Christ died for our sins according to the Scriptures, and that He was buried, and that He rose again the third day according to the Scriptures…"  There is no other religion where the founder has an empty tomb!  The preaching of the Lamb must include the glorious truth of the resurrection.
REPENTANCE
Luke 24:47… "and that Repentance…should be preached in His name to all nations"…  
This is an important aspect of the gospel that sadly is left out of much of today's teaching and preaching.  Those who share the good news often want to emphasize only the positivity of the gospel message, and do not fully deal with mans' greatest problem, our sinful nature, and our great need for godly sorrow that leads to repentance.  Remember how the New Testament began with the ministry of John the Baptist, and his message, "Repent, for the kingdom of heaven is at hand." (Mt. 3:2).  He introduced Jesus as the Lamb of God And Jesus gave that same message, "Repent, for the kingdom of heaven is at hand" (Mt. 4:17).  Repentance is a change of mind that leads to a change of heart and is demonstrated by a change in behavior.
REMISSION
Luke 24:47-48… "and that Repentance and Remission of sins should be preached in His name to all nations, beginning at Jerusalem, and you are witnesses of these things."  Once one believes the facts of the gospel (the death, burial and resurrection of Christ), and is willing to repent/turn from his sins in surrender to Jesus as Savior and Lord, then he granted remission/forgiveness of sins.  Acts 5:31… "Him (Jesus) God has exalted to His right hand to be Prince and Savior, to give repentance to Israel and forgiveness of sins."  
Acts 10:43 "To Him [Jesus] all the prophets witness that, through His name, whoever believes in Him will receive remission (forgiveness) of sins."  
Acts 13:38… "Therefore let it be known to you brethren, that through this Man is preached to you the forgiveness of sins."
Acts 26:18 "To open their eyes, in order to turn them from darkness to light, and from the power of Satan to God, that they may receive forgiveness of sins, and an inheritance among those who are sanctified by faith in Me [Jesus]."
Power to Preach
Jesus did not expect His disciples to preach in their own power.  
Luke 24:49 "Behold, I send the Promise of My Father [the Holy Spirit] upon you; but tarry in the city of Jerusalem until you are endued with power from on high."  
Acts 1:8… "But you shall receive power when the Holy Spirit has come upon you; and you shall be witnesses to Me in Jerusalem, and in all Judea, and Samaria, and to the end of the earth."
We can do this. And we must do this!  We must be ready and willing. And by His Spirit, God will make us able to proclaim the gospel to others in a lost and dying world.  Jesus said, "Follow Me, and I will make you fishers of men." (Mt. 4:19)  And it has been said, if you aren't fishing, then you aren't following."
What an awesome privilege and responsibility it is to be involved in the preaching of the Lamb!  
Jesus is the Reason this Ministry Exists
We continue to reach people worldwide with the truths of God's Word and the gospel of the Lord Jesus Christ. Your generosity is both a blessing and encouragement. Our mission is to glorify God by equipping, encouraging, and empowering YOU to understand the Bible and grow in faith. If our online resources have blessed you, please support Reasons for Hope* Jesus. Our ministry outreach has grown significantly and . . .
Please support Reasons for Hope* Jesus with a donation of $5, $10, $20, or more. A donation of any amount is needed and greatly appreciated.
CLICK TO DONATE
to Reasons for Hope*Jesus(a 501c3 Ministry)
Use a Credit Card or PayPal for safe, secure giving.
***A Hidden Message in Psalm 23?***  
Hidden in the six verses of Psalm 23 are 11 names for Jesus.
When you subscribe to our newsletter, we'll send you
The Names of God in Psalm 23 PDF
that reveals all 11 names and Scripture verses of comfort and hope (link will be sent in your confirmation email).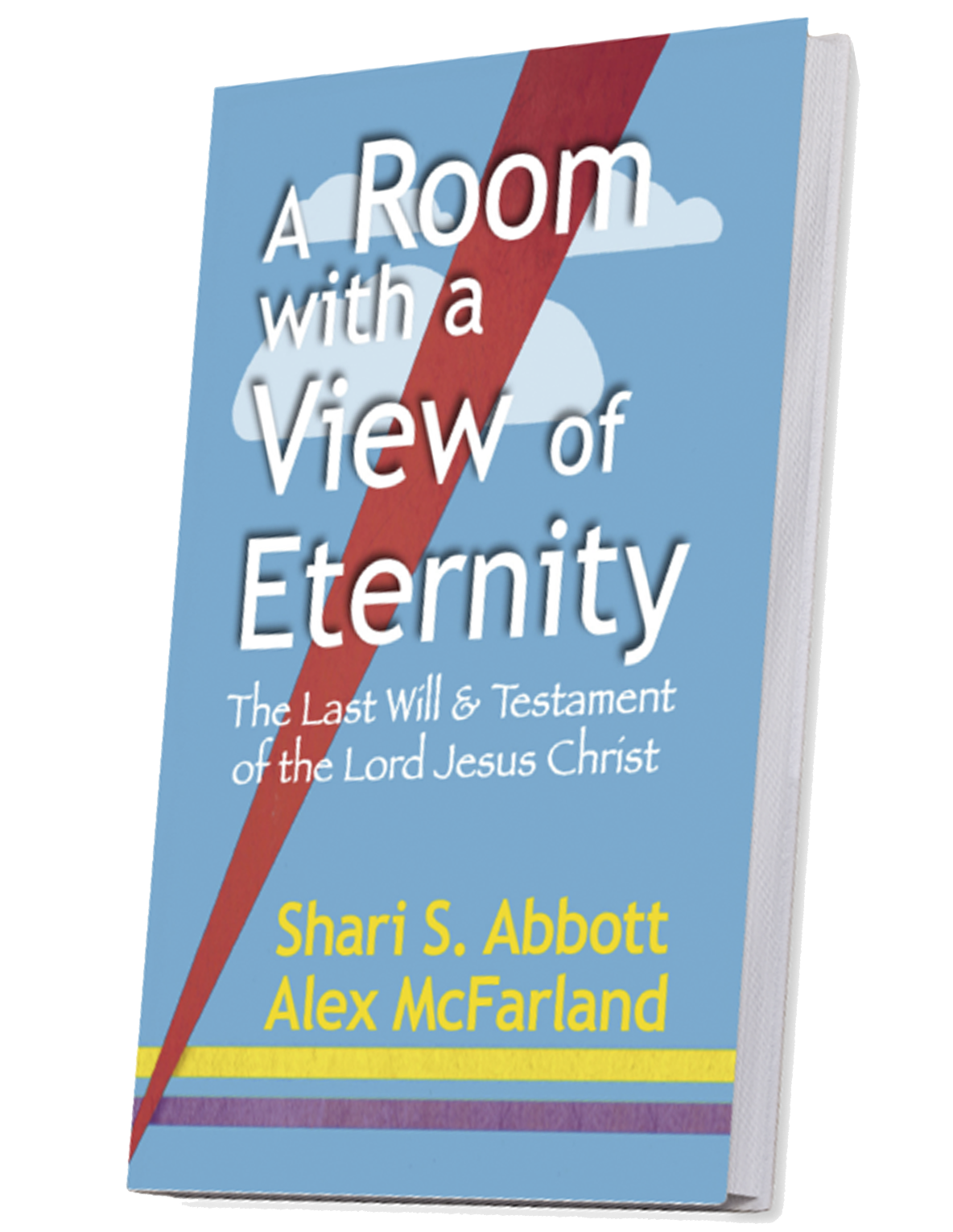 A Room with a View of Eternity—The Last Will & Testament of Jesus Christ   Take a seat at the Master's table. Learn about the riches He gives to all who are His. This book will bless and encourage you, give you hope, and help you live in the joy of your salvation and the riches of Christ that are yours.