Predestination is the doctrine that attempts to explain how God accomplishes His will in our world through His foreknowledge and by foreordaining all things that come to pass.  It must be understood in the context of God's eternality.  God is outside of our time dimension.   God has always existed, which is a hard concept for us to understand. He is infinite and we are finite. Our minds cannot fully comprehend who He is or what He does.  But we do know much about Him.  He has graciously revealed all we need to know through His Word.
Before examining the doctrine of predestination, let's understand God's eternality.  We know that our world had a beginning (Genesis 1:1) and we know that our Triune God was already there:
John 17:5  And now, O Father, glorify thou me with thine own self with the glory which I had with thee before the world was.
1 Corinthians 2:7  But we speak the wisdom of God in a mystery, even the hidden wisdom, which God ordained before the world unto our glory.
Titus 1:2  In hope of eternal life, which God, that cannot lie, promised before the world began.
Jesus is the Alpha and Omega, the beginning and the end.  Just as He was there at the beginning, so also will He be there at the end of our world and into eternity.  
Psalm 90:2  Before the mountains were brought forth, Or ever You had formed the earth and the world, Even from everlasting to everlasting, You are God.
Revelation 21:23  And the [eternal] city had no need of the sun, neither of the moon, to shine in it: for the glory of God did lighten it, and the Lamb is the light thereof.
What is Predestination?
A word of caution before proceeding:  Both predestination and election are works of God, and in both, there remains a great deal of mystery.
(Regarding election in salvation, read Got Questions article: What is Election?).
We can never fully understand the mind of God, nor can we fully understand His attributes or His works.  While we certainly want to learn all that we can from what God has revealed through His Word, we must be content to accept that God's works are beyond our full comprehension and therefore we never want go beyond what He has told us.  So what can we understand about predestination?
 1) God is the One who has predestined all things:
Acts 2:23  Him, being delivered by the determinate counsel and foreknowledge of God, ye have taken, and by wicked hands have crucified and slain:
Ephesians 1:11  In whom also we have obtained an inheritance, being predestinated according to the purpose of him who works all things after the counsel of his own will.
2) God has predestined all things that have come to pass and all things that are yet to come. 
He does so in two ways: Divine causation (God's providential will) and Divine permission (God's permissive will).
Exodus 4:11  And the LORD said unto him, Who hath made man's mouth? or who makes the dumb, or deaf, or the seeing, or the blind? have not I the LORD?
Isaiah 45:7  I form the light, and create darkness: I make peace, and create evil: I the LORD do all these things.
Lamentations 3:37-38  Who is he that saith, and it cometh to pass, when the Lord commandeth it not?  Out of the mouth of the most High proceedeth not evil and good?
3) God has predestined our salvation and sanctification.  
In Romans 8:29-30 is a chain of five links that theologians call the "The Golden Chain of Salvation."  It links eternity past to eternity present to eternity future with these five links: 1) foreknowledge, 2) predestination, 3) call (election), 4) justification and 4) glorification.
Romans 8:29-30  For whom he did foreknow, he also did predestinate to be conformed to the image of his Son, that he might be the firstborn among many brethren. Moreover whom he did predestinate, them he also called [elected]: and whom he called, them he also justified [salvation]: and whom he justified, them he also glorified.
God's (1) foreknowledge determines our (2) predestination and brings about our (3) election, our (4) justification, and our (5) glorification.  
What does predestination mean for us?
Perhaps the most important thing to understand about God's divine predestination, is the answer to the "why" questions….or "what does this mean for us?"  
Between the fourth and fifth "links" of the "chain of gold" lies the answer—our sanctification.  "Whom He justified…He also glorified." From the moment the Lord saved us (justification), until the time He takes us to be with Him (glorification), He is sanctifying us:
We are predestined to be conformed to Jesus:

Romans 8:29  For whom he did foreknow, he also did predestinate to be conformed to the image of his Son…
We are predestined to be His child:

Ephesians 1:5  Having predestinated us unto the adoption of children by Jesus Christ to himself, according to the good pleasure of his will
We are predestined to receive an inheritance according to His purpose and will:

Ephesians 1:11  In whom also we have obtained an inheritance, being predestinated according to the purpose of him who worketh all things after the counsel of his own will.
We are predestined to glorify God:

Ephesians 1:12  That we should be to the praise of his glory…
When we think about all that God has done for us (the Golden Chain of Salvation), it will move us to love God more.  Our love for Him will create in us a desire to surrender to His will and be used by Him.  We know that we were saved by grace alone (Ephesians 2:8-9).  But we must also remember that while we are not saved BY works, we are saved TO works:
Ephesians 2:10  For we are his workmanship, created in Christ Jesus unto good works, which God hath before ordained that we should walk in them.
Jesus promises that the good work He has begun in us, He will also complete in us and that His grace will produce our good works:
Philippians 1:6  Being confident of this very thing, that he who has begun a good work in you will perform it until the day of Jesus Christ.
2 Corinthians 9:8  And God is able to make all grace abound toward you; that ye, always having all sufficiency in all things, may abound to every good work.
In Conclusion
Predestination can be summed up with:  God knows, and because of what He knows, He predestinates, and brings things to pass and allows things to happen.  Predestination  simply means that God sets the wheels in motion to accomplish His will and bring about all things. 
Trust the past to God's mercy, 
the present to God's love, and
the future to God's providence.
– St. Augustine (354-430 AD)
<*}}}><
Jesus is the Reason this Ministry Exists
We continue to reach people worldwide with the truths of God's Word and the gospel of the Lord Jesus Christ. Your generosity is both a blessing and encouragement. Our mission is to glorify God by equipping, encouraging, and empowering YOU to understand the Bible and grow in faith. If our online resources have blessed you, please support Reasons for Hope* Jesus. Our ministry outreach has grown significantly and . . .
Please support Reasons for Hope* Jesus with a donation of $5, $10, $20, or more. A donation of any amount is needed and greatly appreciated.
CLICK TO DONATE
to Reasons for Hope*Jesus(a 501c3 Ministry)
Use a Credit Card or PayPal for safe, secure giving.
***A Hidden Message in Psalm 23?***  
Hidden in the six verses of Psalm 23 are 11 names for Jesus.
When you subscribe to our newsletter, we'll send you
The Names of God in Psalm 23 PDF
that reveals all 11 names and Scripture verses of comfort and hope (link will be sent in your confirmation email).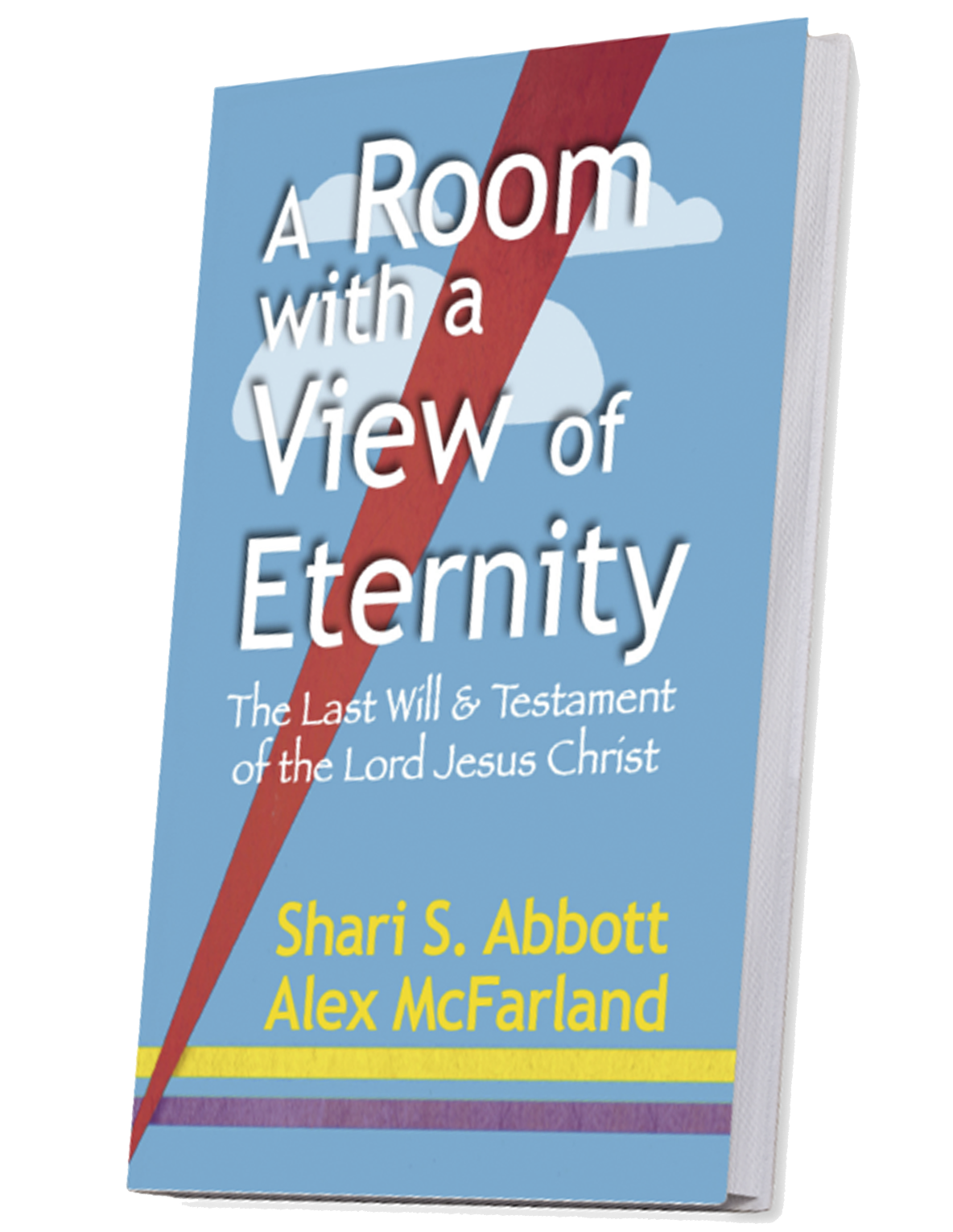 A Room with a View of Eternity—The Last Will & Testament of Jesus Christ   Take a seat at the Master's table. Learn about the riches He gives to all who are His. This book will bless and encourage you, give you hope, and help you live in the joy of your salvation and the riches of Christ that are yours.