We've already addressed the Parable of the Faithful and Unfaithful Servants found in Matthew 25. We gave reasons why a Christian will never hear, "…you wicked and lazy servant…" (Matt 25:26).  If you haven't read that article, do so now.  It will give you great peace of mind and assurance of your salvation. (Read: How should I live so I hear, "well done good and faithful servant?"  I'm afraid I'll hear "you wicked and lazy servant.")  
Now, what about the rest of Matthew chapter 25?  There's a passage about sheep and the goats that is difficult to understand.  It's about another judgment but, again, Christians need not be fearful or unsettled by Jesus' words.
The Last 15 Verses of Matthew 25
Remember that there were no chapter divisions and verse numbers in the original manuscripts.  Those came in the 13th century (chapters) and the 16th century (verses). However, even though verses 31-46 follow Jesus' parable about the faithful and unfaithful servants, this passage is not a continuation of the parable.  Therefore it must stand alone and must be read and understood as a separate teaching. 
The parable in Matthew 25 addressed individual servants and closed by speaking about a time of final judgment known as the Great White Throne Judgment. This judgment is still future.  It will take place at the end of Jesus' thousand-year reign on earth (Rev 20:11-15).  The parable ended with verse 30, but Jesus continued speaking.  Now, however, he spoke about people groups, the nations — a new teaching, about a different time.  
Jesus began with "when…" in verse 31:  "When the Son of man shall come in his glory…"  "The Son of Man [coming] in His glory" is long before the time of the Great White Throne Judgement spoken of in the parable.
Jesus Coming In His Glory
Jesus is speaking about the end of the Tribulation when He comes to reign.  He will set up His kingdom and reign for 1,000 years, just as is prophecied through the prophets and Jesus. 
Let's read this verse carefully [all bracketed information, mine].
Mat 25:31  "When the Son of Man comes in His glory, and all the holy angels with Him [after the seven years of Israel's trouble, the Tribulation], then He will sit on the throne of His glory [the Millennial Kingdom, a 1,000 year reign on earth].
The Judgment of the Nations
During Jesus' thousand year reign as King on earth, the nations will come before Him and He will judge them. This is the time that the last 15 verses of Matthew 25 refer to and what will happen in that judgment.  
The nations are represented as two groups — the sheep and the goats.  Jesus will separate them into these two groups for judgment. 
One group, the sheep nations, has demonstrated their love for Jesus by lovingly serving others. The other group, the goat nations, did not love Jesus nor did they serve others.
Mat 25:32-33  "All the nations will be gathered before Him, and He will separate them [King Jesus will judge the nations] one from another, as a shepherd divides his sheep from the goats. And He will set the sheep [the faithful nations] on His right hand, but the goats [the unfaithful servants] on the left."
The Sheep on His Right Hand
Mat 25:34-40  "Then the King will say to those on His right hand, 'Come, you blessed of My Father, inherit the kingdom prepared for you from the foundation of the world: for I was hungry and you gave Me food; I was thirsty and you gave Me drink; I was a stranger and you took Me in; I was naked and you clothed Me; I was sick and you visited Me; I was in prison and you came to Me.'  
"Then the righteous will answer Him, saying, 'Lord, when did we see You hungry and feed You, or thirsty and give You drink? When did we see You a stranger and take You in, or naked and clothe You? Or when did we see You sick, or in prison, and come to You?'
"And the King will answer and say to them, 'Assuredly, I say to you, inasmuch as you did it to one of the least of these My brethren, you did it to Me.'"
The nations that will help Israel during the seven years of tribulation will be rewarded (Jesus said:  "inasmuch as you did it to one of the least of these My brethren [the Jews]").   The only reason these nations will risk their lives to help Israel is that they love God. Their works of service demonstrate that they know Jesus as Lord, Saviour, and God. They humbled themselves and served with sacrificial love thereby fulfilling the Great Commandments of 1) Love Your God and 2) Love Your Neighbor.   They will be called the sheep nations because the Good Shepherd, Jesus, will take care of these sheep also.
The Goats on His Left Hand
The goats did not demonstrate love for others.  They did not feed, clothe, and care for those in need. By not doing for Jesus' brethren (Israel) they were not doing for or serving Jesus. This illustrates the condition of their hearts — no love for Jesus.  Those who do not love Jesus will be condemned.
Mat 25:41-46  "Then He will also say to those on the left hand, 'Depart from Me, you cursed, into the everlasting fire prepared for the devil and his angels: for I was hungry and you gave Me no food; I was thirsty and you gave Me no drink; I was a stranger and you did not take Me in, naked and you did not clothe Me, sick and in prison and you did not visit Me.' Then they also will answer Him, saying, 'Lord, when did we see You hungry or thirsty or a stranger or naked or sick or in prison, and did not minister to You?'"
"Then He will answer them, saying, 'Assuredly, I say to you, inasmuch as you did not do it to one of the least of these [Jesus' brethren], you did not do it to Me.'
"And these will go away into everlasting punishment, but the righteous into eternal life."
These are the goats.  They can be likened, typologically, to the scapegoat, upon whom all sins were placed and it was sent out into the wilderness never to be seen again.  These uncaring, unloving nations will be judged and found wanting.  They "will go away into everlasting punishment."
Rightly Divided and Rightly Understood
Paul wrote, "Study to show thyself approved unto God, a workman who need not be ashamed, rightly dividing the word of truth" (2 Tim 2:15).  Rightly dividing means to read the words of the Bible in the historical context, understanding about the time in which the original hearers received these words, how they were interpreted then, and how we should understand them now. 
Before the cross, the Old Covenant existed between God and man.  It was a covenant that God made with the Jews. We are not under that covenant.  God gave a New Covenant, through His Son Jesus.  We are part of that covenant, and it is a covenant entered into by God's grace alone, through faith in Jesus.  The New Covenant replaced the Old Covenant (fully in 70AD) and it is an Everlasting Covenant.  
Heb 8:13  In that He says, "A new covenant," He has made the first obsolete. Now what is becoming obsolete and growing old is ready to vanish away.
Those who are Christians, those who belong to Jesus, need never fear God's judgment.  Our sins were judged on the cross of Christ.  Jesus took them upon Himself and paid for them, making atonement to God so He could justly forgive all our sins.  When we repented and trusted in Jesus all our sins were washed away (Rev 1:5).  We are secure (Read: What is eternal security/assurance of salvation?). 
Matthew 25 is not about any Christian.  By applying right division, we know that this chapter is about a time in the future. It is about the time when God will judge Israel and the nations, with the intent of drawing people to Himself before Jesus returns for His millennial reign. (Read about the Seventieth Week of Daniel/the Tribulation here)
Our Instruction from Matthew 25
While we are instructed by Paul to rightly divide the Scriptures to understand context and to know to whom and when the words apply, we can still learn from all passages of Scripture.  So what can we learn and apply from Matthew 25?  
We belong to Jesus.

 

We love Jesus.

 

We should do as He commanded us to do, which is to show our love for Him by loving and serving others.

 
Heb 13:20-21  Now the God of peace, that brought again from the dead our Lord Jesus, that great shepherd of the sheep, through the blood of the everlasting covenant,  Make you perfect in every good work to do his will, working in you that which is well-pleasing in his sight, through Jesus Christ; to whom be glory for ever and ever. Amen.
Jesus is the Reason this Ministry Exists
We continue to reach people worldwide with the truths of God's Word and the gospel of the Lord Jesus Christ. Your generosity is both a blessing and encouragement. Our mission is to glorify God by equipping, encouraging, and empowering YOU to understand the Bible and grow in faith. If our online resources have blessed you, please support Reasons for Hope* Jesus. Our ministry outreach has grown significantly and . . .
Please support Reasons for Hope* Jesus with a donation of $5, $10, $20, or more. A donation of any amount is needed and greatly appreciated.
CLICK TO DONATE
to Reasons for Hope*Jesus(a 501c3 Ministry)
Use a Credit Card or PayPal for safe, secure giving.
***A Hidden Message in Psalm 23?***  
Hidden in the six verses of Psalm 23 are 11 names for Jesus.
When you subscribe to our newsletter, we'll send you
The Names of God in Psalm 23 PDF
that reveals all 11 names and Scripture verses of comfort and hope (link will be sent in your confirmation email).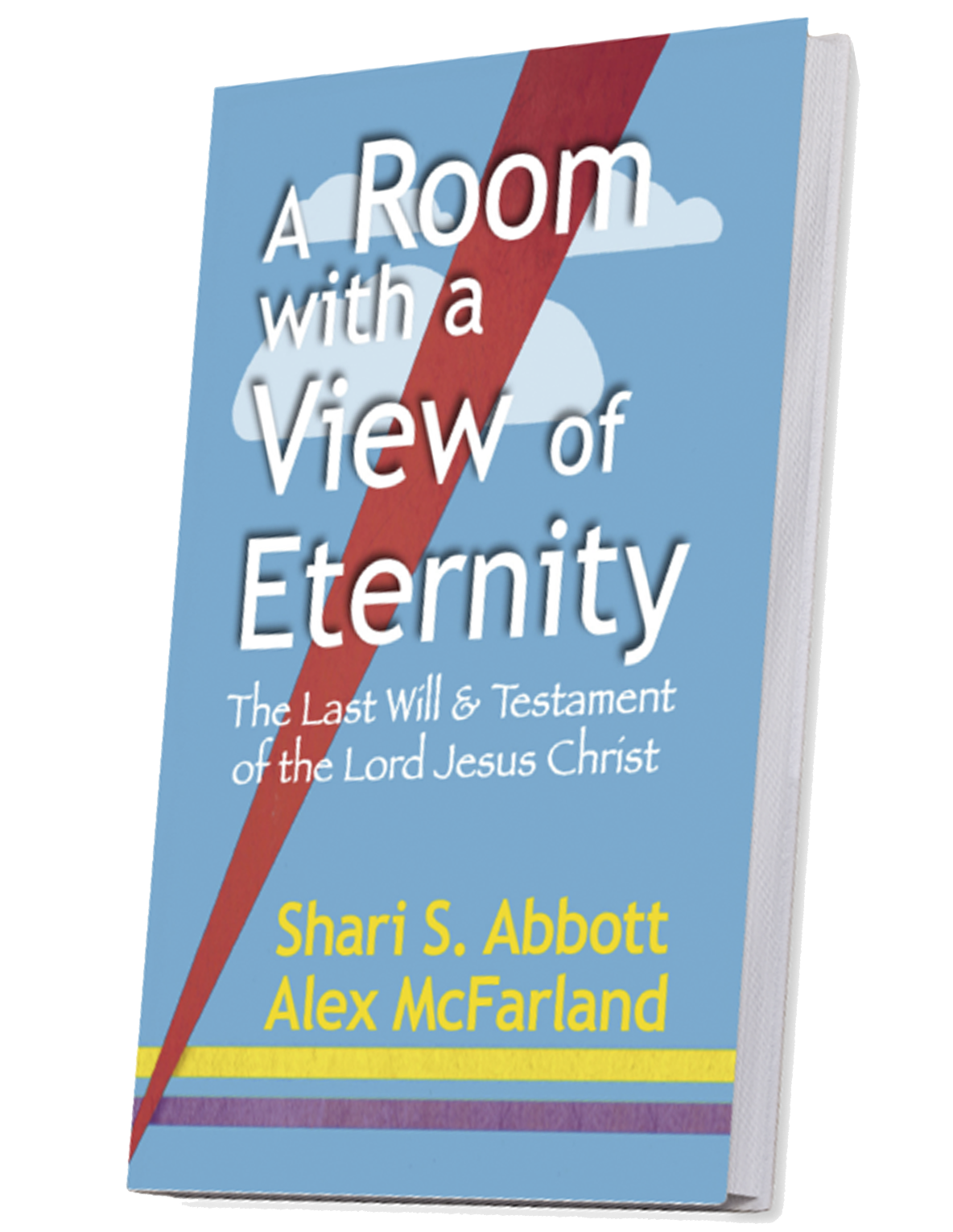 A Room with a View of Eternity—The Last Will & Testament of Jesus Christ   Take a seat at the Master's table. Learn about the riches He gives to all who are His. This book will bless and encourage you, give you hope, and help you live in the joy of your salvation and the riches of Christ that are yours.