"There will be no more night. They will not need the light of a lamp or the light of the sun, for the Lord God will give them light. And they will reign for ever and ever!" Revelation 22:5
This vision of Heaven, how wondrous it is! What a contrast to this poor earth of ours. Streets of gold, and seas of glass, and pearly gates, and rivers and trees of life—in exchange for this vile dust and dross, and worthless ugliness, and for these fruits of pain and death!A realm of splendid light, without a sun!
A world, without a sea!

Bodies, without pain!

Faces, with no tears and no furrows of grief!

Hearts ,without sighs!

Duration, without mutation and reverse!

Life, without age or decay!

No death! Creatures, but no death!

Day, bright, blazing, gorgeous day—but no night!
If one did not know it was Heaven, and had not accustomed himself to count that name a synonym for bliss, I know not whether the prospect would cause us more pleasure than pain.
No Temple
Some devoted lover of the earthly sanctuary say, "alas, then, I shall lose my chief joy; my Heaven will lack the counterpart of my highest earthly delight."
No Sleep
And who of us who knows anything of life, anything of its work and its sorrows, its weariness and woe, who has ever cast himself down on his couch without even strength to pray, saying only, "Blessed night, sweet sleep," and has risen in the morning a strong recruited man, with his muscles quivering with that gathered force, and his heart brimful of ardor and of hope? 
Who that has ever buried himself in sleep from the gnawings of remorse, and the bitter risings of disappointed endeavor, but awaked to hope for pardon and to begin anew? 
Who of these is not prepared to shudder at the prospect of a life of endless day? No night! No night! No sleep! No break of the momentum of thought and feeling. No sweet hush for the panting, sobbing heart. No grand lullaby of deep silence for the fretted soul. No withdrawal from even the publicity of home, and retirement into the innermost sanctuary of self, to meditate, and worship, and pray, "when none but God is near."
And yet this is Heaven. The Lord God Almighty and the Lamb are there. It is the rest which remains for the people of God. It must be blessed.
No Night
We must, then, turn our thoughts into some other channel, if we would know the blessedness and see the brightness of this picture: "There shall be no night there."
Let us, in the first place, take it as literal truth, and see what anticipations of joy can be deduced from the truth that there shall be no night in Heaven.It will appear obvious to you at once, that for this condition of life to be a blessing, some very great change must take place in us.
A New Body
This points at the grander capacity of that new body we shall receive, when, having been divested of this mortality, we shall put on immortality, and be clothed upon with our house that is from Heaven; when we shall enter into that spiritual body which Paul assures us there is, as well as the natural body of whose existence we know.
Infirmity is the condition of this body. But there is no infirmity in Heaven. Completely emancipated from sin by the purification of death—we shall have none but right desires, aims, ambitions—and our powers shall be equal to them all. 
Occupation in Heaven
There shall be occupation in Heaven. It shall be splendid, glorious work! But nothing to make us shrink from it, as now; or look back at it with a sigh or a curse, as a thing which has drained us of pleasure and of strength. 
In Heaven our work shall never weary us. Our task will involve no pain. Our worship shall never exhaust us. We shall desist and change, no doubt. Our life shall have its infinite variety. But the change shall be all the more delightful, that it is not needful as a sort of rest. But each one of us will know his place and keep it. 
No Night in Heaven!
I have spoken of night and sleep as the break to life's momentum. There shall be no need of that in Heaven. Its life shall be perfectly balanced and adjusted; it shall be right and true. 
There shall be no night there.  I drop now the literal sense of these words, and carry your thoughts on to that which I believe to be equally couched in them, namely, the symbolical and poetic sense.
The Chief Characteristic of Night?
Darkness makes the night. It is the thought which we find inseparable from night. In this sense, then, there shall be no night there! 
We see only as through a glass darkly; we walk as by star-light. The truth we see, we view but dimly and with much straining of the eyes of the mind. We see only a few of the most prominent peaks of distant truth, but not the whole region in its grand grouping, and its glorious native hues.
And what tremendous mysteries there are still, what huge regions enveloped in perpetual cloud! Of God how little we know! We see His footsteps now and then, and watch the shadow of His hand—but in Heaven we shall see His face!
Of Providence, how little we know! We look on things, as a path that is in the sea. As a little foolish child cannot understand the wise and kind method of his parent, so do we misunderstand and misjudge our Father who is in Heaven.
There, We Shall…
look on the map of our windings in the wilderness, and see how blessed the track that the pillar of fire and cloud have been leading us.

see some of the long links that hold together separate things.

understand some of the balances of God, the very beam and pointer.

see the grand breadth and length of those purposes whose tardy fulfillment so often shakes the very foundations of our faith.
The darkened glass shall be removed, and things shall appear to us, undazzled, in their proper glory.
The great veil of the Holiest shall be rent at death. A stronger light shall stream upon the universe, and show us all that we have been groping to find. We shall ask and have no ambiguous oracle's reply, no speculator's perhaps, no vague haphazard guess of our own ignorance; but the key shall be given us and we shall search to find. There shall be no night there.
No Weeping
Finally, there is another thing for which night stands as a symbol, and which gives us a crowning conception of the bliss of Heaven:
 "Weeping may endure for a night, but joy comes in the morning." 
There is the night of weeping; the darkness of sorrow; the midnight of despair; the clouds of trouble; the gloomy abysses of doubt and anguish; the days of darkness and adversity.
Joy is sunshine—sorrow is shadow. There shall then be no night of the soul in Heaven. The darknes is lonely; the time of fear and helplessness; the hour of chill and cold. It hangs like a funeral pall upon the lovely world, and shuts out all that is cheerful, mirthful, bright to our souls.
The sense of loneliness which has here at times seemed to press in the heart at all sides as if to crush it shall be known no more. The companionship of the blessed, the fellowship of God, shall be ours for evermore.
In Heaven, No More..
Thick darkness of the dire consciousness of sin, and doubt of Divine mercy.

Dreadful gloom of bitter sorrow and disappointment.

Faithless friends to desert or deceive us.

Sandy foundations to crumble and fall.

Pestilence or hail.

Sharp cries of pain.
The soul shall not sit in darkness and refuse to be comforted; nor walk in darkness as through a valley of the shadow of death. There shall be no night there!  
Until Then…
A few more nights shall fold us in their sweet embrace, and then farewell to night and to weariness, darkness, and woe.

A few more tears shall scald our furrowed cheeks, and then joy, joy forever!

A few more sighs shall swell our oft-swollen hearts, and then eternal peace!

A few more steps and then we will be Home!
George William Conder (1821-1874) was a congregational pastor in Leeds, England. He wrote very few hymns. He wrote a hymn that showed the glory of God and His greatness is "All Things Praise Thee."  (article abridged and edited from a longer sermon)
"All Things Praise Thee"
All things praise Thee, Lord most high,
Heav'n and earth and sea and sky,
All were for Thy glory made,
That Thy greatness thus displayed
Should all worship bring to Thee;
All things praise Thee—Lord, may we!
All things praise Thee—night to night
Sings in silent hymns of light;
All things praise Thee—day to day
Chants Thy power in burning ray;
Time and space are praising Thee,
All things praise Thee—Lord, may we!
All things praise Thee—high and low,
Rain and dew and sparkling snow,
Crimson sunset, fleecy cloud,
Rippling stream, and tempest loud;
Summer, winter, all to Thee
Glory render—Lord, may we!
All things praise Thee—Heav'n's high shrine
Rings with melody divine;
Lowly bending at Thy feet,
Seraph and archangel meet;
This their highest bliss, to be
Ever praising—Lord, may we!
All things praise Thee—gracious Lord,
Great Creator, powerful Word,
Omnipresent Spirit, now
At Thy feet we humbly bow;
Lift our hearts in praise to Thee;
All things praise Thee—Lord, may we!

Words of Wisdom from the Cloud of Witnesses:  
"Cloud of Witnesses" refers to those in Heaven who have run their races and are now with the Lord. Their words of wisdom are filled with faith, hope, love, and joy that warm our souls. Their words present the eternal truths of God that grow us and give us joy. And their words strengthen our souls, equip our minds, encourage our hearts, and empower us to stand firm in our faith and be motivated, ready, and willing to share the hope we have in Jesus.
Therefore,
since we are surrounded by so great a

cloud of witnesses

, let us lay aside every weight and the sin which so easily ensnares us, and let us run with endurance the race that is set before us, looking unto Jesus, the Author and Finisher of our faith...(Hebrews 12:1-2) 
Jesus is the Reason this Ministry Exists
We continue to reach people worldwide with the truths of God's Word and the gospel of the Lord Jesus Christ. Your generosity is both a blessing and encouragement. Our mission is to glorify God by equipping, encouraging, and empowering YOU to understand the Bible and grow in faith. If our online resources have blessed you, please support Reasons for Hope* Jesus. Our ministry outreach has grown significantly and . . .
Please support Reasons for Hope* Jesus with a donation of $5, $10, $20, or more. A donation of any amount is needed and greatly appreciated.
CLICK TO DONATE
to Reasons for Hope*Jesus(a 501c3 Ministry)
Use a Credit Card or PayPal for safe, secure giving.
***A Hidden Message in Psalm 23?***  
Hidden in the six verses of Psalm 23 are 11 names for Jesus.
When you subscribe to our newsletter, we'll send you
The Names of God in Psalm 23 PDF
that reveals all 11 names and Scripture verses of comfort and hope (link will be sent in your confirmation email).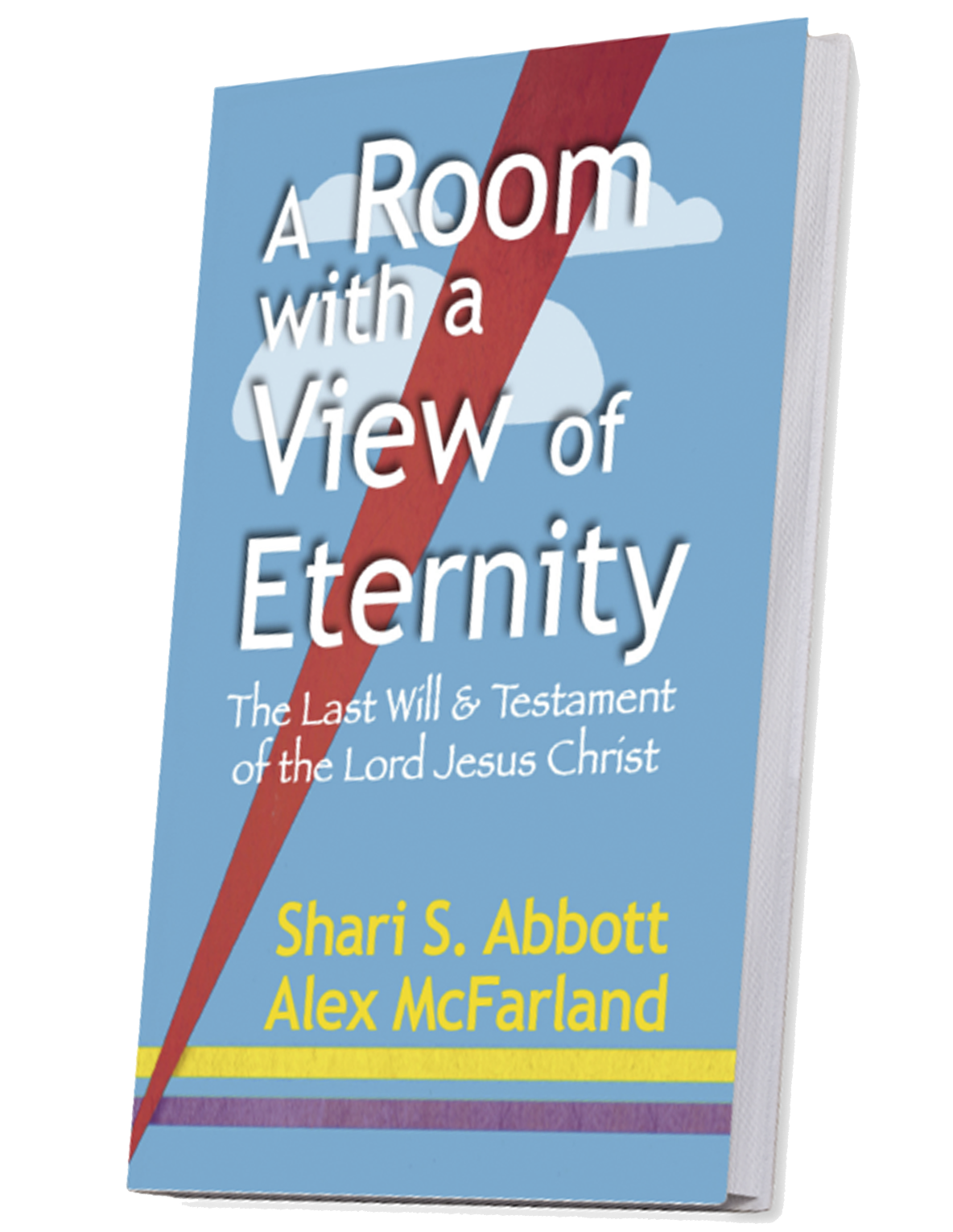 A Room with a View of Eternity—The Last Will & Testament of Jesus Christ   Take a seat at the Master's table. Learn about the riches He gives to all who are His. This book will bless and encourage you, give you hope, and help you live in the joy of your salvation and the riches of Christ that are yours.