Last week we addressed a reader's question about whether the sins of impure thoughts could condemn a Christian and keep them from entering Heaven. (Read:  Will impure thoughts condemn me?)
The answer in God's word is clear and concise.  There is no sin that can condemn one who has been saved by Jesus (Romans 8:1).  That includes sinful thoughts. We are eternally secure in His grace.  Jesus lived the life we could not live and He died the death that we should die. 
By His work on the cross our sins are forgiven.

By His gift of imputed righteousness we are made worthy to enter into Heaven.

And by His love and power we are kept secure forever.
Know these truths.  Hold them captive in your mind and hide them in your heart.  No sin you commit will condemn you.  You will never be separated from the love of Jesus. (Romans 8:38-39)
Now let's address the second question about ongoing sin in a Christian's life.  Specifically let's address the sins of impurity in one's thought life. While ongoing sins will not separate us from our union with Jesus, they will harm our communion with Him.
How do I fight impure thoughts?
The principle is really quite simple, but the practice is not.  In order to overcome impure thoughts, we must take control of our minds.  
[Please be certain to read to the end of this article and read the postscript.  It's a response I received from a reader, who brings another consideration to this battle…and it's important.]
Take control of your mind?  Not so easy, you say?  Your mind seems to have a "life" of its own?  Let's begin by remembering that the Spirit who dwells in us is more powerful than anything or anyone….and that includes us.
1 John 4:4  …He who is in you is greater than he who is in the world.
"Our lives move in the direction of our most
dominant
thoughts."  
I'm quite fond of that saying. I even wrote about in my first book. I it should be committed to memory as a reminder of the power of our thoughts and it should be called to mind often as a significant principle to motivate making wise choices in our thought lives.
Simply restated it says, what we think will determine what we do. The mind has great power.  The question is, who (or what) controls that power?  The Bible addresses this in great detail.
Proverbs 23:7 clearly tells of the necessity to take control of our thoughts:.  For as [a man] thinks in his heart, so is he…  This verse tells us that thinking is a heart issue.  And Provers 4:23 tells us why heart health is of utmost importance:  Keep thy heart with all diligence; for out of it are the issues of life. 
It is both our thinking and our hearts that directs our lives.  Both must be healthy to live God-honoring lives. And, in Matthew 5:27-28, Jesus said that impure thoughts are sins. So it is very important to take measures to direct how we think.
How do we control the mind? 
I suggest that control of the mind is achieved by six methods of directed thinking (CCFGGR).  These produce a healthy heart with dependance on God, confidence in Jesus and the power of the Holy Spirit.  This might not seem simple, but it is do-able. And it is worth it.  
Crucified Thinking
Begin by "killing" the impure thoughts and replacing them with pure thoughts, God-honoring thoughts.  The old saying, "garbage in, garbage out" is accurate.  "Cleanness in, cleanness out" should be our goal. "Take out the garbage" by crucifying the thought.  Intentionally turn your mind from impure thoughts to those that edify and build up.
Colossians 3:5  Therefore put to death [crucify] your members [including an impure mind] which are on the earth: fornication, uncleanness, passion, evil desire, and covetousness, which is idolatry.
Captive Thinking
Paul tells us to bring "into captivity every thought to the obedience of Christ" (2 Corinthians 10:5).  When sinful and impure thoughts enter our minds, quickly "crucify" them and turn from the sin.  Then take your thoughts captive for Christ  with God-honoring thoughts. An example is the impure thought of lust.  Replace it quickly with a thought of "I wonder how God uses that person."  Remember that God desires to use all of us for His service.  Think about how He is using you and direct your mind in obedience to Him.
Colossians 3:2  Set your mind on things above, not on things on the earth.
Focused Thinking
The apostle Paul tells us that we must evaluate what we think about. In Philippians he suggests nine things, on which we should focus our thoughts.
Philippians 4:8-9  Finally, brethren, whatsoever things are true, whatsoever things are honest, whatsoever things are just, whatsoever things are pure, whatsoever things are lovely, whatsoever things are of good report; if there be any virtue, and if there be any praise, think on these things. Those things, which ye have both learned, and received, and heard, and seen in me, do: and the God of peace shall be with you.
Guided Thinking
Remember that we are not alone in this.  The Power of Christ dwells in us.  Our Helper is the Holy Spirit and it is His job to teach and guide us and to testify of Jesus (John 16:13-14).  He's perfect in His work and extraordinarily good at changing us when we surrender to the help He offers.  The Holy Spirit is the Power of the Resurrection and He is the Power of Transformation.  Call upon Him in faith. Believe that He is indwelling you, that He is always willing to help in guiding your thoughts, and that He is powerful to do so.
Isaiah 26:3  You will keep him in perfect peace, Whose mind is stayed on You, Because he trusts in You.
Guarded Thinking
We are the gate-keepers of our thoughts.  Be alert and be wise, always remembering that thoughts direct our words and actions.  Be ready to shut the "gate" to protect your mind and your heart.  "Keep your heart with all diligence…" (Proverbs 4:23). Every word we speak, and every act we do, reflects not only who we are, but also whose we are.  It should always be our earnest desire to reflect Jesus, and to show His love and share His grace.
Renewed Thinking
In Romans Paul tells of the importance making choices in our thought lives.  All should commit this verse to memory and call it to mind often:
Romans 12:2a  And be not conformed to this world: but be transformed by the renewing of your mind…
Spend time in God's Word every day and commit God's words to memory (take them captive in your mind).  Meditate upon the Lord's principles and precepts.  Come to know Him better and your mind will be renewed and you will be more and more conformed to the image of Jesus and then able to "…prove what is that good and acceptable and perfect will of God." (Romans 12:2b)
Remember, this is a process.  You are being "conformed to the image of His Son" (Romans 8:29).  And, you are "being conformed to His death" (Philippians 3:10).  You might ask, what is meant by "His death?"  It's simple.  It's the glory that was His when He rose from the grave and ascended to Heaven.  That's what we are being conformed to.  Yes, our bodies will experience death.  But it is the full and glorious transformation of being sinless, conformed to the image of Jesus, that awaits us.  That's our glorification (Read: What you need to know about Sanctification & Glorification).  Glorification was the "joy that was set before [Jesus]" on the cross (Hebrews 12:2).  And it is the joy that is set before us as we journey through life.
Dependence, Confidence and Power
With dependance on God, confidence in Jesus and the power of the Holy Spirit, learn to quickly and effectively take captive pure thoughts.  That really is the only answer to fighting impure thoughts.  Replace them with the God-thoughts (Philippians 4:8-9) that will establish your heart in Jesus, control your mind for Him and direct your life in His will and ways.  Always remember and believe that you are not alone. God will help you.
No temptation has overtaken you except such as is common to man; but God is faithful [depend on Him]l, who will not allow you to be tempted beyond what you are able [have confidence in His love for you], but with the temptation will also make the way of escape, that you may be able to bear it [find power in His Spirit who will help you overcome]. (1 Cor 10:13)
In Conclusion:
Yes, it does take time.  And yes, it's not always easy.  But it can be done and it is worth it.  By directing your life with dominant thoughts of Jesus, and precepts and principles from His Word, you will receive the rest He has promised you:
Matthew 11:28  "Come to Me, all you who labor and are heavy laden, and I will give you rest."
When you receive His rest you also receive the peace of God that will keep you heart and mind and direct your life: 
"..the peace of God, which passes all understanding, shall keep [our] hearts and minds through Christ Jesus." (Philippians 4:7)
With dependance on God, confidence in Jesus and the power of the Holy Spirit, live your life rejoicing in your salvation and moving in the direction of your glorification.  It's not about doing better.  It's really all about believing better and trusting that the Holy Spirit will help you.  
…we are more than conquerors through him who loved us. (Romans 8:37)
<*}}}><
Postscript to Article
While it is absolutely true that God is with us and always willing to help us conquer impure thoughts, a reader brought to my attention that some might need additional help.  I share his email with you for your consideration:
I read the article titled, Will impure thoughts condemn me? How can I fight them?  The description of how or when thoughts come is very similar to my story.  I had cursing and impure thoughts coming into my head on an hour-by-hour, and even minute-by-minute, basis since 1993.  I fought with all the spiritual weapons I could muster: prayer, fasting, Bible study and memory, spiritual "routines," confession, etc.  It really didn't matter what I did, I could not get rid of the thoughts.  Last September (2015), I was diagnosed with Obsessive Compulsive Disorder.  I'm not saying that this person has OCD, just that the short description of "thoughts popping into your head at all times" is called "intrusive thoughts" and that is a hallmark of OCD.  Most people can just dismiss it or re-focus, but there are some who cannot because of a brain mis-fire.  The worst thing those people can do is try to fight it.  The more they fight it, the bigger it gets!
Final Thoughts
If a Christian is unable to overcome impure thoughts after diligently trying to re-direct their thinking, devote their hearts to Jesus, and surrender their will to the power of the Holy Spirit, then it would be advisable for them to seek professional medical advice and counseling.  I thank the reader who was so kind to send these comments and add further understanding about the battle against impure thoughts.
Just as we seek the help of spiritual advisors (pastors, counselors, brothers and sisters in Christ), professional medical and psychiatric advice can also be of great benefit.  Whatever one does, seek God first.  Believe and trust that He will help.  And know that sometimes He does that by opening doors for professional medical help.
<*}}}><
Jesus is the Reason this Ministry Exists
We continue to reach people worldwide with the truths of God's Word and the gospel of the Lord Jesus Christ. Your generosity is both a blessing and encouragement. Our mission is to glorify God by equipping, encouraging, and empowering YOU to understand the Bible and grow in faith. If our online resources have blessed you, please support Reasons for Hope* Jesus. Our ministry outreach has grown significantly and . . .
Please support Reasons for Hope* Jesus with a donation of $5, $10, $20, or more. A donation of any amount is needed and greatly appreciated.
CLICK TO DONATE
to Reasons for Hope*Jesus(a 501c3 Ministry)
Use a Credit Card or PayPal for safe, secure giving.
***A Hidden Message in Psalm 23?***  
Hidden in the six verses of Psalm 23 are 11 names for Jesus.
When you subscribe to our newsletter, we'll send you
The Names of God in Psalm 23 PDF
that reveals all 11 names and Scripture verses of comfort and hope (link will be sent in your confirmation email).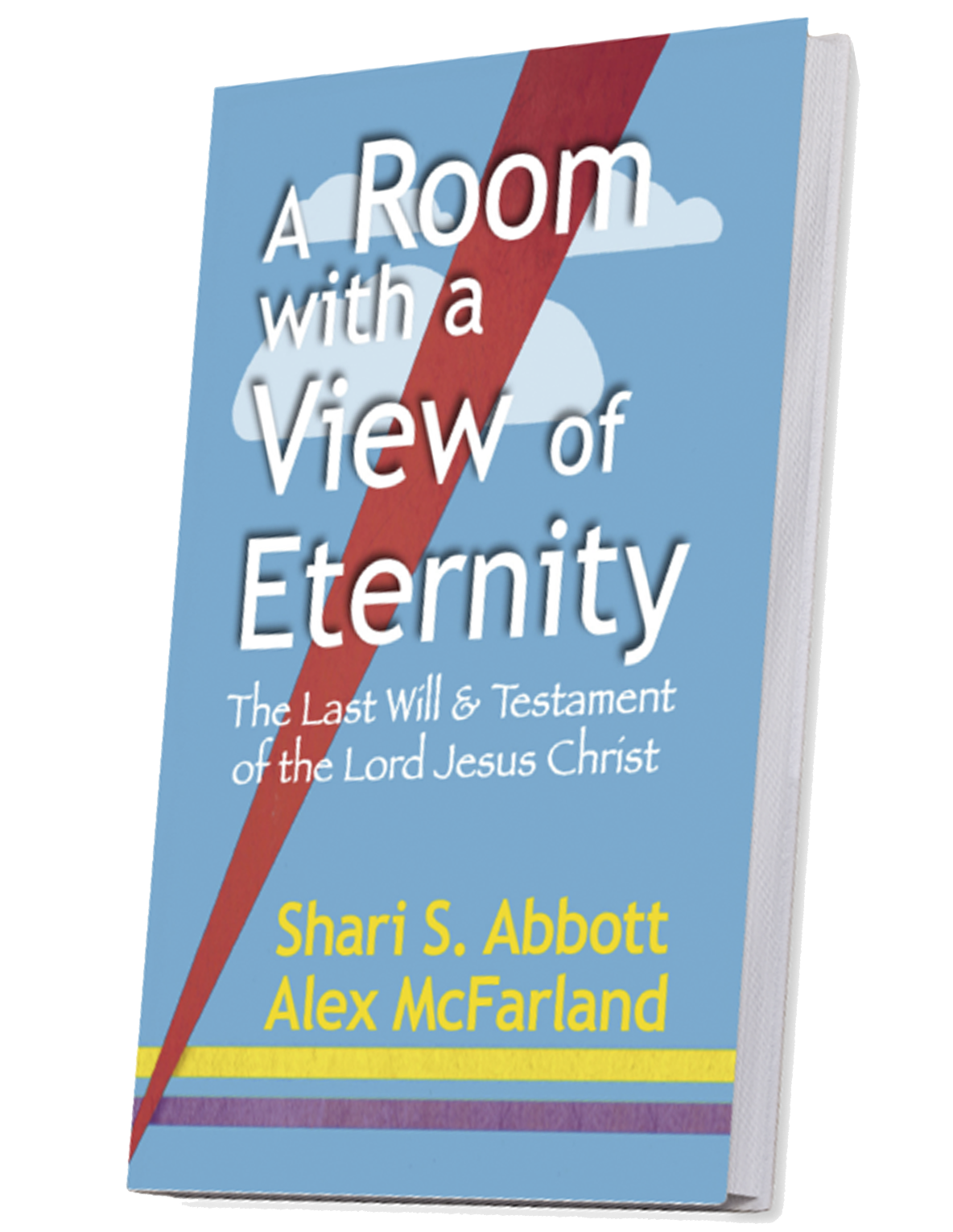 A Room with a View of Eternity—The Last Will & Testament of Jesus Christ   Take a seat at the Master's table. Learn about the riches He gives to all who are His. This book will bless and encourage you, give you hope, and help you live in the joy of your salvation and the riches of Christ that are yours.
Summaries of Warren Wiersbe's list of 77 questions abridged from
Fbcgodfrey.org.