On August 8, 2022, Olivia Newton-John lost her 30-year battle with cancer.  Everyone loves "Sandy" from Grease — a role that propelled Olivia Newton-John into mega-star status worldwide.
Although the movie depicts a time of increasing hedonism and declining morals in our country, it also conveys important messages about growing up and maturing, caring about others, overcoming self-centered desires, and maintaining friendships.  The movie was memorable, the songs were fun, and the actors were great.  Even most young people of today have seen the movie and know the songs and the stars!
So when I heard of Olivia Newton-John's death, I wondered if she had ever said anything that might suggest she knew Jesus.   I went online looking for information, and this is what I found:
When facing a possible miscarriage in 1986, she asked God to save her unborn daughter. She promised that, in return, she would pray the Lord's Prayer every night.  Her daughter was born safely.  And she kept her promise and continued to pray the Lord's Prayer every night.
But is that proof that she belonged to Jesus?  Sadly, what I found in a February 2021 interview suggests it is not.
"What I feel about it is extremely personal, so I find it hard to put into words. I believe that we are all part of one thing. I've had experiences with — how can I put it? — spirits or spirit life or felt the spirit world or have heard things that I believe there is something that happens. It's almost like we are parts of a big computer, and we go back to the main battery. I don't have a definite definition of what it is. Some people call it 'heaven.' Some call it 'the universe.' I just think there is a great knowingness out there that we become part of."
We can only hope that Olivia Newton-John came to know the Lord. Perhaps in the 18 months since that interview, someone shared the gospel with her.  Or perhaps at the time of death, the Lord called to her, and she responded from a knowledge that someone had once shared with her.  
We can't know for certain where she went at death. Only God knows that.
We Know Where We Are Going
For those who belong to Jesus, we are going to Heaven. It's a promise, and it's guaranteed by our Lord and Saviour, Jesus Christ.  So where is Heaven, and what will it be like? And who will be there?
What Does the Bible Say About Heaven?
Jesus, Paul, and John all provide us with information about where the soul goes after death, i.e. the abode of the dead.  However, it must be noted that Jesus gave a different perspective.  Why?  Because while Jesus was on earth, the abode of the dead was different.
Abraham's Bosom
Before Jesus came, the abode of the dead was in the earth.  The earth held two places for souls that departed from the body at death.  
Abraham's Bosom — a resting place of comfort for those who died with faith in the God they knew. They knew Jehovah, the God of Abraham, Isaac, and Jacob.

The place of torment — a holding place for those who died without faith.
Jesus clearly told the Pharisees of two places, as recorded in Luke 16.  He told of dearly departed Lazarus in Abraham's Bosom and the rich man in the place of torment.  Many have labeled Jesus' discourse in Luke 16:19-31 as a parable. They consider Jesus was not speaking of real places. However, no other parable attributes a proper name to a person. And furthermore, Jesus' words to the Pharisees reveal a necessary teaching that explains where Jesus went when He died.  He didn't go to Heaven, He went to the "heart of the earth" (Matt 12:40).
Abraham's Bosom Was Not Heaven
Abraham's Bosom was a place of comfort and waiting.  Before the cross, the sins of Old Testament saints were remitted by the Levitical system of atonement using the blood of animals. But animal blood was never sufficient to atone for human sins. Therefore, before the cross, those who died in faith could not, and did not, go to Heaven.  They waited in Abraham's Bosom. (For more information, read Where did OT saints go at death? Abraham's Bosom? Where was it?)
When Jesus offered Himself on the cross in payment for the penalty of man's sins, His shed was blood, and He made complete and final the atonement for the sins of mankind. In doing so, He opened the way to Heaven — the third heaven — the dwelling place of God. 
Paul tells us that when Jesus ascended into Heaven, 40 days after His resurrection, He led the Old Testament saints, who had died in faith (Heb 11:13), from Abraham's Bosom to their new dwelling place with Him in Heaven(Ephesians 4:8). 
Paul also gives us a glimpse of what he experienced when he was taken to the third heaven (2 Cor 12:2-4). (Read: Three Heavens? Where is the Third Heaven?)
From Paul, we can understand where Heaven is, but it is the apostle John who has given us the best "glimpse" into what Heaven is.  
The Best Description of Heaven
In the book of Revelation is John's record of the magnificence and beauty of the throne room in the heavenly realm.  John was called up to the Third Heaven:
Revelation 4:1
After these things I looked, and behold, a door standing open in heaven. And the first voice which I heard was like a trumpet speaking with me, saying, "Come up here, and I will show you things which must take place after this."
John gives us a record of what he saw.  He wrote of seeing Christ in all His glory, hearing the praises of the heavenly host, and experiencing the joy of the redeemed as they worship the One who is worthy of all glory, honor, and power.
Revelation 4:2-11
 Immediately I was in the Spirit; and behold, a throne set in heaven, and One sat on the throne. And He who sat there was like a jasper and a sardius stone in appearance; and there was a rainbow around the throne, in appearance like an emerald. 
Around the throne were twenty-four thrones, and on the thrones I saw twenty-four elders sitting, clothed in white robes; and they had crowns of gold on their heads.  And from the throne proceeded lightnings, thunderings, and voices. 
Seven lamps of fire were burning before the throne, which are the seven Spirits of God.  Before the throne there was a sea of glass, like crystal. And in the midst of the throne, and around the throne, were four living creatures full of eyes in front and in back.  The first living creature was like a lion, the second living creature like a calf, the third living creature had a face like a man, and the fourth living creature was like a flying eagle. The four living creatures, each having six wings, were full of eyes around and within. And they do not rest day or night, saying:  
"Holy, holy, holy, Lord God Almighty, Who was and is and is to come!"
Whenever the living creatures give glory and honor and thanks to Him who sits on the throne, who lives forever and ever, the twenty-four elders fall down before Him who sits on the throne and worship Him who lives forever and ever, and cast their crowns before the throne, saying: 
"You are worthy, O Lord, To receive glory and honor and power; For You created all things, And by Your will they exist and were created."
Conclusion
We can only know what Heaven is like from the few descriptions in the Bible, because Scripture alone is our authority.  Heaven is a real place, and it abounds with people of all nations and all races who trusted in the one true God, the Creator of all things and the Redeemer of mankind. (Read also: What did Jesus say about Heaven?)
Paul wrote that what he saw was "unlawful to be uttered." Perhaps he was forbidden to tell us more about Heaven because if he had, we would not want to remain here on earth.  And yet, while this earth cannot compare with the glory of Heaven, it is still our home — and there's work to be done here.  
Until the day when we go to be with the Lord, or until He comes for His Bride, we are to stay focused on our mission of preaching the gospel.  We want everyone to be certain of their eternal destiny.  And if they hear of God's gift of eternal life in Jesus and respond in faith, Heaven can be theirs.  Tell everybody about Heaven and Jesus' saving grace.
Open a conversation about the stars in Heaven, then tell about the Morning Star, Jesus, who shines brighter than all.

 

(

Rev 2:28

,

22:16

)
When you speak of how high Heaven is, tell about our High Priest, Jesus, and His saving grace. (

Hebrews 3:1

,

4:14

,

6:20)

And when telling of Heaven as a place of comfort, proclaim the eternal rest and everlasting life that can only be found in the Lord Jesus Christ. (Mat 11:28, John 3:16).
<*}}}><
Jesus is the Reason this Ministry Exists
We continue to reach people worldwide with the truths of God's Word and the gospel of the Lord Jesus Christ. Your generosity is both a blessing and encouragement. Our mission is to glorify God by equipping, encouraging, and empowering YOU to understand the Bible and grow in faith. If our online resources have blessed you, please support Reasons for Hope* Jesus. Our ministry outreach has grown significantly and . . .
Please support Reasons for Hope* Jesus with a donation of $5, $10, $20, or more. A donation of any amount is needed and greatly appreciated.
CLICK TO DONATE
to Reasons for Hope*Jesus(a 501c3 Ministry)
Use a Credit Card or PayPal for safe, secure giving.
***A Hidden Message in Psalm 23?***  
Hidden in the six verses of Psalm 23 are 11 names for Jesus.
When you subscribe to our newsletter, we'll send you
The Names of God in Psalm 23 PDF
that reveals all 11 names and Scripture verses of comfort and hope (link will be sent in your confirmation email).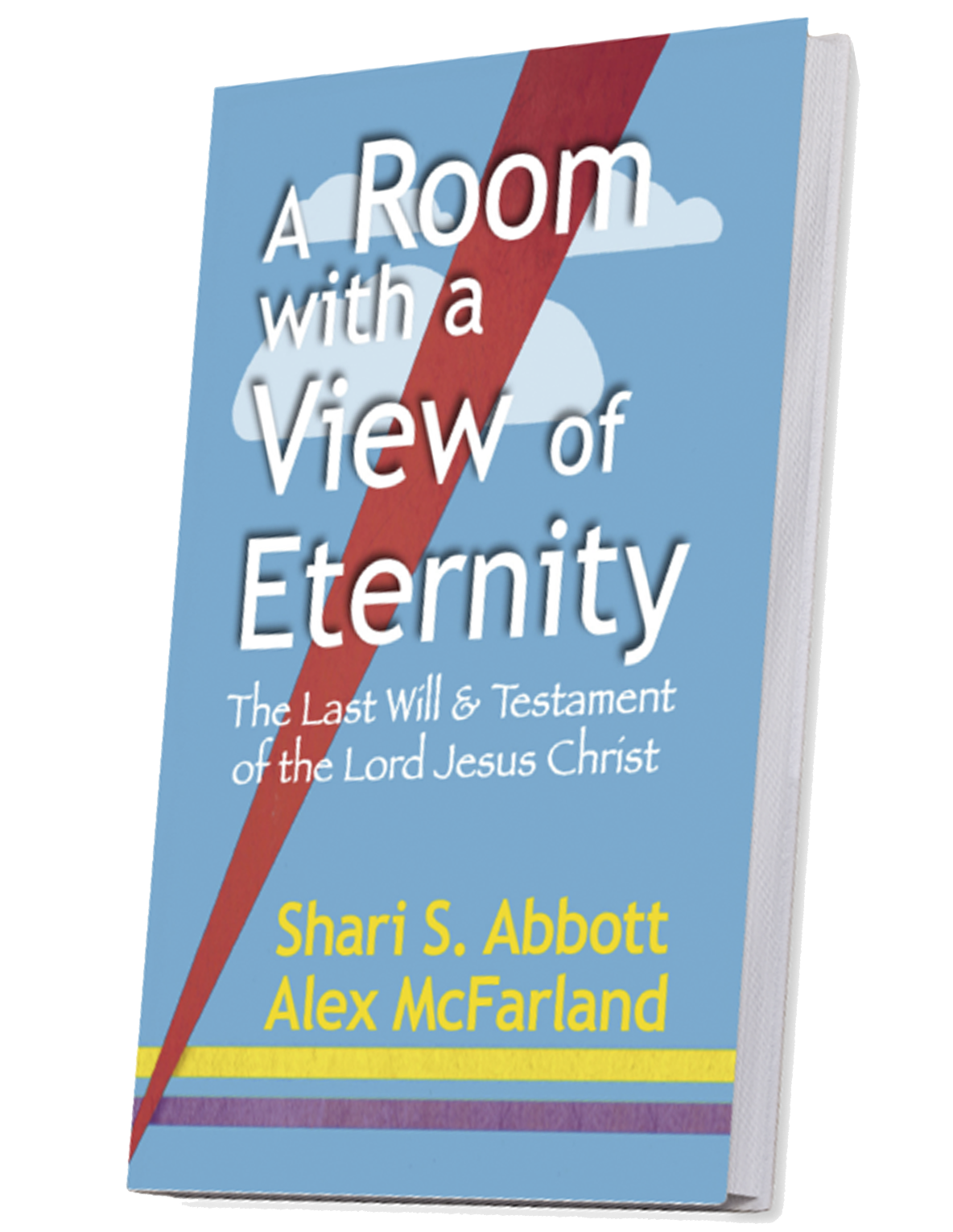 A Room with a View of Eternity—The Last Will & Testament of Jesus Christ   Take a seat at the Master's table. Learn about the riches He gives to all who are His. This book will bless and encourage you, give you hope, and help you live in the joy of your salvation and the riches of Christ that are yours.