In God's Hall of Faith (Hebrews 11), the one commonality is that these are all people of great faith. But on the other hand, they are all quite different in their personalities, ages, and stages of life, strengths and weaknesses, and the various circumstances and challenges they faced.  Included in this chapter is Moses, one of the most important figures in both secular and biblical history.
Moses was a man of miracles!  Signs and wonders were sprinkled throughout his childhood, his call as Israel's leader, the ten plagues against Pharoah and Egypt, the Exodus and the Red Sea crossing, and the wanderings in the wilderness.  Moses was also used by God to write the first five books of the Bible, and to Moses was given the Ten Commandments for Israel and the world. 
Whereas Abel Worshiped by faith, Enoch Walked by faith, Noah Worked by faith, Abraham Went and Wandered by faith, Isaac Wedded and Welled, Jacob Wrestled and Worshiped, Joseph Waited, Amram and Jochebed Withstood, Moses made Wise Choices by faith.  Moses had godly parents who withstood the evil king of Egypt, the world's greatest dynasty.  But now Moses would have to exercise his own faith.  
Six Wise Choices by Faith
Moses Chose to Refuse Egyptian Identity
Heb 11:24  By faith Moses, when he became of age, refused to be called the son of Pharoah's daughter.  
Remember, Moses was born a Jew, the son of Amram and Jochebed. However, Moses was raised by Pharoah's daughter (Ex. 2:1-10).  When Moses was old enough to choose who he wanted to be, he chose not to identify with the Egyptians but with the Israelites.  This would not have been an easy decision!  He was raised in the palace as a future prince of Egypt with riches, rank and reputation of the highest order.  It would have been the easy choice to stay with the safety, security, and substance of Egyptian royalty, but instead, young Moses made the right choice!  
Moses Chose the Rigors of Righteousness
Heb 11:25   choosing rather to suffer affliction with the people of God than to enjoy the passing pleasures of sin.
  Moses was the Prince of Egypt and could have indulged in all the lusts and luxuries the world had to offer.  But instead, he choose to identify and suffer with the afflictions of the Hebrew people who were toiling in cruel bondage to the Egyptians.  He chose the persecution of the saints instead of the pleasures of sin.  By faith in his God, Moses wisely chose to do right. "This is the victory that overcomes the world—our faith".  1 John 5:4.
Moses Chose the Reproach of Christ
Heb 11:26a  esteeming the reproach of Christ greater riches than the treasures in Egypt…"   
Wait a minute, Moses lived 1500 years before the birth of Christ.  Did Moses know Jesus?  How could he "esteem the reproach of Christ…"?  The short answer is, 'Yes', Moses did know the Lord Jesus, as did Abraham (Gen. 18:1-3}, as did Isaac (Gen. 26:24-25), as did Jacob (Gen. 28:12-17).  Jesus made many appearances in the Old Testament; these are called, "theophanies".  Moses met Christ at least twice (Ex.31-6, Deut. 34:10), and he even prophesied of Christ's coming to Israel in Deut. 18:15… "The Lord your God will raise up for you a Prophet like me from your midst, from your brethren; Him you shall hear".  Moses did this all by faith.
Moses lived 1500 years before Jesus so how could he "esteem the reproach of Christ…?" Remember that the Greek word "christos" (English: Christ) is the Hebrew word "mashiach" (English: Messiah).  Moses lived anticipating Israel's Messiah who would come to free them.  Moses even prophesied of the Messiah's coming in Deut. 18:15, "The Lord your God will raise up for you a Prophet like me from your midst, from your brethren; Him you shall hear." For his alliance with God's people and his faith in God,  Moses esteemed (regarded) the reproach (disapproval of others because of his faith in the coming Messiah/Christ) to be greater than all the worldly riches of Egypt.
Moses Chose the Reward of Christ
Heb 11:26c  …for He looked to the reward.  
Even though Moses was considered the son of Pharoah's daughter and had all the treasures and pleasures of Egypt, and was in line as the next Pharaoh of Egypt, he looked by faith beyond those things. Rather thab temporal earthly rewards, he chose the eternal rewards of serving God.  He knew that God… "is a rewarder of all those who diligently seek Him" (Heb 11:6). 
Heb 11:27 By faith [Moses] forsook Egypt, not fearing the wrath of the king; for he endured as seeing Him [the Messiah/Christ) Who is invisible."  
He Chose the Requirement of a Blood Sacrifice
 Heb 11:28  By faith he kept the Passover and the sprinkling of the blood lest he who destroyed the firstborn should touch them.
Before the 10th plague upon Egypt, the killing of the firstborn, Moses explained to Israel how they could escape this judgment.  Moses told of God's command that the head of every household take a spotless male lamb, kill it, drain the blood in a bowl, and then sprinkle the blood on the lintel and doorposts of their homes.  The Lord promised, "When I see the blood, I will pass over you, and the plague shall not be on you to destroy you when I strike the land of Egypt" (Ex. 12:13).  This is an obvious foreshadowing of the Lamb of God, Jesus Christ, who saves from eternal death all those who come to Him by faith and are washed in His blood (Rev 1:5).  For… "without the shedding of blood, there is no remission [of sins]"… Heb. 9:22.
Moses Chose God's Route Through the Red Sea
Heb 11:29 By faith they passed through the Red Sea as by dry land, whereas the Egyptians, attempting to do so, drowned.
 When the Israelites left Egypt and camped by the Red Sea, they turned and saw the armies of Egypt bearing down on them with speed and vengeance.  The people were frantic, but God told Moses to raise his shepherd's rod toward the sea.  God miraculously parted the water, and the Israelites crossed on dry land over to the other side.  Egypt's army proceeded to cross, but God caused the chariot wheels to fall off, and while halted in the middle, the Lord released the waters and the entire Egyptian army was drowned. (Exodus 12-14) 
This was one of the mightiest miracles in the history of the nation of Israel! It is God alone who gets the glory, but God chose to use Moses a flawed man but also a man of great faith. 
We won't ever be listed in that Great Hall of Faith in Hebrews 11, but we can follow and serve God by faith as they did.  And all people, everywhere, can be saved by faith. If you don't know Jesus, or you are uncertain of your standing before God, visit our salvation page.
Jesus is the Reason this Ministry Exists
Thank you to all who contributed in 2020. Your generosity is a blessing and encouragement to us.  We did not meet expenses in 2020 and still need your help to continue our global outreach in 2021.  Our mission is to glorify God by equipping, encouraging, and empowering YOU to understand the Bible and grow in faith. If our online resources have blessed you, we hope you will support Reasons for Hope* Jesus. Our ministry outreach has grown significantly and. . .
Please support Reasons for Hope* Jesus with a donation of $5, $10, $20, or more. A donation of any amount is needed and greatly appreciated.
CLICK TO DONATE
to Reasons for Hope*Jesus(a 501c3 Ministry)
Use a Credit Card or PayPal for safe, secure giving.
***A Hidden Message in Psalm 23?***  
Hidden in the six verses of Psalm 23 are 11 names for Jesus.
When you subscribe to our newsletter, we'll send you
The Names of God in Psalm 23 PDF
that reveals all 11 names and Scripture verses of comfort and hope (link will be sent in your confirmation email).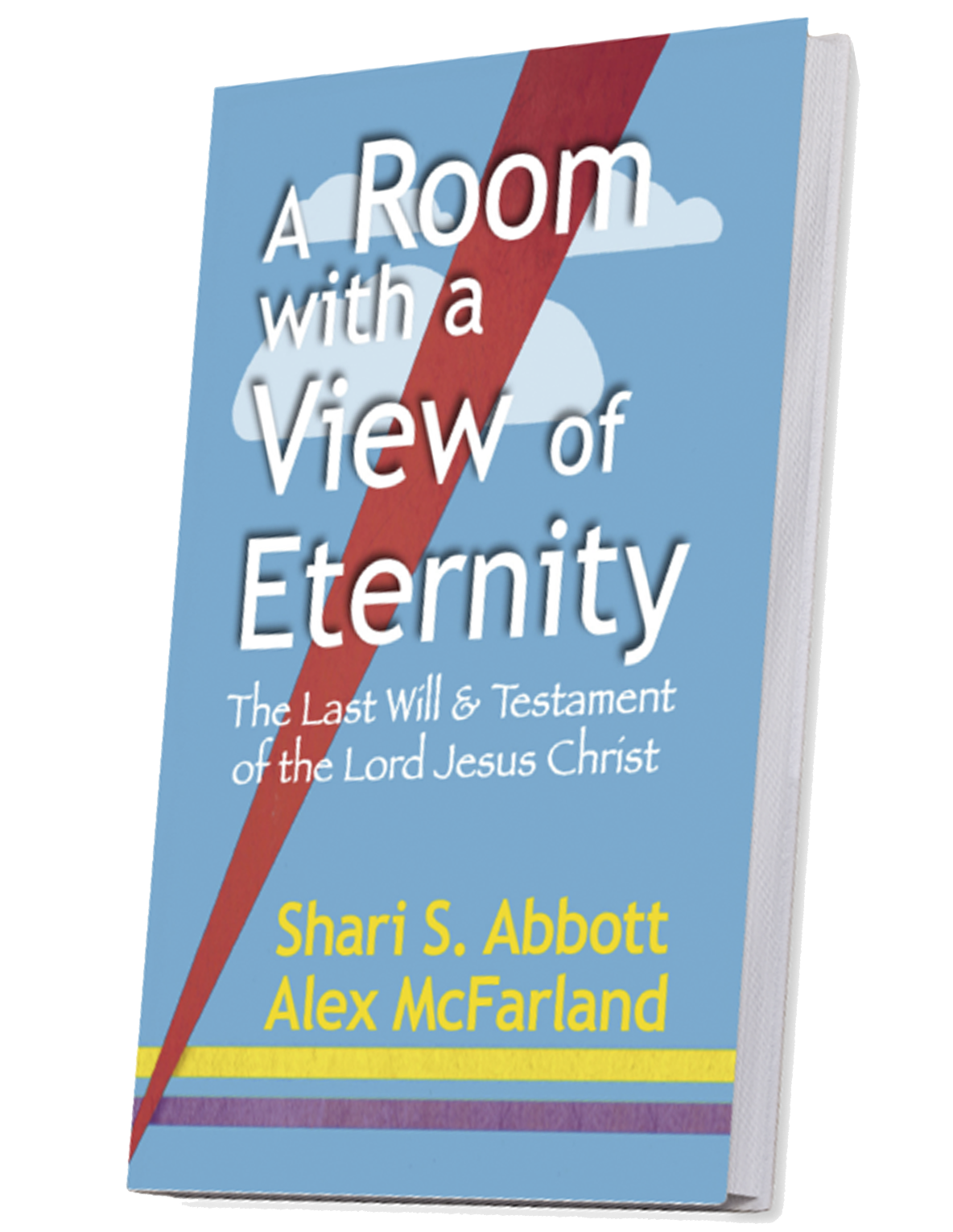 A Room with a View of Eternity—The Last Will & Testament of Jesus Christ
Take a seat at the Master's table. Learn about the riches He gives to all who are His. This book will bless and encourage you, give you hope, and help you live in the joy of your salvation and the riches of Christ that are yours.
Top Ten  in 2019
More Popular Questions & Articles:
If BAPTIZED as an Infant, Do I Need to Be Baptized Again?
How was Jesus Like a Worm? What's the CRIMSON (OR SCARLET) WORM? Psalm 22
Is Satan's Real Name LUCIFER? Or Should We Call Him Satan?
What is the Significance of the Wise Men's THREE GIFTS? And were they kings? 
Was Jesus CRUCIFIED on Wednesday, Thursday, or Friday?
The Names of Jehovah hidden in Psalm 23! This will surprise you!
What Did Jesus Say About HEAVEN (and HELL)?
JESUS WEPT. Why? And…it's not the shortest verse in the Bible!
Is There a Remez (HIDDEN MESSAGE ) in Revelation 7? Why is Dan Missing?
What Does it Mean to Be A CHILD OF GOD?
Why Is PRAYER Important?
Is SUICIDE an Unforgivable Sin?
Something ALL Christians must know:  IVDARR
Our Top Three Videos
Christian Version of Leonard Cohen's HALLELUJAH
Memorial Day BAGPIPES TRIBUTE: Amazing Grace
RISE AND SHINE and Give God the Glory, Glory!

Help us spread the good news and saving grace of the Lord Jesus Christ.
Please tell your friends about ReasonsforHopeJesus.com. If you have a website or blog, please link to ReasonsforHopeJesus.com.   All resources on this site © Reasons for Hope* Jesus --  click for Republication Permissions or contact hope@reasonsforhopeJesus.com