AUTHOR: Luke
DATE: 60 AD
Luke, referred to as the "beloved physician" (Col. 4:14), was a close friend and companion of Paul.  He is the only Gentile author in the New Testament.  We know nothing about his early life or his conversion.  We do know that he was not an eyewitness of the life of Jesus (Luke 1:2). Luke was a physician by profession, but also an evangelist.  He wrote this gospel and the book of Acts. He also accompanied Paul in missionary work and was with Paul at the time of Paul's martyrdom (2 Tim. 4:11).
Luke tells that he consulted eyewitnesses (1:2), and that he sifted and arranged the information (1:3) under the guidance of the Holy Spirit with the purpose to instruct Theophilus in the historical reliability of the faith (1:4). This is a carefully researched and documented writing.
The Gospel of Luke was written to present Jesus as the Son of Man.  It presents Jesus in His humanity and contains an unusual interest in medical matters (Luke 4:38; 7:15; 8:55; 14:2; 18:15; 22:50).  The genealogy of Mary is given in chapter 3, although it lists Joseph (for an explanation on this, read: Why are There Two Different Genealogies for Jesus?)  Mary's lineage is recorded all the way back to Adam, again reflecting the nature of this book telling of Jesus' humanity.  Additionally, much attention is given to recounting the events surrounding the birth of Christ. Only Luke records the appearance of angelic messengers to Zacharias and Mary, the songs of Elizabeth and Mary, the birth and childhood of John the Baptist, the visit of the shepherds when Jesus was born, the presentation of Jesus in the Temple, and details of Christ's childhood.
Significant accounts in Luke:
Zaccheus (19:1-10)
the penitent thief (23:39-43)
the parables of the prodigal son (15:11-32)
the penitent tax-gatherer (18:9-14)
the good Samaritan (Luke 10:29-37)
the one thankful ex-leper (Luke 17:11-19).
a special emphasis on prayer (3:21; 5:16; 6:12; 9:18, 28-29; 10:21; 11:1; 22:39-46; 23:34, 46)
a prominent place given to women (chaps. 1, 2; 7:11-13; 8:1-3; 10:38-42; 21:1-4; 23:27-31, 49).
interest in poverty and wealth (1:52-53; 4:16-22; 6:20, 24-25; 12:13-21; 14:12-13; 16:19-31).
four beautiful hymns: the Magnificat of Mary (1:46-55), the Benedictus of Zacharias (1:67-79), the Gloria in Excelsis of the angels (2:14), and the Nunc Dimittis of Simeon (2:29-32).
Luke tells the good news of the compassionate Son of Man offering salvation to the whole world (Luke 19:10).
OUTLINE OF THE GOSPEL OF LUKE
I. Preface: The Method and Purpose of Writing, 1:1-4
II. The Identification of the Son of Man with Men, 1:5-4:13
A. The Announcement of the Birth of John the Baptist, 1:5-25
B. The Announcement of the Birth of the Son of Man, 1:26-56
C. The Advent of John the Baptist, 1:57-80
D. The Advent of the Son of Man, 2:1-20
E. The Adoration of the Baby, 2:21-38
F. The Advancement of the Boy, 2:39-52
G. The Baptism of the Son of Man, 3:1-22
H. The Genealogy of the Son of Man, 3:23-38
I. The Temptation of the Son of Man, 4:1-13
III. The Ministry of the Son of Man to Men, 4:14-9:50
A. The Announcement of His Ministry, 4:14-30
B. The Authority of His Ministry, 4:31-6:11
1. Over demons, 4:31-37
2. Over disease, 4:38-44
3. Over the disciples, 5:1-11
4. Over defilement (a leper healed), 5:12-16
5. Over defectiveness (a paralytic healed), 5:17–26
6. Over the despised (the call of Matthew and parables), 5:27-39
7. Over days, 6:1-5
8. Over deformity, 6:6-11
C. The Associates of His Ministry, 6:12-49
1. The call of the disciples, 6:12-16
2. The characteristics of disciples (The Great Sermon), 6:17-49
D. The Activities of His Ministry, 7:1-9:50
1. Ministry in sickness, 7:1-10
2. Ministry in death, 7:11-17
3. Ministry in doubt, 7:18-35
4. Ministry to sinners, 7:36-50
5. Ministry financed, 8:1-3
6. Ministry illustrated through parables, 8:4-21
7. Ministry in storms, 8:22-25
8. Ministry over demons, 8:26-39
9. Ministry in death and despair, 8:40-56
10. Ministry through the disciples, 9:1-9
11. Ministry to physical needs, 9:10-17
12. Ministry of prediction, 9:18-50
IV. The Repudiation of the Son of Man by Men, 9:51-19:27
A. Rejection by Samaritans, 9:51-56
B. Rejection by Worldly Men, 9:57-62
C. Commissioning of the Seventy, 10:1-24
D. Rejection by a Lawyer (Parable of the Good Samaritan), 10:25-37
E. Reception at Bethany, 10:38-42
F. Instruction on Prayer, 11:1-13
G. Rejection by the Nation, 11:14-36
H. Rejection by Pharisees and Lawyers, 11:37-54
I. Instruction in the Light of Rejection, 12:1-19:27
1. Concerning hypocrisy, 12:1-12
2. Concerning covetousness, 12:13-34
3. Concerning faithfulness, 12:35-48
4. Concerning division and signs, 12:49-59
5. Concerning repentance, 13:1-9
6. Concerning hypocrisy, 13:10-17
7. Concerning the kingdom, 13:18-35
8. Concerning inflexible people, 14:1-6
9. Concerning inflated people, 14:7-11
10. Concerning invited people, 14:12-14
11. Concerning indifferent people, 14:15-24
12. Concerning indulgent people, 14:25-35
13. Concerning God's love for sinners, 15:1-32
14. Concerning wealth, 16:1-31
15. Concerning forgiveness, 17:1-6
16. Concerning service, 17:7-10
17. Concerning gratitude, 17:11-19
18. Concerning the kingdom, 17:20-37
19. Concerning prayer, 18:1-14
20. Concerning entrance into the kingdom, 18:15-30
21. Concerning His death, 18:31-34
22. Concerning salvation, 18:35-19:10
23. Concerning faithfulness, 19:11-27
V. The Condemnation of the Son of Man for Men, 19:28-23:56
A. Sunday, 19:28-44
B. Monday, 19:45-48
C. Tuesday, 20:1-21:38
1. Authority requested, 20:1-8
2. Authority revealed, 20:9-18
3. Authority resisted, 20:19-40
4. Authority reiterated, 20:41-21:4
5. The apocalyptic discourse, 21:5-38
D. Wednesday, 22:1-6
E. Thursday, 22:7-53
1. The Lord's Supper, 22:7-38
2. The Garden of Gethsemane, 22:39-46
3. The arrest, 22:47-53
F. Friday, 22:54-23:55
1. Peter's denial, 22:54-62
2. Christ mocked, beaten, 22:63-65
3. Christ before the Sanhedrin, 22:66-71
4. Christ before Pilate, 23:1-5
5. Christ before Herod, 23:6-12
6. Christ again before Pilate, 23:13-25
7. The crucifixion, 23:26-49
8. The burial, 23:50-55
G. Saturday, 23:56
VI. The Vindication of the Son of Man before Men, 24:1-53
A. The Victor over Death, 24:1-12
B. The Fulfiller of the Prophecies (the Emmaus Disciples), 24:13-35
C. The Pattern of Resurrection Life, 24:36-43
D. The Head of the Church, 24:44-48
E. The Giver of the Holy Spirit, 24:49
F. The Ascended Lord, 24:50-53
Videos and Charts Used By Permission of the Bible Project
Jesus is the Reason this Ministry Exists
Thank you to all who contributed in 2020. Your generosity is a blessing and encouragement to us.  We did not meet expenses in 2020 and still need your help to continue our global outreach in 2021.  Our mission is to glorify God by equipping, encouraging, and empowering YOU to understand the Bible and grow in faith. If our online resources have blessed you, we hope you will support Reasons for Hope* Jesus. Our ministry outreach has grown significantly and. . .
Please support Reasons for Hope* Jesus with a donation of $5, $10, $20, or more. A donation of any amount is needed and greatly appreciated.
CLICK TO DONATE
to Reasons for Hope*Jesus(a 501c3 Ministry)
Use a Credit Card or PayPal for safe, secure giving.
***A Hidden Message in Psalm 23?***  
Hidden in the six verses of Psalm 23 are 11 names for Jesus.
When you subscribe to our newsletter, we'll send you
The Names of God in Psalm 23 PDF
that reveals all 11 names and Scripture verses of comfort and hope (link will be sent in your confirmation email).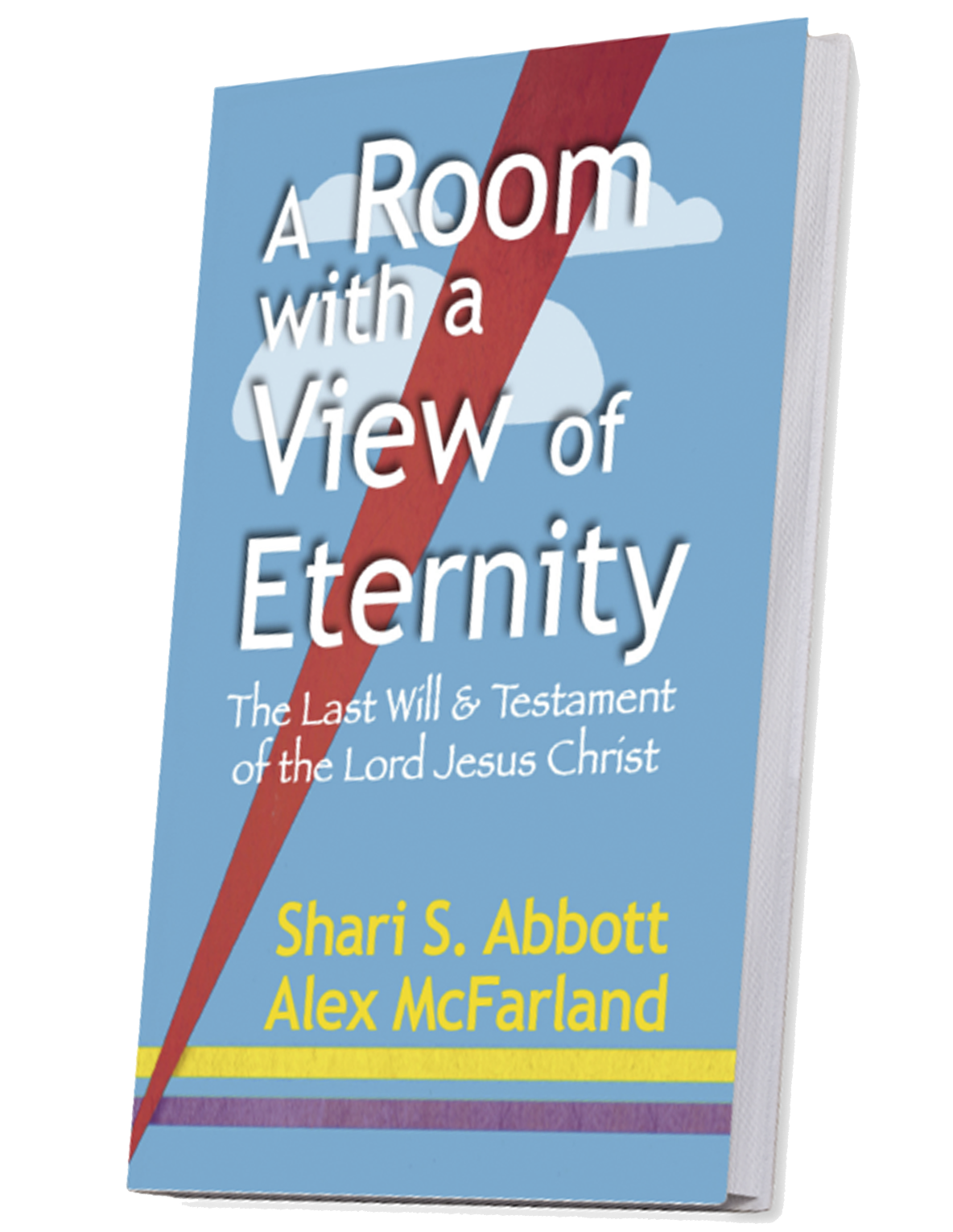 A Room with a View of Eternity—The Last Will & Testament of Jesus Christ
Take a seat at the Master's table. Learn about the riches He gives to all who are His. This book will bless and encourage you, give you hope, and help you live in the joy of your salvation and the riches of Christ that are yours.
Top Ten 
in 2019
More Popular Questions & Articles:
If BAPTIZED as an Infant, Do I Need to Be Baptized Again?
How was Jesus Like a Worm? What's the CRIMSON (OR SCARLET) WORM? Psalm 22
Is Satan's Real Name LUCIFER? Or Should We Call Him Satan?
What is the Significance of the Wise Men's THREE GIFTS? And were they kings? 
Was Jesus CRUCIFIED on Wednesday, Thursday, or Friday?
The Names of Jehovah hidden in Psalm 23! This will surprise you!
What Did Jesus Say About HEAVEN (and HELL)?
JESUS WEPT. Why? And…it's not the shortest verse in the Bible!
Is There a Remez (HIDDEN MESSAGE ) in Revelation 7? Why is Dan Missing?
What Does it Mean to Be A CHILD OF GOD?
Why Is PRAYER Important?
Is SUICIDE an Unforgivable Sin?
Something ALL Christians must know:  IVDARR
Our Top Three Videos
Christian Version of Leonard Cohen's HALLELUJAH
Memorial Day BAGPIPES TRIBUTE: Amazing Grace
RISE AND SHINE and Give God the Glory, Glory!

Help us spread the good news and saving grace of the Lord Jesus Christ.
Please tell your friends about ReasonsforHopeJesus.com. If you have a website or blog, please link to ReasonsforHopeJesus.com.   All resources on this site © Reasons for Hope* Jesus --  click for Republication Permissions or contact hope@reasonsforhopeJesus.com